Does your garden get too hot for snapdragons? Angelonia brings you spires of hot weather color. Here is how to grow this lesser-known plant, a snapdragon look-alike that will bloom for you nonstop from spring to fall and throughout the humid days of summer.
You will find Angelonia in white, pink, blue, lavender, or mauve, and even bi-color. The plant grows about 12″-18″ in height.
The flowers resemble that of a snapdragon, and you will see them referred to as summer snapdragons. This is because the beautiful spires of snapdragons are cool season annuals. In temperate climates, this means you will see them around you in springtime. (For us in semi-tropical Florida, we use them all winter.)But the summer heat, everywhere, takes them from us.
Angelonia's Value in the Garden

This fact, I believe, created the popularity of the angelonia. With the angelonia, we can still have the tall, pointed spires of flowers all summer long! You will see new varieties made available, and some now reach three feet in height. The flowers bloom continuously and do not require deadheading.
If you don't know Angelonia, it is because it is relatively new to us, having only been used since the late 1990s. It is being widely adopted because it is a tough, easy-care plant for hot and humid environments when our other favorites start to fail.
What is Angelonia (Our Hot Weather Snapdragon)?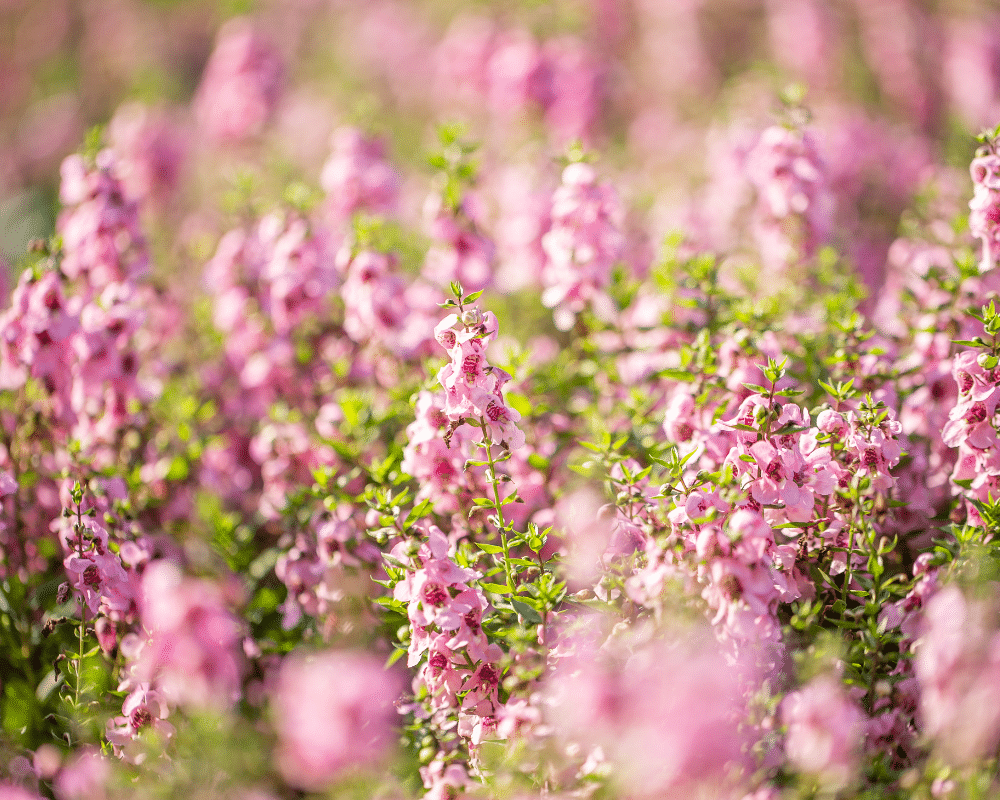 It is Angelonia augustifolia, and while it is used as a warm-weather annual in temperate climates, it is actually a herbaceous perennial and grows year-round in zones 9-11. The flowers grow close together on a tall stem and, with two lips they do, resemble small snapdragons.
The plant is a genus of about 30 species of tropical herbaceous perennials.
How The Plant Got To Us
Angelonia is native to Mexico, Central and South America, and the West Indies. It became adopted by gardeners in Florida and other warm places. By the late 1990s, growers created new varieties which improved color and shape.
Angelonia vs. Snapdragons-Similarities and Differences
Both of the plants are in different genera of the same family, Plantaginaceae. The Snapdragon is Antirrhimum majus, is native to Italy and Spain, and has been grown by gardeners for centuries. The flower of the Snapdragon is larger, and it grows and blooms successfully in spring (In South Florida, it blooms for us all winter.) The name comes from the Greek meaning "snout-like." The only thing you might not like about the Angelonia is that the dragon snout flower is fused. You can't play a realistic game of " Snap" with it!
Angelonia has an attractive, fruity scent in the garden. We like them on a covered porch; added to the scent of gardenia and jasmine, it provides another element of pleasure.
The Two Real Differences
The size range of Snapdragons is a major difference. They can be from 4″ to 4′ tall, a much larger size range than Angelonia. Here is the second difference. As the weather heats up, the snapdragon begins to droop. The Angelonia is useful to us in a very similar way but is a steady bloomer throughout the summer. They are both upright, very attractive, and offer color choices. One gives a wide range of sizes in spring and early summer. The second keeps the colors going until the end of summer.
How You Can Use Angelonia's Snapdragon-Like Properties, Especially in Hot Weather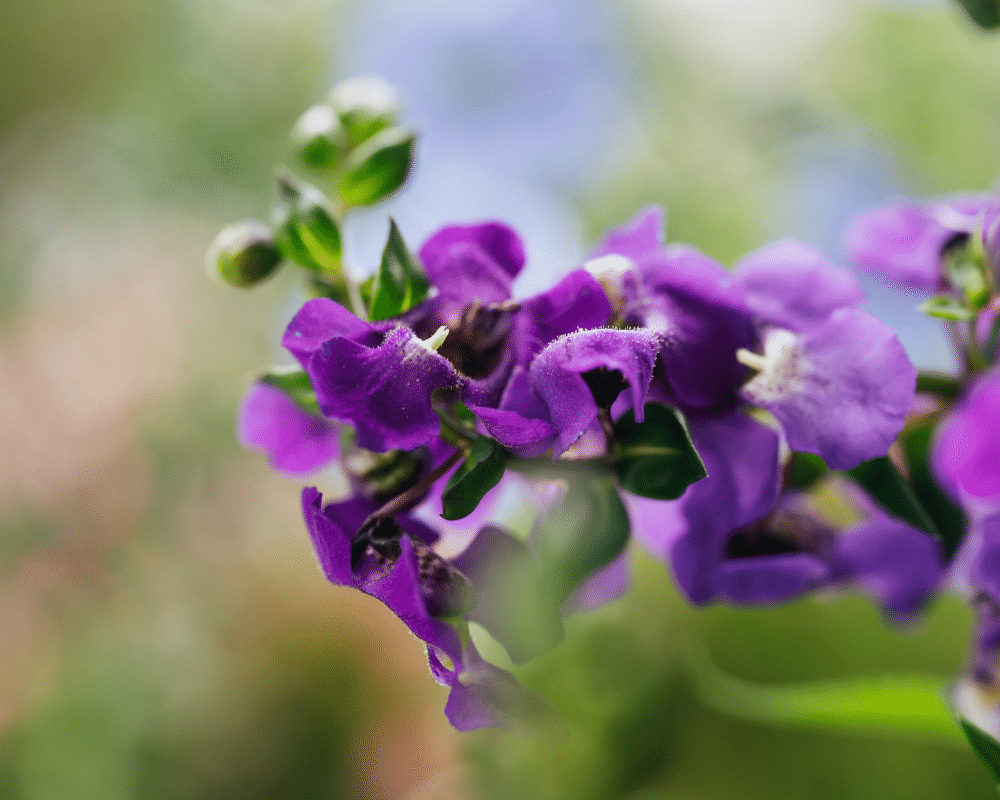 Use Angelonia to fill a variety of needs in the garden. If the color, shape, and form appeal to you, here are some ways to use them.
Bedding plants
Make a border
Massed for color
Containers angelonia can be the thriller or the filler (there are also a few varieties which trail)
Window boxes
Hanging baskets
A cut flower that lasts and retains its scent in the house
A tall annual bedding plant for hot weather
Popular Varieties of Angelonia-You Will Want In Hot Weather
These Are Important Categories, Each With Unique Features
| | | |
| --- | --- | --- |
| Variety | Features | Some Colors |
| Archangel | Low growing, large flower, spreading, hardy in heat. You can use this as a ground cover and in front of other medium-sized plants. | Archangel Dark Purple, Purple Archangel, has a white center, Archangel Cherry, |
| Serena | Has a long bloom period and is hardy in extreme heat. Spreading habit. | mauve, purple, pink, white |
| Angelmist | Low growing, large flower, spreading, hardy in heat. You can use this as a ground cover and in front of other medium-sized plants. | Bright colors, blue, red, purple, white |
| Serenita | Prolific, comes in "impressionistic" colors, designed to be low labor, less requirement to pinch | various colors and bi-colors |
| Angelface | An upright variety with a heavy blooming habit. | |
A New Cultivar in 2023
As species of colorful ornamental plants increase in popularity with the public, the plant breeders continue with new cultivars (greenhouse-created varieties). These can add to the fun of creating planting beds and container gardens. A new plant to look for is Angel Dance which has two bicolor options and is bred to have taller plant spires.
How to Grow Angelonia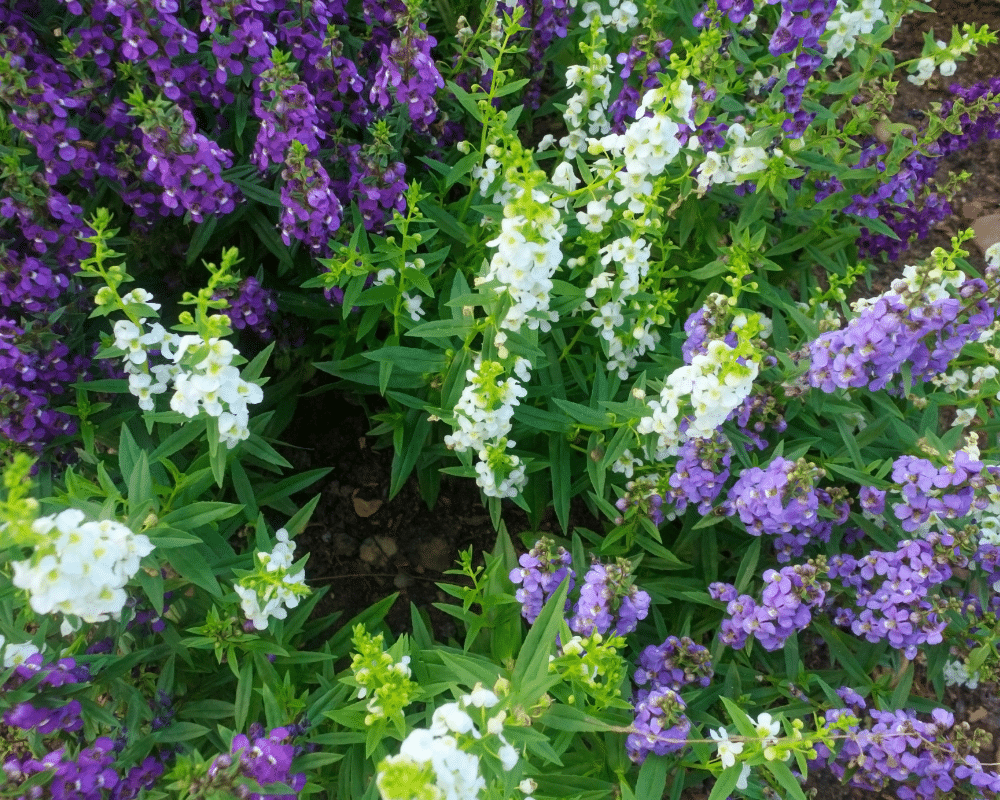 When and How To Use Them
In Zone 9-11, these are perennial plants in bloom all year. In zone 8, they will die back in cold weather and reappear in spring. In colder climates, these are a dependable source of warm-weather color, use them as annuals. Anywhere, they have a remarkable ability to live in heat, sun or humidity.
Use Angelonia in Containers and as Cut Flowers for the House.
The size and stature of Angelonia provide interesting height and shape in container gardens. Combine them with other plants requiring the same growing conditions. (The lower-sized plants add interest even to hanging baskets.)
Angelonia is a desirable cut flower. The tall spires blend well in a bouquet, and the vase life of the flower is a desirable two weeks! The flower also has a pleasant scent which you will enjoy in the house.
How To Plant and Care For Angelonia
How To Plant Angelonia
Plant them in fertile, well-drained soil. Add organic material to the soil; the ideal Ph for Angelonia is between 5.5 and 6.2. Select a sunny spot with plenty of airflow. Set them out 2-3 weeks after the date of the historic last frost in your area. Plant them in full sun, to light shade. The plants should be 12″ apart in cool climates and 18″-24″ in warm climates where the plants have time to spread.
Dig the planting hole two times the width of the pot and as deep. Plant so that the plant is a the top of the soil or slightly above for better drainage. Put time-release fertilizer below the plant. Read the instructions for quantity. Saturate the plants after planting. Water them two to three times weekly for two to three weeks.
Water established Angelonia plants when the first inch of soil is dry.
Fertilize the Plants monthly. Fertile, organic-rich soil reduces the need for added fertilizer.
Know your USDA Plant Hardiness Zone.
Best Light Conditions for Angelonia
Angelonia performs best in full sun conditions, which we define as six or more hours of sun per day. Full sun provides the energy the plant needs for strong growth and bountiful flower production. In our 10a subtropical climate, we can succeed with partial sun of about 4 hours per day.
Best Soil for Angelonia
Angelonia prefers moist, well-drained soil. If you enrich the soil with compost, you will find the plants reasonably drought-tolerant too. The best soil for angelonia has a pH of 5.5-6.2.
Water for Angelonia
Keep young plants moist; mature plants may be allowed to dry between waterings.
Pinching And Trimming
When the young plants are 6″ tall, pinch and remove the tips of the leading stems. This will encourage branching for a fuller stem. If the plants begin to sprawl in midseason, cut them back to about half of their height. They will grow again with new vigor.
As summer progresses, the plants may sprawl. If this happens, cut their size back by one-half, and they will rebloom. We have done this in hot weather. and the plant responds promptly.
Pests And Diseases
Our experience with these plants is that they are disease resistant. Powdery Mildew is a risk in wet and humid climates. Avoid watering from above if possible. There are several fungicides on the market to treat the problem. Aphids are also attracted to Angelonia. Remove any damaged leaves if you see them.
Summary- Using Angelonia Our 'Hot Weather Snapdragon'
Angelonia provides us with an opportunity to plant something new and different but tried and without surprises. Since the late '90s, these plants have been popular and award winners. Being well received, growers have produced many cultivars.
Angelonia is an outstanding container plant, either alone or combined with other plants.
Companion Plants For Angelonia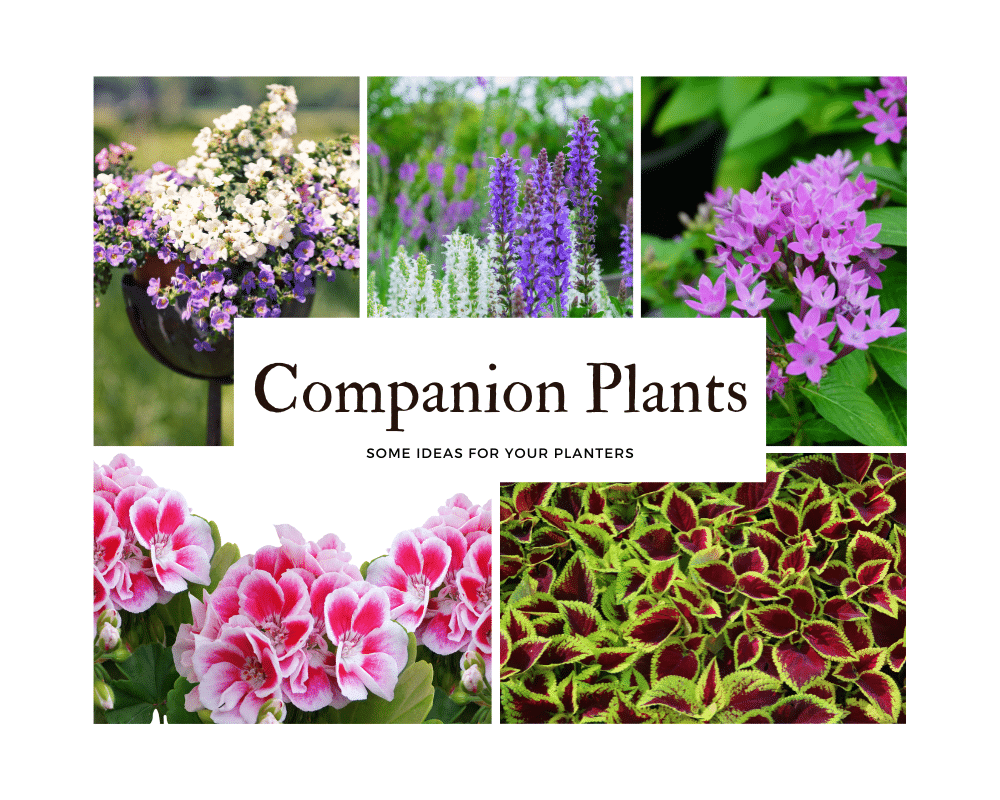 Zinnia, salvia, marigold, begonia, sun coleus, geranium, dusty miller, sunflower, vinca, celosia, and pentas
are ideas to consider in any location.
If using Angelonia in containers in bright sun, consider sun-loving trailing plants. Calibrachoa or moss rose are very sun-resistant choices.
Other trailing ideas include the tiny flowers of bacopa, the small blue-gray leaves of licorice plant, the purple, ridged leaves of Joseph's coat, sweet alyssum, or sweet potato vine.