In Zone 10a-What's in Bloom, What to Plant, What to Do
Visit Florida Gardens This Month
The March Garden brings rising expectations-every gardener feels the rush of spring. If you love to visit gardens as they arise for bloom time, try this.
Get a head start on spring and visit Florida gardens in March. This month is prime time to see it all; broad environmental diversity and intense blooms. Do this anywhere in this diverse state, from southern charm in the northto tropical heat in the south. Look at these choices!
Always Remember-Florida is Upside Down!
As you gardeners already know, Florida is hottest in the south-the closer you get to the tropics. But culturally, Florida is Southern in the North and Northern in the South! This is one of the many ways, not all horticultural, in which Florida is upside down. My lettuce is beautiful right now, but we will eat none of it come summer. By remembering this fact, we northern transplants grow better in this climate!
Three Unique Florida Gardens To Visit
From the left, in the Northwest:
Here are three very different gardens in three varied geographical areas.
Note the totally different look and feel of local trees and water.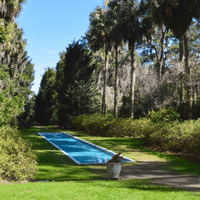 Our Rising Expectations
No March Lions in Our Garden
In our warm South Florida climate, we'd be hard-pressed to find any lions in March. In addition, the temperature is warmer than last month, and we are fully invested in spring.
Gardeners, like everyone else, set expectations at different times of the year. The year starts in January, and in most places we put the garden to sleep in fall,- but March, for all of us is the month of expectation.
"March is the Month of Expectation"
We learned all that from Emily Dickinson, an American gardener-more famous as a poet. Dickenson (1830-1886) was a lifelong digger who bent and reshaped the English language in her spare time! Called the "Belle of Amherst," she grew up well educated in what was on its way to becoming a world-famous college town.
As a girl, she studied botany in school and never left her interest in flowers and gardening behind. Also, you can see the multi-volume herbarium she made (It's at Harvard University.)
Have you ever thought of making your herbarium? Perhaps as part of a garden diary, pressing the flowers and foliage that made memories for your family? Emily said that in her grade school, "all the girls made them."
March Expectation
Having gardened in multiple climates I think that Dickinson's March poem is most pertinent in a temperate climate where March is the demarcation between winter and summer. And the poem makes me remember my mother, in an old New England farmhouse, not unlike Emily's with seed packages spread all over the dining room table on a frosty March morning.
For us today, on the edge of the tropics, the poem also rings true. It helps us enjoy the last of the cool and dry season and get ready for the hot, wet and stormy summer to come.
"March is the month of Expectation-

The things we do not know

The Persons of prognostication

Are coming now."

-Emily Dickinson, March is the Month of Expectation
March Expectations in the Tropical Garden
What's in Bloom, What to Plant, What to Do
Here is the essential monthly data for what goes on in this South Florida garden on the edge of the tropics in the month of March. Click on the word you want -to go straight to that subject:
How February Left Us Ready for March in the Tropical Garden
February is our last month of "winter," our second coldest and driest, and this year, 2022, it was warmer than average. January was not, with a very few days of record cold and our plants still show some signs of frost damage. March begins spring for us, and with new growth, we'll be able to trim away the damage.
" It's February in the Tropical Garden-And It's Stopped Raining Iguanas"
"January in our Tropical Garden"
Wildlife in the March Garden-Expectations of Hummingbirds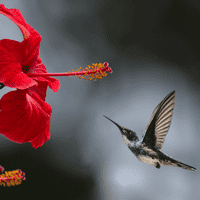 March, for us, is "peak hummingbird season'" and one of our favorite March expectations! This month hummingbirds wintering in places like Panama and Mexico travel through Florida. By April they will have passed us by and be on their way north.
What we have as quick moving neighbors for the rest of the year are several varieties of the Ruby Throated hummingbird, and we are glad to have them.
Travelers to The Garden
Yesterday, enjoying Florida's mild March, we sat, reading in the garden surrounded by tiny neighbors and their traveling cousins. More travelers traverse your garden than you may think!
When we moved to this property 6 years ago-"seems like yesterday"-our bird watcher neighbors said they never saw hummingbirds. But with enough flowers for nectar they seem to like life in this spot.
What do you think about using the hyphen in sentences? Emily was famous for using it!
Pollinators in the Garden
Good gardeners appreciate pollinators and Emily Dickinson was no exception! Note this poem:
"To make a prairie, it takes clover and one bee,

And revery.

The revery alone will do,

If bees are few".

-Emily Dickinson
"Bees are Black, with Gilt Surcingle"
Dickinson wrote 50 poems about bees alone. She immortalized them like this. "bees are black with gilt surcingle." Is that not a perfect image of bees in our flowers? I'll bet you won't forget it!
Pollinator Viability-Every Garden Has an Impact
For example, in our garden, on the edge of the Everglades, we can't help our native Florida Panther survive. An adult male needs 150 square miles to live in. But pollinator gardening is different. Give them the four things they need, nectar, water, shelter, and a host plant to lay eggs on, and they're yours!
If you are interested in more, here is "What the Butterflies Want" It summarizes what we have learned about pollinators from our gardens and the excellent training we have gotten as volunteer Master Gardeners. I hope you like it. I present this subject to local garden clubs and groups. Butterflies are in flight all year in Florida, and our state agriculture university performs globally prominent research. We are lucky to have it.
How to Get Some Good Local Help
Try your own County Extension Agent for your best local help. It will be geared to those butterflies, hummingbirds, bees, and other pollinators you can expect to attract to your garden. Try this chart, or check your county offices.
What's in Bloom in the Garden in March 2022
We have learned to have certain expectations for the warming March Garden. Depending on the year's weather, things may slip a little, with some coming a little early and some late.
When we talk about "what's in bloom," it's our own small garden and perhaps those nearby that are our sources. The Master Gardener organization we volunteer for is fortunate to offer tours of prominent gardens in our area, and we visit any gardens that will let us in!
We love this volunteer job in our community but the truth is we get out easily, as much as we put in!
More Tropical Plant Information For You
If you are interested in what blooms in a tropical garden, in North America there are few places to visit beyond glass houses. These, however, although beautiful and informative, are not natural environments. The important, and true tropical garden of the continent is Fairchild Tropical Botanical Garden in Coral Gables Florida. On the outskirts of Miami and next to Biscayne Bay it is in zone 10b. As such it is the premiere source of tropical plant material. As an added bonus Fairchild publishes an informative illustrated list of what is in bloom month by month,
To find tropical plants, you can't do better. Here is the list.
On the Southwest coast of Florida, where we garden, in zone 10a, a tiny bit cooler the perfect source is the Naples Botanical Garden. It is a much younger garden but twice as big and famous for its relationships with gardens throughout the Caribbean.
Naples is our favorite, but I cite Fairchild first, because it is North America's most truly tropical garden and because of the detailed information you can get right from your computer and all about tropical plants.
If you are a gardener with a yen to see the world, don't miss Florida's unique and varied public gardens.
Jasmine for Spring Evenings Outdoors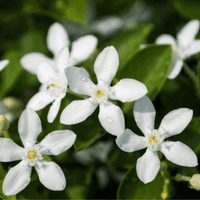 This beauty with amazing scent is Trachelospermum jasminoides. You will see it in the garden center labeled as Confederate or star jasmine.
A vining plant, we use it on trellises and arbors. You can buy the vines in bloom in spring, and they will reach full perfection in three years. Plant this one safely in zones 8-11.
March is our first month of spring and it is tempting to stay out all night to smell it's scent!
Scented Blooms On The Little Kumquat Tree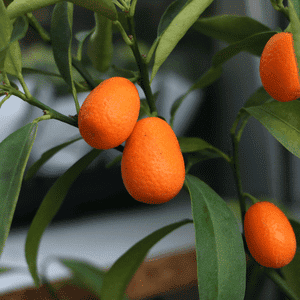 The little Kumquat tree is a delicious perk in a tropical garden, a favorite March Expectation. Our little tree sits near the pool. The blooms are scented and creamily white, and the tiny green fruit are beginning to appear.
If space is limited, they grow well in pots which increases the need for water. They are heavy feeders but simple to deal with and when the sweet-sour fruit appears we walk by an pop them in our mouths.
If you don't eat them all, they make a lovely marmalade. I follow an ancient recipe from the Fanny Farmer New England cookbook!
What to Plant: My Chart of Things to Add in March
We propagate from a lot of our plants using a sturdy planting bench. My husband makes one or two for every house we live in. This house has one of the smaller yards and we squeeze it in beside the pool equipment. My favorite mystery novel detective, Agatha Christie's Hercule Poirot always said he used "order and method." This works in the garden too, for our kind of garden you do not need a big workspace but it needs to be dedicated to the task and to store what you need.
Here is our list of what to plant in South Florida in the month of March. It is adapted from regional advice from the University of Florida amended to highlight plants we like to grow.
Adding Caladiums in March
Caladiums are an ethereal plant, with large heart shaped foliage in a wide range of colors in the pink, red, white and green ranges. Their origins are in the Amazon region and you will find them a great addition to your garden. A tropical, we put the bulbs in the ground in spring . They add color and style to places sunny and shady, take little room to plant and provide pleasure in warmer weather, wherever you garden.
How To Use Caladiums in a Temperate Climate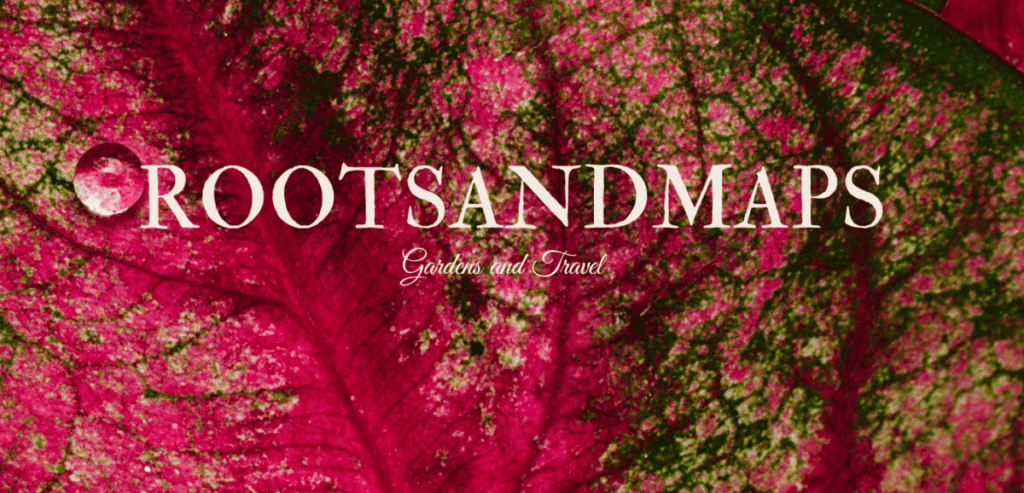 If you garden in a temperate climate, use them in containers, or lift the corms and store over the winter. Most of the world's supply of caladiums originate in one Florida town, Lake Placid, and the growers will ship the bulbs to you starting in March. They will pick the shipping month and they arrive at your door ready to use.
We put some in each year as they are care free once planted. This year I am planting this week, about 100 in several styles and they're going in this week. If you would like to know more read this: "Plant Caladiums for Sun And Shade."
| | | |
| --- | --- | --- |
| Category | Plants to Include | Resources to Use |
| Annuals | We now start heat-tolerant annuals, Crossandra, Gazania, Melampodium, New Guinea Impatience | Gardening with Annuals in Florida |
| Bulbs | Agapanthus, Calla Lily, Caladium, Canna Lily, Gladiolus | Bulbs for Florida |
| Herbs | Basil, Dill, Lemon Balm, Mint, Oregano, Rosemary, Tarragon, Thyme | Herbs in the Florida Garden |
| Shrubs and Trees | Plant throughout the year | The Florida Friendly Landscape Guide to Plant Selection |
| Vegetables | Arugula, Beans, Cantaloupe, Endive, Okra, Radishes, Squash, Swiss Chard, Watermelon-This is the last month to plant them. | Gardening Solutions: Vegetables |
| Ground Covers | Asiatic Jasmine, Perennial Peanut. Powderpuff Mimosa, Dwarf Mondo Grass | Gardening Solutions: Groundcovers |
What to Do: My Chart of Productive March Tasks
What goes on in our sultry March Garden, right now?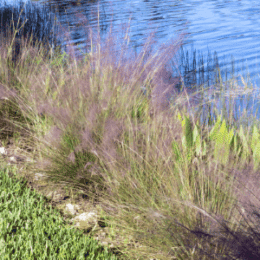 We garden on the edge of a pond. It is an actual detention pond. The definition of a detention pond collects excess water and cleans it before our water enters local streams leading to the Gulf of Mexico. These ponds are significant ecological assets and attractive extensions of the gardens. Earlier in the winter, we cut the plants low and amended the soil; by now, the native canna lilies and iris are in bloom, and the beds bring us wading birds to visit.
The pink cloud in the front is an ornamental grass, Muhlenbergia capilaris, also called Pink Muhly Grass or Cotton Candy Grass. You can use this in zones 6-10. Note that it is on the dry bank, not the actual wet-dry littoral shelf. The yellow-green of the water loving Cana Lily, Canna flaccida, also Golden Canna is indiginous to the central and south east of the US, from Texas to South Carolina
Adding Some More Canna Lilies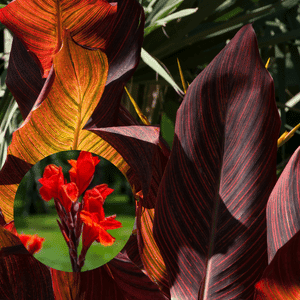 The garden has a sunny south-west facing spot, with a red blooming hibiscus tree. Near it we place big Canna Australia. With dark red, variegated foliage and a red bloom they add emphasis to the color.
In March we added more of the bulbs. For us as for any gardeners, planting bulbs gives us access to the most interesting varieties and is cost effective too!
| | | |
| --- | --- | --- |
| Do this Month | Steps to Take | Resources to Use |
| Soil | Amend any soil with organic material it will be hotter next month. | Working in your Florida Soil |
| Mulch | Add mulch to maintain water and discourage weeds. This will keep the soil temperature more even-helpful for bulbs. | Florida Friendly Landscaping: Mulch |
| Lawns | If not fed in February fertilize now. Identify and treat any pests | Florida Lawn Handbook |
| Irrigation | Be conscious of irrigation needs- we should not expect warm weather rainfall until as late as June. | Irrigation of the Home Garden |
| Fertilization | Feed any shrubs and palms not fertilized in February. For vegetables add a balanced time-release fertilizer such as 8-8-8- or 15-15-15 | Fertilization/Fairchild Garden |
| Fruit Trees | This is a good time to add them. Monitor citrus for disease. | Fruit Trees |
| Shrubs, Trees, and Palms | When new growth starts prune before the buds begin. As the flowers of winter-blooming plants fade prune them-do this before the next year's flowers start to form. | Low Maintenance Landscape Plants for South Florida |
Summary-From Emily Dickinson's Tropical Garden To Ours
There is a lot to love about a snowy winter landscape, but as any Yankee will tell you, it does get long. Emily, called winter "a pallid landscape" and she had an escape. Her father, described as a cold man, did love his daughters, Lavinia and Emily, and built them a conservatory attached to the Homestead, their family house. The sisters grew a winter garden in their glass room and in a time when travel was a rare event found themselves a sense of the tropics. Torn down by later owners, it has been rebuilt. Archeologists found the New England granite that made its foundation and you can visit and see it now.
From Pallid to Vivid
"I have but to cross the floor

to be in the Spice Isles"

-from Emily Dickinson's letters
Making dinner in Emily's time and climate, your spices; especially cloves, nutmeg and mace, were expensive. Also, the "Spice Islands," the Indonesian archipelago of the Moluccas, were a place that even a reasonably affluent and educated woman never expected to see!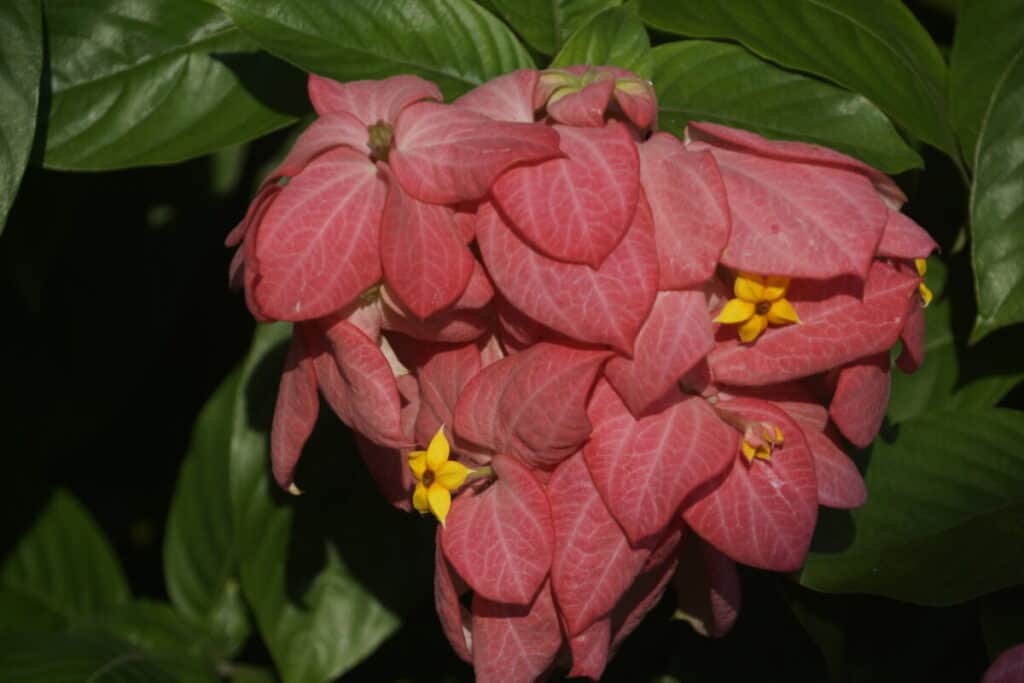 This is Mussaenda, native to the Philippines, ready to bloom in my backyard. What would Emily Dickinson have thought of it?