With new varieties constantly available, Caladiums offer unique patterns and vibrant colors in all parts of the garden in sun and shade. The beauty is in the large, graceful foliage. In their season they perform for us effortlessly, every day! Once thought of as a prize for shady spots, growers now produce varieties that are happy in the sun. Plant some in the sun and shade and have brilliant color for months.
 This means you can color block whole sections of your yard and garden wherever you want your eye to rest.
2022-Planting in our Tropical Garden
In our zone 10a garden, caladiums are long-lasting, and we expect color daily except for the coldest months. (In containers, however, they bloom throughout the year.) We placed our spring order in January, and we'll plant the bulbs in early or mid-march. The growers will ship to you in time for your zone's best planting time.
Here is what we are adding.
Cranberry Star: this one produces enormous, translucent white leaves with speckles of cranberry color. We use the caladiums to edge perennial plantings that might otherwise attract deer. It's not a perfect solution but seems to help. Here is a close up photo.
Florida Fantasy: a similar white leaf with pink veining. Close up photo.
Sizzle-a bright pink lance leaf caladium. We have some very sunny areas ant these are the most sun loving with thicker and slightly smaller foliage. They are also most suited to hanging baskets. Close up photo.
As the project develops I will add our progress to "Life in a Tropical Garden".
  Caladium Foliage
The caladium has been cultivated in Europe since the 1700s and what everyone has always loved is the remarkable foliage of the plant. The caladium leaf midrib has a prominent coloration, the margins are themselves contrasting, and the patterns on the leaves are mottled, veined, spotted, and striped. Expect to see some new variations nearly every year.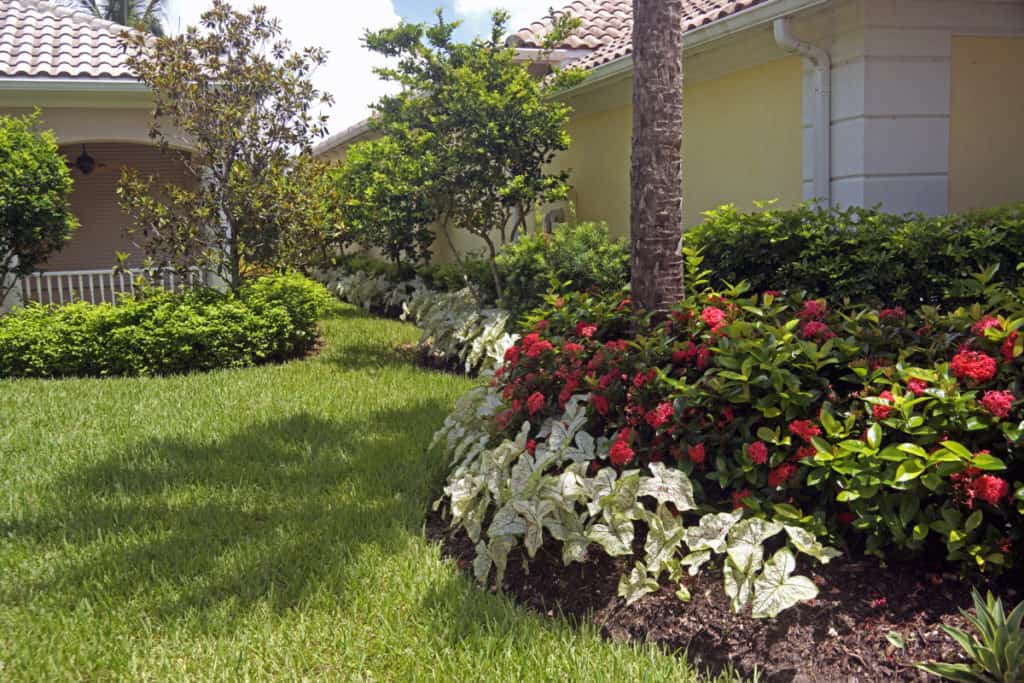 How to Find the Best Plants for Your Garden -And Economically too!
The Growers Are Taking Orders
It is December and the Caladium grower's emails and brochures are arriving. If you say, "it is much too soon to plant", that's correct but it is not the issue. Caladium lovers the world over are looking out for these notices. We pour over the offerings and place our orders right now! Shipping begins, starting with my semi-tropical zone 10a garden area, and progresses through climate areas.
You place your orders now so that you have all the choices, color shape, size, bulb size. Google caladiums for sale. Pick the ones you want, not just the ones that make it to the garden centers.
Where Caladiums come From
Most of the world's supply of caladiums is grown in central Florida and shipped to you – on your planting schedule. This has gone on for 150 years. The first shipments go out early each March to the southernmost areas. They come to you as soon as the danger of frost is over in your planting zone.
In our garden, we don't like to wait for the few plant choices to show up in the garden centers. It is easy to go on to the websites of the growers and choose from the large selections.
Once there, you can sort the offerings of the best producers by color, height, shade, or sun tolerance. Check the new plant varieties for unusual colors. Added to the reds, pinks, and whites there are now salmon and rust shades we never saw before. We hear that yellows are coming.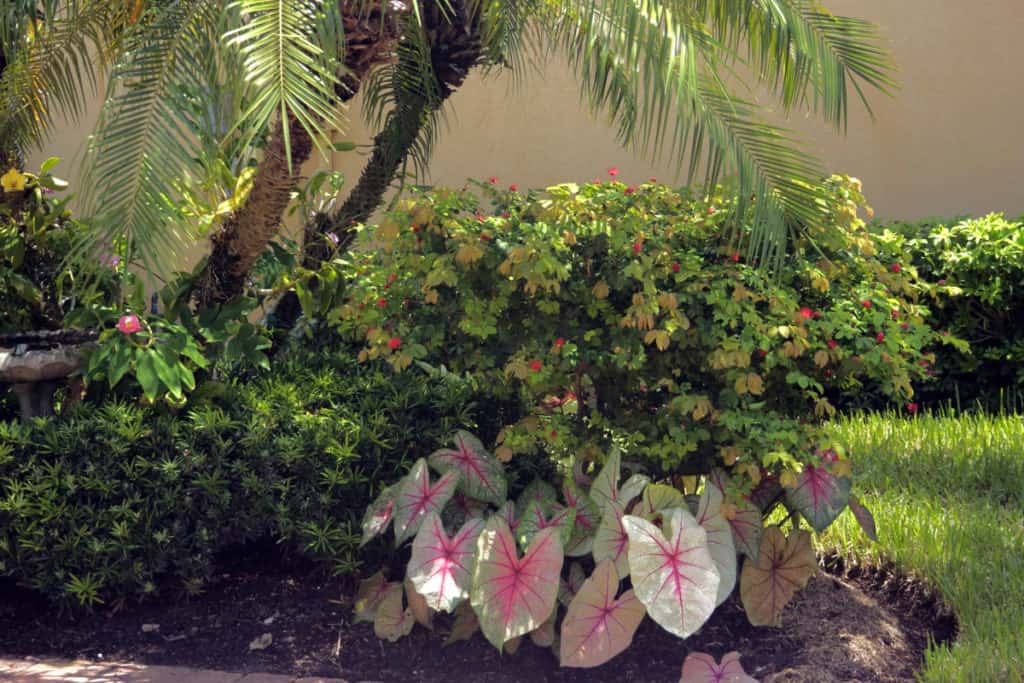 Enter your zip code or search for your location to see your shipping schedule. The schedule is designed to arrive for convenience in planting and to avoid the tubers freezing in transit. These are true tubers like potatoes, don't be surprised to see the words tuber and bulb used interchangeably. Check the websites, growers we have dealt with take your order early but only charge your card when they ship. For volume purchases, you can often expect free shipping. They arrive in neatly sealed bags and labeled. (this is important, the different varieties and colors are hard to distinguish once out of the bag!)
Choosing Caladium Types
Caladiums come in two types, Fancy Leaf and Strap Leaf varieties
Fancy Leaf Caladiums have huge heart-shaped leaves. The appearance is delicate and almost translucent.  These can be expected to do best in part sun to shade. The "stem" is not a true stem but a petiole emerging directly from the bulb and joining the leaf in the middle.
Strap Leaf Caladiums have a more elongated and lance-shaped leaf. They are a little more sturdy. You will notice that these make up the sun-tolerant category. Some newer ones have a shiny surface. The petiole attaches at the end of the leaf.
You should find full beautiful arrays of color and pattern in both. Choose with your intended location in mind.
Choosing Bulb Sizes
Caladium bulbs are sized by number according to industry standards. The bigger the bulb the smaller the number. The largest bulbs do not produce bigger leaves. That is dictated by the caladium variety. Larger bulbs produce more leaves and mature the quickest. If your season is short this may be an advantage to you. Bulb sizes vary by variety.
Cost/ Benefit decisions? The bigger bulbs have higher prices but can be planted farther apart. At our house, we don't like to wait too long for gratification and like to see them all come up together. Our choice is to use mostly #1 bulbs. They seem to be readily available. If a variety we really wanted was available in another size we would go with it.
| | | |
| --- | --- | --- |
| Grade | Bulb Diameter | Planting Distance |
| Jumbo | 2.5-3.5″ (6.5-9.0 cm.) | 1 per square foot |
| #1 | 1.5-2.5″ (4.0-6.5 cm.) | 2 " " " |
| #2 | 1.o-1.5′ (2.5-4.0 cm.) | 4 " " " |
There are smaller sizes but they will defer gratification and tend not to be available online. How many to order? For example, if your planting area is 2′ x10′, your planting area is 2×10=20 sq. ft. That will require 20 jumbo bulbs, 40 #1's, or 80#2 bulbs.
When your delivery arrives open the box as soon as possible. Too much heat can rot the bulbs.
How to Use Caladiums to Enhance your Home
We live in South Florida in a subdivision with fairly boring green foundation plantings. A row of Caladium foliage all around is easy to plant, low maintenance, and solves the "boring problem".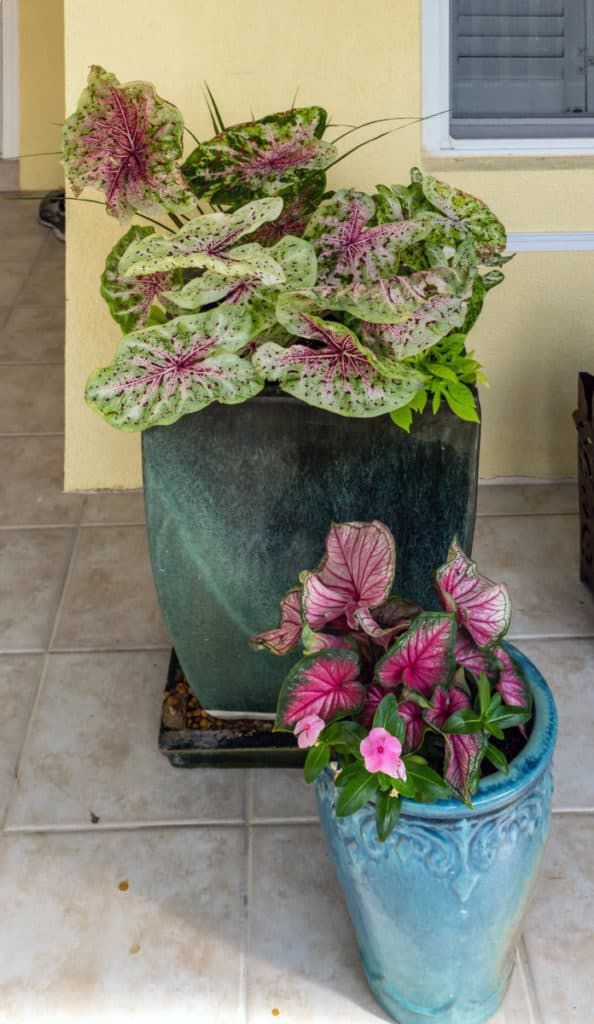 On the east side of the house, we use one of the fancy leafed white varieties.  For a great view from the rear of the house and from the pool we like Sweetheart, It is a shorter variety and bright pink to set off a dwarf hedge without overpowering it.
This plant is lovely from any view but has particular appeal when viewed from a pool float and while holding a fruity beverage.  Farther around, we picked Cranberry Star. Its pale greenish background is set off with cranberry-colored dots.
Changing Light Conditions
The front of the house is "bright"; only our beach bum, sun-loving tropicals live there.  We like to welcome visitors with caladiums in pots on a covered porch. They do well in mixed plant arrangements and hanging baskets.
We found it's easy to be lazy with them. We trim off the dying foliage in the fall and just leave them in the pots and covered with winter annuals.
Wherever your garden is, you can put the tubers in soil when the temperature is 65-70. In northern climates, you can get a jump on the season by starting them indoors in a warm, moist (not soggy) place. Some gardeners, also, report good success with a horticultural heating pad.
Planting the Tubers
For the quickest growth plant the tuber, with its bumpy side up. (They will grow no matter how you turn them but it's quicker if you get the growth side on the top.)
The bottom should look flattish and calloused, The top is hairy, you may also see pinkish points.   Follow your grower's advice regarding spacing. Measure the length of your planting beds to decide how many to order. When planting, cover them with 1.5 to 2" of soil and water them well. If you planted your sun tolerant Caladiums in areas with 6-8 hours of sun you will use more water than in the shady places.
Best Soil for caladiums
The tuber's first choice will be well-drained soil with a ph of about 6-6.5. We use these plants a lot, one spot is less than perfect soil near the sidewalk, it works. Just remember, not soggy. The test is, is there still standing water 5-6 hours after a hard rain? That's too wet. Mulch or compost helps to improve aeration, drainage, and organic content.
Water and Fertilizer
Water as you plant and afterward, allow them to remain moist. We have no problems with overhead water.  Mulch will help to save water.  For continuous growth, fertilize monthly while they are growing. Especially in sandy regions of the country, a good slow-release product is best. The growers recommend 6-6-6 or 20-20-20 in moderate amounts. Some growers suggest placing a small handful of bone meal in the hole while planting. We'll do that this spring.
At the End of the Season
In Florida or similar temperatures, when you see them begin to go dormant, it's time to stop the water. As they begin to look ragged, we cut them back with no negative outcomes. We often place annuals above for winter color.
In colder climates, dig them up. Let them dry for a week, then trim off the tops and store in a warm (60), ventilated area for next year. The tubers will spread and can be divided. We do buy a few to start in pots for the next year in case of sparse spots. Any leftovers can be used as houseplants and make great hostess gifts.
Pests and Diseases; Moderation in all Things
Good management will prevent most disappointments. Too little or too much water will damage plants, excess fertilizer will do damage and be wasted. Tubers stored below 60 will look fine to plant but may display stunted growth when planted.
Caladiums are relatively problem-free. We have found them pretty carefree.
Caterpillars will chew the leaf edges, they can be picked off. Aphids are typically not much of a threat. If they appear, horticultural soap is a remedy as is removal with the hose or by removing affected foliage.
Fungal pathogens can attack tubers and fungicides are recommended if this happens.
Deer and other wildlife can be problems in any garden. We have many around us and have not seen a negative outcome. Our generous crop of marsh rabbits has ignored the caladiums, favoring, instead, the fallen hibiscus blossoms. We planted extra hibiscus to placate the rabbit gods.
Caladiums as House Plants
From spring to autumn you can pot these up to use in the house. When fall comes, let them go dormant and store as you would your outdoor bulbs. Keep them in bright indirect light. (Like many houseplants they are toxic if people or creatures eat them.) You can also take cuttings from your outdoor plants to use in mixed bouquets.
Summary
Companion Plants: Try caladiums mixed with begonias, hydrangea, Impatiens, and ferns.
This is a plant that brings joy to those who are familiar with them. Everyone everywhere can join in the fun. We hope that you do.
If you visit Florida in the summertime, you might enjoy this. The annual Caladium Festival is held in Lake Placid at the end of July. The highlight is a tour of the fields in an air-conditioned sightseeing bus. A member of one of the farm families will be your guide as you view the plants. The sight is brilliant, a bit like tulip fields.
There is also a barbecue, an art show, a car show, and country music in an old Florida town.  These places are the real Florida and most tourists miss them.
We hope you don't miss any of the fun.
Development of New Caladiums: As most caladiums are produced in Florida, the University of Florida develops most new plants. This is a link to some of the University Research. Note that the article will link you to other materials.