Beautiful, easy to grow, inexpensive, and varied as to size and color, the flowering zinnia serves to brighten the outdoors and then comes inside as a cut flower. It attracts pollinators and people. It is an ideal flower for family enjoyment.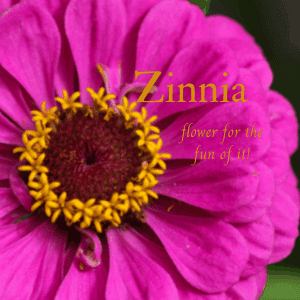 If the pandemic experience taught us anything, it is the value of something you can do at home and on your own. If it includes the whole family, it is a bonus.
Growing a few prosaic but exuberant zinnias does the trick!
Why The Prosaic Zinnia Fills The Bill!
The Zinnia asks little of the gardener. It doesn't need the best soil, much water, or fertilizer. We can plant the pointy seeds directly in the soil or use small plants from the garden center. Zinnias love the bright sun, hot summer days, have sturdy stems, and solid flower heads that don't mind the rain. They grow fast and last all summer. This is an inexpensive flower to grow and it does not need much space. Growing Zinnias is a way to include the whole family in the garden. I can't think of a plant more likely to introduce children to the magic of growing things.
How Can We Use The Zinnia?
Bright annual color anywhere in the garden. Zinnias come in every color except true blue. They will suit your decor.
Use them anywhere in the garden, they come short and tall. Use them in the front or in the back.
The shorter varieties are useful in containers and window boxes.
They give pleasure all summer long, surviving the "dog days" better than most plants.
Zinnias are a successful and long-lasting cut flower for the house. Cut properly they should last over a week.
How Did We Get Them?
"mal de ojos"
Spanish explorers discovered them in Mexico in the 1500s and brought them back to Europe. They were not a hit! The Aztecs had a name for them that meant "eyesore." The Spanish translated that to mal de ojos. Not a great start.
But the plant that was to become the Zinnia was not done yet. Later explorers discovered a related plant in Brazil in 1796 and people liked it. Linnaeus recorded it and it was named Zinnia to honor a German botanist named Johan Gottfried Zinn. Plants made their way to America but they were not appreciated until well into the 19th century.
In fact, it was French botanists who created the first double varieties.
Varieties We Can Use
Zinnias have few problems, but they are troubled by a fungal disease, powdery mildew. This can be controlled by good husbandry. This includes providing air circulation by planting at recommended distances, watering from below, and promptly destroying any damaged plant materials.
Newer varieties are more disease-resistant and offer good choices in color and size. Here are some selections.
| | | | |
| --- | --- | --- | --- |
| Variety | Size | Color/Features | Notes |
| Profusion Series | to 18″ | Coral, apricot, cherry, gold, white, disease, rot, drought-resistant | cross of Zinnia angustifolia x Zinnia elegans |
| Queen Series | 24-30″ | unusual colors, lime, maroon, long stem, long life in vase | |
| Sun Series | 24-32″ | gold, red, cherry, large double flower | |
| Zinderella Series | 24-36′ | The frilly textured flower requires compost improved soil | |
| Giant Dahlia Flowered Series | 40-50″ | large blossom. single, semi-double, double, wide color variety | |
| Oklahoma Series | 30-40″ | reliably double blossoms | |
| Thumbelina Series | 6″ | Dwarf series | |
| State Fair Series | 36″ | Red, purple, yellow, orange | |
How To Grow Zinnia
Planting
Find a spot in full sun, with reasonably organic soil and regular moisture to start your plants. To ensure continuous blooming sow seeds every two to three weeks until the mid-growing season.
Water And Fertilizer
Once mature they require one inch of water every 5-7 days. Fertilize with a balanced fertilizer such as 10-10-10 every 3-4 weeks in the growing season.
Pests And Diseases
Pests: Aphids, mites, whiteflies are possible causes of damage. Remove them with water or insecticidal soap.
Powdery MIldew-this is a fungal disease that produces gray or whitish powder on the leaves and stems of the plant. While rarely fatal, it can defoliate the plant. To prevent this from developing provide the plant with sufficient airflow and watering below the foliage.
Gardening With Children
This is a simple plant and can be used as the opportunity to get kids involved in the entire process of growing things.
The zinnia is a simple flower. It grows in full sun or near to it. As an annual, it has a beginning and an end. It lasts all summer. It is colorful and attracts pollinators. Kids can cut the flowers and bring them to the house or make gifts of them.
Gardening engages our curiosity, requires a reasonable but not constant commitment, and certainly helps self-confidence. For the first garden, I would set the stage for success. This will help them have a second garden. By this, I am suggesting buying an inexpensive flat of flowers rather than seeds. That can wait for a later garden. A flat with 6 or more healthy flowers will allow for a little error and gives a child a hint of what the little flower will become.
Tell the children what to look for in healthy flowers and let them be involved in buying the plants. Look for lots of buds, sturdy stems, undamaged foliage. If you can, check the roots, they should be white, flourishing, and have a pleasant earthy scent.
Preparing the soil. This is a judgment call, based on the child's age and the condition of the garden. The soil needs to be friable and ready to plant. If it is not, dig in some amendment and rake it smooth. Start with the flat of plants, a trowel, a watering pot, and a little bit of timed-release fertilizer.
This helps encourage the knowledge that the plant needs to have nourishment and water just like us. Plant the first flower just the way they all should be done. Dig the hole twice the size of the plant pot and very slightly deeper. Put in a little fertilizer and carefully remove the plant from the pot. Plant it so that the top of the plant is equal to the soil around it. Let the child slowly and gently water the plant well. This is a good time to explain that we are trying to ensure that there are no air pockets under the soil and that the roots have a strong opportunity to bond with the soil that feeds it.
Check the plants daily and let the kids put a finger in the soil to feel for moisture. Later there will be ongoing activities, deadheading, weeding, and cutting flowers for the house. Make it fun. You are setting the stage for the second garden.
Reference Ideas: