Our Narrowboat Adventure on The Thames Ring
127 Stairsteps
If you want a panoramic view of Oxford-see it from above! Pete wants to climb the tower of St Mary's church on the High street. This is the place to see the city from its true heart.
Climbing The Tower
In Oxford's early days this church was the first building of the university. It held religious services, lectures, exams, and graduations. This lasted, I read, until graduations became too rowdy and the Sheldonian Theatre was built. (I have no reason to think that graduates became less rowdy-they just weren't rowdy in church!)
St Mary's Tower
He plans to buy a ticket to climb its 13th -century tower. He did this at the Westerkerk Church Bell Tower in Amsterdam and produced memorable photos-so he should have been forewarned. Here, in Oxford, he showed up with camera equipment and an old fly-fishing wade stick he carries on hikes.
"Do you need that thing for walking-it's 127 stairs!'

Said the nice lady selling tickets in the gift shop
Viewing the church is free. Climbing the 127 stairs is £4. It is a wonderful view; however, it starts with 60 wide comfortable wooden stairs. After that, there is a platform with bell tower mechanisms. Then there is a narrow door leading to 67 uneven, narrow stone steps in a spiral shape. This stairway section is a tight shoulder-width wide.
The church limits the number of people on the tower at any one time. People are traveling in both directions. At the top, the viewing gallery offers a panoramic view of the city and a very narrow walkway.
One face of the gallery has the best view of the Radcliffe Camera. This classical building houses the science part of the Bodleian Library. Another faces All Souls College.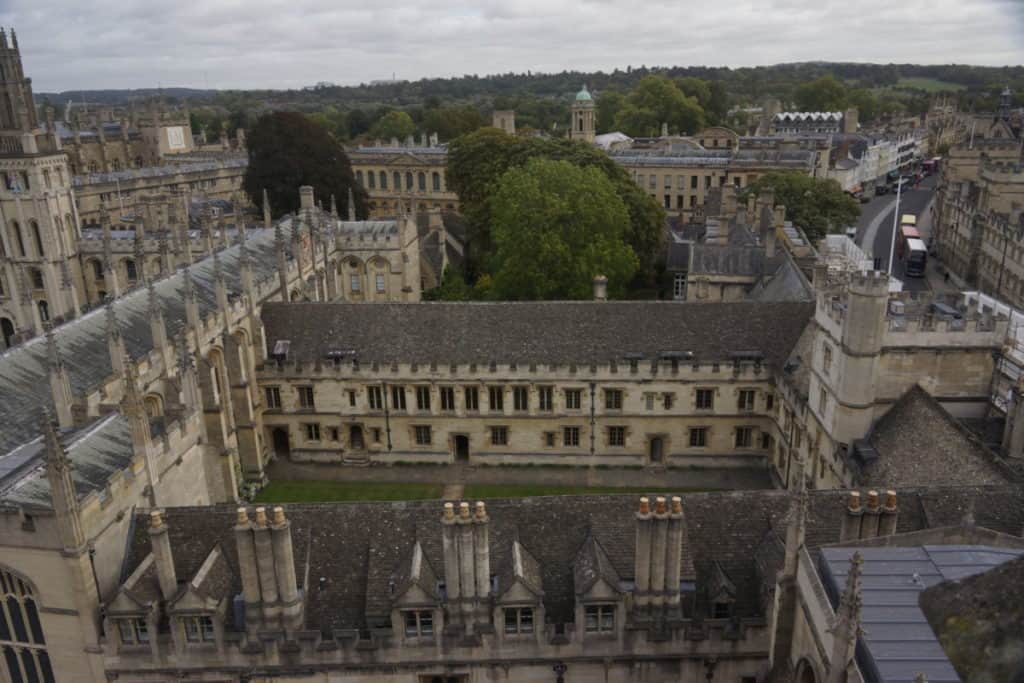 Pete has made climbs like this before. He thinks it is well worth doing for the insight into a city and the memories he gets. It's not for claustrophobics!
The Vaults and Garden Cafe
Shrewd Jane sat in the Vaults and Garden Café doing chores that require an internet connection. Located in the Old Congregation House of the church it is a popular spot for breakfast, lunch or cream tea.
We ate here twice, indoors, on rainy days. Indoors, you admire the vaulted ceiling and outdoors, you eat in a pretty garden and overlook the Radcliff Camera. The restaurant lists on its website the local organic farms which supply it.
We enjoyed the food, eaten at long communal tables and the atmosphere. Students are doing homework here; you can bring your tablet and get some work done. You won't bother anyone.
At the second meal, I asked about the old "American Songbook" music they played each time. The young server answered, "It's our favorite; around here it's all Frank, Bing, and Dino all the time"! So, if you go for the environment or the food, you'll get the rat pack too.
The Natural History Museum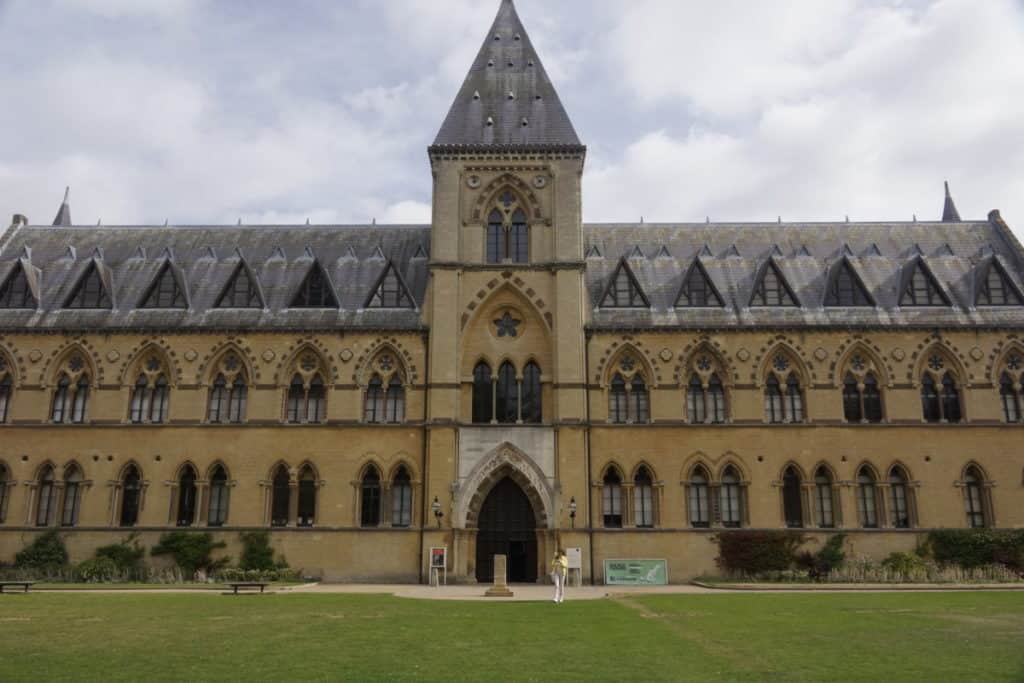 After breakfast, we visit the Pitt Rivers and The Natural History Museums. These are housed in a handsome neo-gothic building and they have got it all- Lewis Carroll's Dodo, 7 million specimens, Artwork.
Why give it valuable time on a busy trip? It is an internationally significant collection. It will take you back 600 million years.
This visit helped us understand more about the rich intellectual life of the Victorian Age. When this building opened its doors it immediately was the location of "The Great Debate". This is was where Huxley and Wilberforce went head to head in their dispute about Darwin's theory of evolution by natural selection. They did not avoid controversy!
The Architecture
We were glad to have given ourselves enough time to enjoy the building itself. If you have any love for architecture- this is a prime example of the Victorian neo-Gothic style.
John Ruskin was likely the most important art critic of his century. This building relies on his strong view that architecture should be shaped by the natural world.
So far, this trip showed us wonderful examples of Pre Raphael Art and Architecture. This building highlights the movement's vision of science and art. My key take- away, was- be true to nature.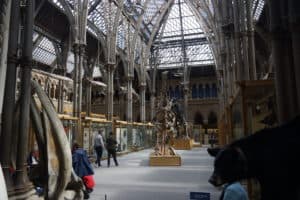 Notice the striking glass and iron roof. In the museum court are 126 columns. Each one is made of a different, decorative British rock. The carvings of natural plant materials were copied from true examples in the Oxford Botanical Garden.
I think seeing these places has been important to us. Today we live in a time period in which we are rethinking technology. We love it, we benefit from it but we are learning its dark side. Aren't we!
These Victorians were concerned with the sameness and inequity of the Industrial Revolution. There are important parallels.
The Pitt Rivers Museum
At the back of this building you enter the Pitt Rivers Museum – here is housed the anthropological collection.
An Important Feature
It has got a fascinating format. You will see carvings, woven goods, hand tools, musical instruments, but all grouped together by function; and not by time period or location. This will show how people all over the world started a fire or made a statue to admire or clothing to wear. It is insightful.
The front lawn has castings of dinosaur footsteps. Little kids love it.
A Pub and a College
The White Horse Pub
For a late pub meal, we hit the Murder Mystery Jackpot! The White Horse is across Broad Street from the Sheldonian Theatre. It was used in the filming of the popular mystery shows, Inspector Morse, Inspector Lewis, and Endeavour. That's an Oxford Hat Trick!
We had a pleasant lunch and an opportunity to talk with a couple from the Lakes District. We say we always wanted to see it; it seems beautiful. They agree, "it is beautiful, but the weather is terrible, it's very rainy" It seems that it's not bragging if you complain a little!
All Souls College
Every break we take, a meal or just a snack, is a refresher. We are eager to see more. We step into the first Quad of All Souls College. This is a place for research with no undergraduates. The porter at the desk is kindly and proud of where he works.
The Quad
England has had a hard summer. It has been hot with no rain and the lawns are a little bare. Here the grass is vivid green, and the quad has beautiful floral borders we don't see in all the colleges.
We comment on this fact, "how do you do it'? "Our gardeners are the best". He clearly believes it. The great quad is closed, he apologizes- but we really must see the chapel. We liked his attitude. In a town lousy with beautiful chapels he is certain we will be impressed!
The Chapel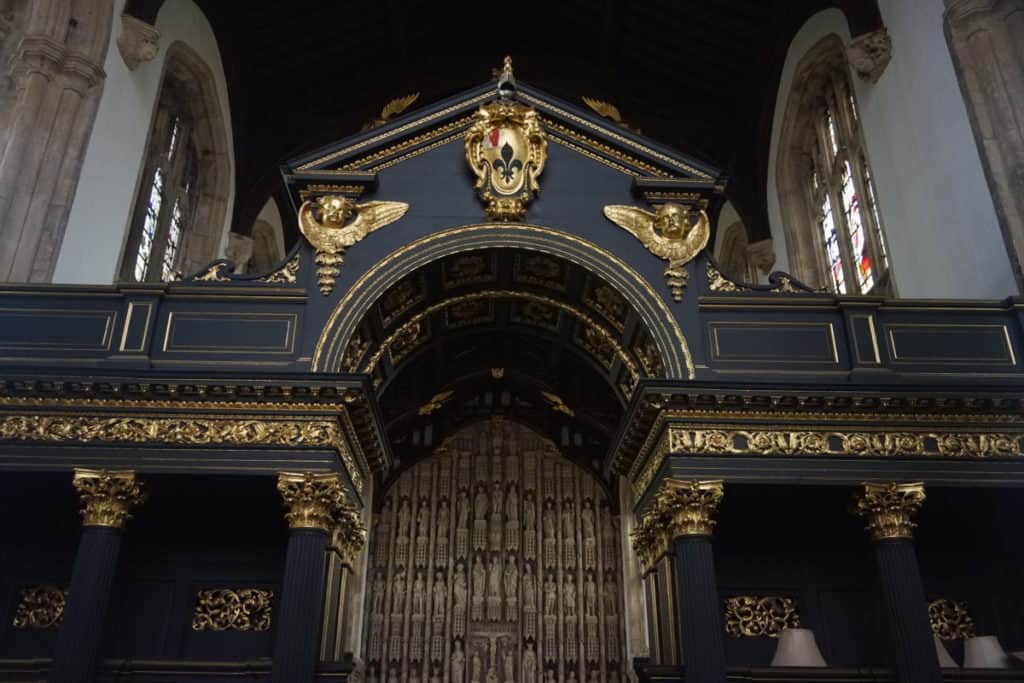 We were! It was simple, painted in a rich charcoal gray with heavy gilt. There were plaques dedicated to former fellows of the college; One former Warden (head of the college) was described as "modest, gentle, independent, shrewd." He would have been somebody to know.
Travel Resumes
Back to the prosaic! We find the stop for the S1 bus to the boatyard. We are not sure we will recognize our stop near the river. Unusually, this bus driver is not helpful, but the passengers are.
I sit beside a woman riding home from her job in a coffee shop. She looks tired but takes an interest. She thinks she knows the place we want. We thank her and set off to hear the results of the engine repair.
Complications
The news is not good! The boat mechanics worked all day, but they don't understand the problem and the engine is not reliable. Losing power on a narrow canal is an annoyance, losing power traveling on the river could get tricky.
Life can be complicated, a life "on the road" can have even more complications. Sometimes, we need to think quickly and compromise.
We need to keep having fun and learning. But maybe not the fun and knowledge we planned. That might be one more lesson of travel: plan in detail -then be flexible.
We discuss the problem; Rob offers us a possible solution. It is a new boat at another boatyard!
It's called the Eynsham, like the Golden Tarn but 3' longer. It is moored in what turns out to be a beautiful village with a funny old English name: it's called "Wooten Wawen" and it is in Shakespeare country!
In two hours, from the boatyard, we would be in Wilmcote, near Mary Arden's farm. On the next day, we would be in Stratford on Avon on a new river with all the Shakespeare sights and a good theatre.
We will cross a long aqueduct, and quite a few locks. There are not many long aqueducts on the canal system, and they are exciting. I think that basically we are going to be traveling in a long bathtub far above the ground!
This changes our plans. We will miss some places we wanted to see along the Thames, however we will gain a lot. It's a slow boat but it keeps on going.
Wednesday, September 19:
We are all packed. We will take all the food that is safe to take in Rob's car. He is going to drive us to the new boatyard and has promised to show us some of the sights in the Cotswolds so that we don't have a wasted day. The stinky cheese will have to stay for obvious reasons.
He drives us from Eynsham, in Oxfordshire, the Golden Tarn's home to Wooten Wawen, in Warwickshire, the home of the next boat called the Eynsham. Can't tell the players without a scorecard!
Road Trip in Cotswald Scenery
We fill his trunk and part of the back seat. The road trip starts about 9:45 am following an ancient Roman Road. He has arranged some interesting towns to see and some good stops.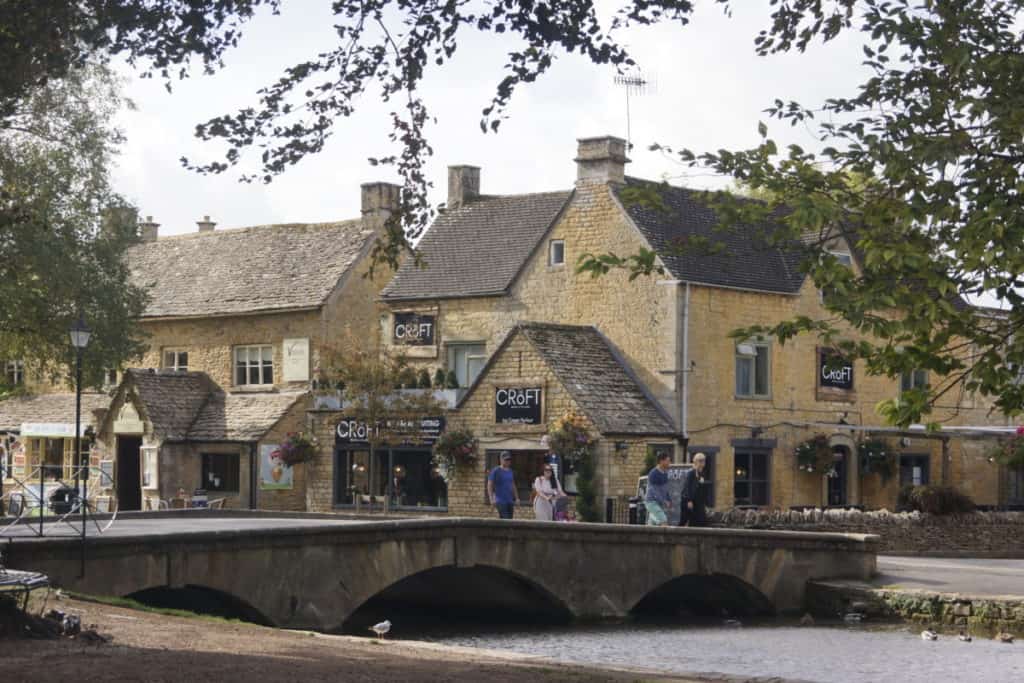 We pass through Stow and stop for a visit at beautiful Bourton-on-the-Water. You wander through this pretty place by crossing a wide green, and a low, arched stone bridges over the Windrush river which bubbles through the town center.
Stone buildings, trees, flowers, loads of shopping and restaurants. This is one of those places you want to see at Christmas time. There are many choices of accommodations, making this an ideal base to visit the Cotswolds. You could visit Downton Abby and Blenheim Palace easily from here.
We have time to visit a very good bakery. Coffee and pastry, then we move on.
Springhill Estate
We visited Springhill Estate-built by Capability Brown for the Earls of Coventry. This features the fantastic Broadway Tower (designed by James Wyatt). This is a late 18th Century mock Saxon tower. Built-in a time period when you made your own fun, this place is a backyard theme park! It has got it all. Gargoyles, a hexagonal shape, battlements. You approach it by climbing a big hill- it stands up against a bright blue sky. If you climb the tower, you can see Wales.
The Folly's History
It is a Folly, but it does have a real ancient history. It is on a huge beacon hill and sits along a pre-medieval trade route.
It fascinated the Pre Raphaelites and the Arts and Crafts figures. William Morris used it as the place to start his national campaign to preserve historic places.
Today you can buy gifts made of textiles in his own designs. There are many sites associated with William Morris. We are beginning to think that he is to this country a little like George Washington is to us Americans. They slept everywhere!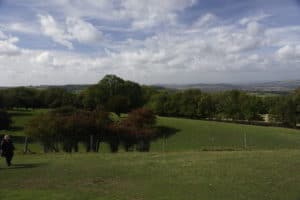 The estate offers endless views, a barn selling gifts, clothing and sweets. We carelessly overlooked the Prosecco bar. There is also a café called the Morris and Brown Café. A deer herd and endless sheep watch you watching them.
We see, but don't stop at the town of Broadway. It has had recorded settlements for certainly 5000 years. It's been a bustling place and a backwater. Now with 2500 inhabitants and tourists it is a little bit of both. In the 900's it was in the domain of the Mercian Kings.
In the medieval heyday of the Wool Trade, it achieved wealth and was heavily traveled. It lost its travelers in 1852 to a nearby railroad and became a perfectly preserved backwater.
It makes us think of a favorite island, Nantucket. A wealthy place in Whaling days it shrunk when that business ended and never had an industrial revolution. This produces pristine historic places.
Wooten Wawen
We arrive at Wooten Wawen a tiny village (about 1300 residents) it sits along the Stratford Canal and the boats travel south by crossing Stratford Road in a tiny version of an aqueduct. Think of it as a big bathtub long enough to cross a two-lane street!
The Eynsham is very similar to the Golden Tarn. Some features we like better, others not so much. The bath is a little bigger. The dining area is a comfortable banquette, the last one was a tiny table and chairs. We will miss the comfortable lounge chairs.
We set up the first boat according to the sailor's rule. "A place for everything and everything…" We try but our standards slip a little here.
The boatyard is spacious making moving the boat easy. It borders a pasture with two fat horses. We feed them apples and they learn to follow us along whenever they spot us.
The boatyard is located immediately behind the Navigation Inn. This proves convenient for real ale, nice cider, and hearty dinners. The weather turns a little chilly and we are glad to have them a short walk away.
The countryside is undulating and wooded with open pastureland. The town has a very charming shopping plaza and a truly astounding ancient church! We visit what may be the two tiniest general stores we can think of.
Perhaps a place we once saw in the American deep south which combined groceries, hairdressing and bait, in one store, is the only other good comparison. There is a handsome manor house which operates a neat mobile home park.
Dinner at the pub-every day is a new experience. The Navigation Inn offers Hook Norton ale also but not a coach and horses in sight. They must be an Urban Legend.
Tomorrow we take off on our second boat, a new adventure to a place we would love to see but did not expect to. Here is chapter 11-"Why do Humans Love The Water"