Enjoy the places where Will was at home
"When I was at home I was in a better Place"

As You Like It (1599) act 2, sc.4, 1.(16)
Sunday, September 23
The sheep ignore the rain, but we huddle undercover waiting for the bus to see Stratford and the Shakespeare sights. We ride with audio commentary to the Visitor's Center at the confluence of the canal and the Avon River.
This is a well -maintained area reeking of civic pride. The Canal and River Trust maintains a display boat in the mooring basin and had good information about this popular area. We will sleep here tomorrow night. On a weeknight, we will have no trouble finding a spot for our boat.
Stratford Food Festival
We have arrived on the weekend of the Annual Stratford food festival. There are about 120 vendors in stands lining the main street. This event is sponsored by local area businesses and the restaurants are all offering a tasting menu.
It is a pleasant way to taste lots of something new and bites of old favorites. The offerings include some global flavors, traditional English food, beverages and condiments.
Chicken Satays
We eat chicken satays with a peanut sauce we appreciated. Rich with peanut bits, the rings of red pepper and diced cucumber were fresh. I need to try that.
I learn a lot from writing up our trips, it's an opportunity to revisit things we liked. We eat something fun then I look up a recipe and try it. Without keeping a journal, we could have forgotten some things of value.
Local Cheese Choices
The cheese offerings are a pleasure. For meals on the boat, we select a Shropshire Blue. It is both blue and orange. We add a creamy Derry Blue and Stinking Bishop. The last is an old favorite.
We first found it at the V&A Café in London, years ago and get it wherever we can. (Not before an important interview, perhaps!)
Gin-lots of Gin
There are interesting beverage options including, again, extensive choices of Gin. This is not our beverage, perhaps a Pimm's Cup but that is the extent of our taste.
For me, I tend to attribute the problem to a childhood, spent reading far too much Charles Dickens! In his novels it always seemed that when a hard-working poor man went bad it had to do with Gin. Am I just carrying on an old writer's prejudice or is it my taste buds?
Consider this town neat, historic and touristy! Sadly, there is a homeless problem. We find a good coffee shop and make a stop.
Pete says it reminds him of Edgartown on Martha's Vineyard Island. I see his point; it has a holiday air and a little nautical feel.
Finally, Shakespeare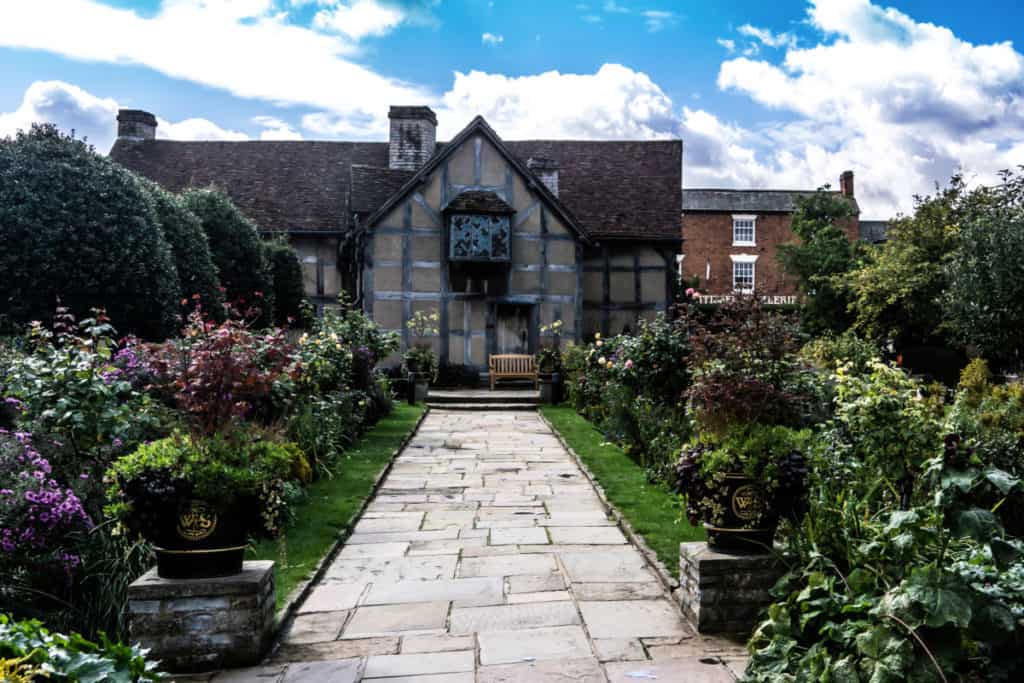 We visit his birthplace; Will spent his youth and old age in this town. He was baptized and buried in the same church along the Avon river. Despite that, he set the majority of his plays in other countries.
There are about 9 years of his life that no one can figure out. People love him for his words but the mystery adds excitement too.
Events in the House
This house, with a convenient midtown location, is where Will grew up. It was his first home with Anne Hathaway. The half-timbered building is large, authentic and with furnishings and costumed guides offers a good picture of day to day life.
The rooms are small and even on our edge season visit, were very crowded. For this location, we would try hard for an early am tour.
Mary Arden brought the bed and wall hangings with her. They make the room bright and comfortable.
Notice in the photo that the bed has short, vertical bars. You turn these to tighten the ropes that hold the mattress up. Now we know why we say "sleep tight."
Outdoors with Gardens and Actors
The house is surrounded by gardens. Gardens are a place where the Shakespeare Trust makes a real effort. They are worth spending some time in.
"What's in a name? That which we call a rose, by any other name would smell as sweet."

-Romeo and Juliet
Shakespeare on Horticulture
Shakespeare's works refer to 175 different plants. He uses botanically correct terms for trees, herbs, vegetables, and flowers. His definitions are substantiated by physic gardens of his time. Horticultural historians use his writings as a reference for historical plant materials of the Elizabethan Age.
There are paved areas, plenty of seating and a troop of actors put on impromptu performances. They even take requests! In fact, they encourage requests. They are pretty confident! Allow plenty of time to sit on one of the benches and take it all in.
This is the part of the tour that impresses most guests. It's good stories and good acting that we came for, and we got it.
The Giggling Squid
Looking for a late lunch; a shopkeeper recommended a small Thai restaurant on the High Street. It specializes in Tapas style small plates. Surprisingly, this is part of a chain.
We ordered, Pad Thai, pork dumplings, squid and a beef salad and gambled and won on a Pino Grigio we knew nothing about. With the bill, came jellybeans in citrus flavors.
The food was tasty, the environment attractive-we'd like to have one near us! I looked up the chain's restaurants in other towns, they are all decorated in quirky décor, different in each town. One looks like a library, another has bold floral wallpaper.
Riding Back through Steeplechase Country
The audio enriched bus takes us back to Wilmcote. This was a pleasant surprise as it took us through the rolling countryside. This being hunt country, it is also Steeplechase Country! We passed farms and racing stables, immaculate and green. Handsome horses filled every field.
We kept looking around for one of Dick Francis' murderers to pop up. His stories had a formula, but he did always find a way to surprise you.
He was a champion jockey and successful writer. It is not often we find someone who excels at two such divergent careers! It's unusual to find among professional athletes.
Back "home" to the boat. We exit the bus at Mary Arden's farm, the last people on it. Tired, we cross the Feather Bed Bridge, and again the sheep don't care.
The heat is on, the engine running to charge our devices, we are comfortable at the big banquette table. If renting a boat for a group, the big table is something which would be fun to have.
About the Cheese
The Shropshire Blue is pretty but not outstanding. The creamy Derry Blue is our winner. The Stinking Bishop, we love but it does tend to command the refrigerator!
Travel Plans
Tomorrow we will move on, we'll be busy, we have 17 locks to climb. If you would like to do this kind of trip consider this fact. Most of the time you travel at your leisure, but there can be a few active days!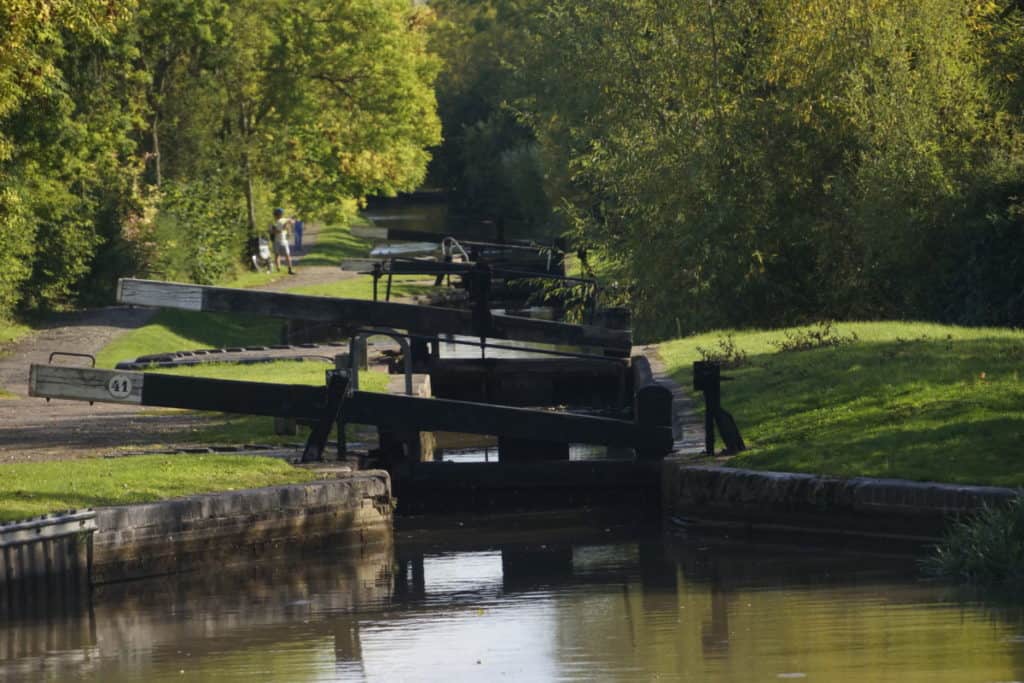 You can take a bus from Oxford to Stratford on Avon with no effort. What we get from our trip is that we forgot we are tourists from another country. We are allowed to feel like part of everyday life. We might miss our pretty garden in Florida, but right now we don't care.
Monday September 24
We left our rural mooring at 8:30, the next place we sleep will be livelier. We will be in the basin near the Shakespeare monument and the Royal Shakespeare Theatre.
The day blossoms cold and sunny with not much promise of wind. The temperature is about 60⁰, some boaters wear winter hats.
Lots of Locks and the Tow Horse Bridge
Immediately we duck under Bridge 60, it has been split for the tow lines of long-gone horses. We are in the country of sleek Thoroughbreds; these slow old boys were a national treasure, but they wouldn't stand a chance in today's competition. The first lock is a challenge, No. 40, the near balance beam is broken. Pete climbs over the beams to reach the water on the other side.
Now we are in luck. The Canal and River Trust volunteers are out in force. This means that we learn a lot and do a fraction of the work. They are a great volunteer group, experienced, organized and willing.
We are Master Gardeners and work in a volunteer organization. It's important that in these groups, volunteers are happy and able.
The first volunteer to help us has adult children in the U.S. He was on an episode of the TV show "Great Canal Journeys." I think we saw him.
Jump Racing
He tells us lots of things, including the fact that there will be "Jump Racing" at Warwick tomorrow. This should be fun. We were fans of Steeplechasing in Pennsylvania and we have one very beautiful race meet in north Florida. English chasing was fun on a prior trip. We would like to go again.
An Active Vacation
After this group of locks, I hop back onto the boat. This is very slow travel, but it has an opportunity for exercise. The Americans we encounter are all impressed that they can have fried food and ale in the pubs and their pants are loose. We pass below a highway bridge, then we are looking out for a water point.
At noon we stop for tea, a snack then, water and rubbish disposal. I notice that the lovely French butter with sea salt is called "Le Gall," It comes in a bright blue wrapper. We check our guidebook map for the rest of the trip. Lock 51 is coming soon.
On occasion, the boatyards which rent boats are a little difficult about providing services. The guidebooks just say where facilities are and some of the rental yards are little cranky about providing services to competitors boats. We realize they are busy and in competition but annoying a prospective customer seems shortsighted.
Now we barge into town, crossing under a narrow low bridge into Stratford's pretty basin. This town is "Strat Ford upon (the) Avon (River). It is a combination of Celtic and Saxon words and means the street that crosses the low ford of the river. That spot where we duck under the low bridge is the "Strat Ford." Interesting.
A Perfect Location
We find a prime mooring just in front of the Shakespeare Memorial. There are loads of ducks, geese, swans, and Gongoozlers. Gongoozler is the name the old boatmen gave to those people who hang around bridges and locks watching you make a fool of yourself.
Parking yourself in front of a famous monument for a few days is a wonderful idea and a terrible idea! Morning and evening we looked out to this wonderful bronze statue of Shakespeare surrounded by his characters.
Morning and evening we found other tourists peering into the boat and discussing (perhaps) our housekeeping.
On Bridge Street, a pretty shopping area, we find groceries for dinner on the boat. Tired, we will turn in early.