Our Narrowboat Adventure
Here comes Aynho, the Apricot Village.  Aynho Warf appears. We approach it through a long narrow passageway with boats moored on both sides. Here are all the comforts of home. Fuel, pump out, fresh water, and a laundromat. It's a launderette here, but it works just the same. We have clean clothes, and our 57' boat is safely parked in a 58' space. Pete is getting the hang of the tiller.
This place is the home base for a lot of residential boat owners. We met a couple who have lived 11 years on their boat. They raised two children on board and commute to work in neighboring towns. We learned a lot and we got some good advice about boating on the Thames.
How To Pass Moored Boats
This is a small but important courtesy in the pantheon of canal boat etiquette. Before reaching the moored boats slow down to what they call "tick over speed," it's not more than two mph. (I said this sport was slow!) This avoids slapping your new neighbors with wave action.
If you don't understand why this is a problem, do this. Pour out the last glasses of wine when someone passes you at four mph, and you'll figure it out!
Life Aboard
Sunday, September 2: We are up early making coffee. From the galley window, the sheep are at eye level. I can see what they are chewing on. We will take a hint from the sheep and take the day off. Walking is a big activity in this kind of boating, and we'll stroll through the fields to the village.
Along the rural canals (there are plenty of canals in cities), we meander between pastures, woods, and fields of crops. The sheep are ubiquitous and seem to find us a minor tourist attraction for themselves. Many mornings, making coffee in the boat's little galley, I get that feeling that I am being watched. I look around, and there is a sheep or two, meditatively chewing and examining my actions.
We have gotten to love seeing them around. They are mostly engaged in grazing but always take a look at us like the one on the left.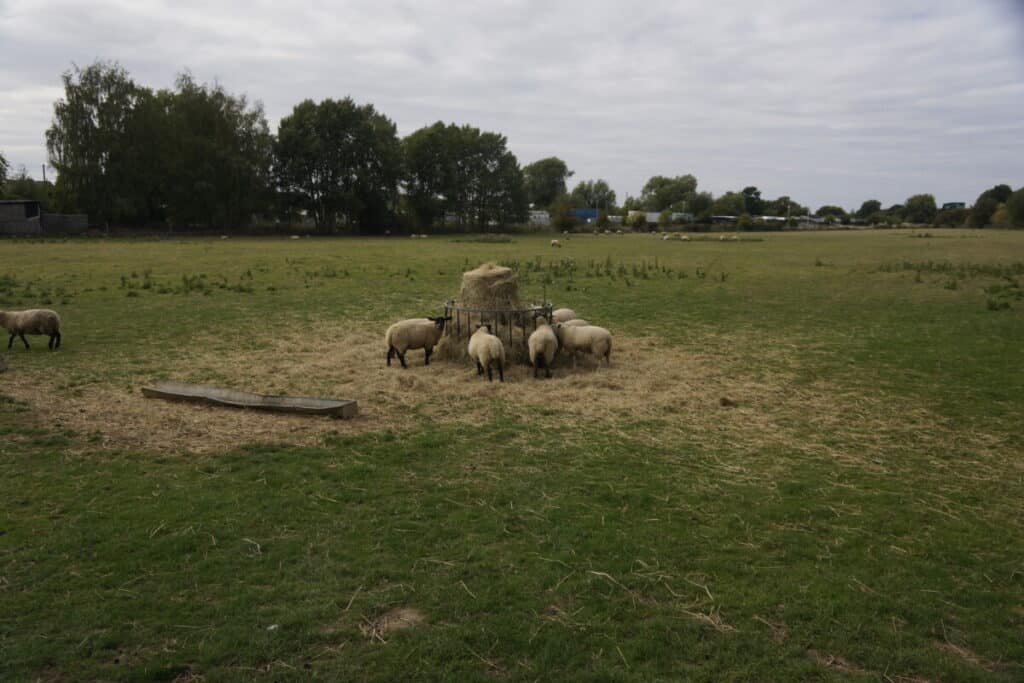 The Americans we meet all say, "We eat out all the time, drink beer, and we are losing weight. What's going on"?  We took the customs agent's advice. We can't possibly drink as much real ale as Inspector Morse, but our pants are loose, and we eat and drink whatever we want.
Food
With our feet up, we can talk about living on the boat. Food: We eat out a good bit. We do it when it's convenient, when the food looks really good, and when we are just too tired to open the silverware drawer. We don't miss anything on this trip and get really tired.
The pubs are forgiving about our late-day attire. The attached restaurants might be a little less so. The pubs are for Real Ale, history, and good company. If they can fry it or roast it, it's always tasty.
Shopping
We had stocked up at the Oxford Covered Market. In 1774 they opened this place on the High Street because the outside stalls were "untidy". Oxford is one of those college towns where town and gown struggled to get along.  Pitched battles!
To get the market built, they formed a committee of half town and half gown, and it got done. We bought a lot because we had a little freezer, but we should have bought more. The meat dealer makes wonderful lamb patties with mint, well-seasoned sausages, and meat of all kinds. These made wonderful alfresco suppers on the bow.
I asked the meat man to recommend a good place for cheese and butter. He took me by the arm and walked me up the aisle to where he liked. He said we were headed to the best cheese man in Oxford. If he wasn't, we'd like to meet the one who was.
We sampled and bought; Parmesan, Pecorino, Lincolnshire Cheddar, a creamy French Brie, and Isis, a stinky local favorite. We added some wonderful French butter with big dots of sea salt and ¼ of a huge sliced loaf which he said would keep well for our toast. He was right about all of them.
On one of our early days in the Osney part of Oxford, we stocked up at a new Waitrose market. Some things are hard to find in another country. When I don't have time to make chicken stock at home, I buy it in a paper carton. At Waitrose, a man watched me wandering the isle and showed me concentrated stock in tiny containers.
Concentrated is good when you are walking with lots of bags, and it is a great product to keep onboard. We carried our bags in a high-traffic area, always cognizant of the fact that the cars are not coming at us from the direction we expect. This is important if you come from a place where they don't drive "British style" do not forget it!
Getting to the Stores
We anticipated that most of our moorings would not be near grocery stores, we prepared reasonably well. Another time we might set up a grocery account and meet the delivery truck. I read a travel memoir written by a woman who always buys a folding cart when they stay for a long time in rented quarters. They just leave it behind for the next renter. That is a good idea.
Cooking Onboard
We have a 4-burner stove, an oven, and a broiler. No toaster, and the tool selection is ok. The knives are dangerously dull. Pete sharpened them so I would stop beating up the onions. I made a lot of soups and stews. The frozen servings came in handy at the end of a long day. Sometimes we would moor in a beautiful country area. Quiet and beautiful, just us and the cows – but no stores.
I learned to cook a meal in shifts. Sauté the vegetables, refrigerate, operate the locks, and finish the meal later. Travel is busier some days than others, with longer distances, more locks, and things to see; it's good to have a meal ready.
Aynho Village Life
Our Sunday off, Sort of… We finished the laundry, bought a few supplies at the small store, and talked again to some of the liveaboards. We got some information about the village of Aynho, which is not canal side. It's much older than the canal and is about a mile away.
It is said to be beautiful, with wonderful views, a manor house, a church, and a great hotel for lunch. We make reservations at the Great Western Arms, beside the boatyard, for the Sunday roast they are famous for.
The walk is east of the canal and on a busy country road. We later learn that there is a pathway through the fields, but somewhat longer. Uphill going to the village but down coming home. Aynho, the pale beauty. Apricots grow, with roses, up the luminous stone walls. In prior times people paid their rent with the fruit.
The village is spacious; it winds across its hilltop. We walk the lanes and alleyways between the limestone houses. Around the corners, we look down on the rolling Cherwell River valley. The hay has been cut, and the fields are pale gold below. Gold, it's the dominant color. Green everywhere else.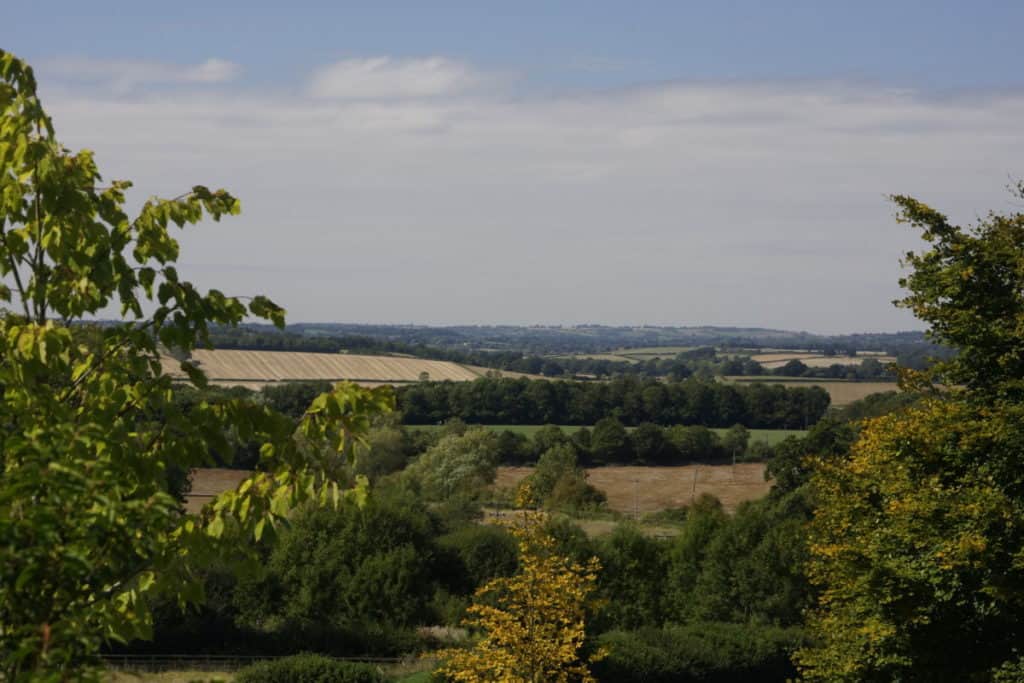 The road bends, revealing the manor house and its adjacent church. The village tightly encloses these two buildings. This place is one cohesive unit; it's together, it's complete, which makes it memorable.
Aynho Park – St Michael's Church
The 17th-century manor house is called Aynho Park. You can rent it for quite a party. Beside is St Michaels church with its 14th-century tower.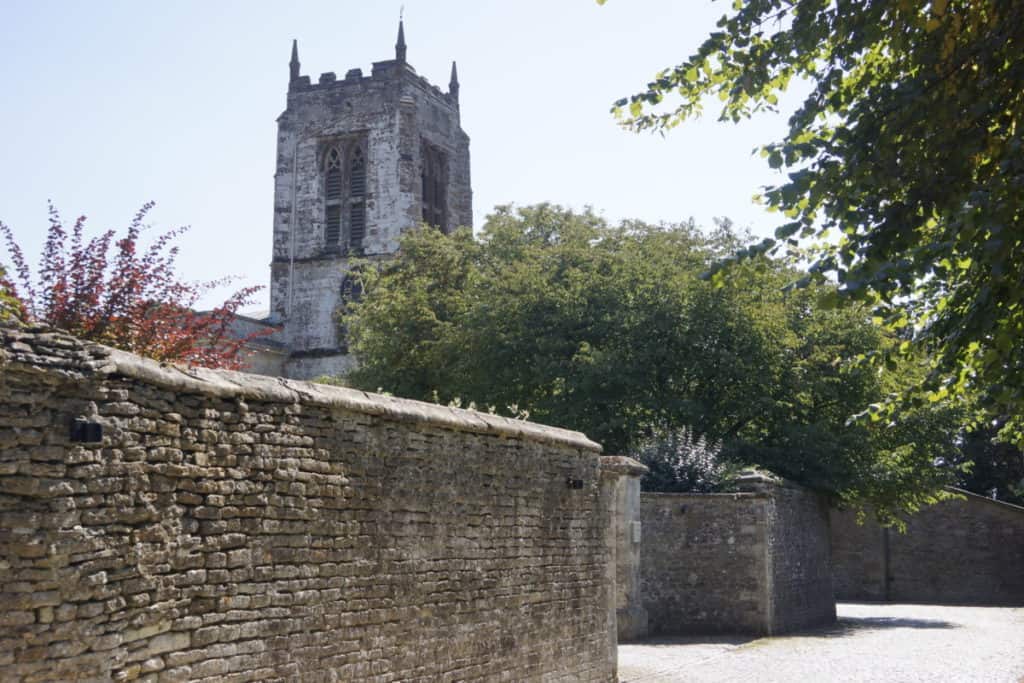 Both were badly damaged in the Civil War and rebuilt in Classical Style in the 18th century. The house today is both opulent and whimsical at the same time. It is a Palladian palace and has a scattering of evergreens shaped like Hershey's Kisses in front.
We met three parish volunteers enjoying lunch in the sun on a stone bench near the gravestones. The residents live with history all around. We were struck by their great care for their environment and historic properties.
We walked the walled churchyard. The Decorated Gothic Tower dates from the 14th century. The Decorated period in Gothic architecture uses flamboyant tracery in its patterns. The rest of the building was rebuilt in the early 18th century.
It is a lovely building and obviously loved by its parishioners. The troubles it has survived leave it, today interesting and a little quirky! The Gothic tower remains, but the body of the church was rebuilt. It is a sort of English Baroque building and looks a little like a stylish country house below the tower.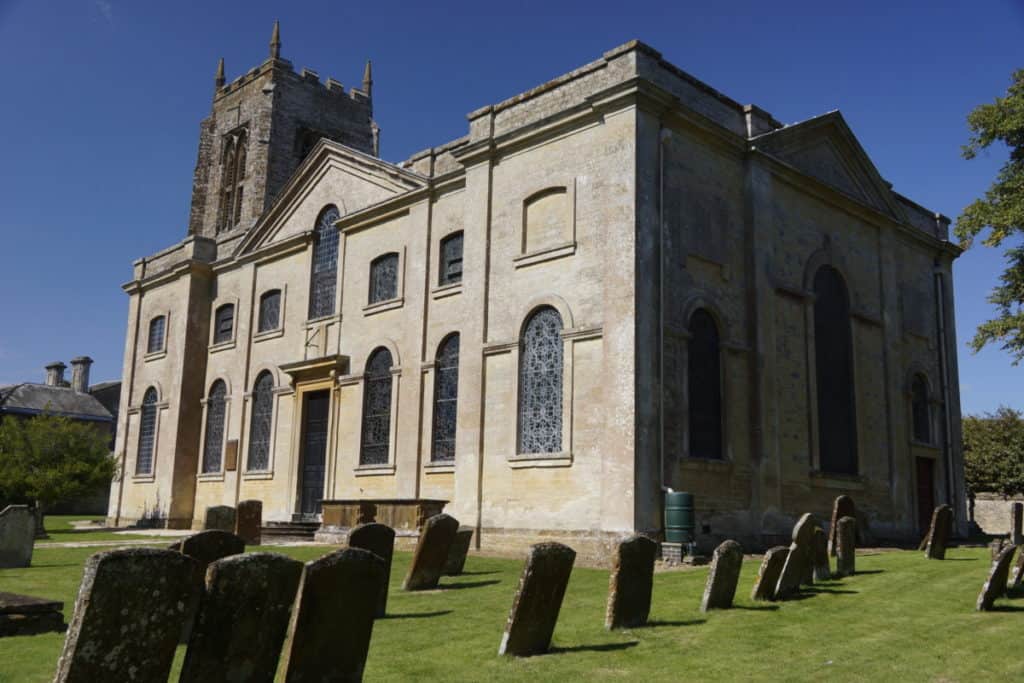 Cromwell didn't like this church. He removed all religious imagery, smashing Archangel Michael and the dragon from the church front. You can just make out the end of the dragon's tail. The church seems to stand there saying – here I am – I'm still here!
Floral displays are everywhere in this village; they plant small groundcovers in the cracks in the walkways. Apricots, apples, and roses are espaliered against the walls. All of the houses have decorative nameplates. Clematis and Wisteria climb around windows and doorways.
This is the website for Aynhoe Park
The Cartwright Inn
We ate mussels and frites in the garden of the very busy Cartwright Inn (The Cartwright family held the manor house from 1615 to 1954 when the last father and son were both killed in an auto accident.) We drank local Hook Norton Ale. But again no sign of the Shire delivery team. It must be an urban legend.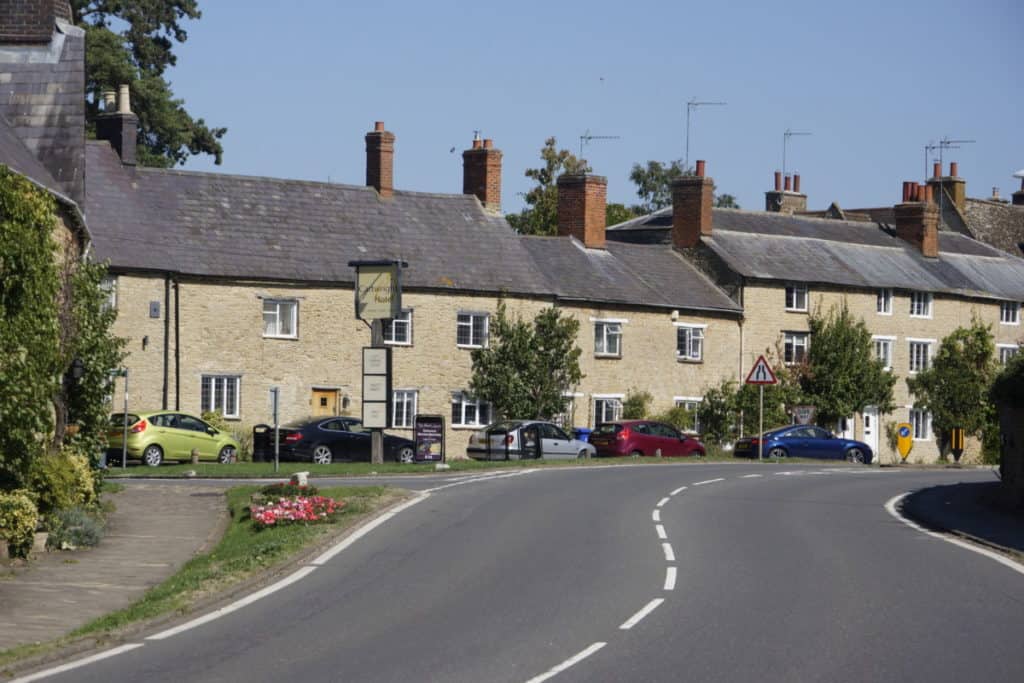 We liked the service here. They were almost overwhelmed with customers but kind and apologetic. They made sure you knew you were not forgotten. One server was a young Romanian woman. Pete recognized her accent. She grew up in an area of Romania he worked in.
It's all downhill walking back to the boat. We pass high-walled pastures, and horses and sheep graze around wide shade trees. They walk toward us, hoping for something tasty. It's a busy road with too much litter. Later I read on the village website that they hold regular cleanup days. They are a little like the volunteer Beach cleanups we have at home. Like us, they show photos of the big bags they collect. Too bad it's necessary.
We shower back at the boat and then chat with the narrowboat neighbors. Those who are boat owners carry folding lawn chairs. They set them up and make the towpath their backyards.
Cartwright Hotel a pleasant country location but accessible to many of the local sights.
Sunday Roast at the Great Western Arms
The pub is hopping. The bar is full of people and their dogs. The Great Western Arms is a railroad-stopping place with a well-regarded cook. It is full of railroad memorabilia and age-appropriate furnishings. There are church pews and funny old maps. Families are here for the Sunday roast. Kids and dogs everywhere. Everyone has a good time.
This is a popular event; you make reservations. If you don't have one, there is room outside in a pretty courtyard among the flowers. The roast was lovely. Pete's mixed roast included beef, pork, sausage, and chicken with pork cracklings. I had moist roast chicken. We ate Yorkshire pudding and crispy roast potatoes with mixed vegetables. The Great Western Arms, some information you can use.
We'll miss this place, but tomorrow is a new adventure.
If a trip like this appeals to you, this is a piece on how to plan one.
Two Resources To Use
This is the website for Aynho Village; It will link you to services you might need, such as shopping and the Post Office.
This link will take you to Aynhoe Park, the manor house which is not open for tours; you can rent it. There are nice photos here.