A Perennial to Plant in Fall
This is a discussion of why and how to grow ornamental alliums with waving globes of color. Don't overlook their beautiful globes of color and their pungency! the best reason to add pretty alliums is that they bloom for us in one of the awkward periods in the garden. Mid-spring after the bulbs have finished blooming and we see the inevitable bald spots in the garden. Our alliums will fill those places with color.
Beautiful, Unusual, and Pungent!
Allium is the Latin word for onion.
Pungent is the word! The ornamental allium are beautiful additions to our gardens, cut flowers, and seasonal decor! Pretty and useful we are not going to eat them. But, like the onions we eat, they are pungent!
"Onion, an edible bulb with a pungent taste and smell"

-Lexico.com
Safe from Predators!
We really don't notice the pungency, but the varmints will! We love seeing wildlife but don't want to feed them on everything we grow. These are delightful plants, and they tend to be safe from rodents, rabbits, and deer.
This could be important information depending on who is hanging around your garden. We have deer and rabbits, and protecting our gardens is vital to us.
But The Best Reasons To Grow Ornamental Allium
They Fill In When Needed
Alliums are bulbs that bloom for us when we need them. This is in the most awkward part of spring; the time after the early spring bulbs but before the first flush of perennials and annuals bring us blooms. Alliums meet a specific need. They eliminate bare spots. Most significantly, they carry the blooms of spring to the full flush of summer.
Other varieties of allium bloom later in the season and bring us even more benefits.
Alliums Add Drama, Height, and Interest
Sometimes we plan our beds diligently, plant, and maintain energetically, but the result is a little bland. Perhaps too low to be interesting, too much the same, too messy, not enough to stop your eye and create that impact we all love to see.
Another mounding section won't do it. What if we can add something unique, something high, something that moves in the breeze. An element that adds life, we can get this pleasure from alliums.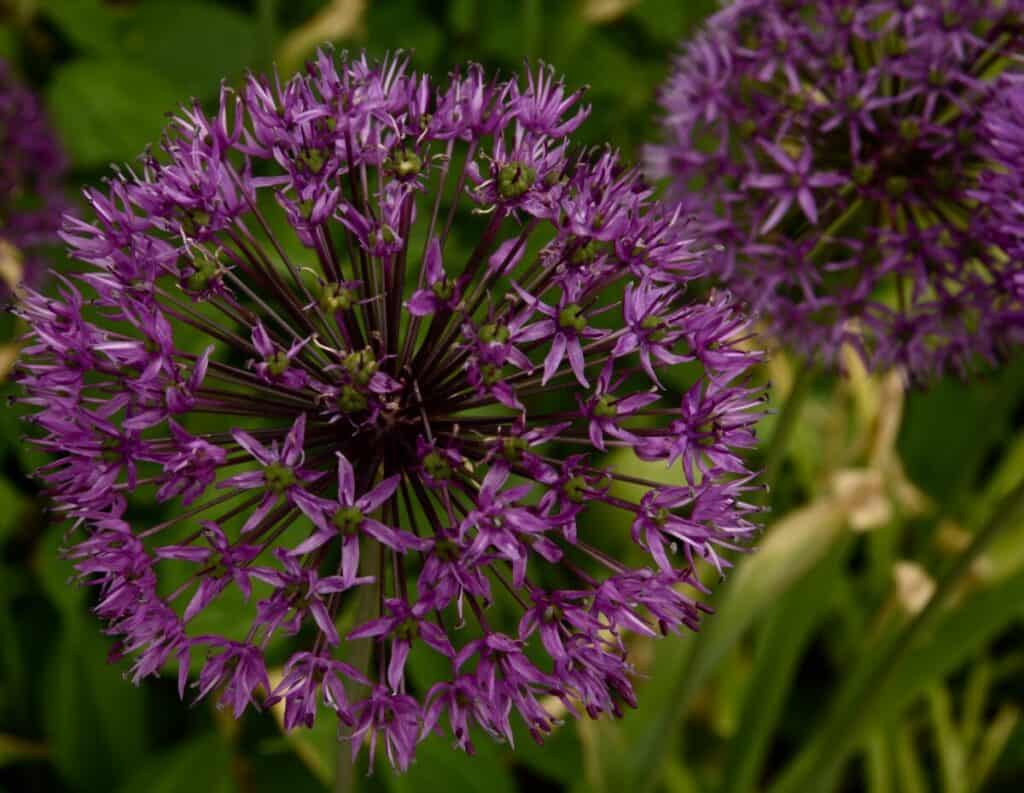 More Ideas
Some varieties bloom later in the season, then the dried globes add shape and a kind of pale interest as the season goes on. Many gardeners like leaving the dried globes up in the garden.
I found an opposing view that you might like. I found this video embedded below by the British gardener Sarah Raven. She says that having dried globes in the garden in July is a little too "autumnal" for mid-summer when she points out that everything should be filled with "juice and color". I am a Floridian, we are less sensitive to these issues. I do take her point though, I grew up in snowy New England, we knew that you never rush a season.
Even Better-A Decoration
In this video, she cuts the long stems with their dried stars and cures them in a barn. Then she sprays the heads in silver and makes Christmas decorations! She says don't just decorate the outsides of the tree; toss them in to make a deep, three-dimensional display. Some might plant alliums just to do that!
Here's The Video
Where Did We Get Alliums?
The world contains about 700 different kinds of allium, mostly native to areas in the northern hemisphere and ranging over two great swaths of territory.
The first, and most significant ranges from the Mediterranean to Asia and Pakistan. (About 1/6 th of all alliums are native to China.)
The second is in the western part of North America.
How Did We Find Them?
The Russians
Alliums were not broadly interesting until the late 1800s and you can thank the Russians for this one. In the mid-1800s botanists at the Imperial Botanical Garden in St Petersburg began to collect them.
Founded in 1714 by Peter the Great, it was always a scientific garden. It was a herb garden in the "Physic Garden" format designed for health care at a time when plants were the best source of medicine.
In 1855, Eduard August von Regel became associated with the garden. He was fascinated with the whole genus, Allium, and began a program to collect and catalog them from areas throughout the Russian east. He was sufficiently successful that the number of alliums, just named for him numbers sixty!
Von Regel was one of those people who were involved in horticulture since childhood. A German horticulturalist he devoted his life to plant discovery and analysis. He was propagating apples at an age when the rest of us were just thinking about eating them! If you are looking at Botanical names and the origin is stated to be "Regel" this is who they are talking about.
The British
Many nations have produced brilliant plant hunters, but it is one thing to discover plants and another entirely to keep the British hunters out of the loop! They got involved and by the late 1800s alliums were a big deal around the globe.
Varieties Of Allium To Grow
This is an outline of those basic categories in which you can find the perfect plants for your garden. There are many alliums but they tend to be related to these few groups. (It is not a perfect classification by any means but it should get you started.)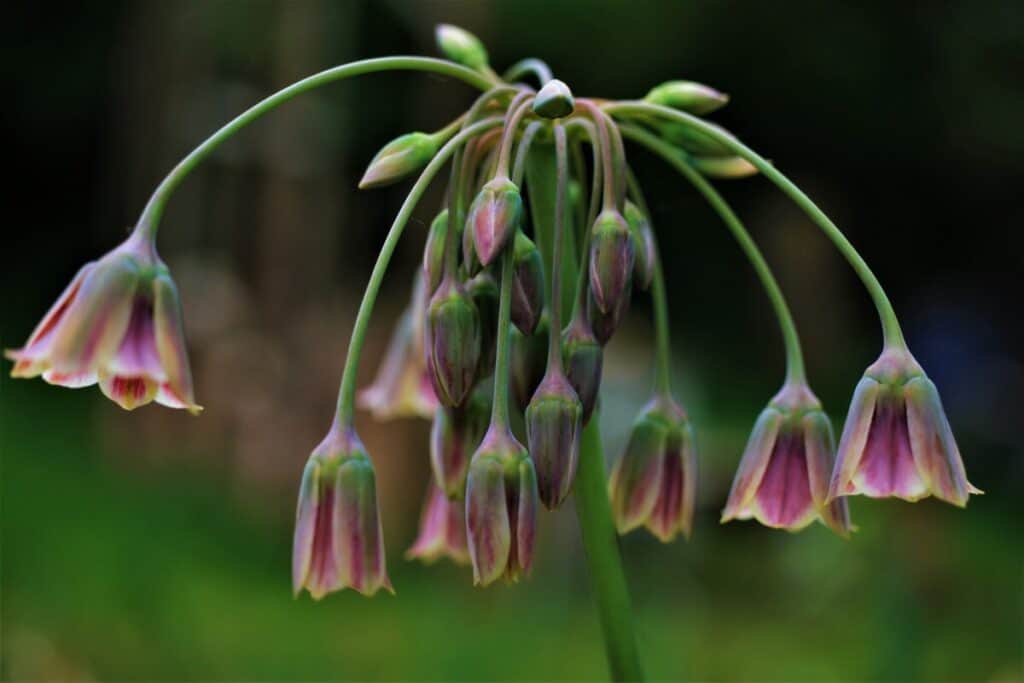 Drumstick Allium-Allium sphaerocephalon-like a drumstick or maybe a tiny ear of corn. They start as a dense green oval and later the flower in brilliant shades like red-maroon. Drumstick alliums have a long bloom period in spring and early summer. They will reach 20-24″ in height.
Globemaster Allium-it is a sterile hybrid, the biggest and some say the best of the alliums. The globes of flowers can be 8-10″ in diameter.
Allium christiphi- "Star of Persia"- the spring blooming spheres are large and pale lavender color. It is a parent of the Globemaster Allium.
Purple Sensation-produces 4″ dense and vivid purple flowers in the period just before summer blooms.
Blue Allium-If gardeners left home to find the holy grail; it would be a genuine blue flower they were looking for. This native of Siberia, with plenty of 1.5″ bright blue globes, should bring them home again.
Mt Everest- as you expected, snow-white blooms available in May to June. If you can't pair this with something, you are not trying.
Are you looking for pink- purple alliums are beautiful and more plentiful, but try these if you need pink in your garden. Pink Jewel, Millenium Allium (more light lavender) Allium Ostrowskianum, a vivid pink. Also Pink Allium Gigantum.
How To Grow Allium
What Kind Of Garden Space
Ornamental alliums work in perennial gardens, rock gardens, and cutting gardens. I see the smaller varieties suggested for containers, but in many climates, I do not understand how to protect the bulbs from cold.
I did find an English gardener who plants the bulbs in plastic pots, protects them over the winter, and then plants the started foliage early in the spring. Her reason was practical, she could see the blank spaces in the garden and filled them in using the potted starter plants. If in your climate, you can protect the bulbs this might be interesting.
Planting Alliums
The critical issues here are when and how. The location is mostly sunny and dryish, with excellent drainage. The when is early fall. Planting early in the fall will permit the development of robust root systems before the first real freeze in your area.
How To Plant Alliums
This is quite specific. First, the bulb itself. Fortunately, this part is easy. The bulb of allium is essentially an onion, the ornamental ones look very much like a Hershey's Kiss candy. Just remember, like the candy the pointy part is the top and the flat part is the bottom. That is how it goes into the ground. You can't go wrong!
What about the soil. Plant in well-loosened soil amended with organic matter. Ensure that your soil has excellent drainage. The bulbs will not survive being constantly waterlogged.
How deep? Plant them about 4 times the diameter of the bulb. Two inches in diameter, dig them down eight inches. Dig and loosen the soil well below the level of the bulbs. The roots need to grow down. How far apart? Planting in groups, allow room for two or three more bulbs to fit between the bulbs you plant. Water if the soil is very dry.
How many of one type to plant. You can put them in lines if that is what would enhance your garden layout. A common plant is to create casual clusters of plants using 5-9 bulbs at a time. (They are true bulbs and will spread.)
How Will They Appear In Spring?
Look for the foliage to appear about a month before the scheduled bloom times. Then expect flower buds.
Maintaining Alliums
First, the location issue. Alliums are wonderful plants but there is a fault which we must live with. The foliage will begin to die and turn yellow, often before the beautiful blossom appears. You cannot neaten the plant up. The foliage, droopy as it is is needed to feed the bulb or there will be no next year. It is a fact of life with alliums, plant something low in front of it to hide the declining allium foliage. After the foliage turns completely yellow and brown, you can remove it.
Otherwise, these are easy-care plants, about every three years the bulbs should be divided. Dig them up, divide carefully and avoid damaging the bulbs and plant them elsewhere in your garden.
Summary,
Ornamental alliums are unique in our gardens. They add a look and fill a space we normally do not control. Add some.
Do ensure that the bulbs you buy will perform in your hardiness zone.
Companion Plantings
Companion plantings are always important. However, due to alliums' unsightly foliage, the relationships you form for them in the garden are more significant. The plants should enjoy the same growing conditions and be sized and shaped to enhance the whole experience.
Consider the hardy geranium cranesbill. Try, 'Lily Lovell, with beautiful dusky purple flowers blooming at the same period. Find it in this article.
Try hosta, sedum, geranium, ornamental grasses, astilbe, peony, foxgloves, and gladiolus. Happy gardening.