An Easy Annual Plant-In Colors From Pastel To Vivid
If you need brilliant color, a pollinator attractor, and a flower both brilliant and healthy in hot and humid days Pentas can be your answer. Here is how to grow Pentas for pollinators and hot days. Pentas lanceolata– is unusually successful in heat and blooms in three-inch-wide, dense clusters of small, star-like blooms that are proven pollinator attractors! The plant provides steady color and low maintenance.
In addition, the flowers are in bloom year-round in their hardiness zones and for the full warm-weather season in temperate zones. Commonly treated as an annual bedding and container plant blooming in spring-summer-and fall, it is perennial in zones 9-11.
Pentas lasts for three or more years in our Zone 10 South Florida garden, and the plant is priced like an annual! This is an easy addition to any garden for color and upright form or to attract pollinators. Each tiny, flat, star-shaped flower acts as a convenient 'landing pad' for pollinators.
Pentas are remarkably sturdy in hot and sunny environments and are sturdy in wind and rain. If you find places in your summer garden where color and interest fade as the season progresses, this plant is an invaluable problem solver!
Pentas-How They Got To Us
Our backyard flowers are native to East Africa and the Arabian peninsula. Pentas is a word of Greek origin and means a series of 5 in reference to the five-petaled blossoms. Pentas is the species name, and lanceolata indicates the lance-shaped small leaves. You may also see the plant described as an Egyptian star or star flower.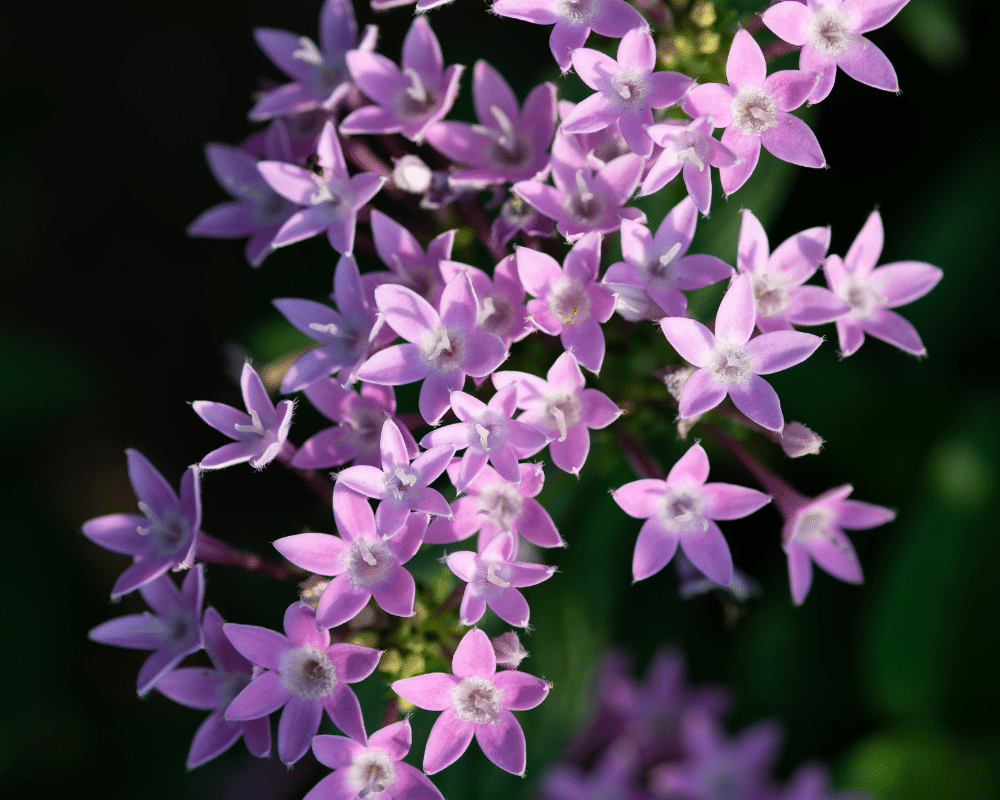 It is useful to us that the starry flowers bloom in heat conditions as well as engaging the pollinators. They are also sturdy and remarkably easy to maintain. The image shows the star shape of the tiny flowers; each flower is gathered in a mounded blossom of many flowers, which makes the color appear more vivid and decorative.
The Landing Pad Effect of Pentas-For Pollinators
Pentas is a good example of a pollinator attractor that makes collecting nectar very convenient. Some pollinators hover over a flower (a hummingbird hovering over a tubular flower is a good example), but some pollinators appreciate a place to rest their feet! A successful pollinator garden offers both.
If a plant has a short botanical name, we tend to use it. So Pentas, Coleus, Vinca- we know the proper names for these plants because they are short and easy, and we don't need to learn a bunch of extra names. Don't I wish they were all like that?
Butterflies to Look for on Your Pentas Blooms
You may well see several varieties of swallowtail butterflies, the orange-barred sulfur, the Gulf fritillary, and the monarch. You will also increase your chance of attracting hummingbirds with Pentas.
In our garden, we have always attracted many monarchs and hummingbirds. Recently we added a passion vine, and an army of orange Gulf frittilary butterflies appeared. We have orange caterpillars everywhere!
How Pentas Success in Heat Will Help You in Summer
This is one of many choices of warm-weather plants. What makes it different is that as summer wears on, becoming hotter and wetter, the number of surviving plants gets progressively smaller, and bare spots appear. Pentas do not care. They keep blooming. A plant that was attractive in June becomes progressively more beautiful!
If summer humidity is a problem in your garden, Pentas may be helpful to you.
Pentas Flowers Grouped in a Mounded Inflorescence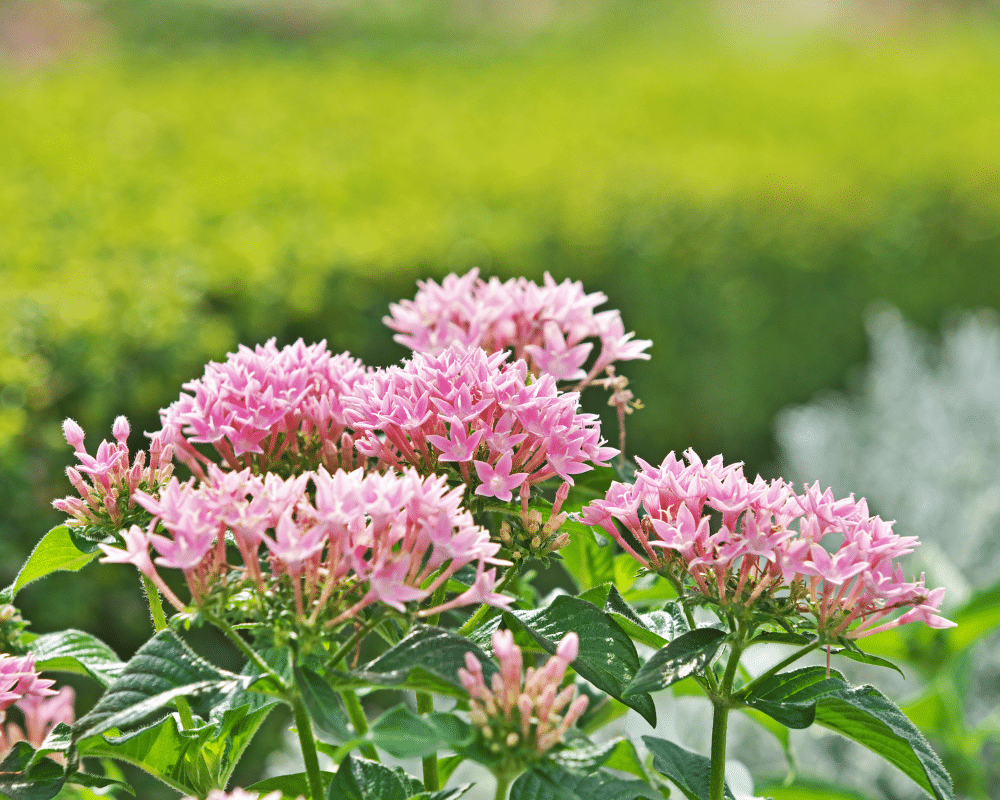 This image shows how the tiny blooms achieve greater prominence in the garden. This is an inflorescence, a group or cluster of flowers arranged on a stem.
Simple Names-Simple Plants
The Pentas is a perennial plant, a small to medium herbaceous shrub hardy in zones 9-11. Elsewhere it is a popular annual, and if you live in a northern climate, you can make it into a winter house plant. It is easy to grow, healthy, and strong and blooms almost constantly. It has large clusters of tiny 5-petaled flowers.
Pentas Plant Size
Pentas in their native homes can grow to 6-8'tall. As we grow them, they can reach 2-3′ in height and about as wide. There is a neat, compact dwarf variety that reaches 12-15″. They share the same colors and appearance. Choose the one that fits your spot.
Colors of Pentas
Look for Pentas in red, white, lavender, purple and pink. Because this is a popular summer color plant and performs in a wide range of climates, the plant breeders are constantly adding new colors. So look for colors ranging from pastel to deep and vivid.
I have included, below, a link to an article by one of the plant breeders showing new colors, including a desirable bicolor variety. You may find some to work with your color plan.
Pentas- How Can We Use Them To Attract Pollinators and Handle Hot Days!
A bright, upright, colorful plant with steady color throughout the season, you can use the two sizes in many garden locations. Here are some ideas:
Beds and Borders
Containers
Pollinator Gardens
Window Boxes
Hanging Baskets-"falling star pink bicolor" is a trailing form, the only one I have found
Cut Flower For The House
Pollinator attractants, bees, butterflies, hummingbirds
Wildlife
Pentas are not considered to be attractive to deer and rabbits. (Of course, we can never trust deer and rabbits.) Our garden is in a rabbit and deer-filled area. Our small game camera shows their nightly maraudings! (Try one if you have wildlife, you will be entertained!) We have used Pentas for several years in this garden with no damage done. Pentas is a woody plant and does not seem to attract animals.
For pollinators, however, it is a major attractant. You may notice butterflies choosing this plant before others in the garden.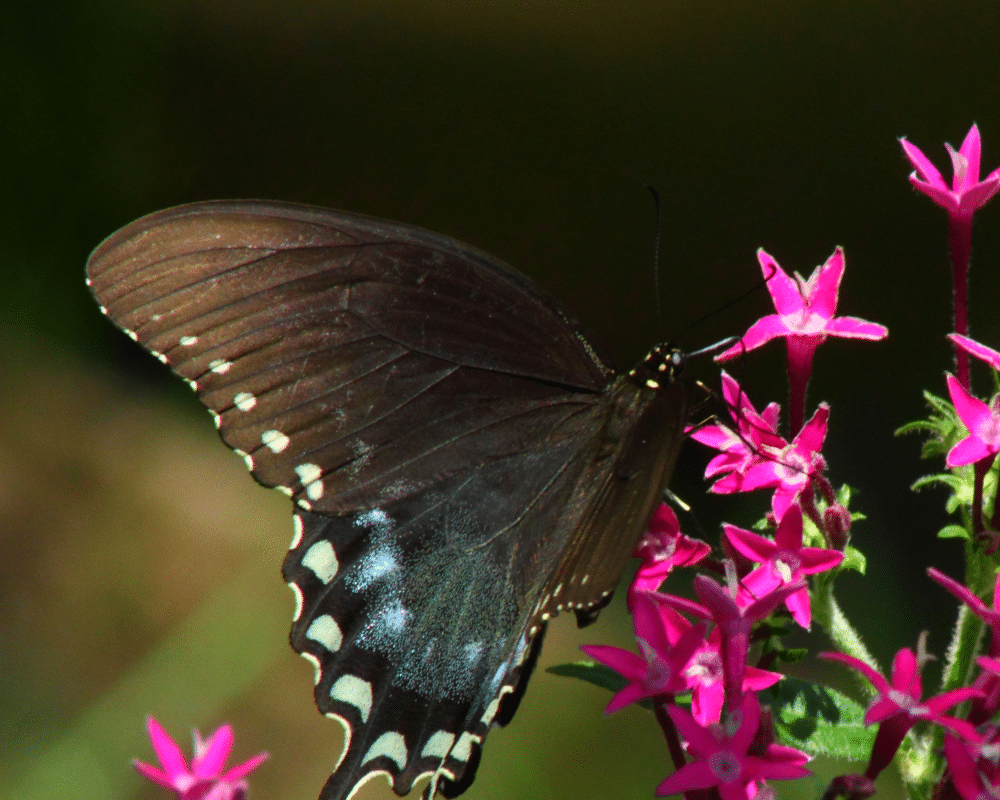 How To Grow Pentas-To Attract Pollinators And Handle Hot Days
Planting
Plant in an area that gets at least 6 hours of sun, spacing the plants about 18-24″ apart. In very hot climates, the plant appreciates some afternoon shade. To plant small annuals, loosen the soil to a depth of about 12." This makes planting easier, and the plants grow fastest in loose soil. Make a hole about the same depth as the plant is in its container and firm the soil around, then water, well.
Soil
Pentas perform best in well-drained soil that will not retain standing water after rain. (Soil information.) For plantings in containers, use high-quality potting soil. (For how to choose potting soil.) if your soil does not drain reasonably well, container planting will solve that problem.
Water and Fertilizer
Pentas will require regular water. You can allow the soil to dry out to a depth of about one to two inches. Fertilize with water-soluble fertilizer on a monthly basis.
Trimming
When some flower heads become too high and the plant appears ragged, you can trim the stem back at a node below the other blossoms. You should be able to root your cutting in water.
Pests And Diseases
Pentas are known to be tough and resilient. They are, however, subject to aphids and spider mites.
Aphids are tiny (under 1/4″), soft, and rounded. They may be hard to see but leave behind a sticky substance. You will also notice curled, yellowed, or stunted leaves. Remove any damaged leaves or leaves with signs of damage. Wash the foliage well; you can also use an insecticidal soap.
Spider Mites, relatives of spiders, do similar damage. They are highly prolific, and damage can be done before they are spotted. The treatment is the same, and observation is a good tool!
Summary
Pentas are dependable plants that we have enjoyed for a long time, but there are many new varieties with new features. New varieties offer more color ranges and even new trailing varieties. This piece is by one of the breeders.
Good Companion Plants for Pentas
Companion plants-any plants accepting similar growing conditions will work with versatile Pentas. Consider seasonal flowers like coleus, verbena, and annual vinca. To add height to contrast with their mounding shape, use geraniums or the spiked appearance of Angelonia or salvia. The taller versions of Marigold will work, as well as Lantana.
For a low-edging plant, consider the spreading versions of calibrachoa or petchoa, as well as the interesting flowers of torenia. (We find these very sturdy in our humid summers.)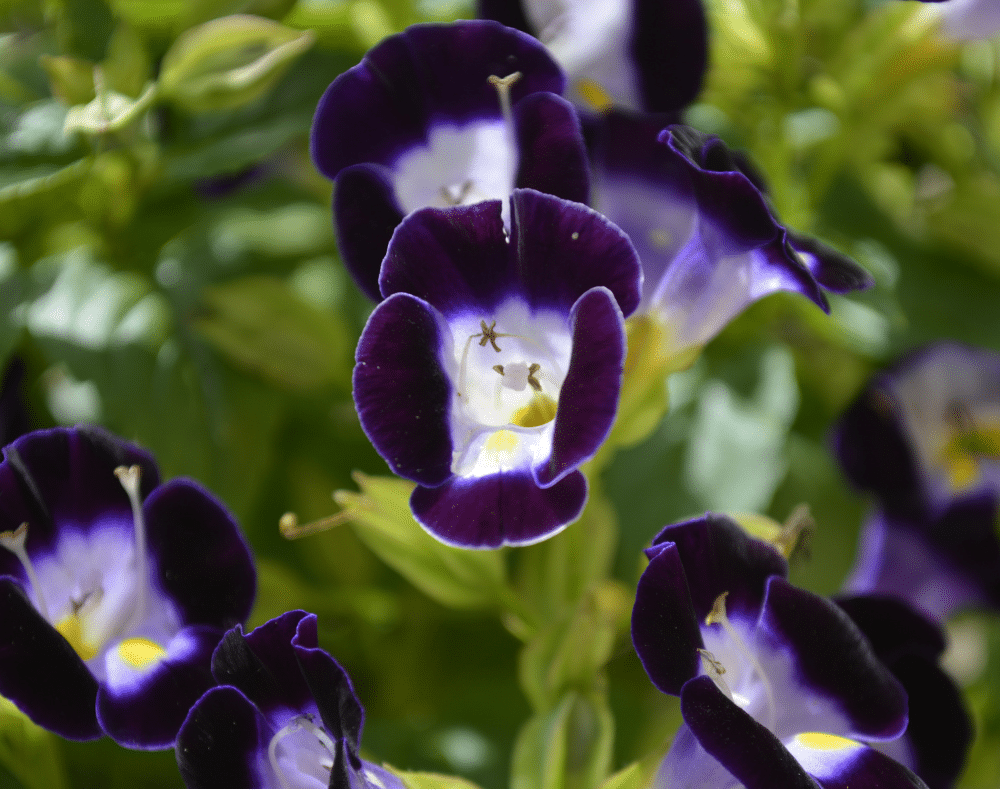 Here is the tiny torenia flower. It is happy in the same conditions as pentas but creates a low border for the front of the flower beds. If you have not used them, you may find them a pleasant surprise.
Annual Companion Flowers
This list of annuals will provide descriptions of some useful choices for your garden.