It's June in Florida and it's hot and sunny. The days will get more humid and hurricane season is ahead.
This garden is in South Florida's semi-tropical climate. We enjoy the same features as northern gardens but "on steroids." The climate is nothing like anywhere else in North America. It is actually more similar to The Philippines, Malaysia or Brazil than even Atlanta!
What's Blooming For Us In June
In our soft winters, plants are in bloom which northerners will see in a few months. In June the delicate tropical flowers appear. Here are some we love to see.
Royal Poinciana Tree
Royal Ponciana- Delonix regia is a large, enveloping, umbrella-shaped tree. It's the one that you would put your hammock under on a tropical June day. You would sway back and forth under its wide canopy. This is how it looks in June.
Note the feathery leaves, each leaf consists of up to 25 leaflets. The large clusters of red flowers cover the wide canopy. The Royal Ponciana is one of the sights that south Floridians look forward to in spring.
Care-plant this tree in full sun, in well-drained soil in a space large enough to accommodate its root system and wide canopy.
Here is more information if you are thinking of a Royal Ponciana for your garden.
Plumeria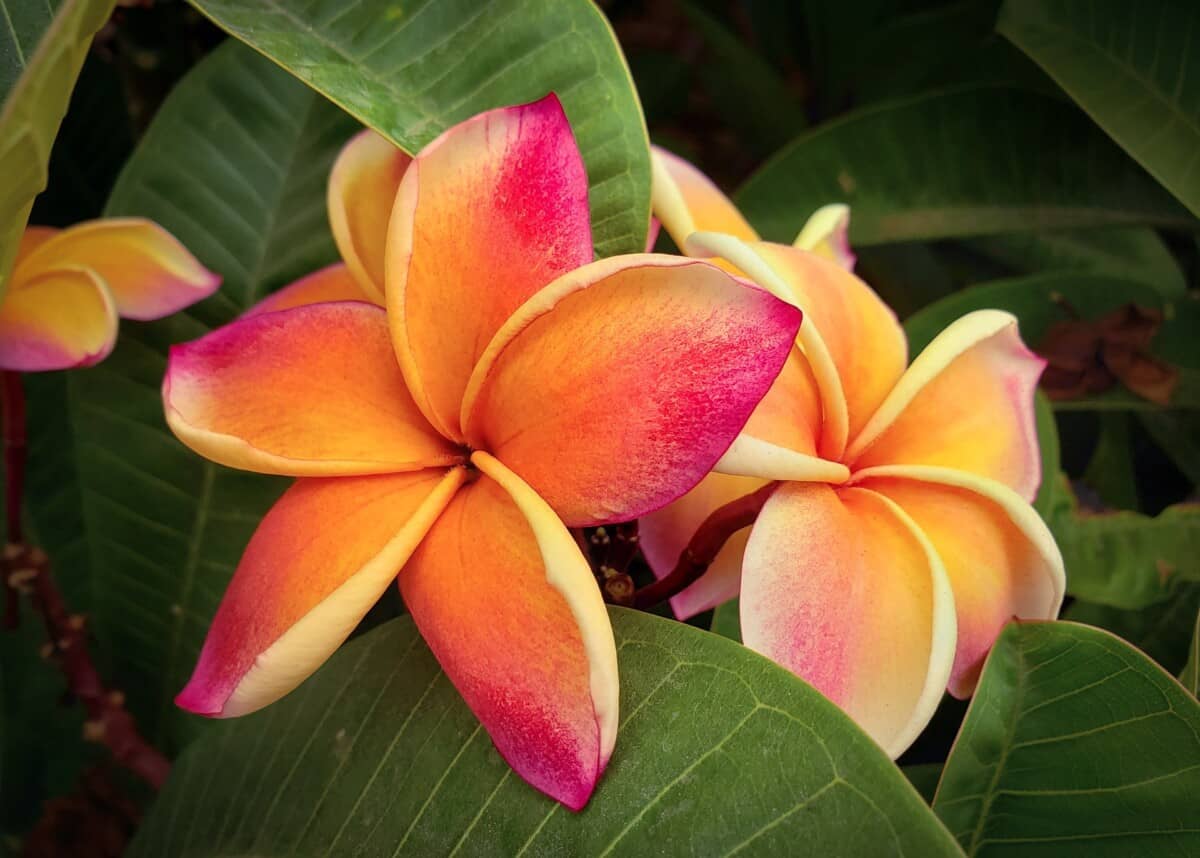 The beautiful Plumeria is the tree that produced the flowers in the Lei you wore around your neck on a visit to Hawaii.
Native to tropical climates they are small trees. Plant them in at least 6 hours of sun in well drained, slightly acidic soil. Potted plants can be brought indoors during cold weather.
The flowers come in a considerable variety and are fragrant. If you visit Florida, you can see the National Collection of Plumeria at the Naples Botanical Garden.
In May I wrote a little about the tropical Mussaenda and Philippine Violets in bloom in our garden. They remain in bloom and are charming perennial l opportunities for many gardens.
Mussaenda
Mussaenda-Mussaenda philippica is a species in the Rubiaceae family. It can be grown as a shrub or a small tree. Keep it pruned, while the color is beautiful the form, unmanaged, can appear messy. They are native to the Philippines
The plants have romantic names like Donna Aurora, which is white. The varieties are named for the First Ladies of the Philippines.
Mussaenda, come in many colors, red, white, pink, peach, pale yellow. The flowers are small and tubular and appear in clusters. The blooms we admire, however, are the Sepals, not flowers. Sepals are actually the first layer of leaves and surround the flower. The Bougainvillea is another example of what we see are the Sepals which enclose tiny flowers.
Philippine Violet
Philippine Violet-Barleria cristala is a shrub which is below 5′ in height and can be controlled by pruning. Its profuse tubular flower are violet in color. The broad leaf is dark green.
Herbs In The June Garden
In robust health are Parsely, Dill, Basil, Rosemary, and a few others such as Mint for summer iced tea. Small Tomatoes and red peppers are profuse.
What Gets Done In June
Time To Plant Palms
Palms, in our environment, are planted throughout the year as needed. However, the best time to plant them is in the warm weather from spring to early fall. When the soil is warm, the roots begin their most active growth and establish themselves most quickly into the soil. The summer rains reduce the need for irrigation and the palms grow most quickly.
Planting
Plant the Palm tree by digging a hole allowing the palm to have its top at the soil level and about 1/3 larger than the root ball. Place the tree and fill the soil with soil which has not been amended and water well to remove any air pockets.
Cover with 2-3″ of organic mulch. Water daily for several weeks. Summer rains are common, but can be erratic. Remember to water on dry days.
Stakeing
Palms are trees that are often planted in mature sizes which permits us to create mature appearing landscapes in a few day's time. Remarkable changes can be created this way. The risk is that our fast growing warm weather is also a stormy period with significant winds.
Staking the new trees provides some insurance against storm damage. 4 Wooden 2 x 4 stakes work well. Drive them into the ground. Protect the tree bark with a burlap section and tie the stakes around the tree. Do not drive any objects into the tree. Damage to the bark increases the risk of insect damage or disease.
What To Plant In June
What To Do In The Garden
Summary, life in The South Florida Garden
For gardeners from temperate climates like us, South Florida has been a revelation. Upside down is a good analogy. Spring in November. Our impatiens are bright at Christmas, lilies for New Years!
Rain is not regular, its all or none. Soil is not soil, it's sand and the water drains immediately. Bugs abound, we abut major tropical transportation hubs and new creatures, that we never contemplated show up each year.
Change keeps you on your toes, we are always learning something new. Gardeners, by nature are curious creatures and I hope this is entertaining to other gardeners.