Saturday September 15
Our Narrowboat Adventure
At first signs of life within the boat, the Navy comes to life. They group at both ends of the boat and under the windows. The swans are bold! They will bang on the hull. The ducks rely on persistence. Before we get coffee and shortbread in a market stall they get oatmeal. (The Canal and River Trust has an excellent piece on healthy ways to feed the ducks.)
Our breakfast server has a friend studying in Boston, US. Everyone we meet has somebody in one of our towns. We return to David Johns, the meat merchant who treated us well on our last shopping trip, They hold our purchases for the day as do the other vendors. If you enjoy the European covered markets as much as we do and you get to Oxford this will take you to the web page for the Oxford Covered Market, you can enter David Johns or any other category and find what you are looking for.
We Visit "The House"
We head to the beautiful Christ Church Meadow. It is a rare treasure, a piece of open space at the heart of the city. It belongs to Christ Church but is open to the public daily. We walk the grounds, along the Thames, taking the Broad Walk as people have done since the 17th century. Lots of things have happened here, armies in the Civil War, (Charles I held court here) a balloonist in 1784 (he traveled 6 miles), crew races, picnics.
Visiting the Dishley Longhorns
The fenced area of the Meadow is home for most of the year to this college's herd of Longhorn Cattle. They graze and we look at moorings we would like to use later, we'd love to wake up to the spires and towers but the moorings across the river look full right now.
This is the second time we meet this historic cattle breed and the first time we put a name to them. They were developed by Sir Robert Bakewell, an important figure in agricultural history. He was an early proponent of selective breeding in sheep and cattle and improved this breed in Dishley, Leicestershire.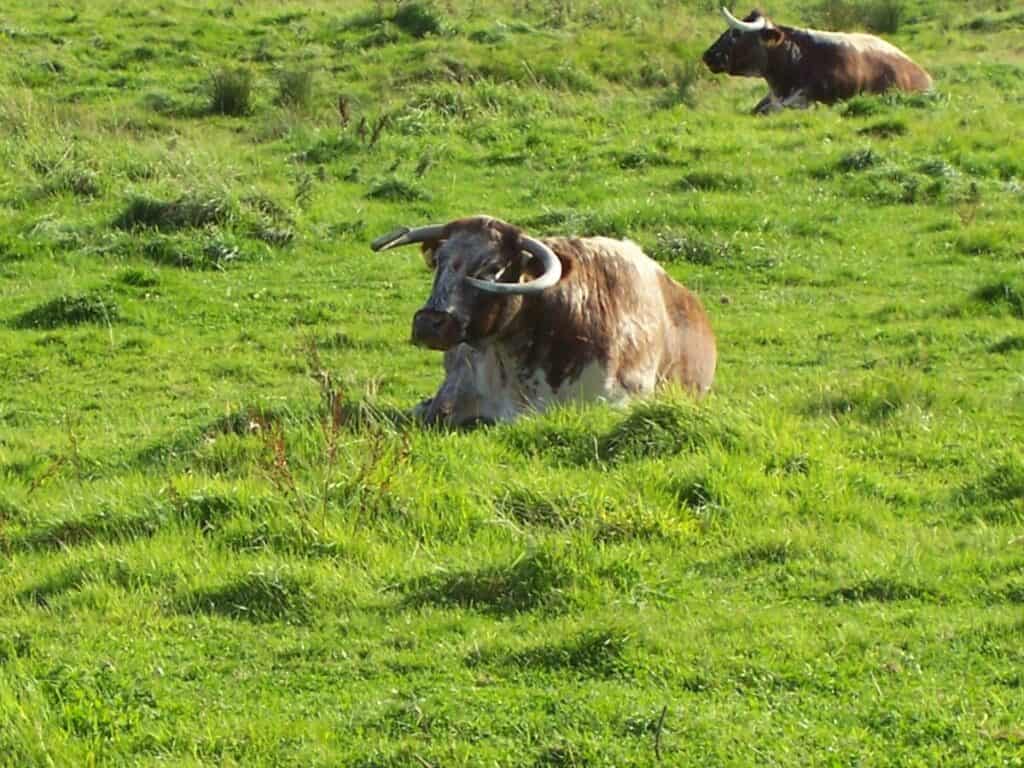 Christ Church Cathedral and College
This place was first a priory in the 7th century. It was established by Oxford's most famous woman called St. Frideswide (the patron saint of Oxford). Then Cardinal Wolsey, the most important advisor to Henry Vlll started to build a college here. He fell out of favor and Henry took it over. He named it "Aedes Christi- The House of Christ". So that's why it's often called "The House".
We choose the Christ Church combined ticket, which provides access to the Cathedral, (which serves both as the diocesan Cathedral and as the college chapel) and the University buildings. The Picture Gallery offers a discount when you show your ticket to the buildings.
Building Admissions: useful note
You visit the buildings in this town and pay admission with the knowledge that they are actively used facilities. If a place is being used and is not fully available you are given an apology and a discount.
The Cathedral is the highlight, not just due to its age and beauty but its tenacity. It has resisted damage and assault throughout its history. Cardinal Wolsey who started this place as "Cardinal College" wanted to tear down the Cathedral. Thomas Beckett was murdered in Canterbury Cathedral in 1170 and 300 years later his large stained glass window here, at Christ Church was almost destroyed by Henry VIII. 
It didn't work and the repaired window is here now. Some of its glass parts today come from destroyed windows from the London Blitz. Rumor has it that Hitler thought Oxford would make a good new headquarters for himself and it was not bombed. It stands today.
We have been fortunate to see a lot of historic places and seem to have learned that their preservation is a combination of prescient planning and sometimes dumb luck!
"life is not a having and a getting, but a being and a becoming"
Matthew Arnold
We enjoyed the plaque dedicated to Matthew Arnold. It was Arnold who called Oxford a city of "dreaming spires". The words keep going through your mind as you look around. He had a way of making the transition from Romanticism to Modernity that sticks with us today.
Colin Dexter's character Inspector Morse keeps quoting Arnold in the mystery series set in Oxford. In Morse's case, the poetry tends to be associated with beer while looking out at a river.
Edward Burne Jones -Stained Glass
The stained glass is a tour in itself. The five windows by The Pre Raphaelite artist Edward Burne-Jones tell several stories. The earliest tell the life story of St Frideswide. Read them left to right and top to bottom. Don't miss the whimsical details he adds-ducks and other small animals. His later windows were more sophisticated and less busy. See them all and decide which you like.
Power and Hardship-With The Help of A Small Dog
You can't help but admire the reclining effigy of a medieval knight and lady. They seem to speak to lives of power and hardship at the same time. The Knight's feet, if you look carefully, rest against a small dog. He symbolizes loyalty. We plan to return tomorrow night to hear evensong. It is a regular event and opens to the public.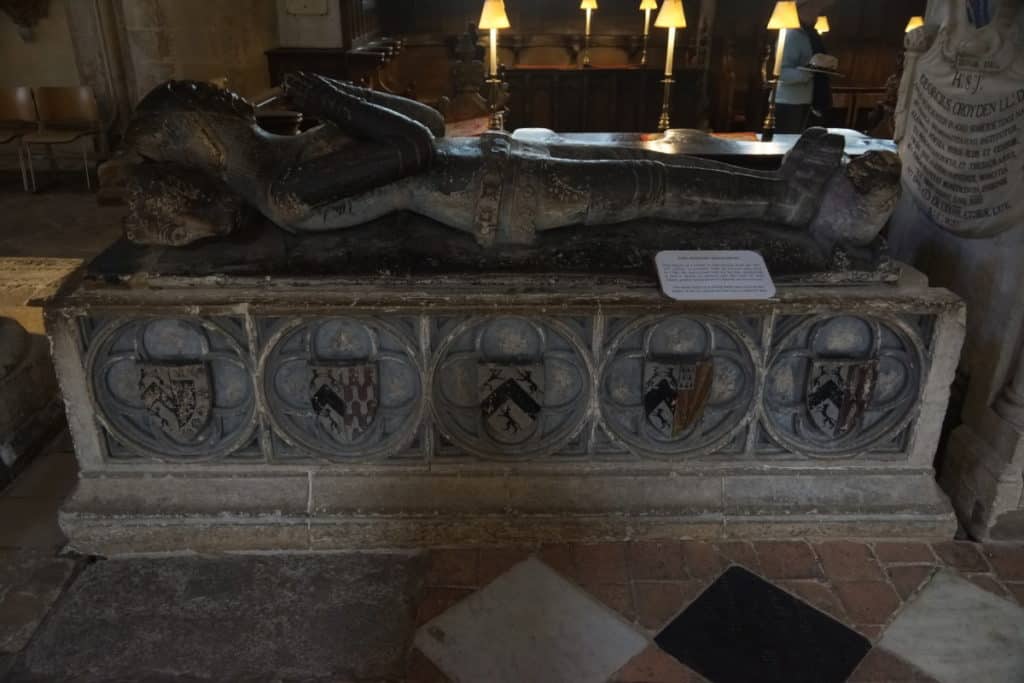 Our college tour starts with the famous "Tom Quad" the great courtyard bordered By "Great Tom", the famous Bell in its Christopher Wren tower. Then into Bodley Tower, housing the famous staircase. Above it rises a truly amazing ceiling – certainly 30′ above.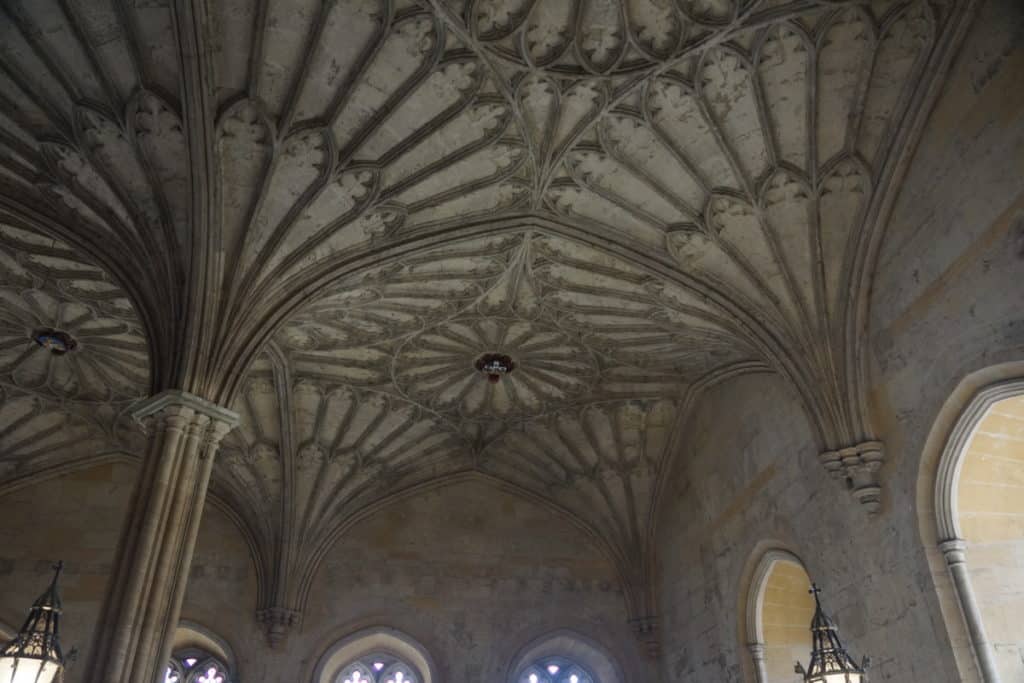 I read that when Cardinal Wolsey started to build this place he was laughed at for building the Great Dining Hall and the kitchens first. It seemed to us that his priorities were in the right place. The dining hall was being used for a play rehearsal. We were able to enter only the first section. It is everything you expected. Although the candles stay right in their holders!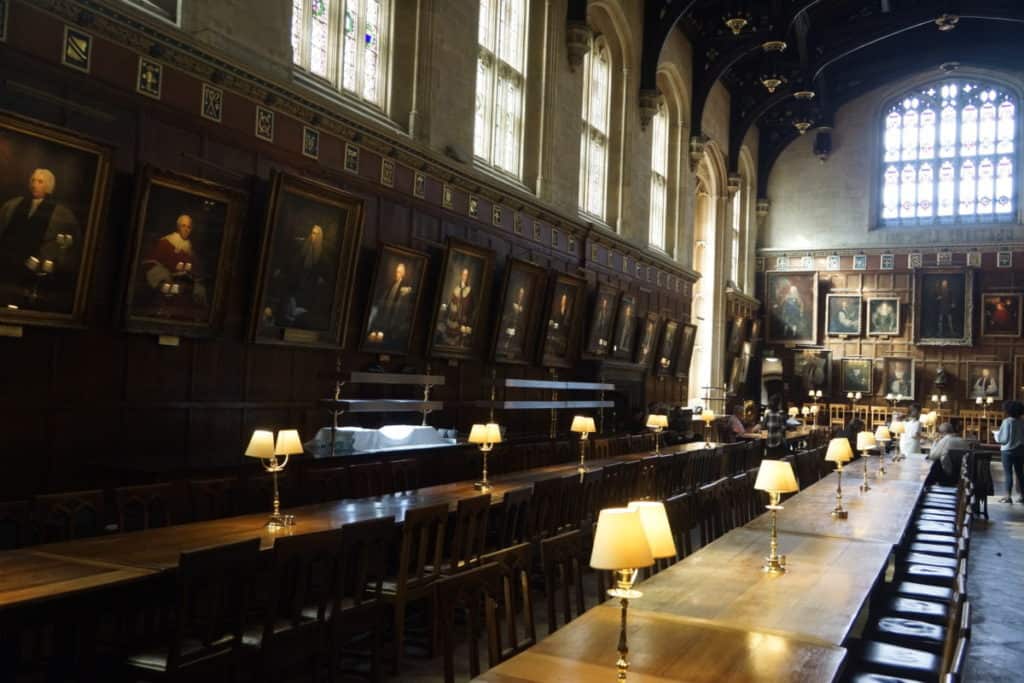 Christ Church Picture Gallery
This is a small museum and a little hard to find. It is located in Canterbury Quad. (If there is any problem finding anything in Oxford just ask a Porter. They know everything.)
It's a surprise and a real experience. It is one of the most important private collections in the UK. The strength of the collection is in Italian Art ranging from the 14th to the 18th centuries. It is a good chance to observe the development of perspective over time. There are 300 paintings and 2000 drawings, shown in rotation. We enjoyed Michelangelo, Raphael, Rubens, and a surprise collection of glassware.
The Gallery is both sublime and often overlooked by travelers. Here is a link that will help you know how to find it.
Back outdoors- The War Memorial Garden
This is a wonderful place to walk. Began in the 1920's it's a true Arts and Crafts garden, with stone walls and herbaceous borders. If one of those soldiers were my ancestor I would be happy with it.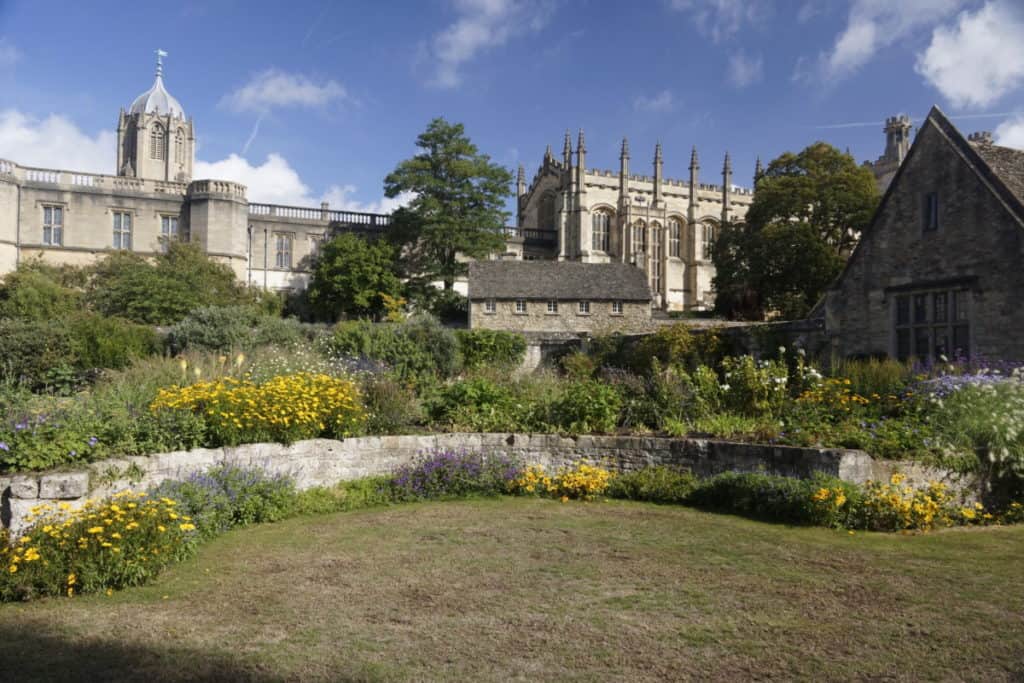 I found it more remarkable when I stumbled over the story of the "road that never was". This was a post WWll plan to create a road across the meadow. You look around you and think- this almost was not here at all!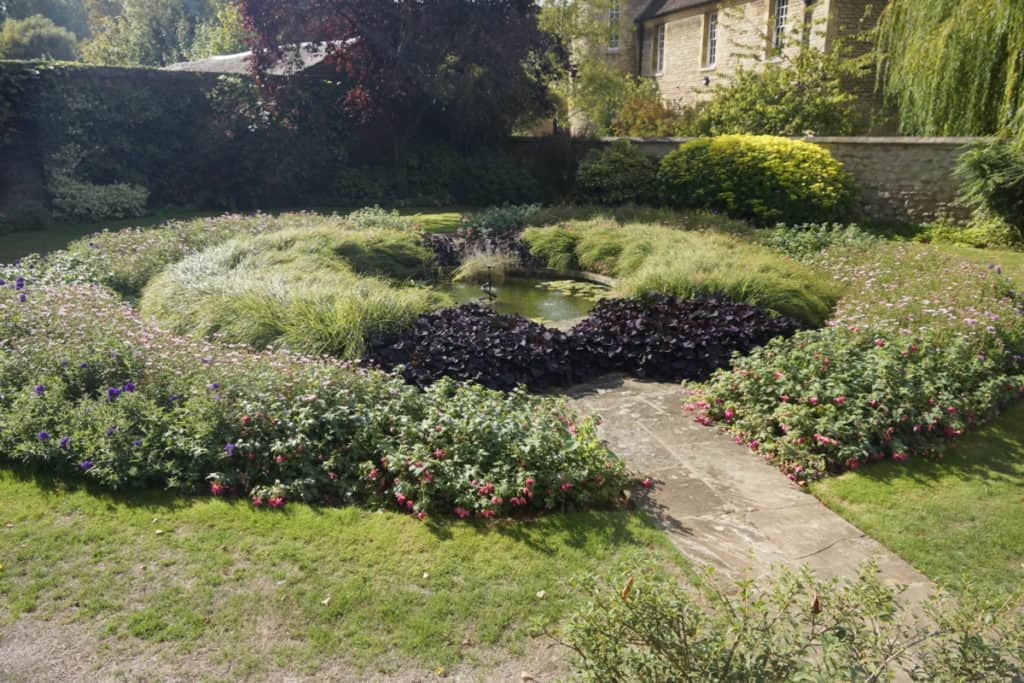 We head, hopefully, to the historic pub, The Bear Inn. It is truly tiny and most likely, Oxford's oldest pub. It is a good choice when they can serve outdoors, but on this wet day, the inside was filled. We have a good lunch at the Market and head back to the boat with our shopping.
Our restaurant specialized in meat pies, and we learned how they were intended to be served. They really gild the lily with this dish. First, they put down a generous serving of mashed potato, then the rich meat pie, last the whole thing is covered in gravy. Best to keep walking…
Benjamin from the boatyard has changed the gas tanks as promised. Service has been no fuss and prompt. We settle on the bow with cocktails, guidebooks, and oatmeal for the ducks and swans.
This is a quiet neighborhood but we hear rhythmic sounds coming toward us. Definitely a drumbeat! A parade is coming our way. What is it? A woman with a camera asks to come aboard and explains everything.
It's a Ganesh festival. He is the Hindu god who looks like an elephant. She would like to photograph her family from the boat. "Of course," we say. Ganesh takes all your troubles. This effigy is made of sugar, she explains, when he goes into the river so do your troubles.
Sometimes a good day just ends better!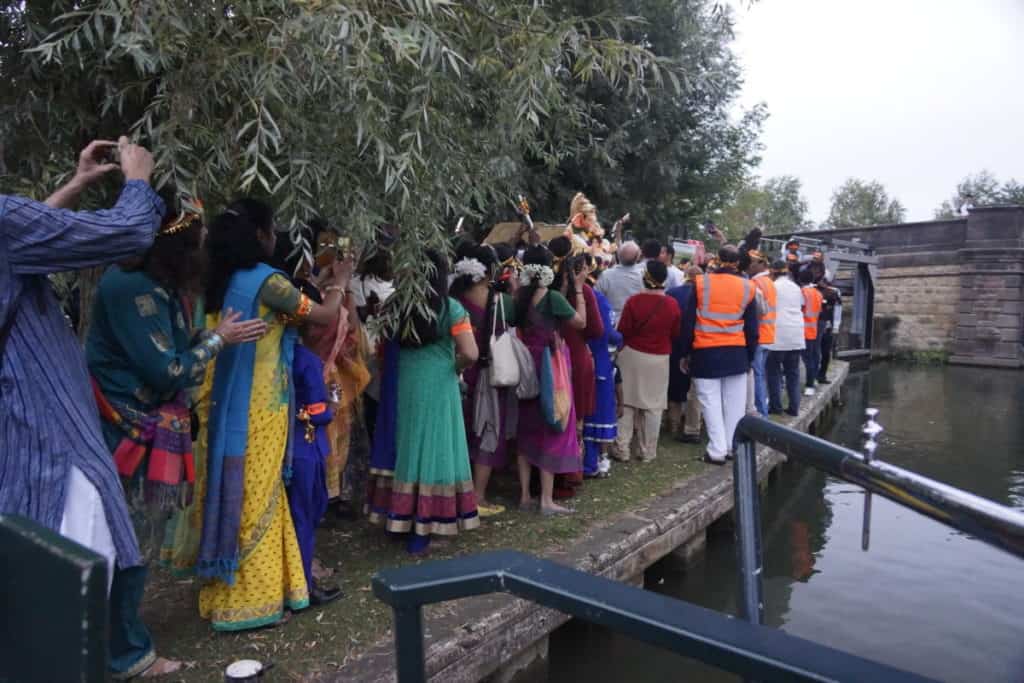 This will take you to the next day, "Laundry, Evensong, A Ruined Abbey, Plan B"