Our Narrowboat Adventure on The Thames Ring
Thursday August 30. HIgh Tech-No Tech We are up before 6:30, eager to get on the way as soon as the engine repair is done. We want to moor in the village of Lower Heyford tonight. It is said to be quite beautiful and there is a Great House a short walk from the moorings. It is time to refuel, we'd like to do some laundry and a little food shopping.
Months ago, we watched a video in which the people were eating popcorn for breakfast on their narrowboat because they didn't find a store. We don't want to be them. The engine is fixed, they think air is in the fuel line. Rob, our station manager at the boatyard fixed it. We got away by 10:AM. Thanks and goodbye to Tony at the pub.
Traveling north from the Rock of Gibraltar we are still in the Cherwell river valley with wooded hills on one side and marshes on the other. The Cherwell, which we first met in Oxford, can be glimpsed beyond the tall reeds with the drooping magenta heads. It's narrow here. This makes passing southbound boats an amiable but close encounter.
We have memorized the UK TV series: Great Canal Journeys. (You can find them on YouTube.) As the actor Tim West, says in it, "It's a contact sport." We try not to, but we will prove him right a few times.
Learning To Operate The Locks
Ducks and swans abound. Pigeon Lock, at 8 ft. 4 inches deep is the first of the deep locks. More to come. We are careful, it works fine. So far, we are traveling upstream. We are coming in on the low end and filling the lock to travel to higher ground.
Going downstream, where we want to lower the lock we'll need to be careful not to get the boat stuck on the cill. This is the concrete support that the lock gates rest on and it protrudes into the lock about 18". If you get caught on it, you can sink the boat. It's well-marked, and you would need to have the boat way too far to the back of the lock. It is a hard mistake to make but an unpleasant one. We glide quietly, and slowly.
This is pre-industrial age transport – we didn't realize how slowly. Until the age of the railroad, the canals had centuries of success. Anything you needed got to you safely. But not quickly, you learned to plan. It's idyllic rural life here, the fields roll-on, huge trees. We loiter in and out of sunlight. The Cherwell is a marsh here, portside, full of birds. We look for the brilliant blue Kingfisher, but he's too quick for us.
We keep moving, we have places to go. Our idea is that that because we are so slow we need to be steady. Always moving on. We start to question our plans. We're passing the towers of 13th-century churches like they're 7-11s! Pigeon Lock had directions to a hotel and pub that look interesting, but we glide onward.
We pass walkers. Everyone seems to use the canal or the towpath. Runners in spandex, bicycles, people with shopping bags. Whole families come. They pass us and wave.
Northbrook Lock is next. It leaks furiously from the upstream side. The old gate is warped. It's a shallow lock, works out fine. Dashwood Lock (an Austenish name if there ever was one) follows closely. At 9'3" it was our deepest so far. The first (downstream) gate was very stiff. A boater coming south helped to move it. I was thrilled.
This meant that we were able to leave them with a full lock to enter. Rousham Park is now on our port side, but hard to see through the trees. Some people call this the most beautiful garden in England. We've seen it in videos online. Can't wait.
Now we see Lower Heyford Warf just beyond the R.R. bridge. We tie up for water across from a small row of stone cottages. The one across from the water spout is a beauty. Pale burnished stone, fruit trees, flowers. The gardeners have posted their awards on the wall facing us. Moored along their wall was their pleasure boat. Its big dining space is forward under a navy and white awning. Shiny brass all around. A dinner cruise on her would be a reward for weeding.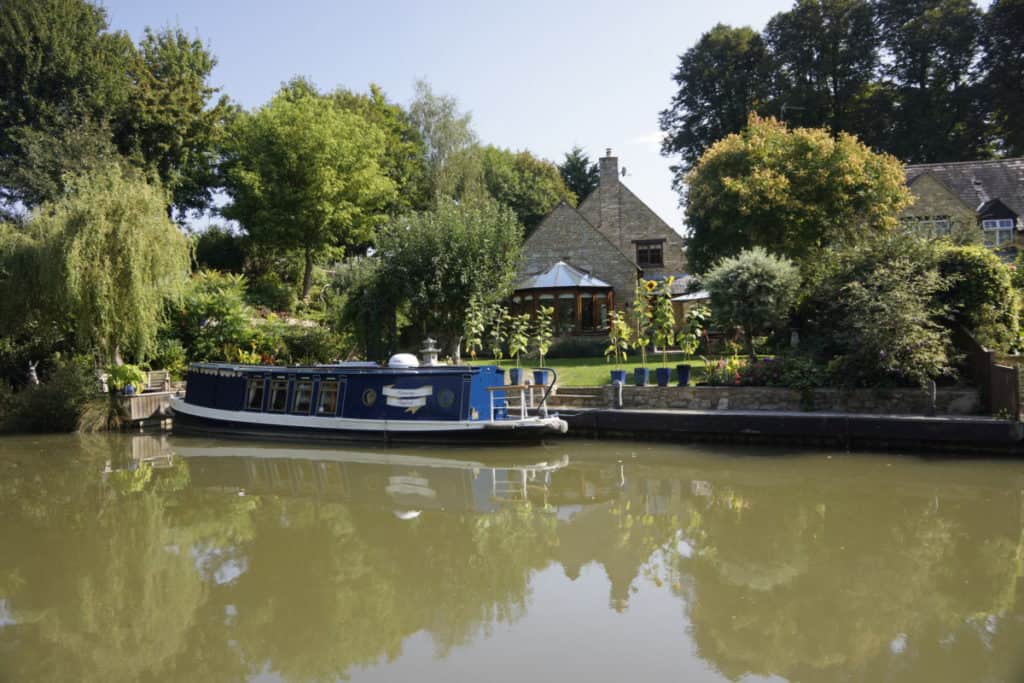 The fueling point is on the opposite side of the canal beyond a gaggle of rental boats. How are we going to get to it? The employee is a pretty agile guy. He makes it look easy. This is Heyford Mill Lift boatyard. Boat repair, services, an off-license, café, and tiny shop. The shop has plenty of useful things and a lifetime supply of Doritos. We buy more of a bargain Aussie Savignon Blanc we first found at Waitrose in Oxford.
High Tech-Low Tech
High Tech-Groceries In A Low Tech Village!
How do residents of these tiny villages get real groceries? We can't figure it out and ask the sales clerk. "Oh, it's easy. We order online at Tesco and they deliver by truck to your bridge." All the bridges and locks are numbered. You just give Tesco the number of the bridge closest to you. They bring your order.
This place looks like Jane Austen's Dashwood sisters should walk by with parasols, but technology is alive here. Dinner on the boat, meat pies and a glass of wine. Too tired to feed the ducks.
One Week Aboard
Friday, August 31. We have been on board for a week. Our first anniversary, five more to go. Anything can happen. We moored among other boats, but the night was black and silent. Three trains and the church bells. The first creatures to move in the morning are the cattle near us. Then some walkers on the towpath and the church bells at 8. They call it the towpath because that's where the horse who pulled the boat walked.
Now it's recreation central. There is no waste in the canal system, every part of it gets used. You get to experience firsthand why the canals were always so useful. One horse pulled the entire boat which moved smoothly along. No ruts or washed-out roads. This country has a lot of monuments. We start to think they need one to honor the tow horses.
We fortify ourselves for the walk to Rousham House with Welsh Tea Cakes at the café. Brown and Sweet, they are a little like a fruit cake. We bring sandwiches for lunch. We will need the whole day to have a good look at William Kent's garden. This is a smaller Great House venue. The house is accessible inside only by pre-arranged group tours and there is no café.
We find our amusements ourselves. We find information, sometimes even maps, online and we talk to people. There is tremendous local knowledge and people appear interested and ready to help.
Another Long Walk
We cross the Cherwell, on foot making one wrong turn but soon getting it right. (They say, Charwull, by the way. Who knows why. It's a secret code.) We walk on narrow roads, 15 minutes, they say. Perhaps a little optimistic. It's hilly, traffic is not bad but you walk very close to the cars.
Over another bridge, the house appears across the fields, on its own rise. Golden stone, rolling hills, ancient trees. It's pretty spectacular. It was built around 1635 and is still in the hands of the family who built it. The walk takes us around the house and its 235 acres of grounds. Up another hill. (But all downhill going home) Its walls are on our left, farmland to our right. More trees.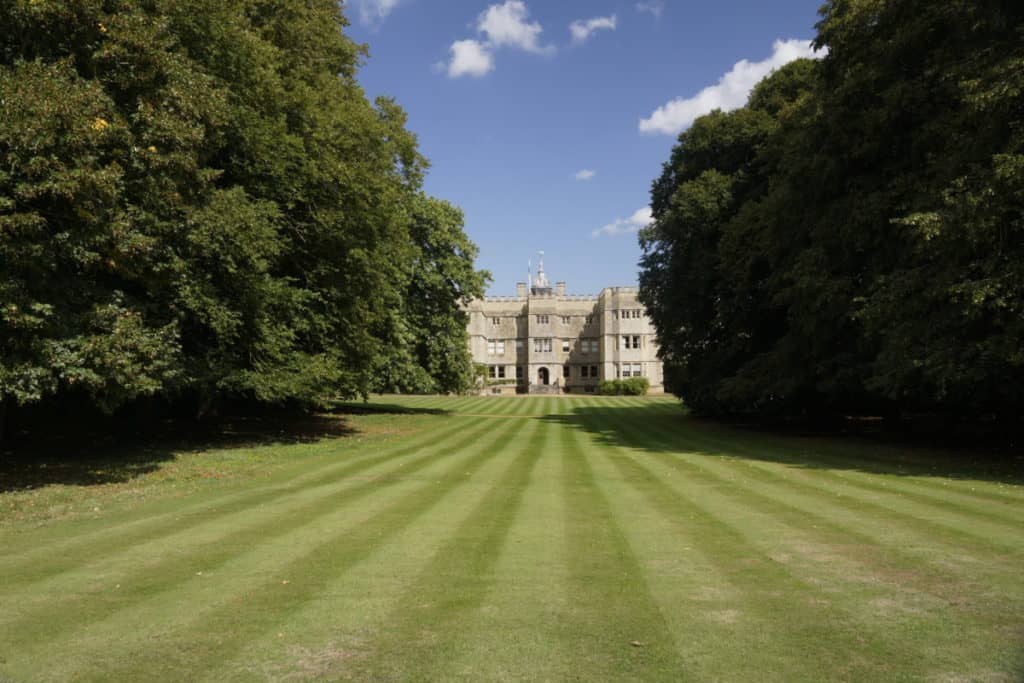 You enter the property by a perfect gatehouse. It and the farm across the narrow road have fanciful chimney pots, every one different. Inside the wall, it's a walk on a shady drive, the iron fences on both sides. You pay your £6 admission at a machine in a barn. Immaculate bathroom. You learn to appreciate that.
A Little Generosity
They offer a basket of apples. We see this everywhere. Extra produce is put in a box with a sign to take one. A homeowner near our Thames mooring in Oxford offered us yellow squashes from his allotment garden.
We followed two gardeners to a greenhouse where they were preparing seedlings for spring and the last of the tomatoes. They told us it was a tough summer, hot and dry. They seemed happy to talk to us, strangers interested in gardening. One of them said that the church was open and we should start by seeing it.
This is an area of walled gardens. We pass the round pigeon house with plenty of sound effects. Beside it is a brilliant Dalia garden. They didn't seem to mind the summer. Next, the church, in its own walled area. The church building dates to the 12th century, with later additions. The stone church has wooden floors under the seats. Services were long and the stone below was cold. There are hand-embroidered kneelers and grave markers on the floors and walls.
One grave marker was for a woman named Lucy. Her husband died young, she had 12 children and prayed for God to take her early. She lasted 74 years. Many parishioners led long lives. We notice this in our travels.
We are always told that lives in earlier centuries were short. That seems to take infant mortality into the mix. If you survived early childhood and were not in war you seemed to have an opportunity for some longevity in these villages.
We saw memorials to soldiers from the 17th through the 20th centuries. The family had serious losses in WWI.
There is a cross-shaped garden walk. All four lengths feed into a center lily pond with fountain and surrounded by 4 arbors with benches. Perfect for lunch. Tuna sandwiches and San Pellegrino with espaliered fruit trees all around. I doubt we'll ever eat tuna sandwiches again without reliving this.
We found a copy of William Kent's own map of the grounds. The park is very little changed since he worked here. The map is accurate.
Rousham Park is a classical fantasy. You walk through water features in Venus's Vale. She's something to see and in her perfect environment. You are walking in a wood, dark with all colors of green, around a tiny long rill of a river. You glimpse the figure of Mars in the sunlight beyond. You spot a Faun around the corner, why not! Now you are looking for Oberon. You can find information on visiting Rousham House and Gardens here. It is astoundingly beautiful to visit. Bring your lunch and eat in the garden. Do not expect extensive services.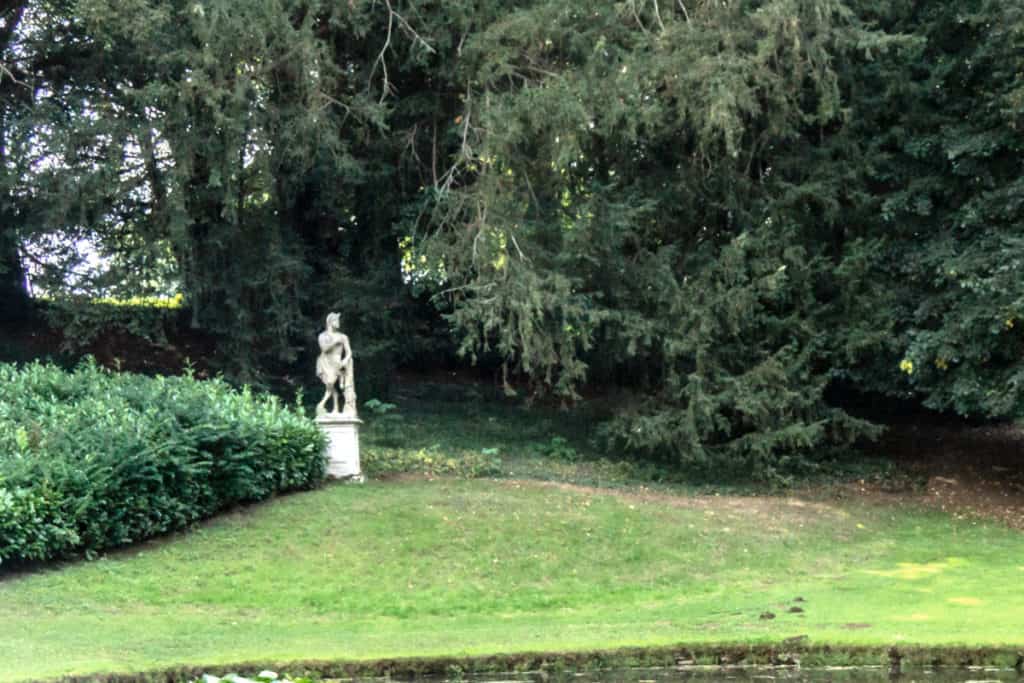 You don't see fairies, but the longhorn cattle are over the next hill. They're an 18th-century breed. The longhorns are not east and west like the longhorns of Florida and Texas. They are great curved headdresses. They have white backs and brown sides. Nothing impresses them.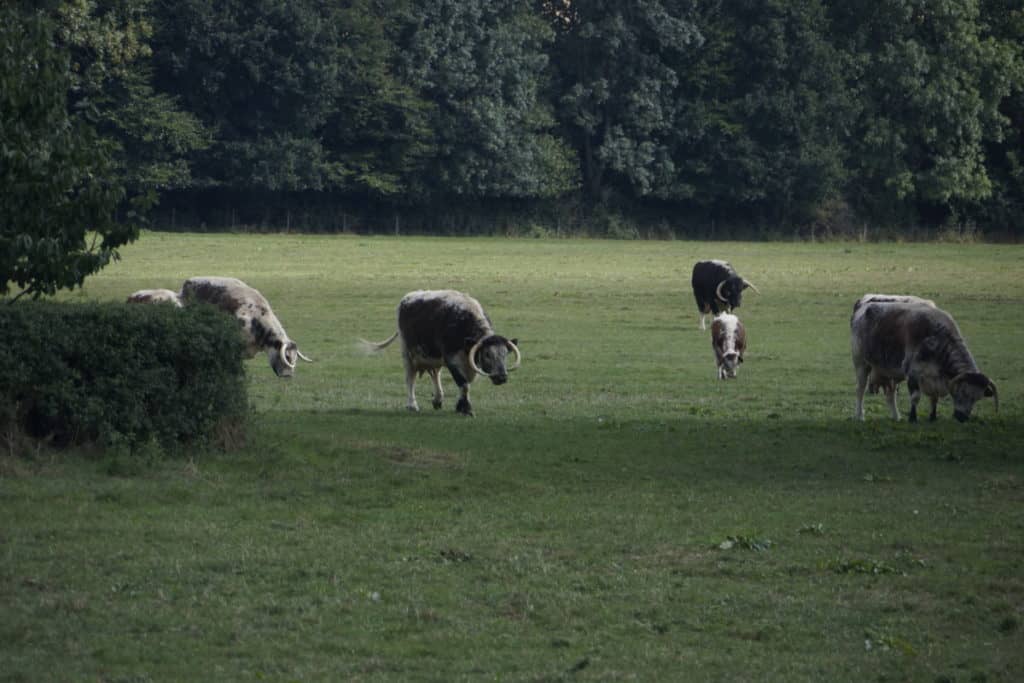 Our Big Decision
Today we have made a major decision. We hope it was a good one. We don't have time to do the Grand Union canal and see its environs. We won't see George Washington's granddad's home town. We hoped to reach 4 mph far more often. It's not happening. On these canals, 4 mph is "Smokin…"! Instead, we'll spend more time visiting the little villages along the Oxford Canal. This will give us more time in the town of Oxford, which we have really taken to and we can see more places along the Thames.
Here is an advantage of canal travel. You can adjust your trip as you go along.
Saturday, September 1: A village stroll
The village of Lower Heyford is not canal side. The really old settlements preexist the canals, so it pays to learn about them and take a little walk to see them. It's visible through the trees and it's a rough crescent shape with its two ends near the canal but most of it rises above the canal. We can see the church's tower from the boat.
There is a lot of entertainment to be had near the canals, a lot of it in walking distance. You do need to find it though. A good trip, we seem to have learned, has a lot of planning before you go coupled with a willingness to be flexible while you are en route.
Yesterday we met a man at the café. He had walked down from the village with his exuberant puppy. He said his village was like 1950's England. He was worried about the housing problem and its effect on the countryside. The next town, Upper Heyford, was the site of a US airbase in WWll. It's now a huge housing estate and Bicester, a rural town, not far away, is now swallowed up by developments and an outlet mall. But still not much wifi.
Another Long Walk-It's A Theme!
Sunny, like yesterday, we have coffee and share a lime and coconut cake at the café's outdoor table. Yes, that dumb song stuck in our heads all day. ("you put de lime in de coconut…")
The public footpath winds upward between stone houses with apple trees and guarded by sheep gates. First, we encounter the church, consecrated in the 1100s and rebuilt in the 1300s. Along its wall are signs of warning against crime and theft. The police have a program to monitor resold items stolen from churches.
This is a common problem, we'll see these signs often. These are ancient buildings, expensive to maintain even without vandalism. In the graveyard we see again that in the absence of war, villagers often seemed to have long lives.
The village rises and falls, then curving back down toward the canal. The building styles and materials are always consistent, it's harmonious, restful. Other than the Bell Inn it is completely residential. Good that Tesco and Waitrose deliver.
Pete photographs a house having its roof thatched. Reeds are stacked on scaffolding. The thatch roofs are often decorated. Straw cats climb the slope or birds sit on the ridge. One could commute from this village with trains serving north and south. The site "Oxfordshire Villages" has this informative entry on Lower Heyford.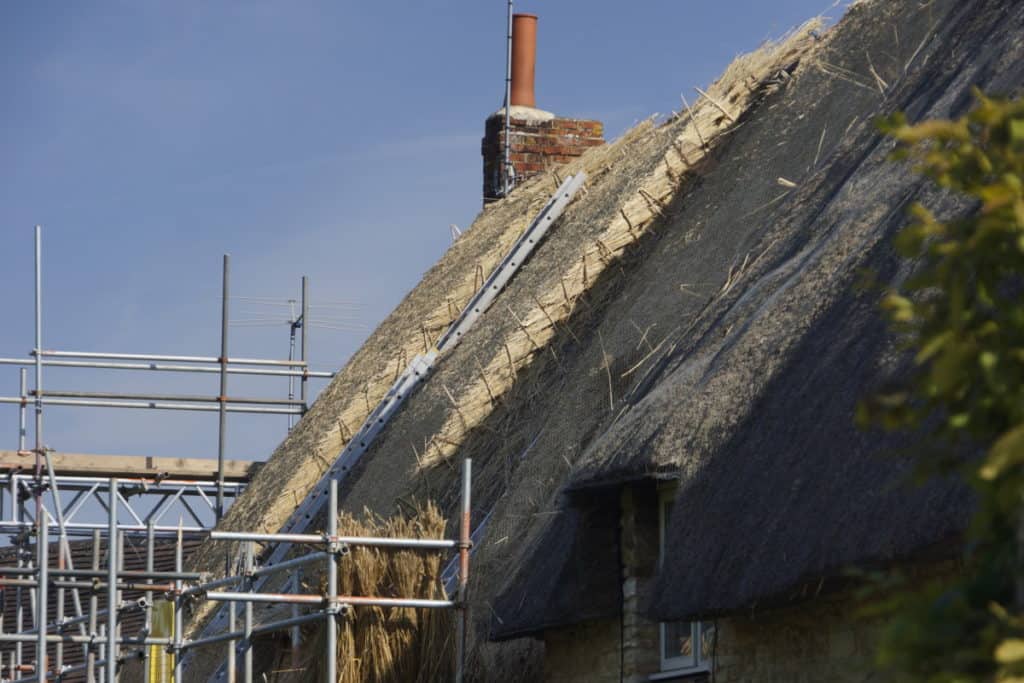 Afternoon we left our mooring, heading north. Immediately we encountered our second automatic swing bridge, easy. Allen's Lock, next had a challenging angled entry, under a bridge. So far our only bump, and a piece of broken crockery. A clatter. The gongoozlers on the bridge said-"no beer for you tonight".
What's A Gongoozeler?
What's a Gongoozeler? Originally a fellow with no business of his own who takes a considerable interest in the business of others. Now it's the folks who hang out at locks and bridges watching you make dumb mistakes. They are not disappointed for too long.
We share the next few locks with a couple spending the summer on their own boat. They stop for lunch and to listen to the Test Match on the radio. They could be there for a long time. (And they make fun of Baseball.)
The topography changes here. More hills arrive with fewer cattle and the sheep begin. There are lots of them, handsome with black faces and legs. Some eat hay from wheeled dining carts. It's their food truck park. We pass and photograph 17 huge, feather-footed piebald horses. Some are in the water, their babies sleep in the sun. There is always company in the canals, not all humans. We wonder who we will meet tomorrow.