Herb Garden Heaven happens in sultry South Florida's cool season. This takes place roughly from October through May and if you love a lush garden and fresh herbs for the kitchen this is prime time outdoors in Florida.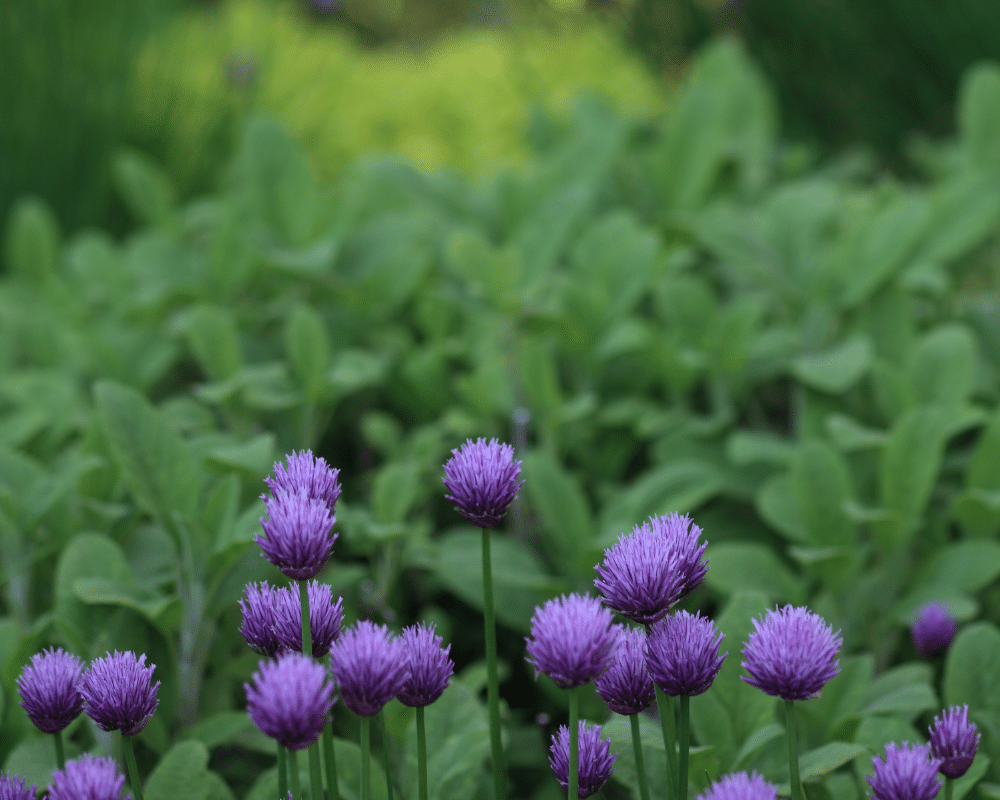 Our South Florida garden grows fresh herbs all year, but as the environment heats up, our choices become limited.
But not true in the cool season!
In this season every herb, those you grew up with, the rare exotic flavors, and our dry climate Mediterranean favorites are all available to enjoy.
Grow anything you like!
In Central and North Florida, you will have slightly fewer choices in the coldest winter days and a few more choices in the heat of summer, but wherever you are in Florida, winter is your garden, Heaven!
Many of our favorite herbs struggle to survive in our hot, wet summers: there are steps we take and tougher varieties to grow that will help us out in summer humidity but our mild and dry winters are easy. Grow any herb you love, they couldn't be happier!
Steps in Growing Cool Season Herbs In Florida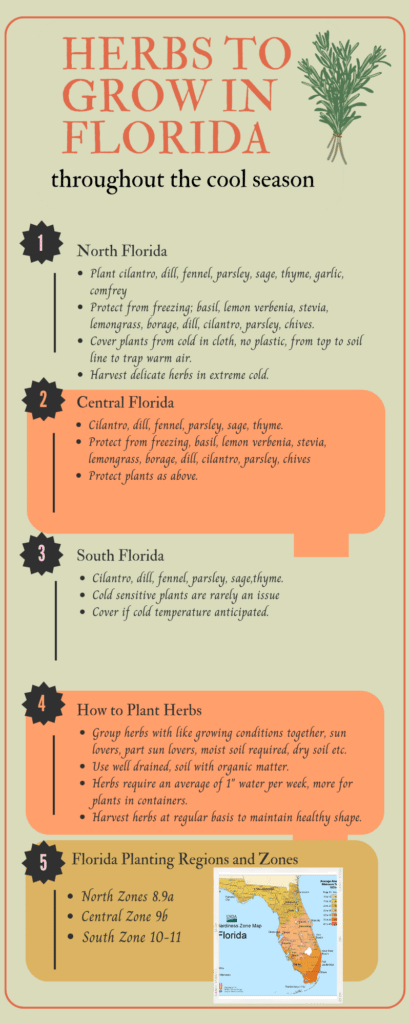 Our Florida Garden-Herb Growing in Cool Season
Our current garden is located in a coastal South Florida town on the Gulf of Mexico and the edge of the famous Everglades. We are in zone 10b, and our climate is about as warm as North America can be! Our prior garden, for many years, was in coastal Central Florida and our herb garden was in a slightly cooler climate in zone 9b.
Freezing weather in both places is very rare. In both Central and South Florida you will grow winter herbs in comfort.
Principles For Herb Growing
The principles we have evolved for herb growing work throughout Florida with minor modifications to allow for Florida's subtle climate changes. South Florida, for those of us with northern origins (that's most of us), is the most foreign and challenging climate of the three. If you can handle South Florida you can grow plants anywhere. In North Florida, a shorter list of edibles is growing in the cool season.
Environment for Herbs
Sunlight: Plant your herb garden in the sun, for at least four hours per day for most herbs, 6-8 hours for Mediterranean herbs like rosemary, lavender, and thyme. Is your garden space shady? Some herbs can handle shade. This article might be helpful. 'Herbs to Grow in Partial Shade.'
Soil: The standard rule of soil for herbs is as follows. Rich soil, with organic matter, that is well drained and reasonably fertile is the goal for growing herbs. Some herbs accept poor soil, but we find it is easiest to use the same soil for all. We err on the side of nutritious and organic.
Water: For new plants water daily to establish; mature herbs will thrive with an inch of water per week. Use a rain gauge to check. You will find that your herb plants will fit into three categories in terms of water needs. It goes like this.
Don't let these dry out: basil, chervil, lemon balm, mint and parsley.
Herbs for moderate moisture: chives, cilantro, dill, and fennel.
Herbs that prefer dryer conditions: bay leaf, lemon verbena, marjoram, oregano, rosemary, sage, savory, tarragon, and thyme.
Nutrition: Do I need to fertilize herbs? Some good gardeners argue no, herbs, unlike vegetables have low nutritional needs and the flavor is better if they do not grow too big. I do fertilize herbs, and my Florida soil is improved and amended but I am a belt and suspenders gardener. But if you do want to feed herbs remember that they come in two categories.
Mediterranean herbs, native to dryer areas with poor soil. These need less nutritional support and include mint, marjoram, oregano, rosemary, sage, savory, tarragon, and thyme.
Faster-growing herbs, usually annual or biennial, include basil, borage, cilantro, chervil, dill, parsley, and chives will thrive with more nutrition.
You can start the plants with a slow-release fertilizer, (check your label for length of time, usually around three months) and later add a fertilizer high in nitrogen. (The NPK ratio will be 4-1-1 or perhaps 5-1-1.)
What is an NPK ratio? It is the ratio of the three plant nutrients in order, nitrogen-N, phosporous-P, and potassium-K.
Cool Season in South Florida-Herbs We Are Adding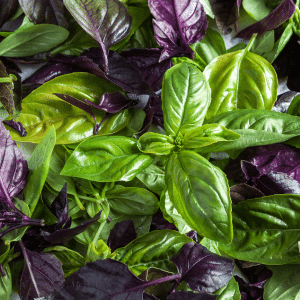 Basil is one of the world's most desired herbs. A product of regions ranging from Central Africa to Southeast Asia, basil gained worldwide distribution through the Spice Trade and it never stopped moving. Name a cuisine you like and basil is in it!
We appreciate its flavor, sweet, bright, and a bit spicy. Keep your basil plant handy, you will have many uses for the leaves and it is delicate. Use it as fresh as possible.
The basil we grow and use most often is Genovese, the bushy Italian sweet variety, it is most useful in the Mediterranean foods we often make. I also grow Thai Basil for its peppery flavor, it's the one with the red stems. Use it in any Southeast Asian dishes, curry, noodles, and chicken. Both plants are tender, tropical perennials and popularly used as annuals.
New Improvements in Basil
*The problem of Basil Downey Mildew and what to do about it! Basil Downey Mildew is a fatal fungal disease and has created vast economic problems. First mentioned in Uganda in 1933 it went underground and finally appeared in Europe in 2001. By 2007 it reached Florida and quickly spread throughout North America. Today it is a global disease.
A few research universities have produced more disease-resistant varieties. The first and possibly most used is 'Amazel Basil, developed by the University of Florida. I have recently planted 4 plants. So far Amazel Basil is quite similar to its intended form, that of sweet Genovese basil. The differences seem to be that the AB leaves are extremely large, and the points on the leaf edge are more pronounced. The shape of the plant itself is taller and more conical than the mounding Genovese variety. My first sampling suggests a very similar flavor and a four-inch grower pot matures very quickly. So far, so good!
For more on Amazel Basil and other disease-resistant basil varieties.
"Fatal Downey Mildew-How to Save Your Basil Plants.'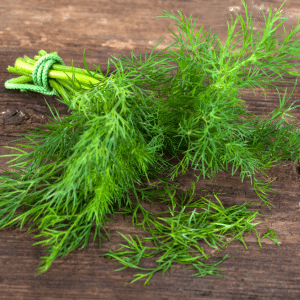 A biennial plant that lasts two years, dill will quickly bolt (flower, seed, and die) and is usually grown as an annual. If you use a lot of dill you can start new plants every 14 days.
For more details on growing and cooking with dill, including eight new varieties to grow, read this.
'Sage advice about Herbs, Dill, Garden to Kitchen.'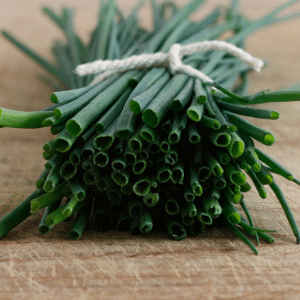 Chives will improve soup, salad, fish dishes, and more. They grow in two types, each with its own flavor and texture.

Onion Chives-is the one with lavender globes, made of many tiny flowers, and hollow stems. Slice those tiny hollow stems in small pieces for a pretty and piquant garnish on anything that needs a little pop of flavor.
Garlic Chives- has white blossom rings and sturdier flat leaves. Slice those for a delicate flavor of garlic. Try it raw, stir-fried, or pickled.
In South Florida's hot climate, these two will grow happily all year. We put them in pots so they are moveable in times of rain or high sun. You can use these in flower beds if you are short on space.
The newest planting is an onion chive which we favor but we always keep one of both.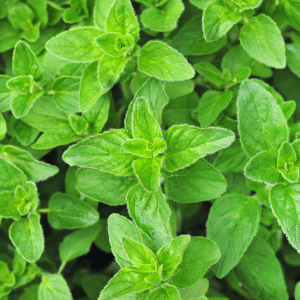 We added one new oregano plant and chose the sweeter Italian Oregano. Oregano means 'Joy of the Mountain' in Greek and that is your clue to growing it! A true Mediterranean herb, oregano grows happily in bright sun, and little water, and accepts poor soil. Grow your oregano plants in a sunny spot with other Mediterranean plants like thyme and rosemary.
I know of five varieties of oregano and they vary as to strength. Oregano is always earthy and bold, read this discussion of how to use it and the five types you can grow.
'Sage advice for Herbs, Oregano, From Garden to Kitchen.'
Cuban Oregano is not oregano but is growing in popularity as it has an oregano-like flavor and is pretty, and easy to grow, especially in extreme heat and the scent will tend to deter rabbits and deer. Its scent and flavor are quite strong so when cooking start with a small amount.
'What to Do With Cuban Oregano.'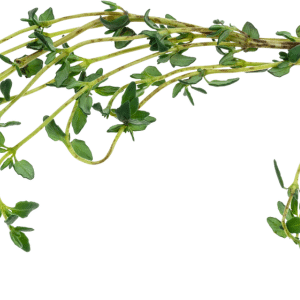 Thyme is a simple Mediterranean herb and we humans have found uses for it for thousands of years. The name comes from the ancient Greeks whose honey, made from thyme is famous and who today still have more beehives than anywhere else in Europe. Thomas Jefferson developed a taste for it in his diplomatic travels, and was said to raise 26 varieties!
To use the leaves, hold the little stems at the end and push the tiny leaves toward the base. They will fall easily from the stem, ready to cook with. (Some herb stems, parsley, for example, are edible but not the wire-like thyme stems.)
Grow thyme to use with almost everything, soup, salad, meat, any Mediterranean dish, and the sprigs of tiny leaves are an appealing garnish anywhere. The taste is pungent and has a hint of clove. Grow it in very well-drained soil. Mediterranean herbs are very forgiving of almost anything but wet roots.
Summary,
These are basic herbs we will start the season with. If you are a warm-climate gardener like us, you can grow heat-sensitive herbs like cilantro, French tarragon, and chervil. These are challenging in our humid summers.
Herbs are desirable plants for any gardener. They are adaptable, small, attractive, and edible. For Florida gardeners who can grow them for 12 months of the year, they are especially useful. We have learned that these features are especially useful.
Many Florida homes have small gardens, many seasonal residents have only a patio or balcony. You can raise a full complement of herbs in these tiny spaces.
Herbs lend themselves to growth in containers reducing the needed space even more.
Fresh herbs are the most flavorful and nothing is fresher than your own garden.
Herb plants benefit from being harvested on a regular basis.
Finding Herbs To Plant In Florida's Cool Season
The national sellers of plants will emphasize the availability of herbs in the spring, they are slightly less available in the fall. Here is what we do:
The Florida branches of national chains will always have some of the more popular herbs.
Local garden centers will have relationships with local growers. These plants will be well adapted.
Some plants are impossible to find. For chervil, I buy seeds from a national dealer.
Some plants are surprisingly hard to find. Amazel Basil is sold over a wide geography but is hard to find in Florida in the fall. The company dealing with the product is Proven Winners and I buy directly from them.
Florida has many plant growers, and many will offer some retail items. If you find one near you they can be wonderful sources.
Enjoy your herb garden and the meals they help you produce.
References You Can Use
'How to Grow Your Favorite Herbs For Dinner'
'Growing Your Kitchen Herbs in Containers'
'How to Prune and Harvest Your Culinary Herbs'
'Herbs to Grow in Partial Shade'
'How to Harvest Your Basil All Year.'
'How to Use Your Bounty of Basil'
Florida Gardening Calendar-University of Florida. Use this research-based tool for monthly planting. Select your region and the months that interest you.