Fatal Basil Downy mildew is an all too common problem to us gardeners today. The following is the best solution I have found to save our Basil plants. Have you had this experience? Scissors in hand you walk to the herb garden to cut some bright green sweet Basil leaves for your meal. But what greets you is chloritic, and blotchy, on the tops of the leaves, and fuzzy gray spores on the bottom. You have been Mildewed! You are the victim of all too common, fatal downy mildew disease. The plant is not only dead it is spreading disease while you stand there!

Around the world, cooks and gardeners produce basil for us to eat! We all want Basil for its sweet, pungent, and slightly spicy flavor. But there is a worm in the apple, and it is a fatal basil disease called Basil Downy Mildew and it is running throughout the globe. It is guaranteed to spoil all the fun but we now have a defense. Here is how to eat your basil and avoid the disease.
Basil is used in a wide range of cuisines as both a cooking ingredient and a garnish. Easy to use, it is a big part of our goals for healthy and fresh eating. A fatal plant disease is devastating to the growers, cooks, and all of us.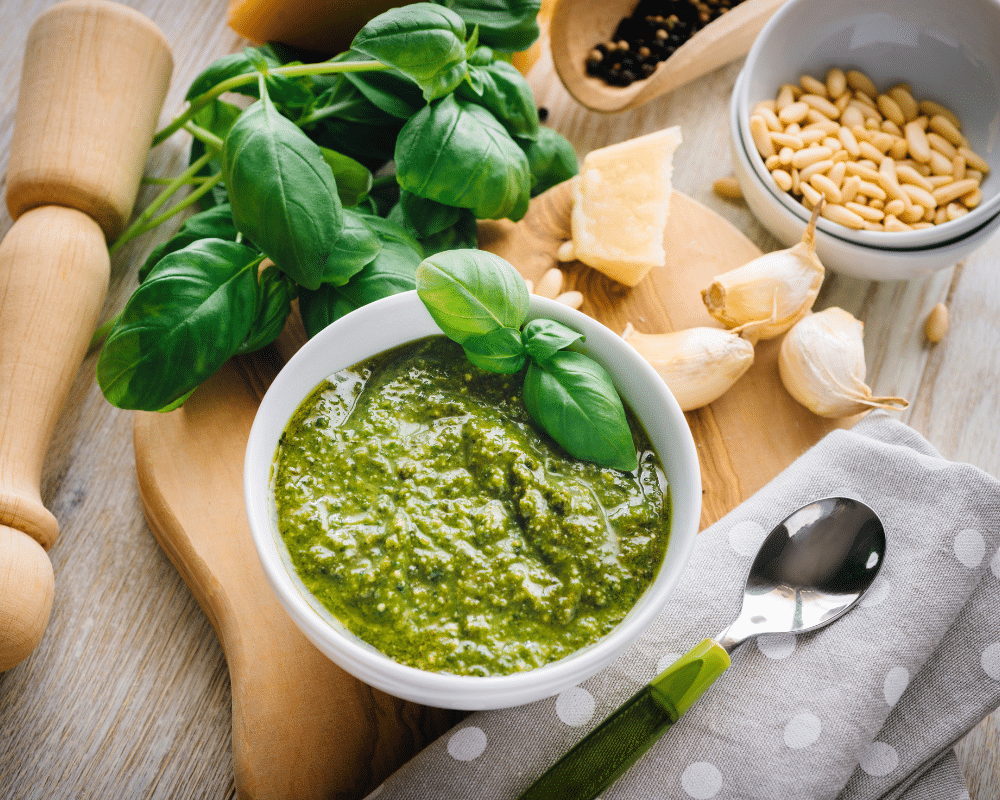 Think of the losses: Caprese salad, tomato basil tart, pesto, bruschetta, scallops with risotto, Thai basil chicken it goes on…
How Did This Disease Get Started?
In 2007 Basil Downy Mildew destroyed crops in South Florida Fields, and it has never left Florida. In 2008 it appeared in multiple eastern states and Canada and shortly thereafter appeared on the west coast of the US. Today the disease is in most states with no signs of letting up!
The History of Basil Downy Mildew Disease
We know that the disease was described in 1933 in Uganda, apparently disappeared for many years, then suddenly popped up in Europe in 2001, and quickly spread through the continent. A popular herb enjoying a growth market the Basil leaves plants and seeds travel the world allowing opportunity for disease spread.
Here is how fast it spread: 2001-Switzerland, 2003- Italy, 2004-France,2005- South Africa, 2006-Iran-2008, -Argentina! And it keeps going.

The damage is done fast, it's an airborne disease and Basil's popularity means that its seeds, leaves, and starter plants travel the world, susceptible to spores in the air.
Basil Downy Mildew: What It's Like
This devastating disease is caused by a fungus-like organism called Peronospora belbahrii. The disease is a water mold and not a true fungus. It attacks the leaves, branches, and stems of the plant and initially can look like a nutritional deficit with blotchy yellow leaves. This is what growers first thought when the mold appeared. So they fertilized the plants, and of course, it didn't work!
(Water mold is a minute organism often seen around decaying organic matter.)
How To Spot Downy Mildew
To be sure you are looking at downy mildew, turn the leaf over and look for the characteristic gray and black spores. The underside of the leaves will look as if dirt has been sprayed on them, the leaves will look dark gray and fuzzy.
Basil downy mildew will spread rapidly and consume the plant. As the disease is airborne and spreads by tiny spores in the slightest of breezes, assume it will have fast progress over wide spaces. If you see it on a plant; destroy the plant. Some experts advise completely bagging the plant to prevent falling spores or seeds. Do not put the dead plants in the compost, the damage will spread.
When to Expect Basil Downy Mildew
The disease thrives in warm and humid weather, however, it is reasonably cold-tolerant and will live in temperatures as low as 50 degrees F.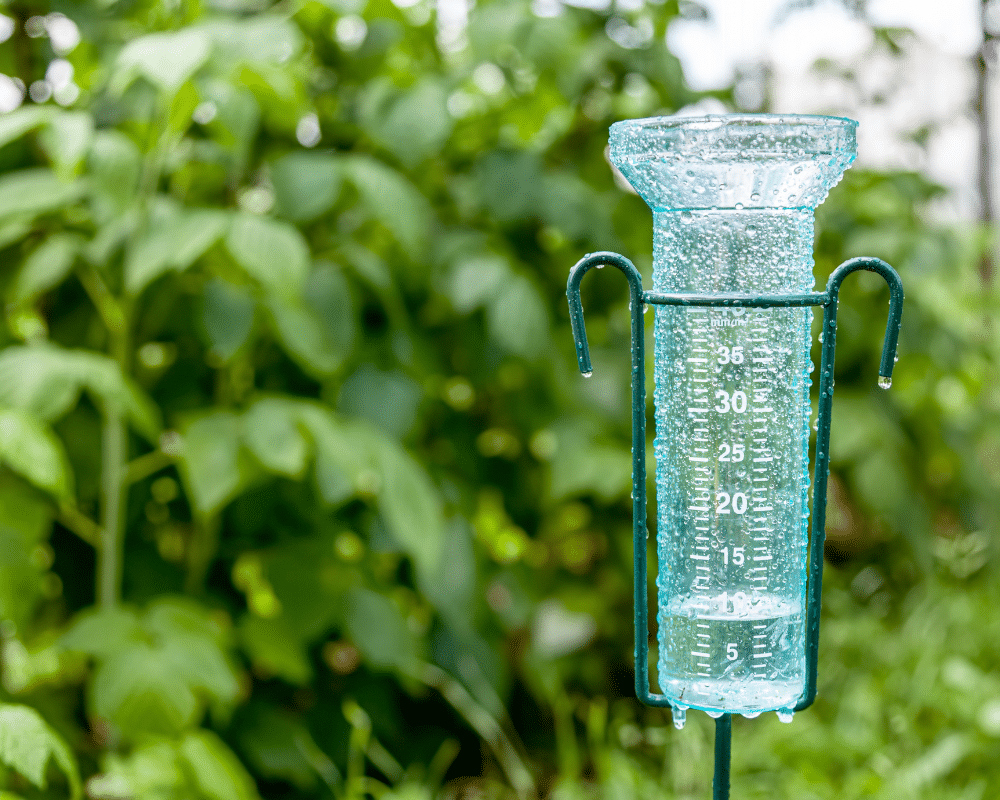 Look for this disease progress on your plants:
Basil Downy Mildew needs a prompt reaction as it can lead to complete crop loss.
You should see the infection first on the plant's lower leaves and it will move upward.
The pathogen will spread on seeds, leaves, and on transplants.
Check the plants you buy and even the leaves you buy in the grocery store.
Solutions To Basil Downy Mildew
The absolutely best defense is to plant a cultivar that is bred to be resistant to Basil Downy Mildew. There are treatments that have been extensively tested but none are dependable. A considerable effort has gone into developing cultivars over the past decade.
A key problem is that it is the most popular varieties of Basil, sweet, large-leaved Basil, especially the Genovese variety that is most susceptible. Some Basil varieties are more disease resistant and the process of developing resistant varieties consists of patient crossing of tasty but susceptible plants with plants chosen for resistance and not taste.
The early results were marginal improvements but the researchers trudged on. Here are some of the most successful results so far.
Developing Disease Resistant Cultivars
Rutgers University developed these four, all are in use today. Rutgers Check with sellers for flavor. The compact versions are thought to be sweeter and most like the Genovese plants. (Some can be a bit more spicy.)
Look for these cultivars:
Rutgers Obsession DMR
Rutgers Passion DMR
Rutgers Devotion DMR
Rutgers Thunderstruck DMR
You can buy these from Johnny's Seed.com and VDF Specialty Seeds.
This is a piece on the plants from Rutgers website:
Prospera Basil: developed by Genesis Seeds following Israel's devastating intrusion of Basil Downy Mildew in 2012 the seeds are sold in the US by Johnny's Select Seeds.
Here are three cultivars of Prospero disease-resistant Basil.
Prospera Genovese Basil
Prospera Compact DMR
Prospera Italian Large Leaf Basil
Amazel Basil is described as the first of the Basil Downy Mildew Varieties to reach the market and was produced by researchers at the University of Florida. We live in a coastal resort town on the edge of the Western Everglades but also near the home of winter vegetable production and our economy is impacted by the problem. The solution is important to us.
Amazel Basil Features-Ocmium 'Amazel Basil'
It is an Italian Sweet Basil- the botanical name above tells us that it is in the Genus Ocmium and is a greenhouse-made cultivar and not a natural variety. Amazel Basil is heat tolerant, sterile and long-lasting. The plant is relatively large. It is upright and ranges from 2-3′ in height. It has the large leaves of the sweet Basil and planting advice is to use it in the garden or in a large container. The plant is hardy in zones 10-11.
My New Amazel Basil Plants
I purchased my new disease-resistant plants from Proven Winners the company that grows the plants and distributes them to other growers. If you do a Google search for Amazel Basil you will see the growers.
Amazel Basil is a sterile plant propagated by tissue culture. You can buy plants online directly from Proven Winners however you can also buy them from a network of regional growers too.
Plant Features
The plant matures at 3′ tall and 2′ wide. You can grow it in the garden or in a large container. Flowers are sparse and occur late in the cycle. They should not negatively affect the taste as normally happens in herbs as they are not setting seeds. Cut them off as they appear, you can use them as a pretty garnish. Expect to have a long period of leaf production.
In DM resistant plants some infection can appear, it should be very minor and you can remove it easily.
How To Protect Your Plants From Downy Mildew Disease
Take these steps to keep healthy plant. The scientists go to great lengths to tell us that 'disease resistant' is no silver bullet. The disease-resistant plants are not a guarantee it makes good sense to reduce the chance of contamination.
Start with disease-resistant plants or seeds.
Follow plant spacing instructions to ensure airflow between your plants. Amazel Basil spacing is 12-18″ apart. (they are large plants)
Water the roots and soil, keep the soil moist but well-drained, and allow no standing water.
Avoid overhead sprinklers if you can.
Inspect your plants and trim off any damaged leaves or branches.
Prune your plants on a regular basis to keep healthy plant shapes.
Use sterilized cutting tools.
How To Harvest Your Basil Plants And Keep Them Healthy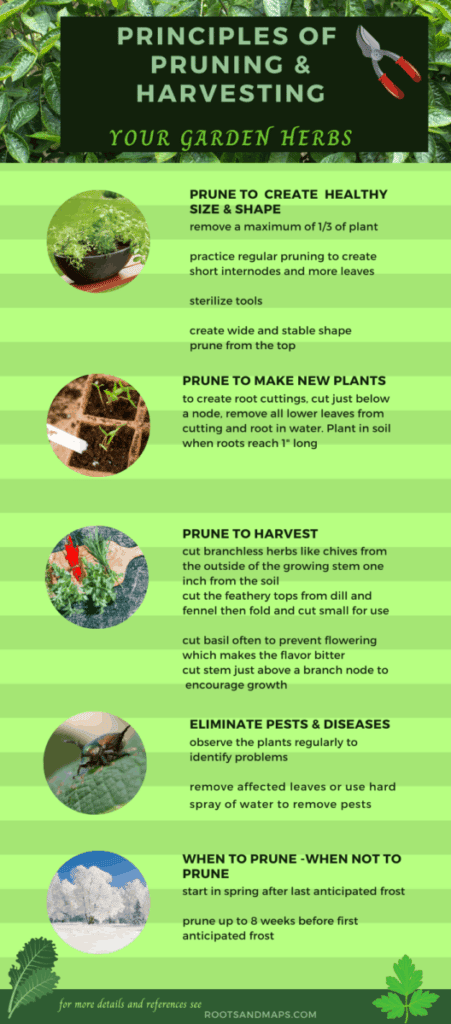 One of the values of growing your own herbs is to have the ability to harvest them as you need them and still keep the plants healthy and productive for the future.
Use this information to prune for shape and size, make new plants, and harvest as needed.
Pruning Step By Step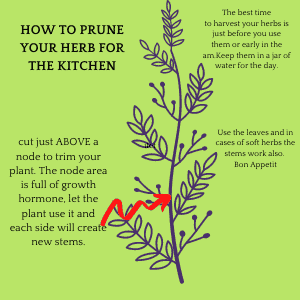 This little chart will help you harvest what you need for cooking and keep the plant growing.
Cooking With Your Disease-Resistant Basil Plants
These plants have been carefully created by crossing (and recrossing) the tastiest sweet Basil plants with Basil varieties that are considered resistant to disease. These may not have the flavors we want and this requires iterative crossing until we arrive at tasty plants.
For more recipes, cooking, and growing ideas try this:
'Sage Advice About Herbs: Best Basil Tips, Garden To Kitchen.'
Downy Mildew Resistant Basil Plants
We know today that the citrus-flavored Basil seems to have avoided BDM. This would include Lemon Basil Ocimum basilicum 'Lemon.' There is also a lime version, here is a piece on using the lime version. Red leaf Basil varieties are also considered resistant.
Starting The Amazel Basil Plants
I can plant these Basil plants, in large containers or directly in our improved soil. They will need sunny locations (about 6 hours) with good soil drainage. Basil likes to be moist and needs one inch of water each week. I'll use a balanced fertilizer with equal amounts of nitrogen, potassium and phosphate.
The new plants will arrive in a few days and we can all see how they perform.
Happy Digging,
Resources You Can Use;
Basil:
'Sage Advice About Herbs: Best Basil Tips, Garden to Kitchen.'
'How to Use Your Bounty of Basil.'