'Days Out of Time'- Nature, Art, Culture, and A Little Mystery!
Travel Through A Masterpiece-Including A Six-Day Itinerary
Would you like to take an inspiring trip to a place of outstanding natural beauty? (See Constable Country, visit a gem and Explore the concept of 'days out of time'?) If you get a spark from nature, art, history, or culture, try the East Anglian coastal birthplace of the painter John Constable. He may have been the first of the great landscape painters, and this is the country that inspired him.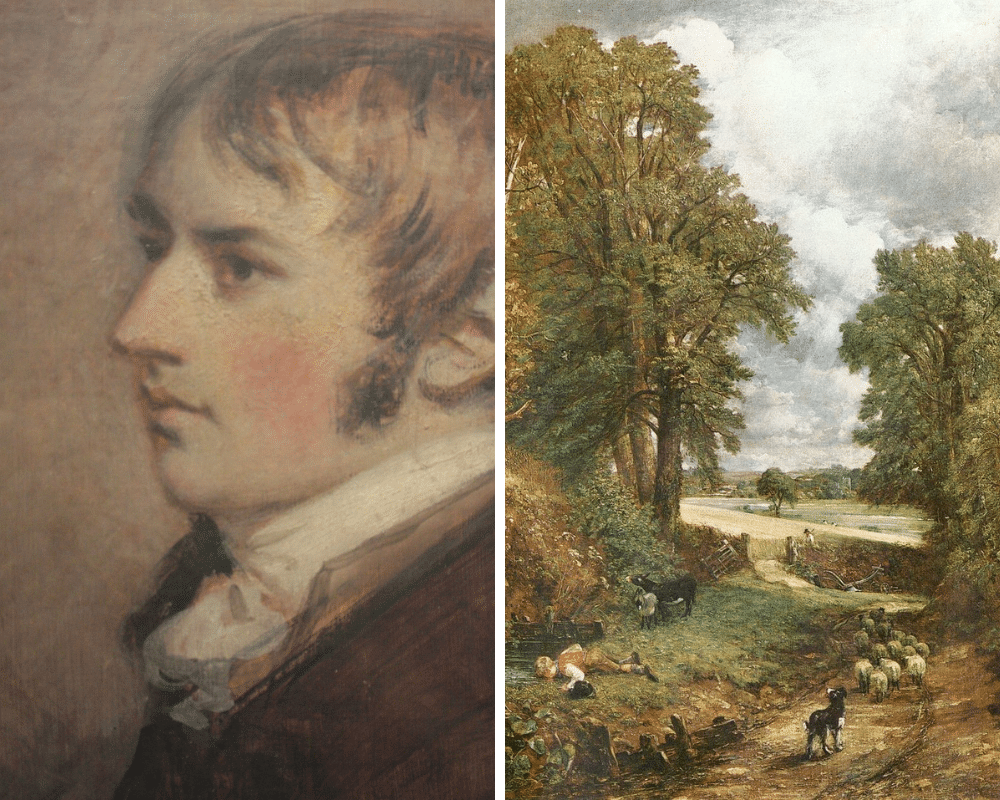 "Nature is the fountain's head, the source from

whence all originality must spring"

-John Constable (1776-1837)
Travel Advertising-Real Or Imagined-'Days Out Of Time"

"Days out of Time" is the tagline advertising a luxury river cruise in that timeless East Anglian countryside, loved and painted by John Constable. The only disappointment to us travelers is that both the cruise line and the magical riverboat, the Zodiac, with its brilliant white hull and flags, are fictitious. Even the delicious martinis served onboard are not real!
Searching For Artists and Criminals
In the book, 'A Clutch of Constables', the title is a double entendre, and among the entertaining group of cruisers hides a vicious murderer whose international crime spree includes art forgery. Published in 1968 and written by one of the grand dames of mystery writing, New Zealand born, Ngaio Marsh (1895-1982), the tale takes place on a week-long cruise of what we now know to be the Stour River in Suffolk, about two hours from your arrival in London.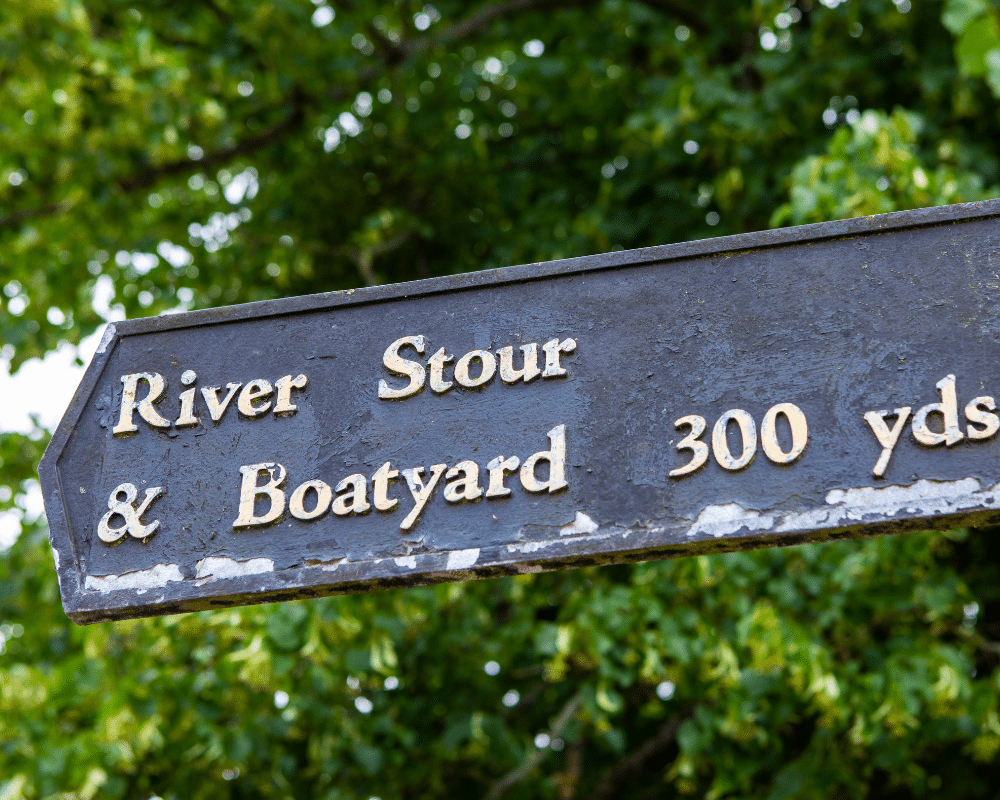 Finding "Days Out Of Time" For Ourselves
When I think back on memorable travel, the best trips always included some "days out of time." By that, I mean times and places that surprise and delight, the ones that stay with us always. Finding ourselves out on the Danube Bend, the castle-filled region beyond Budapest, mountaintop ranches in Hawaii, and tiny islands in the Caribbean, with fresh fish, good wine, and your bare feet in the sand under the linen tablecloth. (Those sort of places.)
It's often those destinations we underestimated and perhaps didn't even plan on seeing that stay with us always. They gave us days out of time. It's like living on the Mayan Thirteen Moon Calendar and getting free days added to your life! (Source)
Finding John Constable-Most Forged-Most Duplicated!
"When I sit down to make a sketch from nature,

the first thing I try to do is

to forget that I have ever seen a

picture."

John Constable
And (almost) always loved! Criticized during his life as too messy, too green, too unfinished, and (my personal favorite) too low a subject,'(landscape!), he finally was appreciated after his life was over. By the later part of the 19th century, he was one of the most forged artists and must be the most duplicated! On tea towels, packs of cards, wallpaper, chunky mugs, and even jigsaw puzzles, Constable copies are everywhere. We don't even need to hang them on the wall!
Take a Few 'Days out of Time' and Enter a Masterpiece.
Constables are everywhere; I have a list of museums and what to see in them at the end. However, if you want to understand the world as John saw the place, it's a great idea to take a few 'days out of time' and visit the world as he saw it! It's a unique opportunity. Few artworks created in prior centuries can lead us so convincingly back to their inspiration as a Constable painting!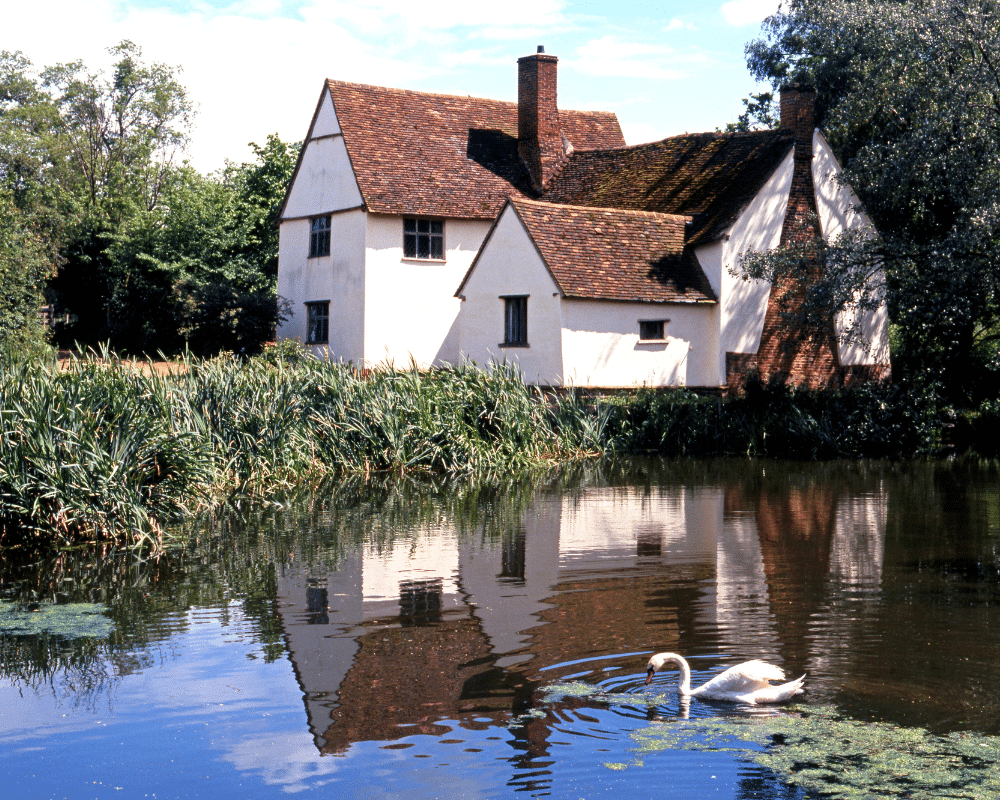 Dedham Vale-How To Visit the Heart of Constable Country
The British use AONB (Area of Outstanding Beauty) to bring attention to and preserve places like this. Dedham Vale, and its environs in East Anglia, offer gently rolling lands, woodlands, and fields, with meandering waterways and picturesque pastel villages. We can see historic towns, castles, and cathedrals. In addition, with the sophistication that comes from being a trading area and close connection to Europe throughout history, the region combines art, commerce, and culture with rural and outdoor pleasures.
And they say the fish is fresh, and the ancient breweries are still brewing for us all!
Visiting Beautiful Places

You can visit 46 of these AONBs throughout Great Britain; this one called 'Constable Country' is the smallest.
(These 46 areas cover about 18 percent of the UK countryside, 23,301 Square Km (a little under 9,000 sq miles, and about one-fifth of the national coastline. Landscape for Life.
East Anglia's lowland landscape has been a source of artistic inspiration for centuries; Gainsborough grew up here, and John Crome and Lucien Freud painted these scenes. The coastline inspired Benjamin Britten's music. You can visit the art of Alfred Munnings, the man who brought the world beautiful horses ridden only by the most handsome of people!
Munnings achieved international fame for his services in WWI. See this painting in London at the Tate Museum, but you will see many Munnings paintings in Dedham at The Munnings Museum in his own home.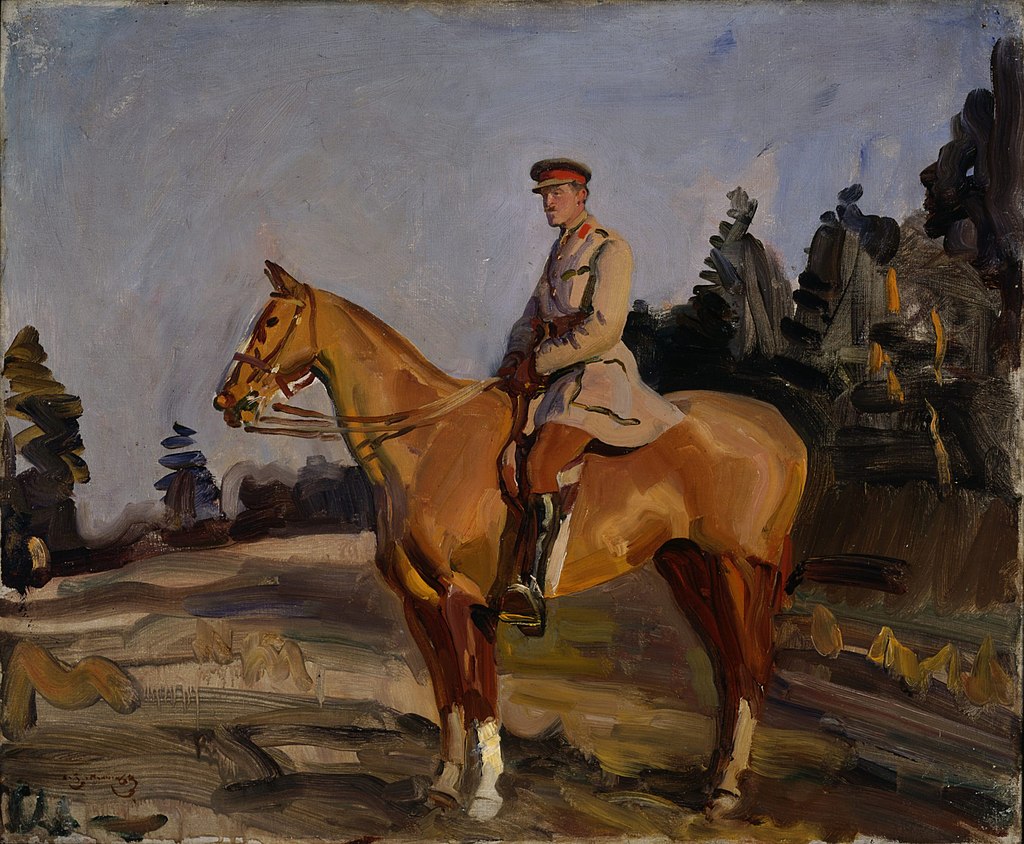 Alfred Munnings, Public domain, via Wikimedia Commons
But John Constable, probably the originator of landscape painting as a high art form, is the artist who embodies it most!
Why Did Landscape Painting Have Low Status in Constable's Day?
Starting in the 17th century, painting subjects were ranked in order of importance. It went like this:
History Painting provided an uplifting message (the landscape was included but as a background)
Portraits-emphasized heroic subjects
Genre Painting-everyday life
Landscapes-a scenic view
Still Lifes-daily objects
So from the beginning, Constable rebelled against authority. He fought a literally uphill battle to force appreciation of landscape painting for itself.
He made it clear that the land he grew up in was the place he wanted to paint, and that was his lifelong inspiration.
"Still I should paint my own places best; painting is with me but another word for feeling, and I associate 'my careless boyhood' with all that lies on the banks of the Stour: those scenes made me a painter, and I am grateful; that is, I had often thought of pictures of them before I ever touched a pencil."

-John Constable
How It Got To Be Constable Country
One day, traveling home to Dedham Vale on a public coach, the painter mentioned that he loved the beautiful region. Another passenger who did not recognize him said: "That's because you are entering 'Constable Country.' Or that's how the story goes, and it stuck!
How We Became Interested In This Part Of The World?
East Anglia And The Norfolk Broads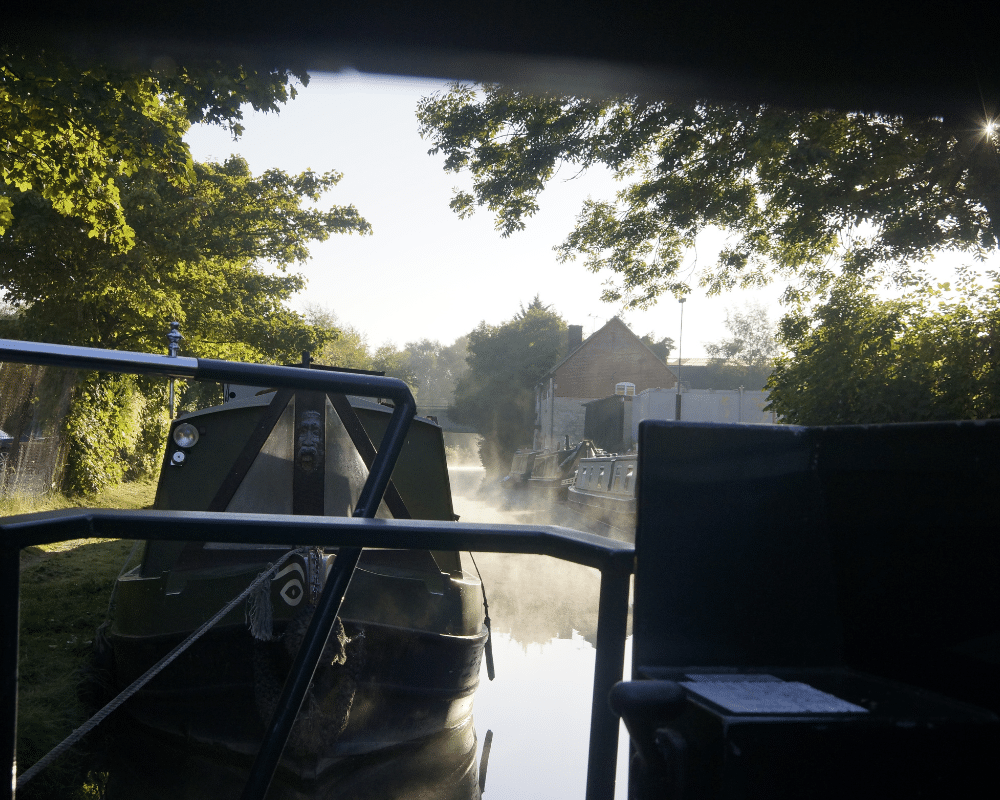 We like to interrupt our quiet Florida lives and placid gardens with a little adventure now and then. And as often happens, one trip inspires another.
On a prior river and canal trip, we found a boatyard on a quiet end of the Thames, and the yard manager said to us. "If you like this, you ought to take a boat out on the Norfolk Broads," and the thought stayed with us. The Broads are a combination of rivers and lakes on the flat fenlands of East Anglia. A place where we can step out of our days and enter an environment of tiny villages, castles, slow waterborne travel, art, and nature.
No tarpon, no palm trees, no bougainvillea!
Do You Walk, Paint, or Enjoy The Water?

When you begin your 'days out of time' and you bring your sketchbook or paint set, you can sit where Constable sat and paint the scenes he painted in 1820. You can walk or glide on the same paths and water that Gainsborough, Constable, and Munnings traveled. And they have not changed much!
The Hay Wain was painted near Willy Lot's Cottage, and you can paint the pond and cottage too! Today the forge is under deeper water, and the trees are denser, but most of the elements Constable painted are clearly visible now! Does there appear to be an elderflower bush in the same place behind the house?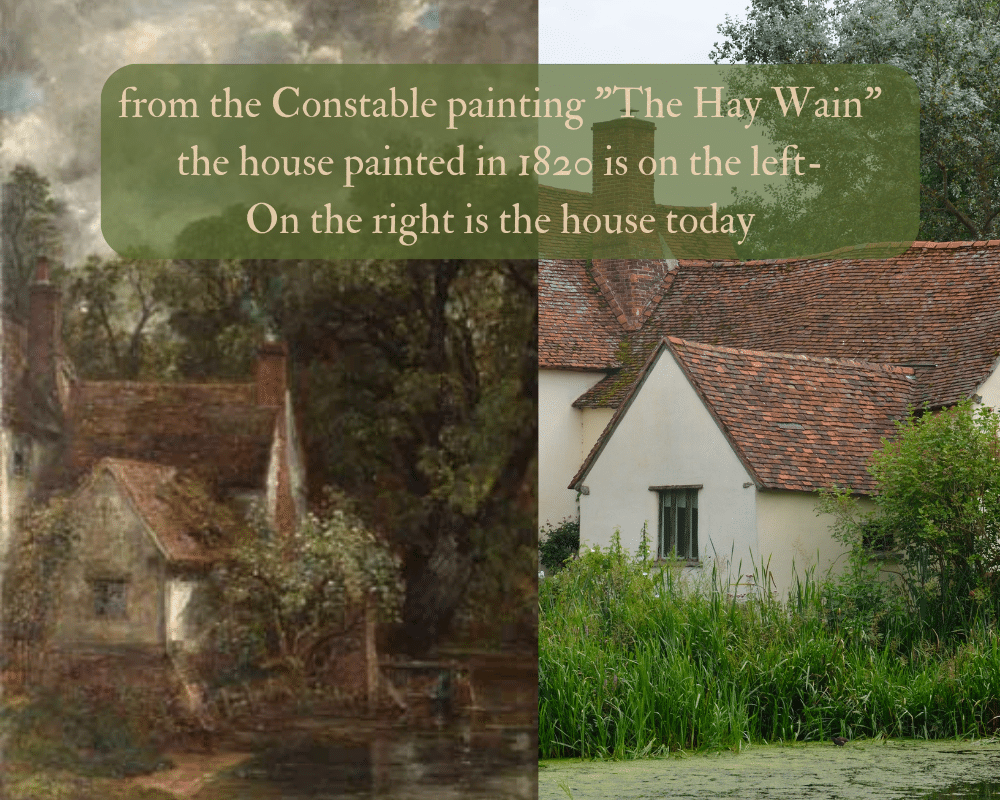 The south of Suffolk has been attractive to people for many centuries. Today, protected as an Area of Outstanding Natural Beauty, it is preserved for both the value of its significant landscape and its cultural history. We now know that Suffolk was home to an early Saxon monarch (see Sutton Hoo), wealthy for its weaving and wool trade in the Middle Ages; it continued as valuable arable land and is such today. Now, add the art it contains, outdoor life, sport, historic buildings, gardens, and coastal scenery on the North Sea, and you have a place to remember when you return 'into time.'
More Outdoor Life in and Near Constable Country
Fishing
In a coastal area also known for its inland waterways, fishing is an opportunity for an East Anglia trip. Here are some alternatives.
How To See Constable Country And How Much Time To Set Aside.
Including A Six Day Itinerary
I found this six-day tour from British Heritage Travel. You can follow it online or use it as a framework, and then when you're done; it offers you alternatives for more travel. I emphasized things that interest us, you may allocate your days a little differently.
A Simple Itinerary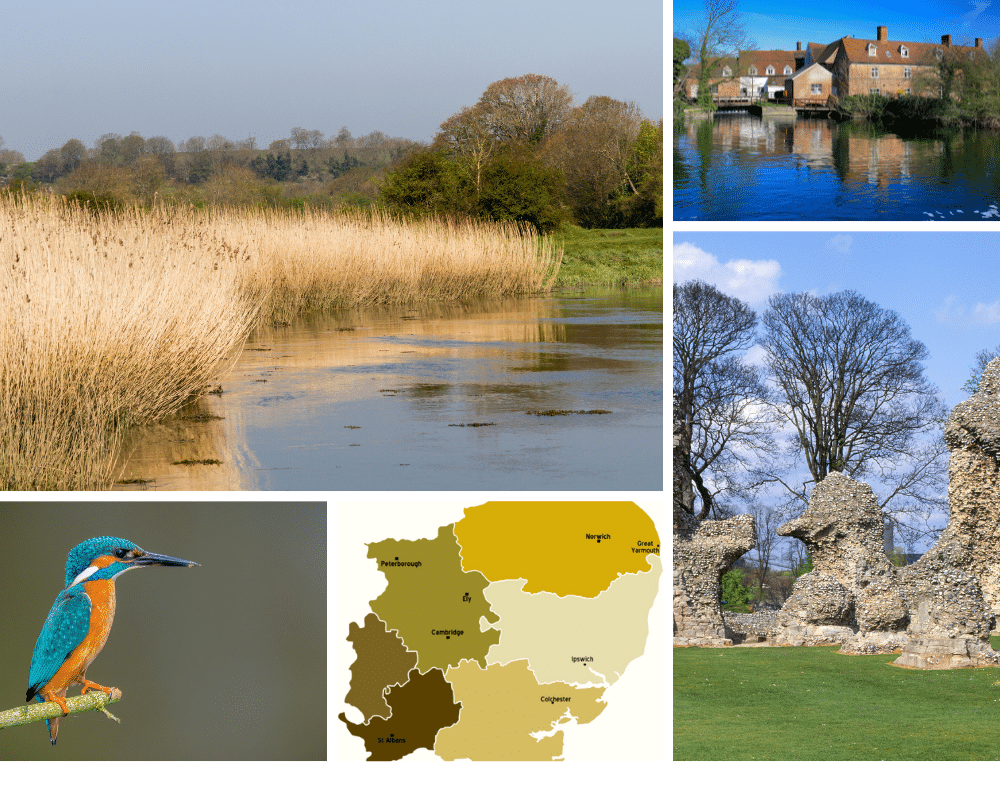 Day One: London to Sudbury on the River Stour, settled by the Saxons; it is still a market town and was Thomas Gainsborough's hometown.
Day Two: Bury St Edmunds and Newmarket. See medieval villages: abbey gardens and thoroughbreds on the gallops.
Day Three: Constable Country and Aldeburgh. This will include Constable's special places, the harbor town of Ipswich, which contains Christchurch Mansion with art galleries exhibiting Gainsborough, Constable, Munnings, and Pissarro, all Suffolk artists.
Day Four: From the fishing town of Aldeburgh to Thorpeness, Leiston Abbey, ruins, and Snapes Malting, which sounds like it should be a brewery but is the home of the Benjamin Britten festival.
Day Five: A coastal drive along the North Sea to Lowestoft, a resort town.
Day Six: Return to your start, or go on to new adventures. I would find this the day to rent a boat on the Norfolk Broads for a few more days. (The general term is Norfolk Broads and includes Suffolk waterways too.) An alternative is to incorporate more of the East of England and see Cambridge, Oxford fascinated us, and we'd love to see the other college town that planned to improve on it!
This is a very nice comprehensive tour, making a practical framework for your plan. For my interests, the timeline looks a little tight. But we could adjust it to suit our needs.
You can get your bearings if you change the size of my little map below.
How Much Of This Territory Is Where John Constable Spent Time?
The heart of 'Constable Country' is roughly the area on both sides of the Stour River between Manningtree and Smallbridge Farms. It encompasses the border between the counties of Essex and Sussex. The overall area is about 90 square kilometers or roughly 35 square miles. You can see the highlights in a day. This should allow a look at East Bergholt, Constable's birthplace, Flatford, where the Haywain was painted, and the beautiful town of Dedham, where he went to school. There are numerous walks where you can see various painting sites, offering a considerable choice of length and effort. There are many moderate walks, but people point out that this is a low country and can be slippery in winter or rainy weather.
The River Stour
You will enjoy this lovely waterway; you can rent something as small as a row boat or be driven in an electric tour boat with a guide. Be careful of the term River Stour. I am descended from a family that lived along the River Stour. However, there are five Rivers named the Stour in the UK, and this river, Stour, is not ours. Nobody can agree on the origin or meaning of the name; furthermore, to complicate matters, the different rivers have different pronunciations.
Navigation on the Stour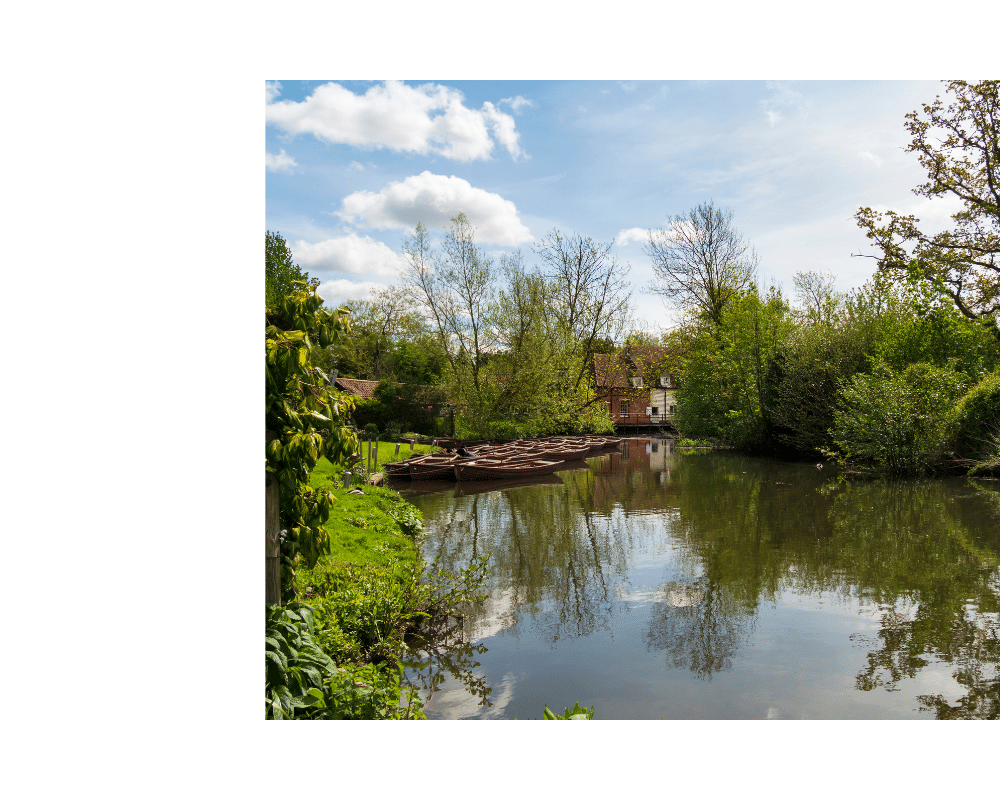 A public right of navigation on the River Stour has existed since the reign of Queen Anne, and it still exists today. However, most of the locks are gone, so while you can travel the river from Sussex to the coast in Essex, you can only do so by canoe or kayak.
Country Walks in Constable Country
A good way to see the countryside is the way Constable did himself, on foot. You will see green spaces from the artist's perspective. Here are some well-known walks.
Constable Country and Flatford Walk: A 7-mile or 11+ kilometers circular trail, starting and ending at Manningtree station. You will cover the Stour Valley and Dedham Vale, including sites of paintings you know.
Clair and Cavendish Trail: 9 miles covering historic villages, ancient churches, and countryside.
Dedham, Stratford St Mary, and Langham: in 6.8 miles, you will cover fields, woods, riversides, and the historic church of St Mary the Virgin and the Old Mill and the Dedham Center for Arts and Crafts.
The Essex side of Constable Country: in 10 miles, you will see painting locations, wildlife, and the estuary.
Sutton Hoo: you can walk around Sutton Hoo, Europe's most important early medieval grave. You will see beautiful views across the river Deben. It is about 24 miles from the Constable sites.
Following Your Interests In Constable Country
A Place For Culture: Art, Architecture, Music
Art And Artists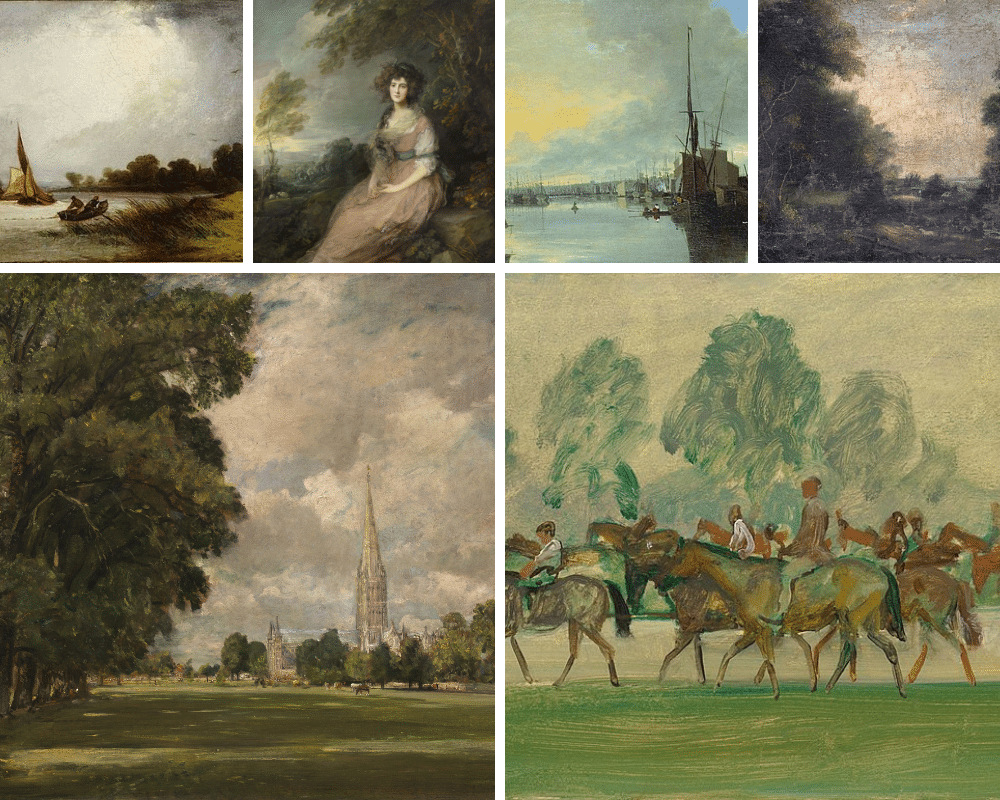 Beautiful countryside, coastal regions, and a long relationship with Dutch artists of the 17th and 18th centuries encouraged a powerful regional connection with the arts. The Norwich school was the first provincial association of artists ever in the UK and has progressed over time. You will see museums of all kinds. See the list at the end.
Above are samples of what you will see on your 'Days out of Time' trip. The artists from the top left, all from the area, are John Sell Cottman, Thomas Gainsborough, John Crome, and Robert Ladbrook; on the bottom are John Constable and Alfred Munnings. If you like art and don't know all of the names-you're in for a treat. Several artists are members of the Norwich School of Painters. Other than a large show at the Tate, they tended to be collected by local patrons. Don't miss them; they really tell the visual East Anglia story.
Places To See Art On Your Trip
Christchurch Mansion, Ipswich: described as the largest Constable collection (is that a 'Clutch of Constables'?) outside of London, the collection includes a large selection of Gainsborough paintings. The collection is housed in a Tudor mansion. You will see a building begun in 1547 and located on the site of a 12th-century priory.
Top Ten Destinations To See Art in the East of England: This collection is promoted by the 'East of England' visitor's website. Take a look if you don't want to overlook places you may enjoy.
The National Centre for Thomas Gainsborough: Housed in Gainsborough's childhood home, the museum presents his art and artifacts from local history. The garden, maintained by volunteers, contains plants he would have known in his lifetime. I am a US-based Master Gardener volunteer, and we maintain a set of gardens displaying plants from our subtropical region. This is valuable work; enjoy this garden; I know I will!
Norwich Castle-Norwich School of Painters: Active in the 19th century, the Norwich School was the first provincial school of painters. you can see their various works in the castle, where it is one of several interesting exhibits.
Architectural Treasures You Can See Include:
A Place For History
There is ancient history here; the Kingdom of East Anglia dates to the early sixth century, and the king from the ship burial at Sutton Hoo near Woodbridge was likely their first Christian king. Sutton Hoo was one of the richest troves of buried artifacts ever found. East Anglia's location on the North Sea provided early wealth and sophistication, and while not every period of time was equally successful, there was a considerable opportunity for wealth and progress.
The Great Mystery-Sutton Hoo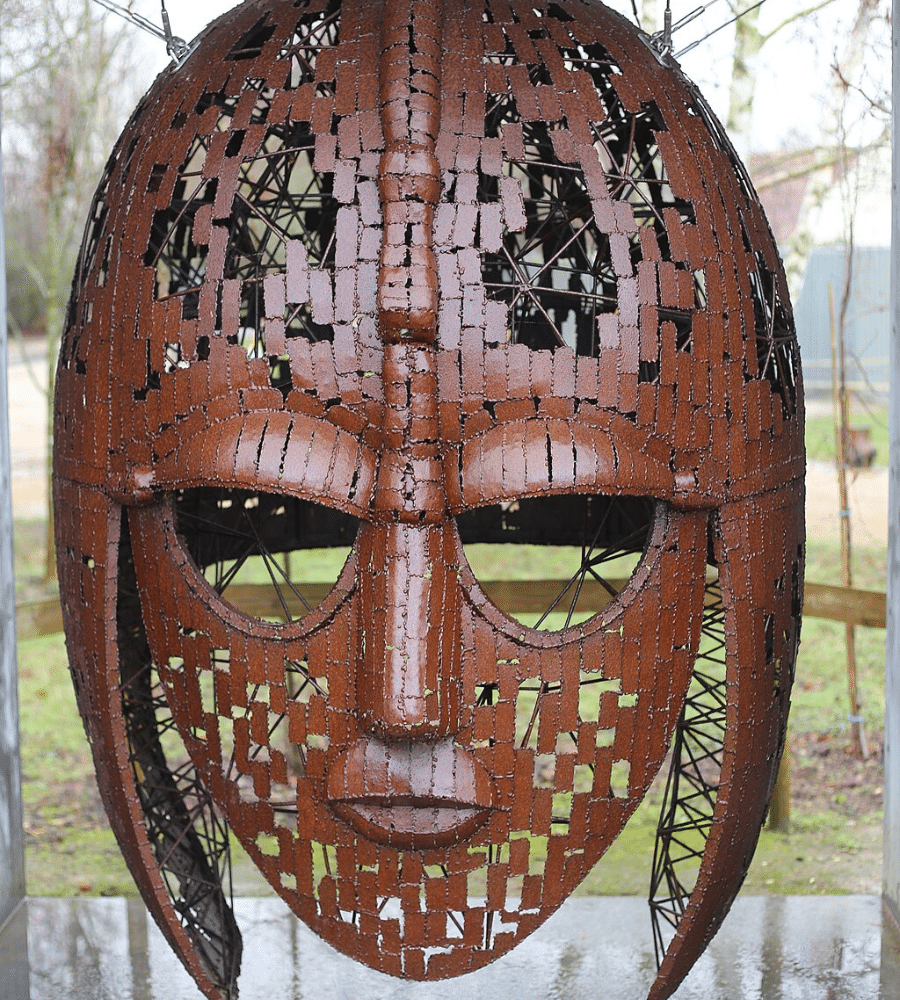 The famous Sutton Hoo helmet is Anglo-Saxon, highly decorated with great detail and sophistication. It was discovered in a 1939 excavation and was buried around 620-625 AD. Edith Pretty, the owner of the land where the excavation took place, donated it to the British Museum, where you can see it today. In East Anglia, however, you can visit the actual site.
A Place For Literature
Charles Dickens had strong relations with East Anglia, it is the birthplace of David Copperfield; Dickens uses the Great White Horse Hotel, Ipswich, in the Pickwick Papers, he visited the Angel Hotel in Bury St Edmunds, and he gave East Anglian accents to characters he created.
Graham Greens set 'Under the Garden' in East Anglia. PD James set 'Death in Holy Orders in an Anglican theological college in a remote coastal area; it has a complex mystery and sympathy for the place. Dorothy L. Sayers sets 'The Nine Taylors' in fictional Fenchurch St. Paul, where she creates a tragic mystery involving a community of bell ringers at the local church. We met some bellringers at an ancient Saxon Church near Stratford on Avon; it was a little like meeting the Sayre characters.
If you like the idea of a water-borne trip here is a little more about Stratford on Avon by boat.
A Place For Gardens To Visit
Some of these gardens also appear under the architectural heading.
Arundel Castle, Arundel, Sussex, since 1067, tropical, English, Rose gardens, kitchen garden, stumpery.
Batemans Gardens, East Sussex, Jacobean House, Rudyard Kipling gardened here.
Great Dixter, Northiam, East Sussex, a historic house, world-renowned gardens, a place on the list of horticulturalists from everywhere.
Kentwell Hall, Long Melford, moat, 17th Century walled gardens, ancient yews.
Ickworth House and Gardens-1800 acres of gardens and parkland.
A Place For Sport And Outdoor Life
Walking
This is called the East of England Walks, it comes from the National Trust: you pick your territory.
The Norfolk Broads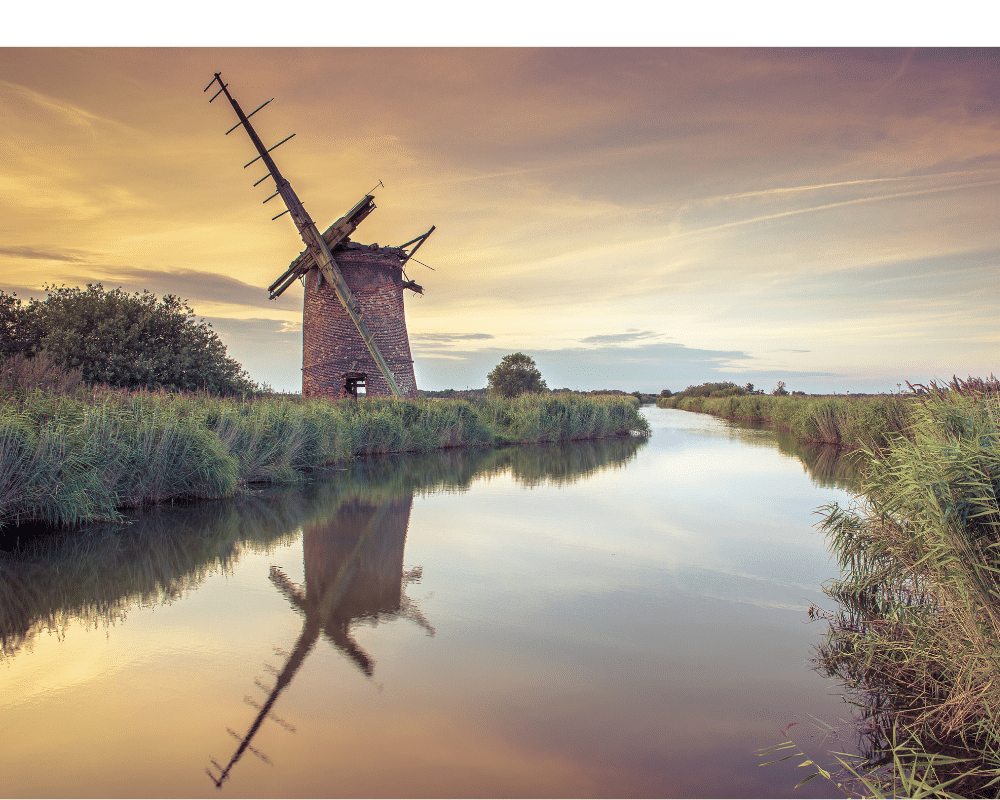 The Norfolk Broads are a series of waterways, rivers, and lakes located at the northern end of Suffolk and the Eastern part of Norfolk. They are the largest protected wetlands in Britain and were not naturally occurring but were formed by the flooding of peat excavations from the Middle Ages. They cover about 200 kilometers or 120 miles of navigable waterways. They are popular for boating, fishing, birding, walking, and wildlife watching.
You can rent a boat for a day, a week, or longer and visit villages, pubs, and a Roman Fort. There are no locks to open, but there are bridges.
Some Special sites in the area are these:
Wroxham: a center for boat rentals. It is a central spot on the River Bure, with activities and cottages to rent.
Horsey: a place to see gray seals
Hickling Broad: the largest of the broads and a desirable place for birding, canoeing, and kayaking.
Ranworth: where you can climb the tower of St Helen's church for panoramic views.
A Place For Horses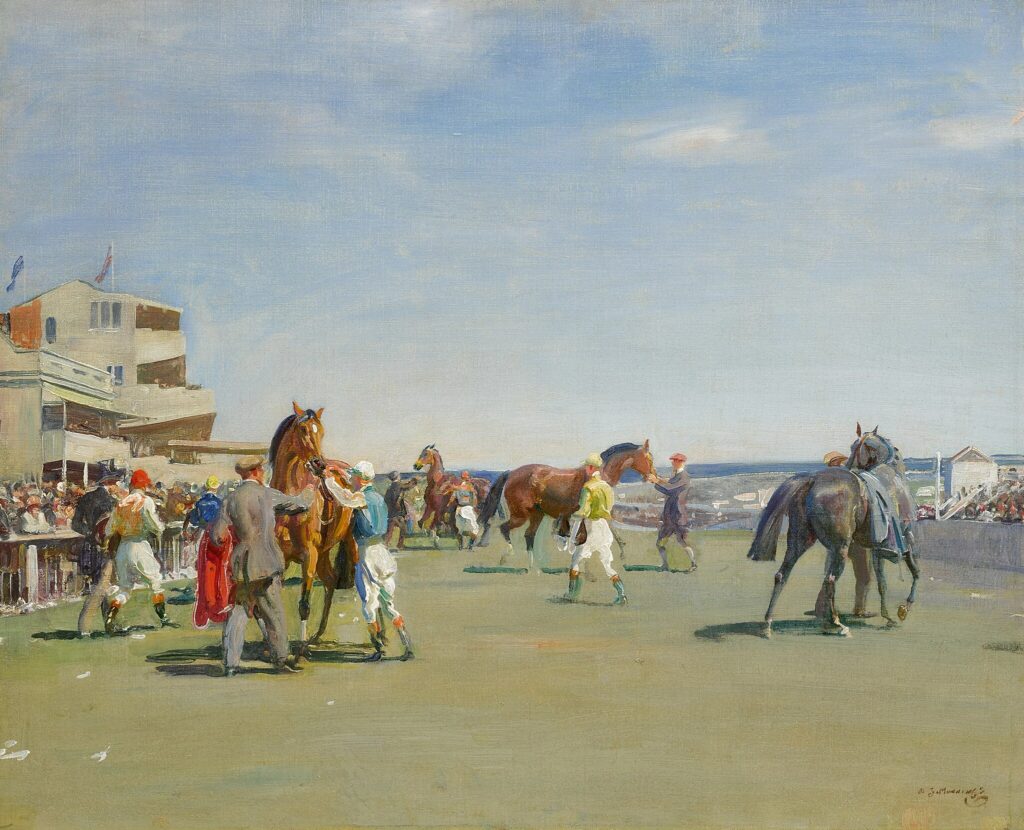 Alfred Munnings, Public domain, via Wikimedia Commons
You will find racehorses here. If horse racing is the 'Sport of Kings,' then Newmarket is its throne. It has been the home of horseracing since 1605 when James l showed up to race on the big flat spaces. We know there have been formalized horse races at the Olympic games in Greece from 700 to 400 BC., and horses have probably been racing since there were two of them! But Newmarket, with its racing, training, racing museum, and program for retraining racehorses for other lives, is at the heart of the matter.
If you love equestrian art, don't miss the Munnings Museum.
The Suffolk Punch, Painted By Constable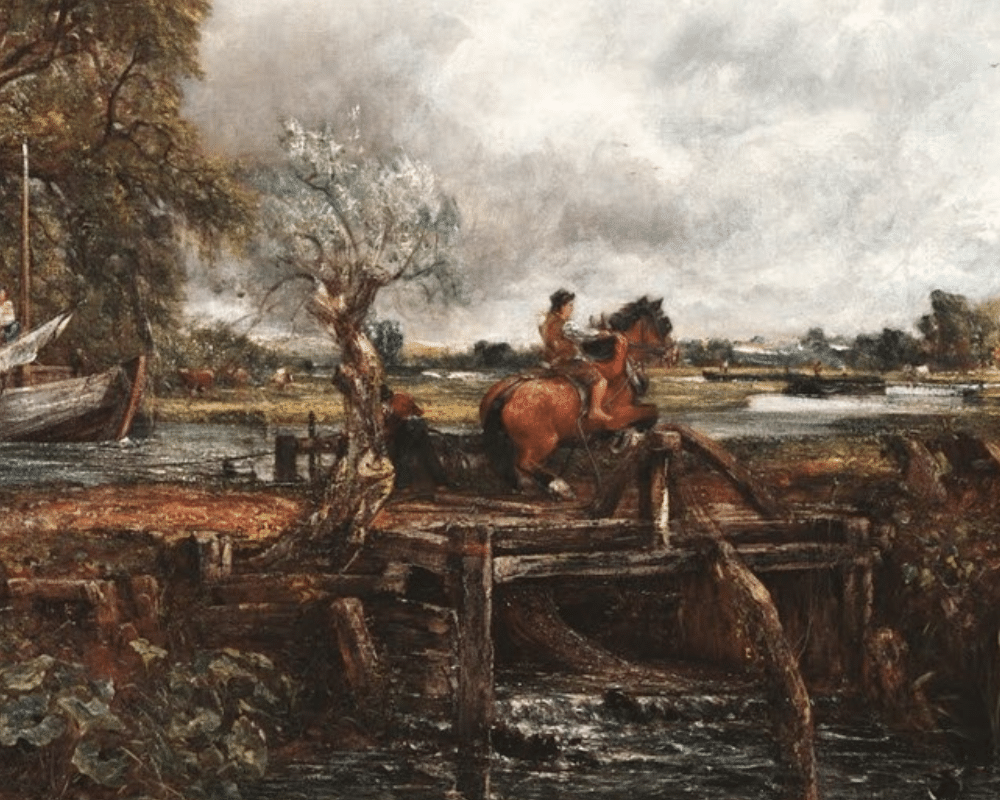 Taken from the John Constable painting "The Leaping Horse'-Public Domain-via Wikimedia Commons
You will find the draft horses that Constable painted right here where he painted them! This little part of the world created the Suffolk Punch breed. Their history goes back to the 16th century, making them one of the most ancient English breeds, and today are, sadly, said to be more rare than the Giant Panda. Not tall but strong, they are considered both powerful and cooperative; we usually see them in a bright chestnut (reddish brown) color. A punch was a nickname for a short, compact, and strong person. Look at the Suffolk Punch, and you'll appreciate the name. You can visit the horses at the Suffolk Punch Trust. This is a farm with gardens, restaurants, and walking trails. It is located in Holleslly, about 17 miles from Ipswich.
The breed today is a growing success story, as it almost disappeared. Always bred for the same agricultural purposes, they plowed the heavy clay soil of East Anglian fens country. The fens lands are low and marshy soil primarily reclaimed by draining since the 17th century. The breed reached near extinction in the 1950s, and saving the hardy breed took considerable effort. There are likely more Suffolk Punch horses in the American Midwest today than in the UK. Their existence clearly exhibits people's efforts to feed themselves in difficult environments. See them if you can; they really represent a successful part of our history.
We learned about the British canal systems and the tow horses that made them work throughout the country up until the railroads arrived. What is unique about the Suffolk waterways and their tow horses was that the Suffolk horses were required to pull two barges at a time and jump too! Along the River Stour were periodic barriers to keep cattle out of the river. The horse, still in his pulling harness, was expected to leap the barrier and then move back to his day job!
(In other parts of the country where we rented boats, the cattle just wandered into the water; we could reach out and pat them as we glided by.)
Villages
Don't miss the chance to see villages that are lively today and have been so since Anglo-Saxon, Medieval, and Norman times. Here is a list; I am including important features and distances from other places you would like to see. I am trying to separate the tiny villages from towns, and there seems to be a little overlap.
Suffolk Villages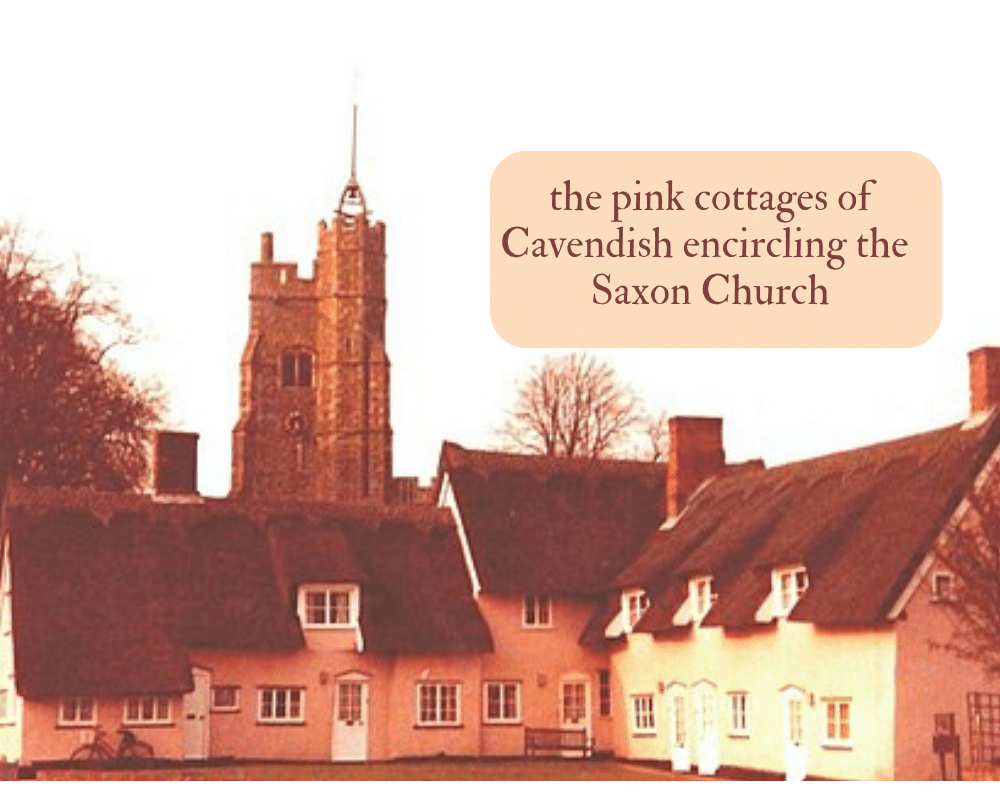 Cavendish has charm by the bucket; it is a perfect site to see the pink thatched houses that Suffolk is famous for. Smack, in the middle, is the 14th-century St Mary's church.
Clare is a small town between Colchester and Cambridge. You will see Tudor buildings in a wool town with a market not far from Cavendish and Long Melford.
Cottingham has a very rural feel with country walks to stretch your legs. It is, however, only a 15-minute drive from Ipswich. It is considered a place for springtime visits when the wildflowers are out.
East Bergholt-just north of the Essex border, it is Constable's birthplace and includes his father's mill. Walk as long as you want in its arboretum; thirst is not a problem, the village has five pubs!
Lavenham is a beautifully preserved medieval wool town with timbered buildings; over 300 are listed. Its prominent architecture is Tudor, about 12 miles south of Bury St Edmunds.
Kersey is a tiny place with a population of 350 but with an art gallery and real ale. It is only about 11 miles from Ipswich and, as a prosperous place during the wool trade, has a twill fabric named for it. If you like photography, it has a picturesque main street.
Long Melford is on the banks of the River Stour. See Tudor architecture, stately homes, and plenty of authentic pubs. There are signs of prehistoric settlements.
Polstead is 10 miles north of Colchester. See thatched cottages with pretty gardens and walking trails in the Box Valley.
Somerlyton is a village in the far north of Suffolk and includes Somerlyton Hall, built in the Jacobean style, there has been a house on the site since 1240, and it comes with 5000 acres that extend into Norfolk. (It sits on the edge of the Broads National Park.)There are 12 acres of Listed gardens, including a famous maze. Bring your phone!
Thorpness-a place for seaside holidays, legend has it as a home for smugglers.
Woodbridge is on the River Deben, 8 miles from the coast. Expect great shopping and food. It has a tide mill that has worked for 800 years.
The East Anglian Sky
Ask any meteorologist about their favorite artist. They will most likely answer John Constable because he got the sky right!
Over East Anglia's flat coastal landscape, the sky looms big. In flat lands (like much of Florida, where we live,) we have a wide field of view and few visual clues to use in judging size and distance. This makes the sky big and close, and Constable understood the phenomenon. Look at the skies in the paintings, and you will understand how the day is going.
They say it should be hard to write about Constable because he doesn't tell us what things mean. He shows us what things are. He looked at clouds and figured out what they were. We are told that he would go out into a field, set up the paints, and copy the sky as the light and the weather changed. This was hard to do at a time when paint came in a big bladder and there was no four-wheel drive vehicle to lug the equipment. But he did it!
"The sky is the source of light in nature, and it governs everything."

-John Constable
Summary, Learning From 'Constable Country'- The Value of 'Days Out Of Time'
I am reading studies that suggest that being in an inspiring natural environment expands creative thinking. I'm not sure how it works. Some scientists believe in a state of "soft fascination." This is a state in which we can calm the prefrontal cortex- this lets the brain more easily access its other regions, and this leads us to better insights and creative thinking!
I don't know if any of this is right. But you become intrigued if you look at the output of nature lovers, Constable, Shakespeare, Ansel Adams, or Thoreau. It happens to different people at different times and places. It does look as if there is something going on. Doesn't it?
A trip that gives us education and a new outlook is worth taking.
Don't forget the value of taking a few 'Days Out of Time' for yourself every year!
Resources For You
Where To See Constable's Paintings
You will find Constables in major collections in many places. Here are some that may be convenient
London
The world's largest and most comprehensive collection of Constable's work is at the Victoria and Albert Museum. This is a deep collection that includes studies for later paintings. It is a great opportunity to figure out how he worked.
The National Gallery- if you need to see important paintings, including the 'six footers' like the Hay Wain, you will want to see this collection. Walking down the long hall to see the Whistlejacket, the giant Stubbs stallion, and the Hay Wain is something you won't forget.
The Tate Museum-You will find a Constable room here.
Constable Works In The US
The Frick Collection, New York-You can see The White Horse here; the Frick bought it in 1943.
The Metropolitan Museum, New York
The Museum of Fine Arts, Boston
Books
'A Clutch of Constables.' Ngaio Marsh, 1968-If you like unique characters, riverboats, Constable Country, and a Good Mystery, this may be for you. It offers the additional attraction of a sympathetic view of the charms of 'Constable Country.' The pun comes from the innocent comment early in the story that "this place is swarming with Constables-a perfect clutch of them." Only if you are engaged in a life of crime do you withdraw your breath!
'The Sutton Hoo Story-Encounters with Early England' Martin Carver, history, discovery, and treasure.
'John Constable-a Portrait' James Hamilton, reviews say it reads like a story.
Rosenthal, Michael. Constable: The Painter and His Landscape. New Haven: Yale University Press, 1983.
Shields, Conal, and Leslie Parris. John Constable, 1776–1837. London: Tate Gallery,
'Hidden Places of East Anglia' Norfolk, Suffolk, Essex, Cambridgeshire' Peter Lo
More Destinations and Information
Top Destinations to See Art in the East of England: This includes castles, cathedrals, museums, mansions, and outdoor displays.
Sutton Hoo | Suffolk | National Trust
The John Constable Exhibit: is primarily outdoors, but there is an indoor exhibit also.
Norwich Castle: this Norman castle houses the largest collection of the Norwich School of Painters,
*For the featured image at the beginning, I have chosen a lesser-known painting, "View Toward The Rectory East Berkholt" It has a big East Anglian Sky to Contemplate.
Resources You Can Use: