What is a Dianthus?
Dianthus is a genus of about 300 species of flowering plants. Follow these simple steps to grow them and choose the varieties that best suit your needs. Dianthus appear as annuals, perennials, and biennials, and their popularity with gardeners everywhere ensures that they appear in over 27,000 cultivars. You can find some to suit your garden.
Important varieties include these:
Dianthus caryophyllus-Carnations
Dianthus plumarius-Pinks
Dianthus superbus-Giant Pinks
Dianthus barbatus-Sweet William
The Plant's Appearance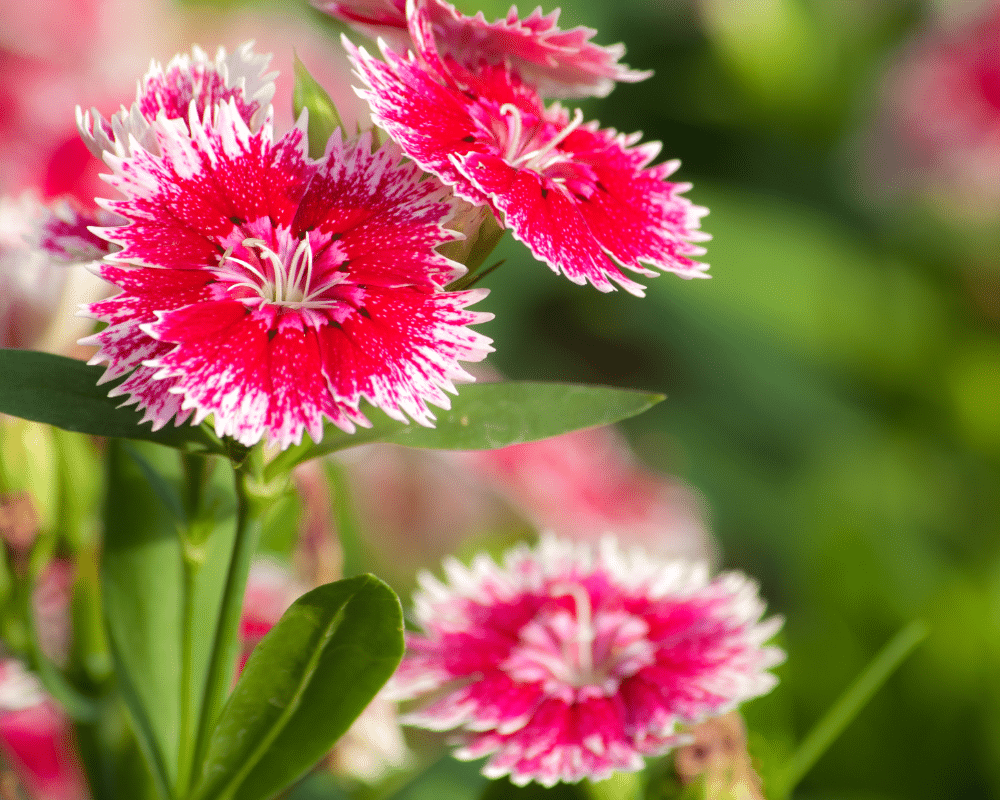 The plant is noteworthy for its gray-green overall color, narrow leaf and stem, rounded compact, dense shape, and spicy scent. The Dianthus flower is divided into five parts, appears in pink, lilac, purple, and white, and often has the bicolor picotee edge. (In Picotee, the body of the plant is in one color, and the outer edge is in another.)
They are popularly referred to as pinks, which is a reference to the pointed edge that appears to be cut with pinking shears.
The Long History of 'Sops-In-Wine' And Other Names
The Dianthus is one of the world's oldest cultivated flowers. We think the name Dianthus came from the ancient Greek botanist Theophrastus, who combined the words for God and flower. The Tudor era herbalist Gerald gives us the word 'sops-in-wine' because they flavored beer and wine with carnation's spicy blooms. The ever-creative Victorians used the Dianthus flowers in their complex language of flowers. In this convenient tool, you could give someone a message without actually mouthing the words. My favorite way to decline an invitation? You give someone a striped blossom to say no but include a solid one that said yes. This apparently softened the blow because you were saying no but with regrets.
It's amazing the Victorians ever got anything done!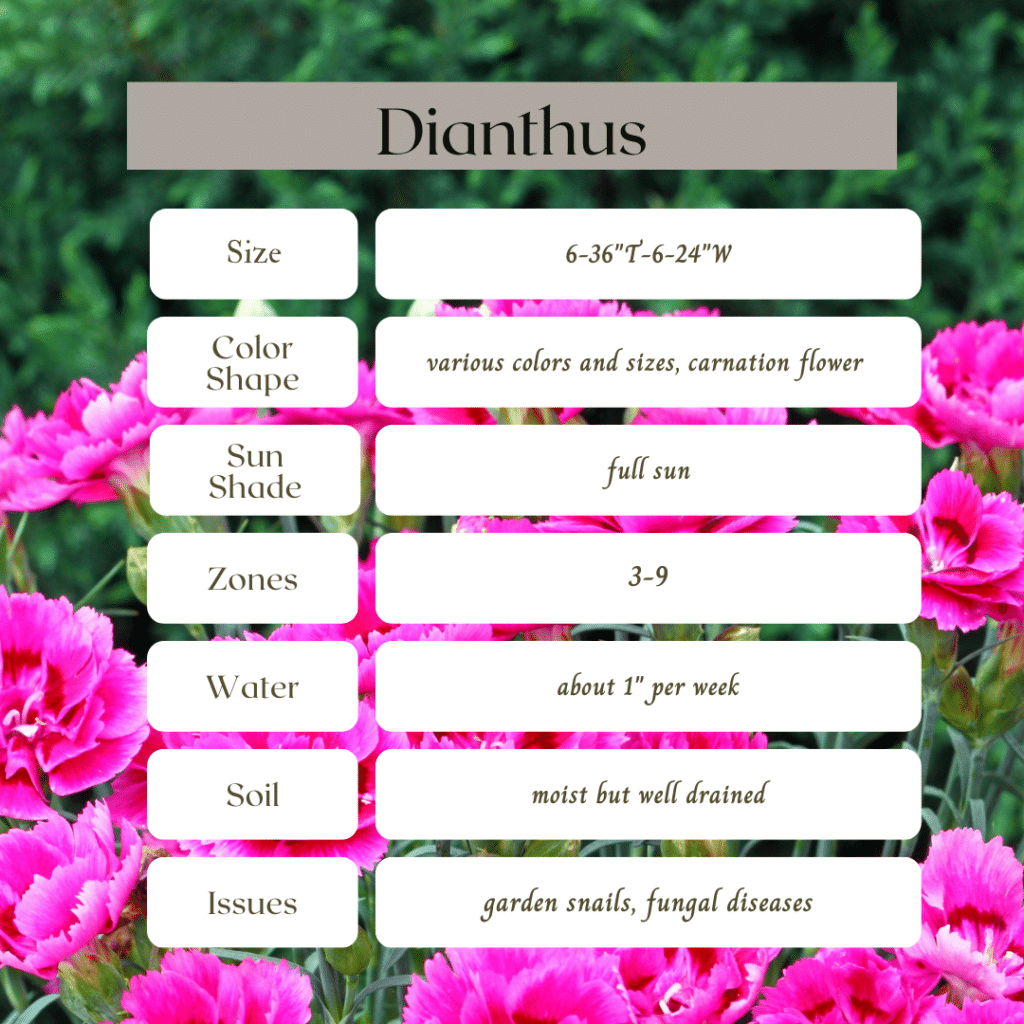 Dianthus is a low-maintenance source of color and pattern in the home garden. Plants of small stature, they will shine in the near parts of beds, borders, and containers of all kinds. A characteristic feature is the tooth-edged end of the petals-hence the term "Pinks. It's not about the color it is about the edge!
With thousands of cultivars to choose from, you can spend some time looking before you plant. Also, note that the patterns are endless; you will find one to interest you and enhance the rest of your garden.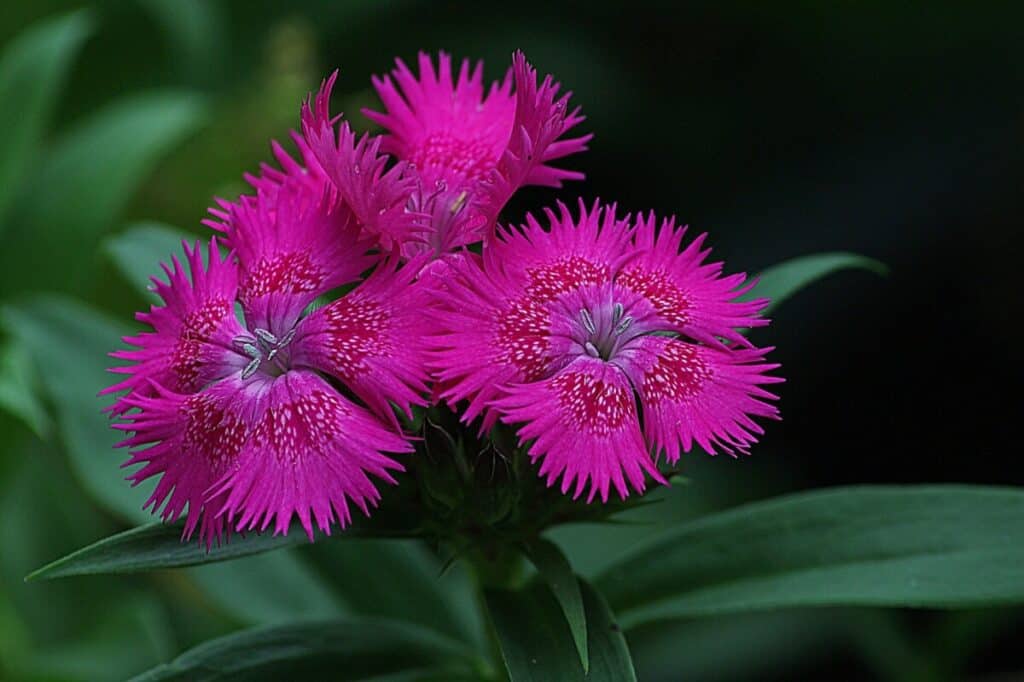 The flowers come in rich and varied colors and patterns, ready to adapt to your garden's needs. Their foliage is thin, almost grass-like, on narrow stems. The blue-green color of the foliage makes it attractive at any time when blooms are not available. In some climates, this is all winter. Until the early 1970s, dianthus was a flower to be enjoyed over a short bloom period, but growers discovered new varieties that produced blooms from spring to fall.
Bloom times vary by geography, and they can be planted both in spring and fall. In the midwest and north, they bloom in mid-summer and in fall and winter in lower south regions.
Where Did We Get Dianthus?
Most dianthus is native to Europe and Asia. They got their name from Theophrastus (371-287 BC). Aristotle said that he had a "divine form of expression.". He used the word dianthus, which referenced God and the flower for this plant. Dianthus means 'flower of the gods.' Theophrastus worked as a teacher and philosopher, and he loved his garden and he is commonly called the father of horticulture. He was good at a lot of things, ethics, biology, metaphysics, logic, grammar, and language.
You can see the dianthus form incorporated in ancient architecture, appearing in freezes decorating classical buildings. They are a simple cottage garden flower-but their roots run deep!
Perennial Dianthus Varieties'
Arctic Fire
This variety has a contrasting eye and is hardy to zone 3.
Cheddar Pink –Dianthus grantianopolitanus
This is a heavily scented variety attractive to butterflies and hummingbirds. The plant is named for its native habitat, the Cheddar Gorge in England.
Chinese Pink –Dianthus chinensis
A short-lived perennial plant with often bicolor plants having a darker center. The size can range from 6″-30″ in height. It thrives in cooler temperatures and requires some sun protection in warmer climates. It is often treated as an annual.
Cottage Pink-D. plumarius
Also, Grass Pinks, Feathered Pinks, and Garden Pinks.
Firewitch
Firewitch is an established plant and comes in a hot pink shade.
First love
This variety has both pink and white blooms on one plant.
Grass Pinks-
Rose de Mai
Not rose but lavender; this is an heirloom variety.
Sweet William (Diantius barbatus)
This is taller, with clusters of flowers on erect stems from May to October.
For more on Dianthus varieties, this is from the British Magazine Horticulture.
The Remarkable Green Ball Dianthus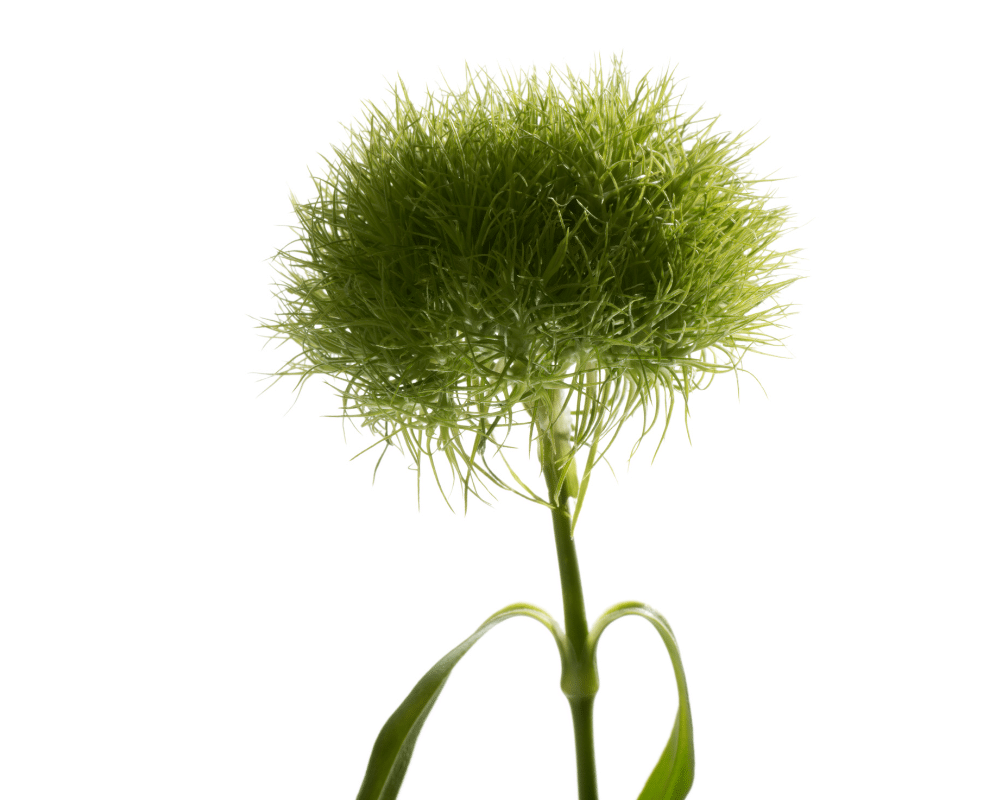 Ball-shaped, round and fuzzy, and oh yes, bright green. This is a Dianthus you won't see every day. Give it full sun, and rich organic soil. You can put it in beds, borders, and containers. Use it as a hardy annual or short-lived perennial. If you would like some unusual and dramatic additions to cut flowers for your house, you will like them. They will last two weeks in a vase.
Growing Dianthus
Do not look for complications; while offering plenty of visual stimulation, dianthus is a simple plant! Give it what it wants and get out of the way. Select a place with fertile, well-drained soil under 6 hours of sun daily. Follow basic environmental rules. In cooler climates, 8 hours of sun; an afternoon filter is appreciated in hotter places.
Planting Time
Plant after the danger of frost is over. Follow planting instructions, and after blooming, remove flower stems and about 1/3 of the foliage and mulch. The foliage in milder climates will remain attractive.
Best Soil For Dianthus
Plant in soil with excellent drainage. Dianthus is unable to accept wet roots, especially in winter. Add compost and something to create a gritty finish to the soil. Dianthus are popular flowers to plant on slopes, the view is attractive and the slope will help with drainage.
Dianthus will grow in neutral to slightly alkaline soil. It pays to test the soil and add lime where needed. The perfect pH is from 5.5 to 6.0.
Water, Maintenance, And Encouraging Blooms
Water Dianthus when you have less than one inch of water per week. Use a water-soluble fertilizer on a monthly basis. Add about an inch of compost around the plantings, Deadhead as required. Divide the plants in early spring about once every three to four years. This will add to your garden space.
Use a balanced fertilizer every six to eight weeks during the growing period.
Pruning And Trimming Dianthus
Start by always choosing compact plants to buy. This will reduce the need for trimming. Pinch the plants and trim leggy stems to maintain the naturally mounding shape of the plant. Make any cuts with sharp, clean blades near a budding branch to encourage further growth.
In midsummer, trim the tops back about three inches. The haircut will promote new blooms for the rest of summer until frost.
The Dianthus is a plant in which pruning and deadheading are uniquely important. In our subtropical garden, we grow only the annual varieties and deadhead on a regular basis. The dried blossoms remain stubbornly on the plant, and regular deadheading increases the length of the plant life and improves the plant's appearance.
Use dianthus as border plants in containers and in dense mass plantings.
Summary,
Dianthus is a compact, mat-forming, low-maintenance plant with more uses, solving problems around the garden. In mild climates, its blue-green color is available through the winter months. The foliage mats each plant forms discourage weeds and enhance many areas where other plants are not helpful. Think of a walkway and stone staircase with the blue-green mats drooping down as you walk along.
They make an excellent, dense ground cover as well as a source of cut flowers. We don't see that every day.
Note: Dianthus armeria is invasive in most states. It is known to take over roadsides, ditches, and open fields.
Companion Plants
The first feature of companion plants is that they share the same growing conditions. Dianthus performs best in bright light, well-drained, and even dry soil. Companions will need to share that.
Annual Companion Plants
Think of Impatiens (Sunpatiens and New Guinea impatiens are the varieties for the sun), stock, snapdragons to add some height, and verbena, which will trail or spill in containers—also, geraniums, petunias, salvia, and bachelors button.
Perennial Companions
Roses are also wonderful companions, as lavender and scented geraniums add a mild group of scents to the garden area. Try also the soft finish of lamb's ear, the height of coreopsis, hollyhocks, hyssop, and delphinium.
Shrubs
To add the volume of shrubs, include ideas such as forsythia, spirea, lilac, and beautyberry. Boxwood will add a finished edge.
Vines For A Vertical Dimension
Add height from bittersweet, honeysuckle, and clematis depending on your climate. These are sun-loving plants, but they perform best with cool roots. Dianthus solves this problem with its ability to produce a cooling mat around the roots of the vines.
There are plenty of color choices from Dianthus, and you can use them to set off the colors of the vines you choose.
For help with growing vines: 'Making an Entrance with Vines.'