Cool, Lush, and Verdant-This Month In The Garden
Close to the Tropic of Cancer, November is vibrantly colored and South Florida is cool, lush, and verdant. It is warm enough to swim and cool enough to plant a diverse vegetable garden, which is the only place we'll be using a shovel this winter! We are planning a quiet time in the garden. We are covid restricted but busy and full of ideas.

Thanksgiving on the Lanai with some heirloom meats and sides from a local organic farm. Rosy Tomorrows Heritage Farm, Fort Myers Fl. This is a source of impeccable food if you are local or seasonal and a treat to visit and have a meal if you come down this winter.
It is finally cool to work in the garden and because we are not able to travel, (The Europeans are in worse shape than we are) we have projects a'plenty! Take a look at the blooms!
What's In Bloom This Month
Philippine Violet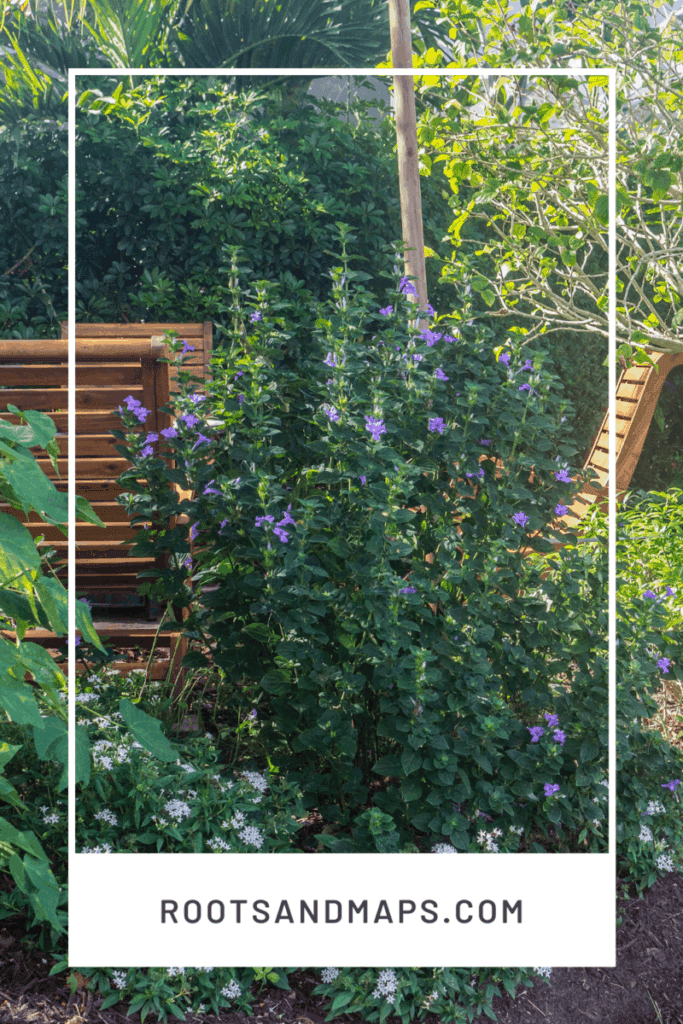 The Philippine Violet- Barleria cristata is a lovely shrub, featuring 1-2″ wide tubular, lavender blossoms which attract butterflies, hummingbirds, bees, and yes, us, to the garden. Native to a range of territory from South China to India and Myanmar, it is, according to the hyperbole of horticulture, neither Philippine nor a violet!
Use it as a hedge or windbreak, and it is remarkably easy to propagate from cuttings. Hardy in zone 9b-11, it is 24-36″ high and wide; it blooms throughout our winters. Find your hardiness zone. In cooler places, such as Texas, they cut it to the ground, and it winters over and reblooms in spring.
This pollinator garden sits between the new seating area and the pond view. It is the result of the project to "find a low maintenance groundcover that we love and the rabbits do not."
Mussaenda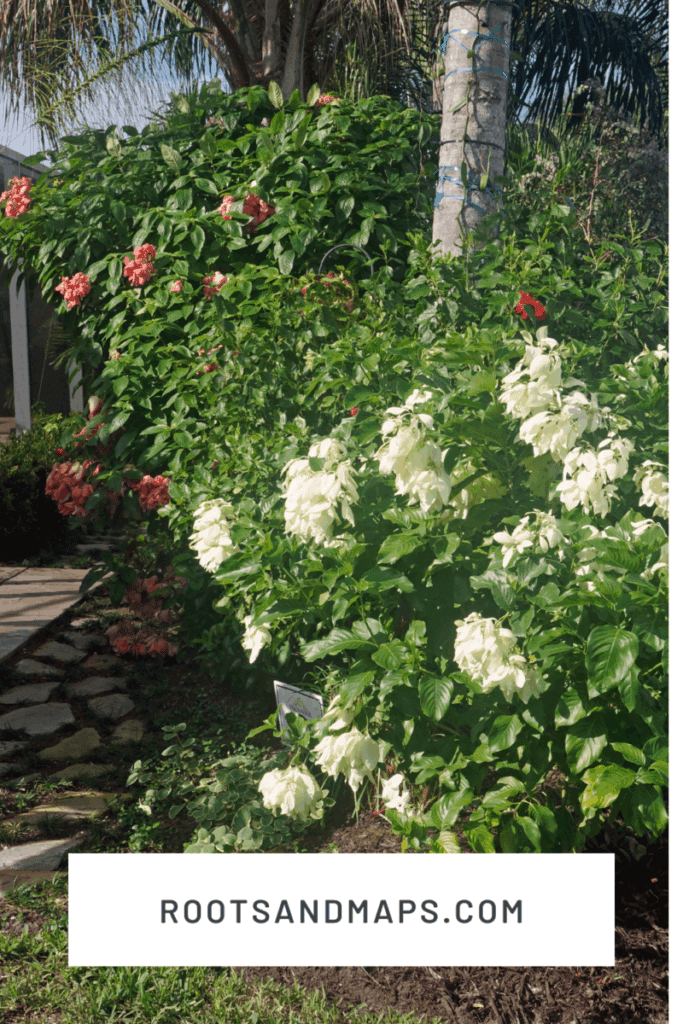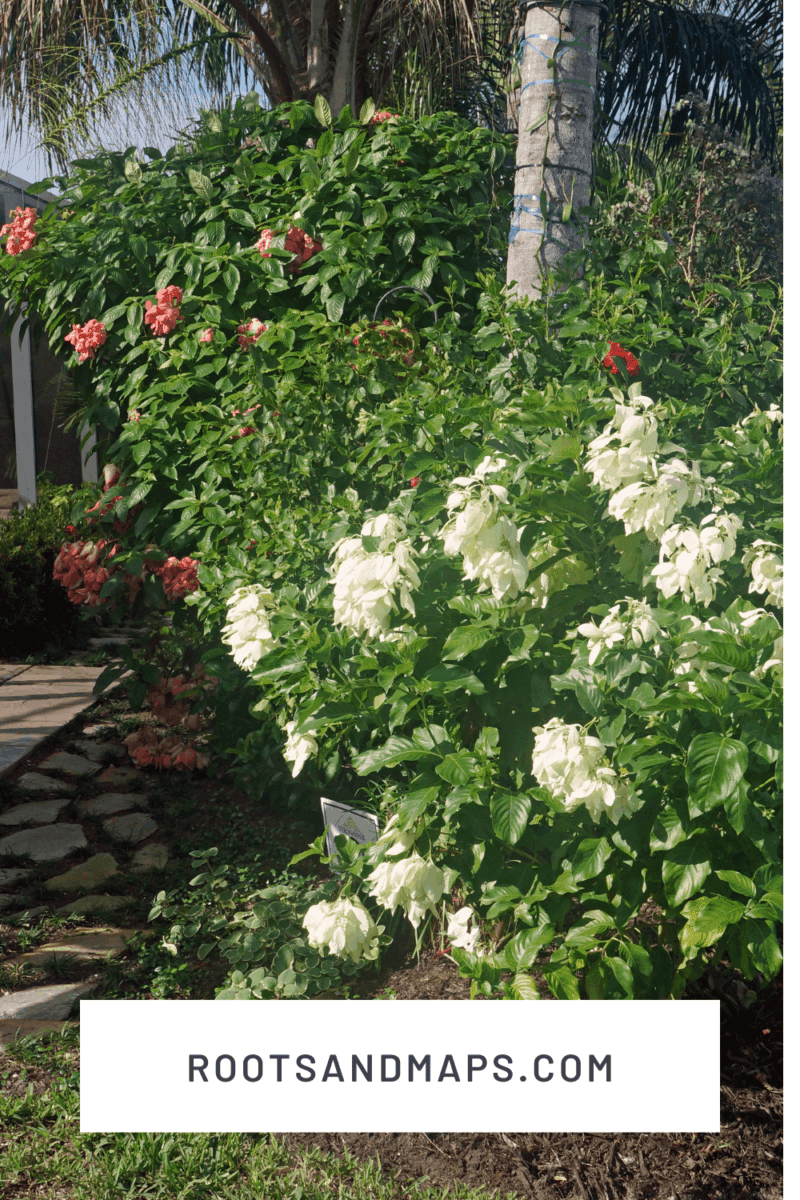 This is Mussaenda, also called Tropical Dogwood because of the soft flower bracts. Its origins are from Africa to Asia, and this plant is popular in the Philippines. So popular that the different cultivars produced there are named for the nation's first ladies.
The big one in the rear is called "Donna Luz." I picture her as a stylish little lady in a peach evening gown and with loads of shoes!
Big is the operative word, practice some management, as they can get 10′ tall. They are, in our zone, constantly in bloom. Seven days a week, fifty-two weeks a year, that's a bonus! The butterflies love them, the dark green foliage sets off the huge bracts beautifully.
On our zone 10's rare cold nights they can suffer freeze damage. The younger, creamy white one in the front was damaged. The peach one escaped. There is a wind that comes across our ponds (to the right of the photo) and I should have covered the more exposed, white one.
When judiciously cut back and mulched, as you see, they recover well for us. (Sometimes the garden just performs better than the gardener!)
Plain Old Milkweed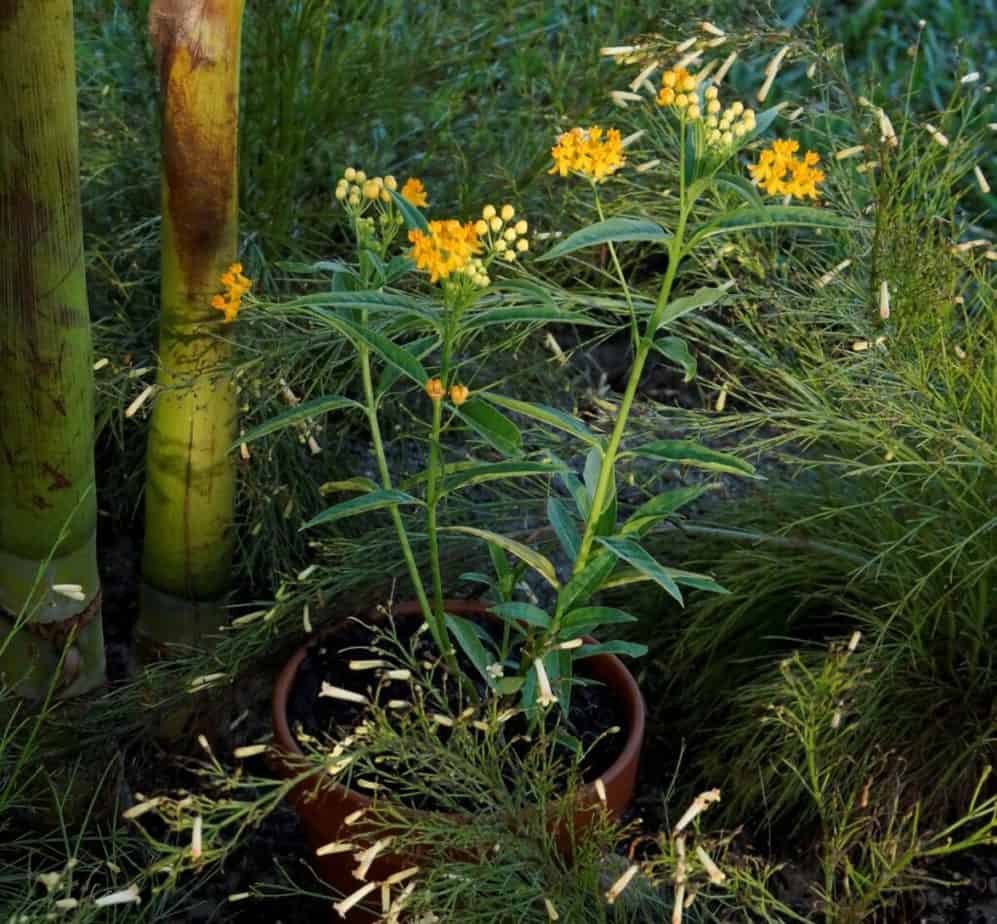 The Monarch caterpillars live to eat and they are always hungry. That means we always need milkweed in bloom. You will have lush plants one day and bare sticks the next.
Eat, shed your skin, eat shed your skin, and so forth. Then spin a chrysalis and become a butterfly.
Manage Milkweed Appearance
Here is a good way to manage the milkweed. We keep it planted in moveable pots. It helps to hide the pots between other plants and swap them out. We keep the bare ones in a screened garden area and they bounce back pretty quickly and they can be recycled again to the garden. It seems to be cost-effective and healthy. Make sure to buy only those plants not treated with systemic pesticides.
The plant in front is a fire cracker plant. If you like it read below;
Fire Cracker Plant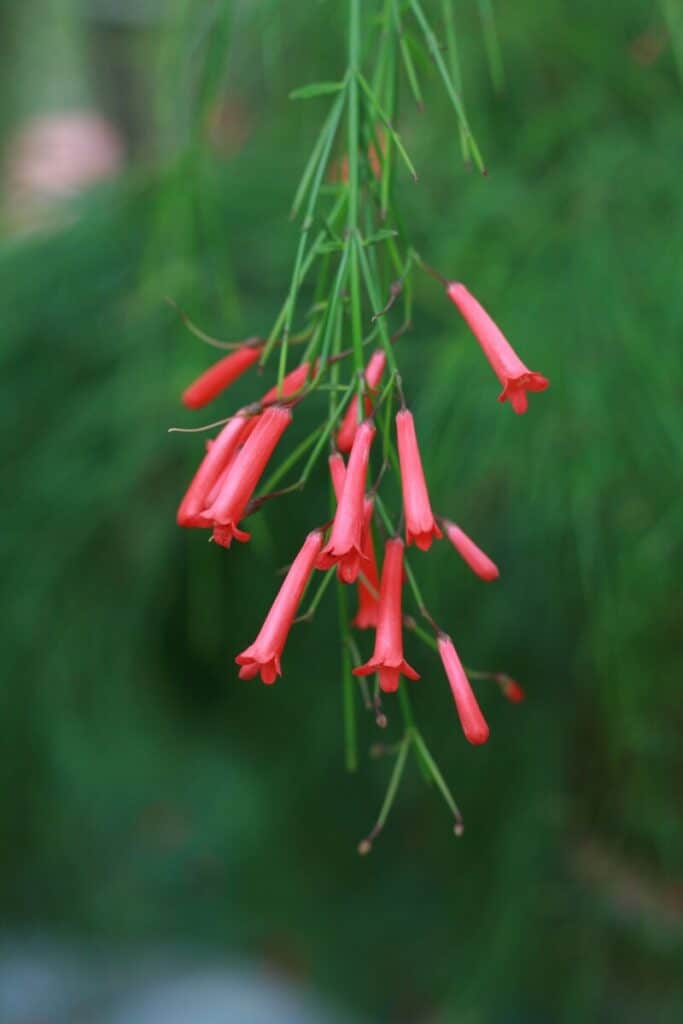 The Firecracker plant is Russelia equisetiformis, it has delicate tubular flowers on slender, rushlike stems. The branches begin erect and then fall in graceful curves. It grows in zone 9-11, in sunny or partially sunny conditions in steady blooms.
Give the firecracker well-drained but moist soil. it can get to 5′ tall. Prune at will, it does not resent a good haircut. Its origins range from Mexico to Guatemala, you can find it in red, yellow, or coral at the garden center and hummingbirds love to find it in your garden!
Vanilla Orchid
The Ground Cover Project-Discourage the Rabbits!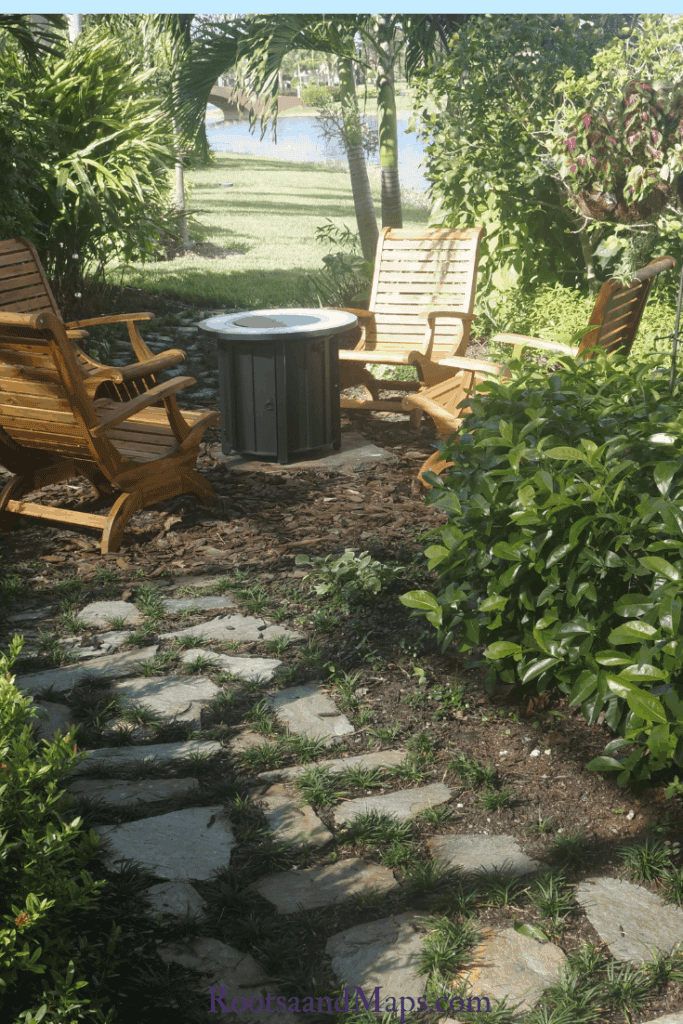 This is a spot in our small garden situated between the pool and the butterfly garden and overlooking a pleasant pond view. Note the little curved bridge in the distance.
Originally a HOT space of turf, we planted large shrubs and small trees among the palms. The result was to make the spot more comfortable but less desirable for turf. We also have a rabbit issue. In South Florida we live with "Marsh Rabbits" a subset of the Cottontail and crafty devils all!
Our plan was to add groundcover with more color and a walkway and seating area. We are looking forward to this as a pleasant spot for cool evenings to come.
I will write this up with greater detail but the essential additions are three groundcovers; dwarf mondo grass which will fill the spaces between the stones, asiatic jasmine along the sides and liriope as accents.
The variegated plant in the center-right of the photo is one of our "rabbit disliked" plants. This pretty one is Cuban oregano and we like it but so far it appears they do not!
If you would like to do a similar project try this article "How to find a low maintenance groundcover that we love and the rabbits do not."
What I Did Wrong This Season
Procastination is always a mistake. We should be adding Louisiana Iris to the pond's edge and Agapanthus to the garden. I waited too long to place my order and now it looks like they won't go in until spring. Learn from that!
What To Plant In This Cool, Lush And Verdant Month
In November, if you are a part-time Floridian or a transplant from northern climes this is the time to plant all of those "summer annuals" that you would have up north. Impatiens, alyssum, salvia, vinca. We have some tiny torenia blooming within creamy white, almost yellow penta. They are a lovely start to the front of the pollinator garden.
Reduce Pesticides
If you like to control the use of pesticides read this piece about the remarkable relationships between the tiny hoverfly and the sweet alyssum. It will make you want to use sweet alyssum in the vegetable garden.
What To Do This Month
As you see, this is a lovely month to be outdoors, but bugs are on the to-do list for one obvious reason. "They never close," here, bugs don't' freeze or hibernate. They are always at work and pest control of one kind or another is always part of life. I read in surveys of homeowners that Florida is the worst state for bugs. I have not lived in every state, but it sounds right to me!
Christmas Plants-Getting Ready
Amaryllis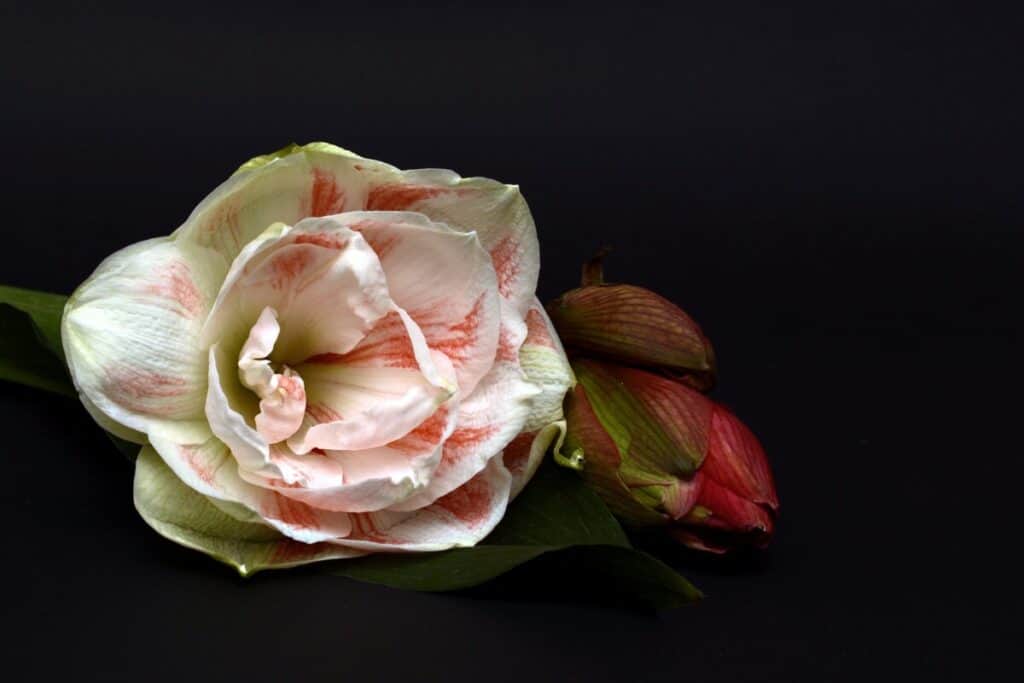 Buy your bulbs from a reputable dealer. Try a specialist or large producer, and introduce yourself to the infinite variety of colors and shapes available. You work hard on your garden; do not limit yourself to" same old, same old."
How To Plant The Bulbs
Here is how to plant them. Put your bulb, "Pointy side up" in a good quality potting soil. leave about 1/3 of the bulb exposed, water sparingly and keep the bulb in indirect but bright light. Once you see 2″ of green new growth you can begin to keep it regularly watered.
The new plant will reach for the sun, so turn the pot every day or every other day. This will ensure a straight stem. To extend the life of your festive bloom, keep the plant away from direct sunlight. At 6-8 weeks from bulb to bloom, you just have time to buy and plant some by Christmas!
How to store the Amaryllis bulb to reuse.
Once the flower fades, cut the stem to 1/2″ above the bulb. Leave the foliage, which will provide the energy the bulb needs to rebloom. When the foliage begins to die back you can cut it short and store the bulb in a cool dry place. You can plant it in the garden for the summer.
Pointsettia
This joyful Christmas favorite is full of surprises. First it is not the petite little plant you bought in the pot. In our climate (zones 9-11) we grow them outdoors. Native to tropical parts of Central and South America they grow foliage when the days are long and flowers when the days are short. We see why they are great for the holidays.
If You Plant It Outdoors In Florida After The Holidays
The plant needs about 10 feet in either direction when you plant it in the garden. The growers use growth regulators in order to keep it small, but it is not that at all. Here is an important point. The Pointsettia needs about 12 hours of darkness to set blooms for next year. Make sure to pick a dark spot.
A Florida Tropical Thanksgiving
We like to start with a morning walk on the beach and the table is fun to set with our tropical fruit, flowers, and a seashell or two. It helps to remember when preparing the meals that Florida flew three other flags before the Stars and Stripes, British, French, and Spanish. It tells in our food.
We northerners, see Thanksgiving as a time when the harvest is all in and we celebrate the end of a successful growing season. That is all different here, it is early in the growing season. We are the tomato capital of the eastern US, Avocados are ripe, mangos are ready and key limes waiting for pie.
Red Wattle Hogs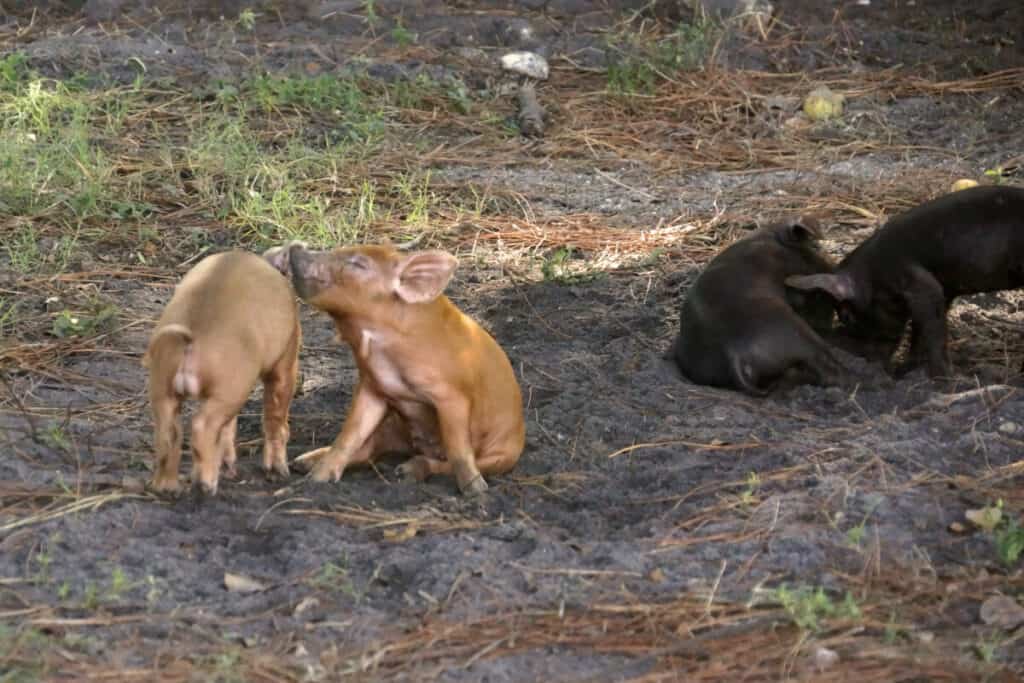 You can not tell by these cute little guys but the Red Wattle hog is a huge and endangered, old American breed, now coming back in popularity due to dedicated small farmers throught the country.
It's pork is on the table for this Thanksgiving. We expect to have a local and tasty meal.
Summary.
November In The Garden From Elsewhere
I wondered if it might be interesting to show you some links to other monthly garden advice from other gardeners in different locales. Here is some regional advice you might like for the same month.
November in the garden from the UNH Extension service: Originally a New England gardener I appreciate what the University of New Hampshire has to say about the last chance to get ready for winter. I notice that you can still squeeze in some spring bulbs if you are not done yet!
University of Minnesota Arboretum has some good advice in here. Note the comment about voles and continuing to cut the lawn.
Longwood Garden, near Philadelphia PA, One of America's most beautiful public gardens, if you can get there (if you can't check out the photos) Longwood is holding the Chrysanthemum Festival until Nov 15 and the extensive Christmas Festival starts Nov 20-January 10. At 1077 acres you should be able to keep your distance.
California Gardens in November, from Houzz Including how to add a nonflammable fire buffer to your garden.
https://www.centraltexasgardener.org/resource/november-to-do-list/The Central Texas Gardener-November to do list
Vegetable gardening in florida, by season, University of Florida
Good luck and happy digging.