A Spectacular New Hybrid Plant
What is Mona Lavender? It is a relatively new plant (introduction 2002) with unique and desirable features and here is how to make it thrive! It is a vigorous, upright, herbaceous perennial with unusual, showy flowers in brilliant lavender color. The color scheme is enhanced by the foliage, green on top but purple below. Beautiful color all year-blooming or not, follow the following to grow the Mona Lavender.
No, she's not a character in a Cole Porter show or even a Sam Spade Mystery! Mona Lavender is a Plectranthus, a genus of about 350 species of varied plants from Africa, Madagascar, and the Pacific regions. The Mona Lavender itself is a new hybrid and interesting addition to our gardens. However, it can be confusing, as it is often is described as an annual because it is a tropical plant and perennial only in zones 10-11.
How to find your USDA Plant Hardiness Zone.
What The Plant Name Should Teach Us
The first name, of the plant, is its Genus-Plectranthus, it's the group that your plant belongs to. The name 'Mona Lavender' is in English and has single ' quotation marks around it like a book title. That format tells us that we do not have a naturally occurring variety but a man-made plant.
What Are Plectranthus Plants?
Plectranthus are a diverse genus of 350 members. Most of these are valued for their foliage and the group includes coleus, Cuban oregano, and Swedish ivy.
Mona lavender is therefore unique in its array of unusual blossoms.
Can We Do Better?
Mona lavender is a beautiful plant and a pleasure wherever we grow it. Now, I am learning about a group of new Plectranthus cultivars that may have interesting and improved features.
The "Velvet" Collection
This even newer group of cultivars offer larger flowers, a long bloom period, and appear to be appearing in new and appealing colors.
In my warm, zone 10 climate we love the Mona Lavender and use it as a perennial throughout our homes and gardens. The new plants do look exciting and I will order some for myself and report on them.
Here however are the offerings.
Produced by the Grower Terra Nova here is the list:
Velvet Elvis-large blue/purple flowers, deep glossy foliage and long lasting blooms.
Velvet Diva-heavy flowering lilac flowers.
Velvet Idol-ice blue flowers on short, dense spikes.
Velvet Lady-bright rose pink flowers, long lasting, large plants.
Velvet Starlet-bright carmine-pink blooms and compact growth habit.
Here is a piece from the Product director of the grower who developed it. The publication is for professional growers and it is a place to see new ideas.
Mona Lavender is Also a House Plant
As an easy-to-grow houseplant that blooms in the cool season when many houseplants are not in flower, it has extra value to the temperate climate gardener.
Some Steps to Make Mona Lavender Thrive
Indoors, give it well-drained, soil, average but regular water, and bright but indirect light. An east or south-facing window is ideal. It blooms in the cool season when daylight is below 12 hours. Do not use a grow light for mona lavender as a house plant. It requires shorter days to bloom. Trim the flower spikes as they are spent, you should enjoy blooms from as long as late summer to early summer.
The foliage is bright green on the top and purple underneath. The plant remains colorful and attractive for 12 months per year, indoors and out. You can move the plant outdoors for the warm season and return it to the house later.
How to Acclimate Your Plants Between Garden and Indoors. Take a little time and acclimate your plants to their new environment when you move them indoors and out,
How Did We Get Mona Lavender?
This is not one of the plants we treasure and discovered by a bold plant hunter. It has origins exotic to many of us, but it is a product of human ingenuity, and making Mona Lavender, was quite the job!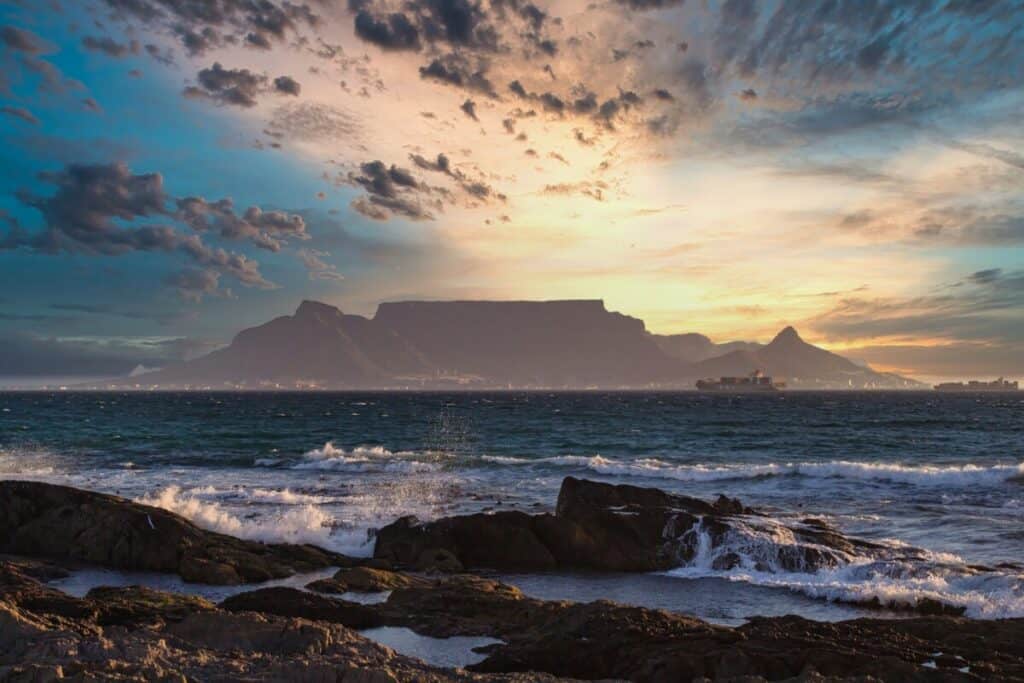 Mona Lavender is a hybrid plant developed at the world-famous. and spectacularly located, Kirstenbosch Botanical Garden. It is seated at the eastern foot of Table Mountain in Cape Town South Africa.
How They Developed Mona Lavender
In the 1990s, horticulturists at the garden, under the direction of Roger Jaques, began to make the following crosses. They used two plants in the genus Plectranthus. It is part of the Lamiaceae (mint) family and you will notice very "mint-like" features in the plant. So they crossed and crossed… these two plants:
Stoep Spurflower-Plectranthus saccatus– which sported large lavender blooms. This is significant because the genus is famous for foliage of almost every possible color (just not true blue) but not for flowers!
Candle Plant-Plectranthus hilliardiae-which provided the green-topped, dentil edged leaves with the royal purple bottom. (If you were a commoner in the middle ages they probably would not have let you grow this plant!)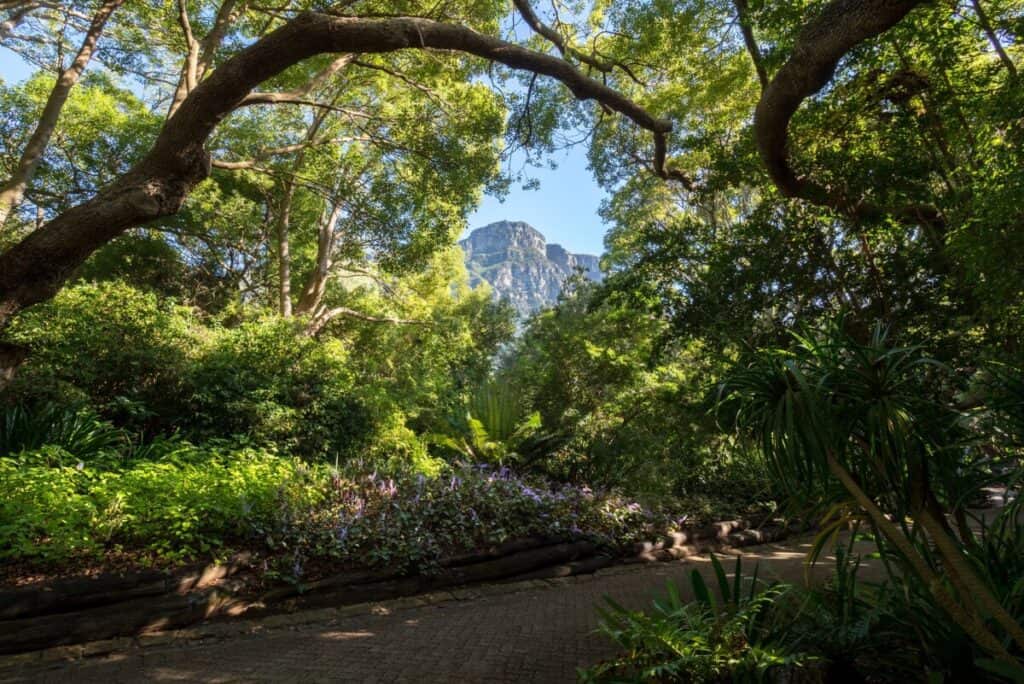 The development of Mona Lavender was a long process, taking years. The job involved hand-pollinating flowers, crossing plants, then back-crossing. And crossing again. Many thousands of seedlings were developed.
The plant arrived in the US, where the Ball Corporation commercially developed it. Thus, we American gardeners first saw mona lavender in the early 2,000s, and it is now a flowering plant appreciated around the world.
Confusion About Mona Lavender: Sun or Shade, Annual or Perennial?
It has appeared in the popular marketplace for only about the last five or so years. I have seen it in pots in the garden center labeled a sun plant or a part-sun plant. In garden centers, I have discovered it marked as a perennial and an annual. We buy it because it is pretty and then don't know what to do with it! But, once we all know the basics, it is easy to grow.
"Short Day" Plants?
Another area of confusion is because this is a "short-day" plant. It blossoms best when days are short. It tends to have fewer blooms in hot weather with long days. At that point, it stops blooming and people worry they have done something wrong. However, if you are patient, the warm, long summer days trend into cool nights, the blooms will increase. In temperate climates, you can acclimate your plant to bring it indoors, to use a winter house plant.
Acclimating A Garden Plant To Life As A House Plant
When the nighttime temperature reaches 50 degrees tropical plants need to come inside. This process should take you two weeks. Try these steps for a successful transition.
Check the plant for insects; tiny aphids, mealybugs, and spider mites are common issues. Your other house plants will thank you
Mona Lavender, is a remarkably pest-resistant plant, look for tiny mites before the plants enter the house. Pick them off with your hands if you find any.
Wash the foliage well in water, you can add insecticidal soap
Move the plant indoors for the night and then out during the day for shorter periods of time each day
Keep the plant in bright light, plants indoors tend to require more light
Maintain as much humidity as you can
The plant indoors will require less water and considerably less fertilizer
Mona Lavender's Unique Flower
The flower is unique. It is tubular, with two lips, lavender with specks of purple and on purple stems. Picture a tiny orchid designed for the table of a dollhouse. That's it!
The flowers are arranged as an inflorescence that stands about 6 inches above the foliage. You view a compact, rounded oval of dense green and purple, the whole thing crowned by the floating floral effect. You won't forget this plant. (Inflorescence is the entire flower, including stems, stalks, bracts, and flowers.)
To remember the species Plectranthus, think of the name spur flower for the blossom shape. The flower forms a little spur at the corolla's base (the flower's outer petals). Plectranthus comes from the Greek for spur and anthos, for flower.
So when you spot the little spur, you will remember the name.
The species Plectranthus comes from Africa, Madagascar, Asia, and Australasia, and the Pacific Islands. Its 350 members are famous for multicolored foliage, not flowers, and include Cuban oregano and coleus (If you can touch all three plants, particularly, the stem and leaf, you will make the connection.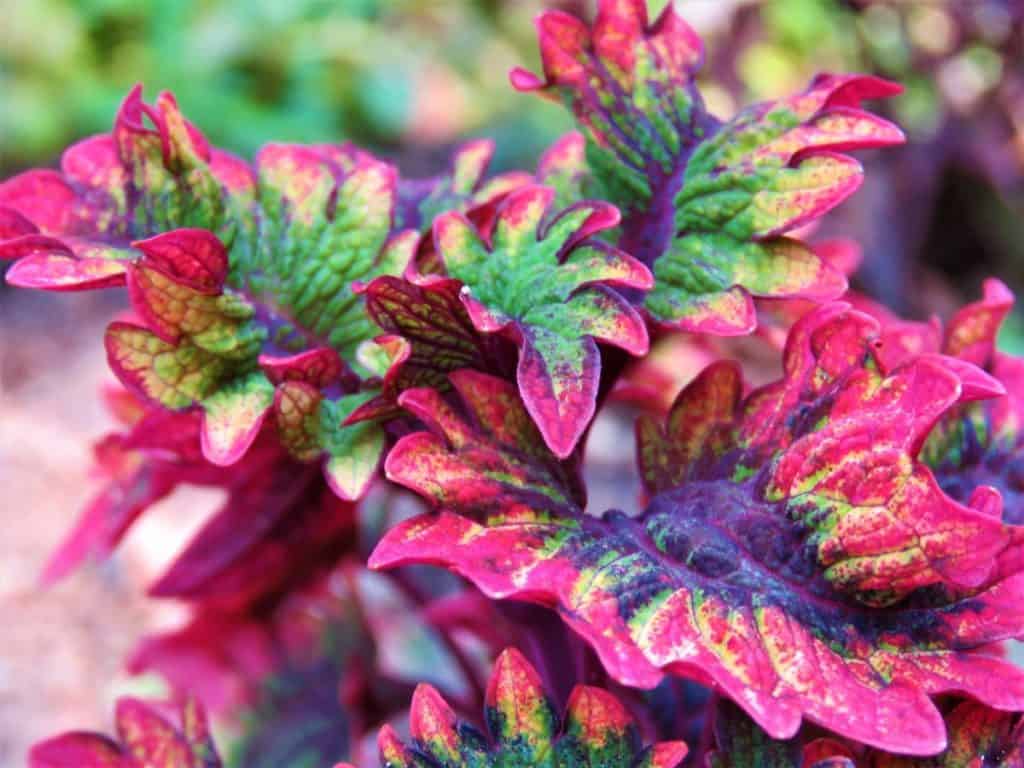 Coleus was the former name of the now, Plectranthus species, and yes, it is the same coleus that temperate climate gardeners love in summer, and we Floridians grow all year. Here is more information on growing coleus.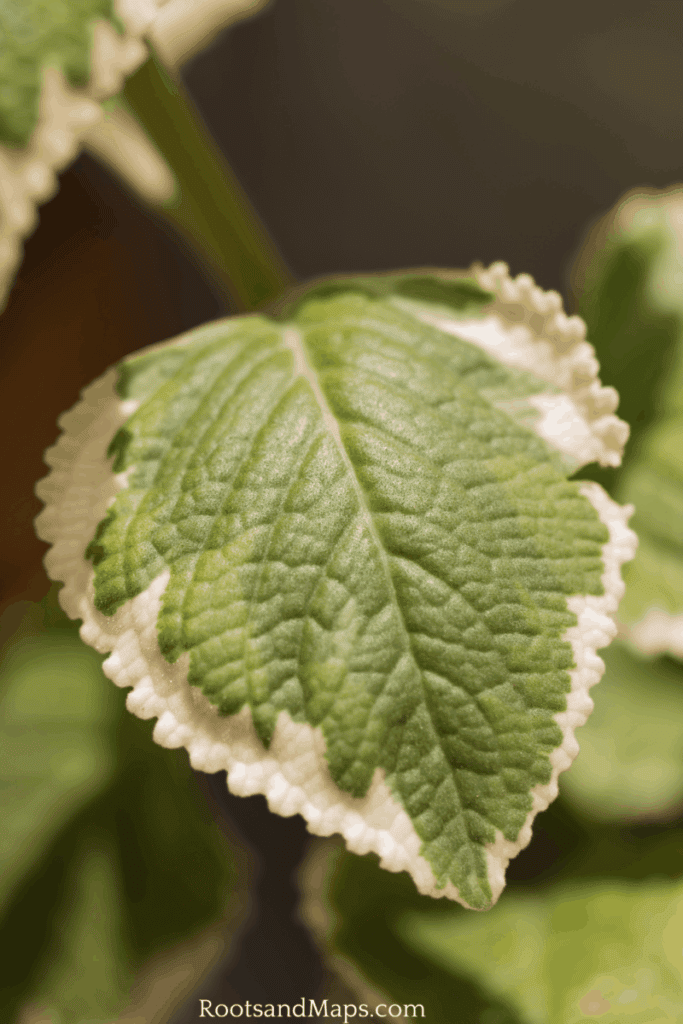 This is more information on the edible, as well as decorative Cuban Oregano.
Propagation note: all three of these plants are very easy to propagate. If you really like one or all, buy one, you will have plenty.
How To Propagate These Three Plants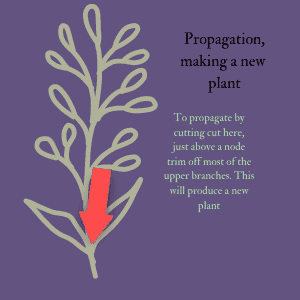 Propagation of new plants from cuttings
Mona lavender does not produce seeds. Make new plants this way. Remove a piece of new stem growth about 4-6″ high. Cut your piece Just above a node where two branches flare out. This place will produce two more branches for you. Trim your new cutting by removing the two bottom branches. With a little swelling, this place is a node and contains a large percentage of the growth hormone. Next, trim the branches above to about two or three leaves. Very large leaves can be cut in half. The goal is to put as much of this little cutting's energy into root growth as possible.
Plant these little pieces in a small pot of very well-draining potting soil. Dampen the soil, use a pencil to poke a hole for the stem, you can dip the newly cut stem in a bit of dry rooting hormone and plant. Use your fingers to firm the soil around the new plant. Store these in semi-shade, select a moist area to hold them in. All three plants are quick to root.
How We Can Use It!
A new and unusual plant, in a flashy color, a tropical plant in blue/lavender. This is a hard-to-find color in any garden and especially so in our warm climate. Here are some ideas:
Mass planting-
Container planting
House plant-keep the plant in or near a bright, south or east facing window. Indoors, the plant performs best with more light than outdoors
Hanging basket
Window box
How To Grow Mona Lavender and Make it Thrive
Plant Hardiness Zones
Mona lavender is hardy in zones 10-11. Some sources say as cool as zone 9a or b. It should be able to accept a frost of 25-30 degrees Fahrenheit. I am growing a few mona lavender plants in zone 10a. In zone 9, where I gardened for many years, I would choose my garden's warmer microclimates.
Planting
Plant in well-drained soil in a place with shade or afternoon shade.
Light Conditions
This plant will perform best in Part-Sun to light Shade. If planted in full sun it should live but it will be smaller and with fewer leaves and flowers. The brighter the light, however, the brighter the color contrast will be. In warmer climates avoid the hot afternoon sun.
Soil
Plant Mona Lavender in humusy, well-drained soil, retaining a medium amount of moisture. Organic, slightly acid soil is favored, in the range of 5.6-6.5 pH. What is organic soil? Here is a good answer from Michigan State.
Water And Fertilizer
It is good to remember that this plant is related to the Coleus and will similarly react to insufficient water. That is not well! Water the plant as soon as the surface of the soil is dry to 1/2 " down. Check the moisture levels frequently to avoid the plant drying out.
The Mona Lavender does not require heavy fertilization. With excellent soil or potting soil with initial fertilization, you may not require more. However, if needed a general-purpose feed on perhaps a monthly basis may help.
Pruning
Remove the spent flower stems as they fade, this will increase the blooms and lengthen the bloom period. I am doing this with both house and outdoor plants and the resulting growth is very encouraging. It is a good idea to trim the plants in a sink in the house as there is a messy bud drop.
Pests and Diseases
The Mona Lavender plant has virtually no pest or disease problems.
Summary
Companion Plants
Try the mona lavender with the textured foliage of the purple Persian Shield plant. Add some of the pink shades of Caladiums to bring height to your containers. Pink Hydrangea, pastel impatiens, and Coleus of many colors work well with Mona Lavender. Consider the lime green variety for contrast or one of the multicolor types with lavender in its foliage.
Because many gardeners use Mona Lavender as an annual I have included it in a report on Annual Bedding Plants. In this list is information about other annuals to combine with it.
For More information on the history and use of Mona Lavender read this article written by a horticulturist at the Kirstenbosch Botanical Garden.
Using Purple in the Garden With Mona Lavender
If you would love to add purple to the garden this may be your chance. The lavender flowers are in bloom for months and the purple foliage is there every day.
Close-up photo thanks to M.H. Mathias
Purple says to us, royalty, spirituality. Serenity and knowledge. If you garden with children, you are in luck, we don't know why but they prefer purple. It's even better than Pepto Bismol pink!
With purple in your garden, you can engineer just the effect you want. Bold and dramatic, you can do it; quiet and restful are also easily done.
The Photo Above Explains The Name Plectranthus
The name of Mona Lavender's genus is Plectranthus which comes from Plectron (Greek for spur, and Anthos for flower). See the little spur-like flower!
Using the Color Wheel
The complementary colors for purple are straight across the wheel. Look for yellows and green/yellow.
Mona Lavender's underleaves are true royal purple; the blossom is on the red side. Look for Chartreuse in companion plants. You can find this color in both flower and foliage and for any season too.
If you like some alternatives, don't forget the analogous colors on either side of purple. Look at red, orange, and yellow shades.
Don't overlook white. Lovely in a moon garden for the evening, it also cleans and brightens the daytime combinations.
Some Companion Choices
To add chartreuse in florals, consider some of these.
Zinnia, "Green Envy".
Echinacea purpurea, "Coconut Lime".
Gladiolus, " Green Stag"
Sedum. "Citrus Twist".
To find the chartreuse color in foliage, consider this
Sweet Potato Vine
Creeping Jenny, good in hanging baskets
Coralbells, "Key Lime Pie"
Golden Japanese Forest Grass
Hosta, "'Sun and Substance", very large
Hosta, "Piedmont Gold", medium
Hosta, Gold Edge, " small
Plants which come in purple and also complementary colors, with varying shapes
Angelonia
Bellflower
Balloon Flower
Lavender
Allium
Agapanthus
Cosmos
Celosia
Chrysanthemum
Multicolor
Enjoy This Unusual Flowering Plant and Remember What Cicero Said
"If you have a garden and a library

You have everything you need"