They Changed How We Think
Part One Two Caribbean Islands- St Kitts and Nevis
Some beaches are sublime and they entrance us, their charm influences our thoughts forever. Others certainly are quirky, and they just tickle our fancies. Here is why we love them.
Why They Are So Significant
Since the beginnings of us all; the beach has influenced our very thoughts. It was the horizon view that convinced us that the earth was flat. Later, thanks to Aristotle, the flat horizon convinced us that the earth was spherical. (Aristotle noticed that some constellations in the summer sky rose higher as he progressed south. And he did this young enough to be contemplative and before he needed cataract surgery!)
How It All Started "In A Bar In The Caribbean"
It has turned out that it all started in a bar in the Caribbean. Being members of an adventurous tribe of New Englanders, we learned to appreciate a sunny beach in the winter. Our young daughter, when listening to a group of us telling travel stories said "but all your stories begin, It started in a bar in the Caribbean." And she was right. Many other trips, family adventures, and even, garden enhancements came from ideas we got (along with the rum) in the Caribbean.
We have always loved Hawaii, and I am including Hawaiian beaches and observations, but for East Coasters it's a long haul. Visit Hawaii, whenever you can put together the time. Now with more work from home, it will be more doable for more people. For us, it's the Caribbean Islands that worked out most often. They are for Easterners the quickest sunshine fix.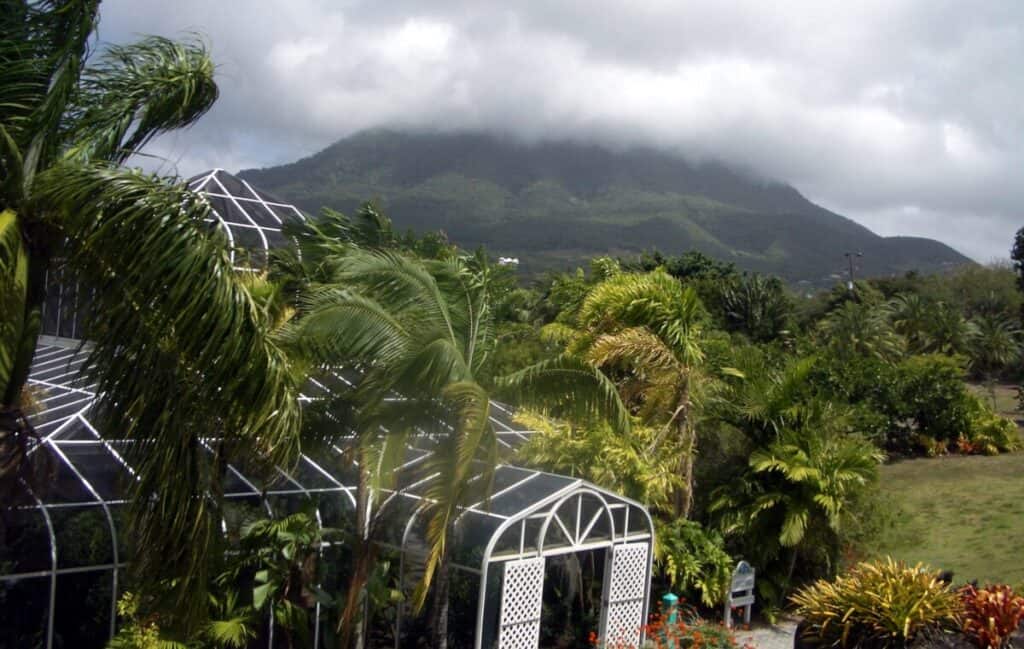 My Favorite Beaches-The Quirky And The Sublime
A favorite beach is not commercial and we are not lined up on loungers like red sausages. To make this list; a sandy shoreline needs a personality, and distinguishing features' a famous character, a fabulous view, the most beautiful sand, some entertainment. Some can give us that sense of remoteness. So here they are. As I am starting this project on Thanksgiving morning with winter on the way I will begin with warm climate beaches,
These pages are focused on the beaches. However, wherever a lunch on the beach, some lovely places to stay or we learned some other information that will help you have as much fun as we did, I'll included it as well as links to sites which can help you.
Here we go. First.
Some Caribbean Beaches That Charmed Us-Sublime & Quirky
Some Useful Facts About The Caribbean And It's Beaches
The Two Important Island Structures And How They Affect The Beaches
The Caribbean Islands have been created two different ways and that makes a big difference in what each island has to offer. That is in its sand, sea color, moisture, food, and verdancy.
Coral Islands-these are the older islands, low lying, tending to be dry, and made of shell. They have the fewest rainy days per year. You can number among these Aruba, Bonaire, Curacao, Antiqua, Barbados, St Martin, and Anguilla. Transportation is easier in these flatter places. These islands tend to have whiter sand and truly azure waters.
Volcanic Islands-These are considerably younger and filled with high mountains. Their piercing, volcanic peaks cause trade winds to rise. These islands are wetter, more verdant, and have more varied plant and animal life; they are the more biodiverse. You will be offered more varied fruits, vegetables and they have the capacity to make good Beer! Try Piton beer in St Lucia. On these islands, you will encounter perhaps, more brown and mixed sand and deeper blue water. Try the local produce and appreciate the vistas. The roads will be more challenging due to many switchbacks, even the newer highways. For many of us driving on the English-style islands is like riding sidesaddle. (And yes, I've done both!)
Windward Versus Leeward Islands
The Windward Islands are an archipelago located north of the Leeward group, but still south of Puerto Rico and located, where the Caribbean and Atlantic meet.
The Leeward group of islands, are to their south.
The Importance Of Location On Your Island-East Vs West?
You. and your hotel or resort will be on the Caribbean Sea side or on the Atlantic. Just consider this fact. The Caribbean Sea is quieter, customarily safer. The Atlantic side will have wonderful ocean views and rougher surf. This means that depending on the weather and your swimming skills you may need to travel farther to get to a beach. This is particularly true of snorkeling, which requires clear views.
Let me pique your interest with a big beach on a tiny island!
Nevis Island
The Island Personality
If you want the big resort, glitter, and nightlife, this is not your island! This place is for natural beauty, rugged mountains, sea views, visual splendor, and understated luxury.
A Good Example
When Nevis sends to Miami for a famous designer they come back with a leading landscape architect to beautify the outdoors! Take a look at this. The Golden Rock Inn, Nevis, and it's Raymond Jungles landscape.
Nevis, a small and mountainous island is one of the Leeward Islands. It covers 35.9 square miles and is the little sister island to St Kitt's and together they make up the independent nation of St Kitts and Nevis.
Getting There
You reach Nevis, from St Kitts by the inexpensive and comfortable inter-island ferry or private boat. The inter island ferry leaves Basseterre, the island capital, near the airport and arrives in Charlestown, Nevis' tiny capital in about 45 minutes. There are five, passenger cum auto ferry boats traveling from 6 am to 6 pm (longer on weekends, shorter on Sundays.) Here is the webpage for the Ferry service. From Charlestown, you can walk to Pinney's beach. There are also taxis nearby.
The beach is four miles long, you might want a taxi depending on where you want to be on the beach.
The Water Taxi Route
There is a water taxi from Reggae Beach, on Cockleshell Bay on the south end of St Kitts. It takes the shortest route and puts you conveniently near Oualie Beach, just north of Pinny's Beach. It is somewhat more expensive than the ferry. Check the prices for a group. Oualie is the old name for Nevis, given by the ancient Caribes, it means "land of beautiful water."
The Island Residents
The population is just under 12,000, and we found the residents to be polite, friendly, and always kind and helpful. The official language is English, it is widely used. (Nevis has a 98% literacy rate.)
Pinny's Beach, Nevis
Pinny's (also spelled Pinneys) is very accessible, being bordered by Charlestown, the island's small and handsome main town. It is filled with Georgian buildings including the museum dedicated to Alexander Hamilton, who was born here in either 1755 or 1757.
PInny's is on the island's western coast, near the Narrows, the strait separating the two islands. At four miles, it is the longest beach on Nevis. Its background is arrestingly mountainous. This is a place for panoramic views.
This means that you can, easily find the perfect spot, the water is mild and safe for any family, the views are outstanding and lunch can be in walking distance.
There are low rise hotels with their loungers on the beach, not a lot of noisy beach toys and the occasional horse will canter by.
Where To Get Lunch
Mango at the Four Seasons Hotel, directly beachside. The Four Seasons has extensively rebuilt after hurricane irma for an October 2020 opening. (Check with the hotel, especially during the virus.)
TheYachtsman's Grill-You can have beachside lunch and complimentary lounge chairs appear to be on offer. You will find lounge chairs fairly common in this area.
Oualie Beach
This beach pronounced (wah-lee) is in walkable distance from the water taxi and it's orientation is similar to that of Pinney's beach. Water toys are available for rent.
Other Beaches
These two are listed because they are your best bet if you are coming for the day from St Kitts. On Nevis itself, they encompass the primary Caribbean side beach space and are considered highly desirable. For example, the very beautiful Montpellier Plantation inland uses a private area along PInny's beach, near the Four Seasons as its beach. Here is a link to Montpellier Plantation. It is a real treat and we ate very well there.
St Christopher Island
This is the big island, the place with the international airport, cruise ships and duty free shopping! So why St Kitts?
Socrates, the Calypso singer explains it this way. "If your name is James, you go by Jim. If your name is Christopher, you go by Kit. Easiest way to remember it.
St Kitts was part of the British West Indies until 1983, and had a sugar industry until 2005. This means that it is came a little later to tourism than many Caribbean Islands. Its highway system is essentially a ring road around the island as the interior is mountainous. You will find hiking and ATV tours of the mountain area.
Frigate Bay Beach
North
The long, beautiful north beach area faces the Atlantic. We have stayed at the Marriott located here. On this island, with over 600 rooms and eight restaurants, two lounges, and a casino, would on this island be considered very big. It takes about two hours to drive around the entire island and tours of all kinds are readily available.
I caught a cold, during our stay and the hotel staff found a prompt doctor to come and see me.
It is important to note that this beach, while Atlantic facing has a large breakwater which makes the water very calm. It is a very suitable place for a family vacation.
My small grumble, and it is small. The very manicured beach is dotted with gazebo like shelters which means that if you get a sunburn it is really all your fault. The grumble has to do with the fact that the shelters impede the view and while very polite there are a fair number of beachgoing vendors.
The Pool And The Dancing Grandmas
Being Floridians, swimming pools are like cars to us, necessary appliances. But this one is a treat. With a sunken bar, in-pool seating, and plenty of island music, the afternoon starts like this. The island girls who tend bar, dance the whole length of the bar while shaking beverages. They never slow down.
Then the clientel start dancing, stepping in a few at a time. Finally every grandpa with his straw hat and cigar, and every grandma inl a beach coverup and carrying a baby gets dancing.
The place is worth a visit for this alone!
South Beach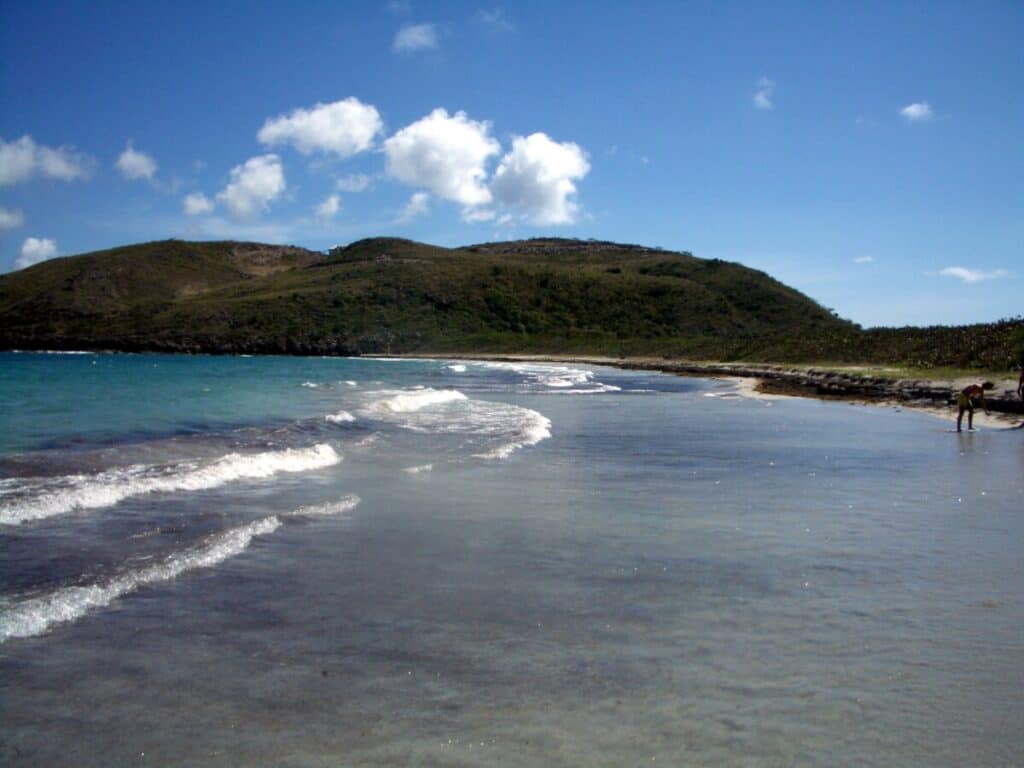 This section of the island juts around a corner and is Caribbean facing. This is where the action is with beautiful views of Nevis you will find food, drink, and entertainment. You can snorkel here.
Look for names like Cockleshell bay and for a little seclusion Banana Bay to the south is the place.
Turtle Beach and Wilbur the Pig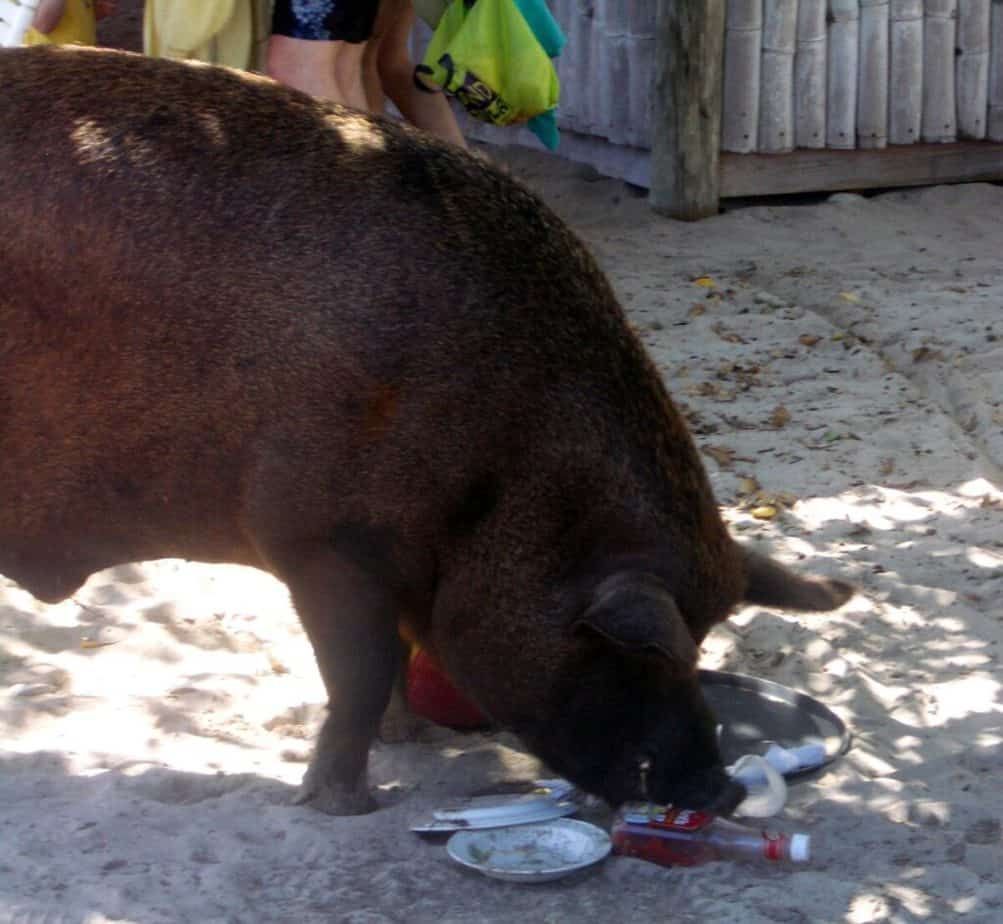 I am so sorry to say that he is now gone, although the chickens and the monkeys are still in place. The story of Wilbur is a warning tale to all who take up tourism. Here is how it works.
You enter a pleasant beach with enticing views. There is a beach bar serving lunch and for customers, free lounge chairs and little tables for your lunch. I am telling the truth. I lack the wit to make this up.
The papa tourist, orders burgers and fries for all. He puts them down on the low tables and while the famiy watches, with slack jaws, Wilber sauters his 1100 pounds over and just eats all the lunches! Dad takes photos, and buys another round. During the afternoon I estmated that the bar was able to sell three sets of lunches before the families gave up,
So if you are a restaurant owner in search of a more profitable business model-here it is. You are welcome.