Have Fun at Your Own Pace and See Everything
We talk about slow travel because we want to immerse ourselves in a new place, understand its essence, and connect with people. We want to come home with fresh ideas and a clearer view of the world. Consider seeing a new place via its rivers and canals. These waterways, once the heart of society are now relaxing places to travel slowly but still in the center of life!
Our plan was to have a little adventure, and some fun in a new place. We have been to some beautiful beaches but this time lying on a beach was not the goal. This idea was to do something new and we were not committed to any part of the world. An extended trip, at least a month, with a chance to live a different life for a little while, was what we wanted.
What we Got
Six weeks, visiting England while living on a pair of slow-moving canal boats. We saw cities and towns, castles, artwork, farm life, wildlife, and people we'll never forget.
Serendipity -making desirable discoveries by accident"

attributed to Horace Walpole
This is how we came to a decision. If you believe in the concept of serendipity, you will laugh at this! One evening wandering through the Television Channels, wearing out the remote and finding nothing to watch, we stumbled upon a British TV series called "Great Canal Journeys".
It starred a couple who were well-known actors, Prunella Scales (she was Sybil on Fawlty Towers) and Timothy West (he was a great King Lear). They are people who have spent decades on their own canal boat and in this 10 series show, they travel the world on a variety of craft. The shows reveal the ways that life aboard enhances their family lives, lives as serious actors, charitable works, and dealing with a serious late-life disease. It is a remarkable story on many levels.
Cambodia, Egypt, France, India, if it floats, they are on it. A good core of the shows takes place on the British Canal System.
Links To Information Sources
You will find links to good sources of information and guidebooks at the end of this piece. There is also a link to the posts describing our trip.
It looked like fun, it didn't look tough, we liked the country on a prior trip, and as we promised ourselves "They're at least 80-how hard can it be"!
The Canals
With very little research, we discovered that the canal system encompasses the whole country; wherever you would like to sightsee there is a nearby waterway. The boats are comfortable, easy to drive (you can't get lost on a canal) the water is mostly quiet, and it is a cost-effective vacation.
The Canal and River Trust
Quickly, we discovered The Canal and River Trust (C.R.T.), a charitable organization that manages over 2000 miles of waterways throughout England and Wales. Scotland has 5 canals, managed by an agency called Scottish Canals.
These entities maintain the canals and provide excellent quality information and assistance to boaters. They have volunteers who walk the canals and assist hapless sailors as needed. We found them extremely helpful and informative. Lovely people! On their websites, you will find maps and suggestions of all types.
Canal and River Trust Canal Map.
Where to Go
For us, this was not difficult. We had spent time in and near London. We always wanted to see Oxford, and by matching up places we wanted to see with the waterways near them, we discovered the "Thames Ring," which included the Thames River, the Oxford Canal, and the Grand Union Canal.
A Circle Ring
This was a complete circle which we thought we could do in 3 weeks- by adding 3 more weeks for sightseeing- we had an adventure. (The fact that we were wrong in some of our assumptions did not affect the good time.) This is a vacation plan that easily forgives errors.
The sightseeing opportunities were huge; tiny villages, cities, both historic and vibrant, castles, great gardens, museums, scenery, wildlife (loads of walking and running), and all in an active vacation in which we could control our own pace and itinerary.
Pick A Location
If you have a part of the country you would really like to see, or a type of vacation in mind a perusal of the interactive Trust map will lead you, like us, to the waterways that will work for you.
If you do not have that yet I have a list of desirable but varied trips you may like. (Links to the Trust and other key resources are at the end of this report.)
How to Rent the Boat
In "Great Canal Journeys" we were able to see the rental boats they traveled on, inside, and out. Some of those companies served the Thames Ring. We saved the names.
What Information You Need To Do An Adventure And Boat Search
Enter the trip you are interested in, your party's size, and the features you need in the boat.
Be inclusive in your search. Search for boat rental companies using the name of the canal or river you want to travel on, then do it again by the major town.
For example, we wanted to start at Oxford. Still, by searching only boat companies on the Oxford canal, we excluded the company we eventually used and would use again, the Anglo-Welsh Company, because their boatyard was near Oxford but on the Thames river, not the canal!
This vacation works for very diverse groups of people. We met multi-generational families, loads of parents and kids, couples, groups of friends, a granddad with his grandsons, and a group of moms who get together for a trip every year. We met people from various countries, and quite a few spend their entire summers on the boats.
Two Ways To Find The Boat For You
A Large Consortium of Rental Companies
Drifters is a group of 9 larger boat hire companies.
ABC Boat Hire
Anglo-Welsh
Black Prince
Countrywide Cruisers
Foxhangers
Kate Boats
Napton Narrowboats
Shire Cruisers
Union Canal Cruisers
These companies are good-sized operators, having multiple locations from which you can start your trip. In our case, we arrived at Heathrow, found a convenient bus to the town on the Thames we started from. It did include a little walk in the country with the rollaboards.
This link will take you to a map showing the Eynsham boat basin on the Thames River and how it took us to Oxford to spend our first night.
The Drifters Website starts with this information which will give you a good idea of quality standards.
The boat standards they hold themselves to
A rating system for each boat which ranges from 3-to 5 * Stars
My Search Update; December 2020
I signed onto the Drifters website and did the following search for 2021. I asked for a boat located in Oxfordshire, for the week of April 2-8 2021, and serving two people.
This took me to a list of boat photos with detailed information available. The second boat down is The Golden Tarn, one of the two boats we used on our trip. You will see each boat's features, the price, what the price includes, and if you click on the boat photo, you will see the layout and more detail. That boat is rated 4 stars, right in the middle.
Pricing
Pricing is stated for one week. Should you take a longer trip expect to be offered a discount. The boat rental company (They will refer to themselves as 'hire companies") will also offer the services you need on your type of trip. For our 6 week schedule, the rental company offered to meet us on two-week intervals on which they would exchange clean linen for used, fill up the fuel tank and address any mechanical issues.
The time to iron out these issues is before you book the boat! We found our company to be flexible and helpful and would work with them again.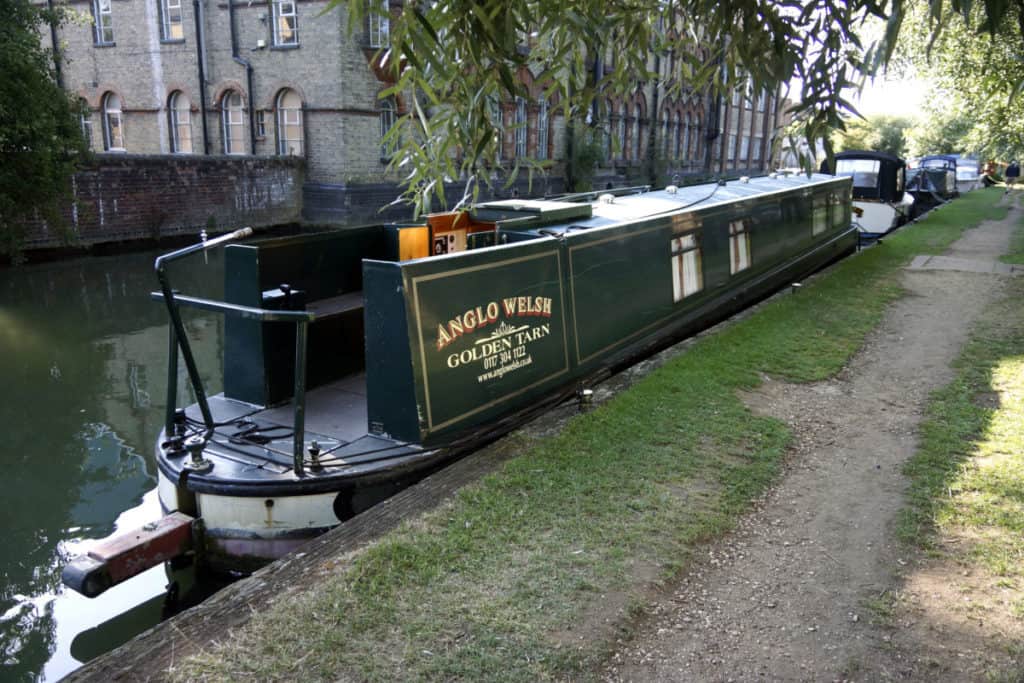 We slipped into this mooring post at the end of our first day-exhausted. The man in the boat moored next to us was an Australian living on his boat. Seeing us come in, he hopped off and helped us tie up the boat. Then, he showed us a good pub for dinner within a 5-minute walk. That was our introduction to the kind of people we would encounter!
This website includes a search feature also.
Start with the heading Canal Holidays,
Choose Self-Drive Boats (this page will offer hotel boats also.)
Pick A Region of The Country.
Pick a Body of Water.
This will show you boat hire companies to work with.
How To Know All Your Options
This has the advantage of starting by region and then finding boat hire companies. Be aware that there may be more than one body of water near the City or Town you want to start from.
Based on licenses some companies may not serve both bodies of water. This was our experience. Oxford can be reached by boat on The Thames or the Oxford Canal. Stratford Upon Avon is served by the Stratford Upon Avon Canal and the River Avon,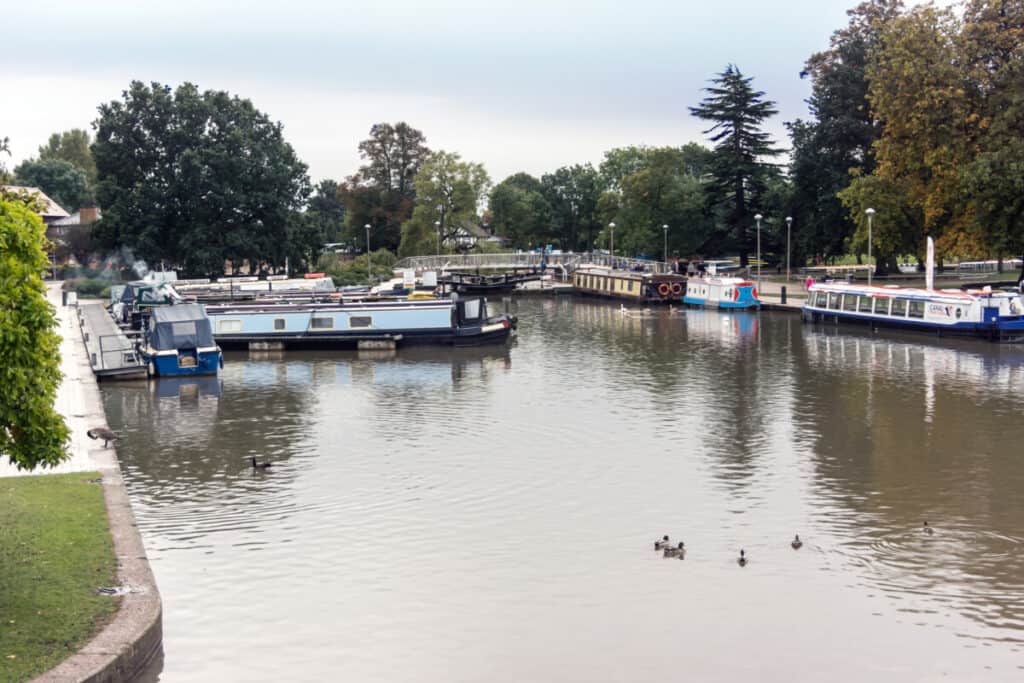 A Town To Visit Via Two Bodies of Water
This is the boat basin in Stratford Upon Avon. We entered it from the Stratford Upon Avon Canal; you can see the entrance curve on the lower left. Directly behind the bridge at the top rear of the photo is the beautiful River Avon. This is a wonderful vacation location. The boat moorings are in the middle of the historic town. Most Shakespeare sights are within walking distance.
Be Aware Of Boat Licenses
We could have continued our journey onto the River Avon, by buying another license and going through the lock and under the bridge onto the river.
Your boat rental company will arrange this but if you change to a new waterway you may need to buy a license.
On the night before entering this basin, we moored a short walk from Mary Arden's Farm about 4 miles north. Here in the Stratford basin, the Royal Shakespeare Theatre and many good restaurants are a short walk from the boats. The ice cream store is a boat!
Boat Features to Consider:
One of our two boats had big lounge chairs and a tiny dining table-we loved the chairs and the table was fine for two. The second boat had a large dining table with a banquette. For 4 or more people we would choose this.
The galley is always small and very convenient for cooking. The second boat had a big window over the sink, the swans would stick their heads in looking for treats! In some boats, sleeping arrangements include making up a bed in the dining or lounge area. Do you want to do that?
There are choices of bathrooms, how many will make your party happy?
Meals And Cooking
You will have a nice gimballed gas stove. A tiny refrigerator, and no dishwasher. You can make very good meals on the boat. Make an effort to find the Farmer's markets along the way. Our first boat included a small freezer and it was very valuable for a trip beyond a few days. We stocked up on meat and prepared products (wonderful meat pies) in Oxford and they lasted a long time.
Prepare To Keep Your Options Open
This is a very free sort of travel. Some day you will drift into a beautiful rural area (without stores or restaurants) in mid-afternoon, and you will want to stop to walk the footpaths and cook a good dinner, then fall asleep to the quiet sounds of cattle, sheep, and birds, all settling in for the night. You will want food in the larder!
Don't Overlook The Stern Layout
The arrangement of the outdoor area at the stern of the boat is important. This is where the boat is driven and it becomes a social area There are three boat stern configurations:
Traditional-with a small space for the driver ((not common on rental boats)
Cruiser-with plenty of space for others to stand and socialize
"Semi-Traditional"-with partially enclosed seating (note the photo of the GoldenTarn. That is a Semi Trad style with extra seating).
For a group, the Cruiser style would be fun, the semi-traditional style with partially enclosed seating could accommodate 4 other people in comfort. The semi-trad with the partially enclosed seating would be the easiest way to corral small children. Socializing while you move along in beautiful scenery is a big part of the pleasure. There is also seating at the bow of the boat.
Finalizing your Choice:
In our case, we did some calculations as to territory, features estimated travel time, and the places we most wanted to see.
We contacted all the providers with a detailed email and waited for a response. Some are quicker to respond than others and some will remove themselves from contention for reasons we did not anticipate.
Our trip included two canals and the Thames River. Some companies licensed their boats for only the canals and could not be included. One company was very slow to answer us, they sounded fine, but we had already booked a boat.
We allowed plenty of time for responses and we would do that again. We did not "prod" companies that did not answer promptly. Another time we might do that. Our estimate of the time required to make the trip was far too optimistic given the time of year (busy) and the number of places we wanted to see. The rental firms were too optimistic also.
How Long Will It Take You?
Narrowboats are the most common boats on the canal system. They can travel at a maximum speed of 4mph. In the summer months when the canals are busy, don't expect to make that speed.
We averaged less than 3 mph. Each lock adds an estimated 15 minutes. You can order one of the location-specific guidebooks whose names are included here, count the locks and add that to your anticipated travel time.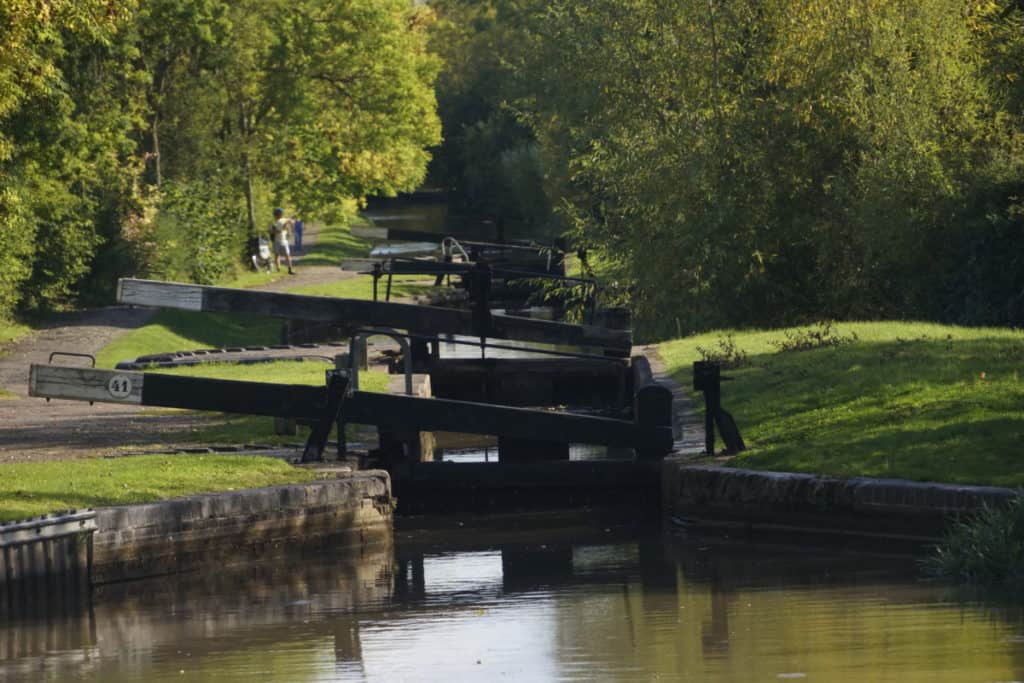 This is a typical lock, here the land is rising, and this pair of locks allows the boat to travel up and down. This is where you meet other boaters and find out the gossip along the canals and learn who is serving a good lunch today.
Note the towpath beside. This is where the horse walked towing the canal boats before engines. Today it is for walking, running, and sightseeing. You should get plenty of exercise.
Allow Time for Entertainment
Allow for your own taste in entertainment. We loved the university town of Oxford and tripled the time we anticipated spending there. We found many interesting villages along the countryside walking paths, these were wonderful, tiny, complete societies, and great exercise, but they took time to get to.
We spent entire days at palaces and prominent museums and gardens. We could have spent far more. Many of these historic sites have activities aimed at children.
Blenheim Palace offers a play area, a miniature train ride, and a butterfly garden. A multi-generational family would have a memorable time here, 4 miles from the canal. (You can book cabs online.) Plan ahead for transportation and use the pubs. Pubkeepers know everything! We found Ubers a little hard to find in tiny villages.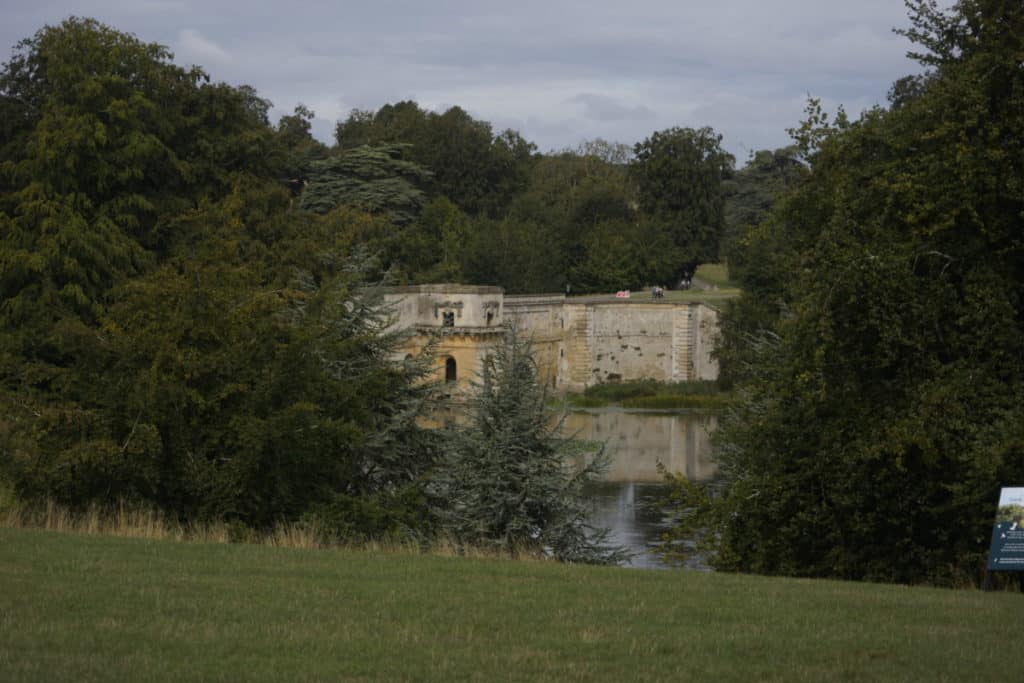 Blenheim palace could easily be a two-day visit. We did it in one, but you can spend one day in the Palace and another on the vast grounds and perhaps the town. This would allow time for two Champagne Teas, which is never a bad idea!
Here are the Guidebooks to Buy:
Next, we discovered the two major producers of guidebooks to the canals. In both cases, you get detailed maps, showing locks and bridges. This is the most important feature. (If I have a half-hour before the next lock I can start a book or lunch!) Both publishers add good detail as to shopping, services, restaurants and waterside pubs. Depending on the time of day the second feature becomes the most important! These are:
Pearson's Canal Guides; This has a smooth finish that can survive a little water and the best photographs. The maps are useful in both guides, I find Nicholson's layout a little easier to use. We paid £9.95 for Pearsons. These are on Amazon.
Nicholson's Canal Guides: This one is spiral bound, with a slightly more water-resistant surface, making it a little more convenient on the stern of the boat. I found its maps the most detailed. People complain that its updates are a little slow. It is true that they might direct you to a pub which has closed but the canals are not going anywhere! These are on Amazon. We paid £16.99
The important thing is to have one of them for each section of water you travel over. We bought both and were glad we did. (The boat rental company will usually have one aboard.)
We bought them in advance; they are instrumental in planning, ensuring that we had the latest issue. Because we had a surprise change of boats, we had one leg of the journey without a guidebook, and we wished we had it.
History of the British Canals
Canals have existed in this country at least since the time of the Romans. We travel on them now, about as fast as the Romans did! There were 29 improvements to the navigation system in the 16th and 17th centuries because water travel was safer than land travel.
The Industrial Revolution which we associate with the 19th century really began in the mid-17th century and so did canal building. The 19th century brought bigger and better canals.
The advent of the railroads began the decline of the canals although they became vital in the WWll when women transported war material and industrial goods and fuel throughout the country.
Wartime Women
Everyone knows about the wartime Land Girls who worked the farms. Few of us know about the women who transported food, fuel, and war materiel by canal boats. They made three-week trips around the country working 18-20 hour days. They blacked out their lights at night because German aviators knew they were transporting goods valuable to the war.
Because they worked on the Inland Waterway system (IW) they were referred to as, wait for it, the Idle Women!
The post-war decline was inevitable and soon there were fewer waterways and often unnavigable with people eager to fill them in and use the land for other purposes.
Tom Rolt
Finally, people recognized the recreational opportunity in the canal system. Much of the credit for this goes to a man named Tom Rolt, a biographer of major figures in civil engineering who was the first person to remodel a working narrowboat as a pleasure craft and travel the canals.
His book "Narrow Boat" (pub.1944) popularized the concept of repairing and using the canals for public recreation. The book is listed in the data section at the end of this report. It is well worth reading to understand the value of this system to the nation and the waterways culture.
Soon the rubbish; shopping carts, bicycles, and old cars came out of the canals. The locks were repaired, and the remarkable system we see today emerged. Many thousands of volunteers have contributed to this recreation facility. People with a public persona like Prunella Scales and Timothy West made valuable contributions by publicizing the opportunities available.
Some Good Trips to Consider
I made this list from a variety of recommendations covering the over 2000 miles of canals. I selected them to be in interesting places but also varied as to scenery and location as well as to the length of trip, long and short, easy and energetic.
Short, Sweet, and South: The Monmouthshire and Brecon Canal. This is a quiet trip (on electric boats at 2 mph.) This canal is only 33 miles long with just 6 locks. It is located inside the Brecon Beacons National Park, in mid-Wales; it is peaceful and rural. Here you can admire the mountain range, called the Brecon Beacons, find lunches, teas, and beer gardens. Wildlife abounds; this is great for birdwatchers. Spring and fall are magnificent.
2. Take a history tour on the Avon Ring, it is located to the southwest of Birmingham and connects Evesham, Tewkesbury, Worcester, Stratford upon Avon and the edges of Birmingham. You will cover 109 miles and 129 locks.
We traversed part of it on the Avon Canal. You moor your boat conveniently in the basin at Stratford on Avon within walking distance of all the Shakespeare sights and the Avon River. If the town doesn't keep you busy there is a very convenient bus service.
We went horse racing at Warwick and could have traveled to many other places easily and inexpensively. We saw a good play at the Royal Shakespeare Theater, where there are no bad seats.
3. The Llangollen Canal: crosses the English and Welsh border. It encompasses 46 miles with 21 locks in beautiful countryside. The high point is to cross the astounding Pontcysylite Aqueduct over the River Dee. It is a World Heritage Site standing 126 feet high and its 19 arches carry you over 1007 feet in length.
We crossed the Edstone Aqueduct on the Stratford-upon-Avon canal. It is 65 feet above the ground, about ½ the height of the Welsh aqueduct and it felt big to us. The sheep below looked like toys.
4. The Lancaster Canal: is a chance for a rare canal trip in a coastal area and the nearby Lakes District's bonus. This is a contour canal that winds around the hills for 42 miles and has no locks. You could get some exercise walking in the Lakes District.
5. How experienced and energetic are you and your crew? The South Pennine Ring may be for you. This trip takes you through the rugged Pennine Hills in a journey of 197 locks and 73 miles along parts of 5 different canals. This requires about 60-70 hours of actual cruising time. Consider it lock intensive.
You will cross the Standege Tunnel, Britain's longest with the help of a Canal and River Trust chaperone.
6. The Thames Ring; this circle of 245 miles and 176 locks should take about 35 days if traveling 7 hours per day. It includes the Oxford canal, the Grand Union Canal, and the River Thames, part of which will be tidal, which means that it moves a little more quickly. This is a place to see great houses and gardens, museums, tiny villages, and palaces as well as enjoy cultural activities and some very nice meals.
What Should you Bring:
Clothing
Bring casual clothing in layers. In August and September, we used shorts, jeans, and lightweight pullover shirts repeatedly.
Rain jackets, seasonal jackets or sweaters, and vests are very versatile. Our trip was near the end of one of the hottest, driest summers on record-we had plenty of rain!
Footwear is for extensive walking and getting on and off the boat. Non-slip, rubber soles work well, and consider two pairs as you can get wet.
I had a dress and a pair of flats for some evenings out. We went to a few restaurants and performances that called for more than jeans. The pubs are casual.
Hats for sun and rain.
Laundries are not always available when you want them. Plan accordingly.
Things to Make Yourselves Comfortable
A small box of your favorite spices.
A small folding knife, a knife sharpener. The cutlery is very dull!
Small flashlights will be very useful. You will walk back to the boat on a dark towpath from your evening out.
Cameras, binoculars, some music or DVDs for the boat.
Tablets, smartphones, kindles. For security on the internet, consider buying one of the many well-rated VPNs available. Ensure that the VPN you buy works for the countries you will be in.
We bought a used smartphone for local calls and sold it back to the willing dealer. It cost very little to have this security.
Finding Entertainment
Do a little research before you go: There are wonderful art collections in houses and schools which most people miss. We found music in many towns.
Prepare For Skills
Your rental company will give you a good presentation of the boat and how to use it. Then, they put someone on your boat to give you a quick tutorial as you start. And I mean quick! He will show you how to do a few tasks, then wave goodby and hop off on a convenient rock. Before you go, do a youtube search for narrowboat skills. There are many choices, including the Royal Yacht Association helmsman training. This is an easy and visual way to get a good introduction.
Eating Well
In addition to plenty of places to eat out, there are wonderful markets in towns around the canals. There are farmers raising heritage plants and animals, producing innovative, local food. Once you have identified your route find the best markets and their open dates online before you go. We ate some very special food because we searched for it.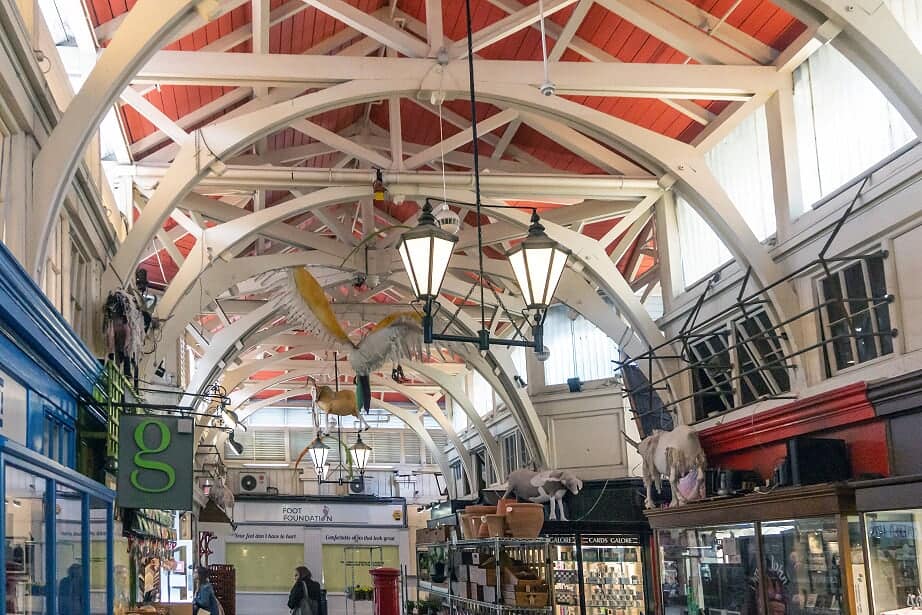 This Is The Banbury Outdoor Market
Its dealers have been feeding their population since it was established as a Medieval Market Town starting in the late 6th century. Robin Hood may have bought (well perhaps stolen) an apple where you are standing.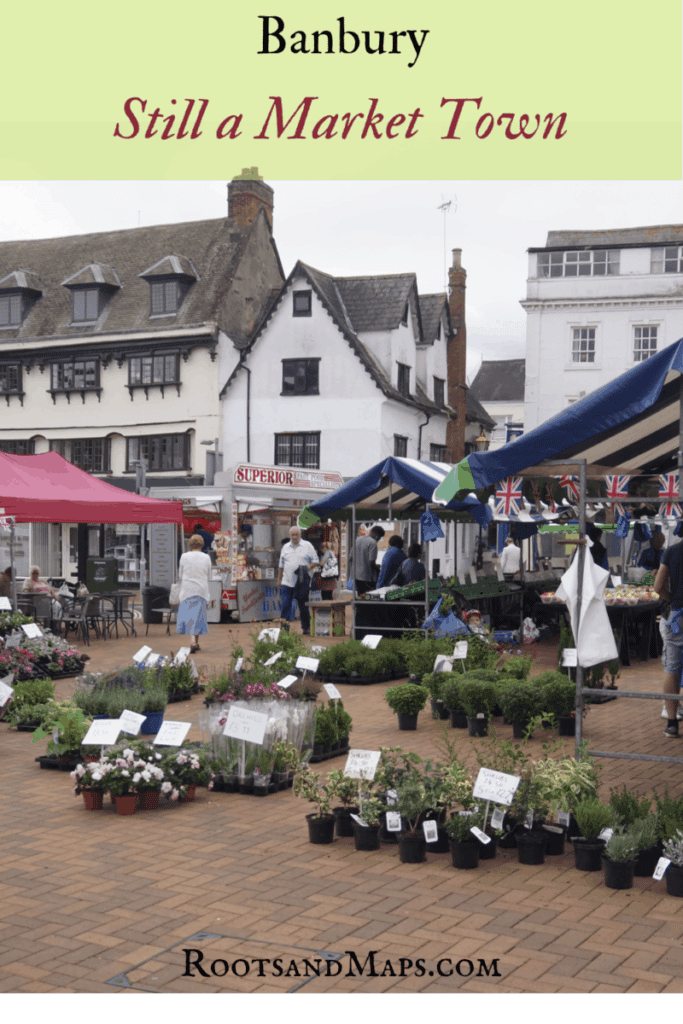 Grocery Delivery
At two of the major grocery chains, you may set up an account and have groceries delivered to the numbered bridges along the canals. We would use this feature on another trip, We know that Waitrose and Tesco do this.
Some Good Information Sources
Start here to begin the journey
The Canal and River Trust: here you will find interactive maps, news, and information.
Canal Junction: is a website that lists the boat rental companies, in alphabetical order and by geography.
Pearson's Guide to the Canals: find these on Amazon.
Nicholson's Guide Amazon
Narrowboat, by Tom Rolt: Amazon, Kindle, and hard copy.
Great Canal Journeys, is a long-running British TV show. It is still available with two new presenters. The Prunella Scales, and Timothy West shows are easy to find on YouTube. You can see the flavor of the different locations as well as some practical advice.
'How to Enjoy Constable Country,Visit a Gem-Days out of Time.'-This will help you with the Norfolk Broads and John Constable's beautiful home area on the River Soare in East Anglia.
Our Ship's Log
Chapter One: We Meet the Golden Tarn; Our New Best Friend– From Heathrow, through Oxford to the tiny village of Thrupp.
Chapter Two: Into The Country-The Rock of Gibraltar to Blenheim Palace. The pub manager drives us to the Palace in his own car,
on his day off!
Chapter Three High Tech-No Tech– groceries on line, tiny villages, and maybe the most beautiful garden in England.
Chapter Four: Aynho, the Apricot Village– Cromwell, dragons and sheep. Fabulous views and a splendid lunch.
Chapter Five: Sandy and Black To Banbury Cross– Lunch at a farm and children's rhymes
Chapter Six: Upton House To Banbury Market– From the Jazz age to fabulous cheese, to a hidden village with a great cook!