What's in Bloom, What to Plant, What to Do!
We, tropical gardeners, enter, as all of us do, the last of the year's hot months. And if you are in a temperate climate like North America, we share your expectations for cooler days to come. Our new projects make this a September to remember in the trop But also remember, while technically located on the southernmost point of North America, our garden's atmosphere bears no relationship to the rest of the continent!
September to Remember
"All the months are crude experiments

out of which the perfect September is made."

-Virginia Woolf
Our garden, located in the far Southwest of Florida, has more in common with gardens in Malaysia, the Philippines, Brazil, or Venezuela than any southern state in America! In September, we can anticipate 29 days of rain. Temperatures range from 89-78, and we feel 75% relative humidity. And, oh yes, we are fully engrossed in hurricane season!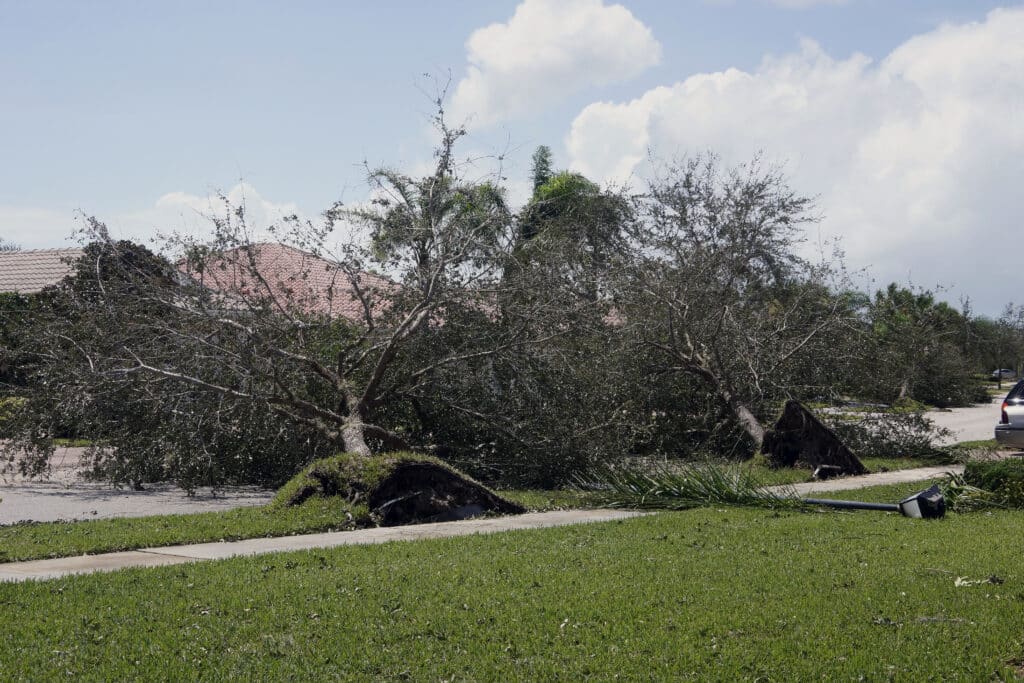 Go to the home page on this site and you can sign up for my newsletter and download my guide to gardening all year to avoid hurricane damage.
The Cool Season-Planting Charts
"life starts all over again when it gets crisp in the fall."

-F Scott Fitzgerald
But it will cool down for all of us and it's time to begin preparations for our dry season. Our garden blooms 12 months of the year, but what thrives each month can change.
Making a Memorable September Garden-How We Adapt to the Seasons
Most of our shrubs and trees adjust to our climate all year. In some cases, the plants we enjoy for most of the year will not survive our summers and we treat them as annuals. So, I will, soon, be adding back to the garden, some beautiful chervil , dill and cilantro to cook with for many months but by next summer they will be gone, and I'll be happy to have the parsley for dinner!
The varieties of vegetables, herbs, annuals we plant vary between winter and summer. See the charts published here every month to show what works for us.
"All at once summer collapsed into fall!."

-Oscar Wild
Update on September's Garden Projects
Adding New Tropical Plants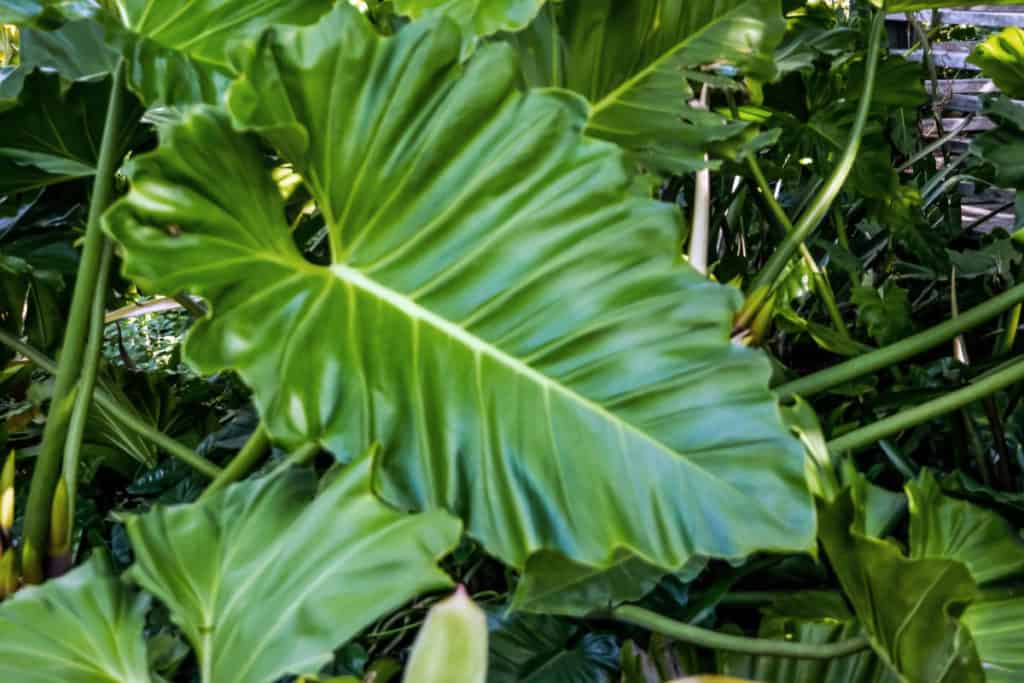 We have had a few gardens and wherever they are we try to make them memorable. Last month I ordered three small Elephant Ear plants to use in containers. The instructions from the grower in Louisiana were to give them a rest of about ten days in a shady place and then move up to larger pots. That process is well along, and we can soon mix them with other topicals in bigger pots. Their large and lush foliage will enhance the garden and hide a neighbor's visible utility item.
If you would like to raise some for outdoors in the warm weather and to bring indoors in the winter read this. "Bold Tropical Style for the Garden: Elephant Ears". I hope it helps you have as much fun with them as we do.
On planting the Elephant ears.
The Raised Bed Edible Garden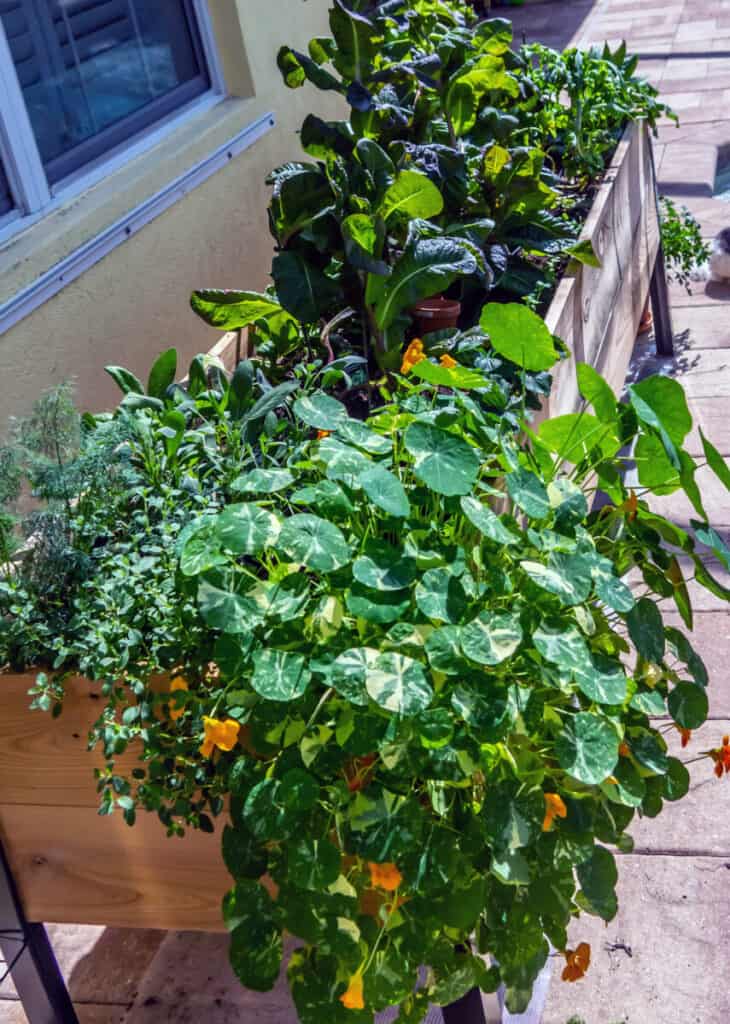 This little project has been fun and productive. The planter stands on legs, is 8′ x 2′, and is a compact way to have fruits, vegetables, and herbs near the kitchen. This summer we grew savory, strawberries, and a good variety of herbs. Most of the beautiful winter lettuce does not survive the summer but savory is always available. Last winter we added, chervil, cilantro, and two varieties of radishes.
We are adding the curved trellis top that goes with the planting bed. We will start with nasturtiums, pretty, trailing, and tasty. Instead of trailing as in the image above, we can make them climb over the planter on the arch.
Dividing Bromiliads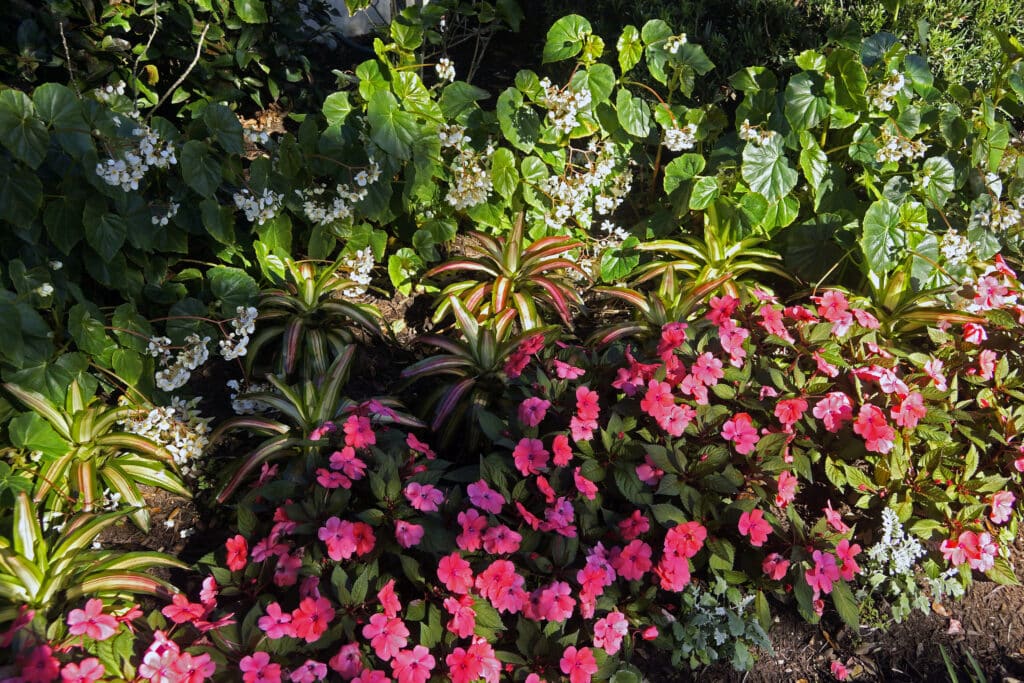 Bromeliad, Origins and Features
The bromeliad is a plant originating in tropical and subtropical South America. Note in the image above, the short stems, topped with rosettes of stiff and often spiny leaves. It has no extensive root system and is therefore easy to move. This variety is terrestrial; you can also find varieties that grow in trees. Bromeliads are popular as houseplants if you like them and live in a colder climate than ours.
Given the right conditions, bromeliads will reproduce by growing pups, new small bromeliads, from the mother plant, which eventually dies. The plants prefer bright indirect light, not the full sun, and to dry out between waterings.
Some of our plants became hidden by other growing foliage, and we repositioned them to recreate the original planting design. Many of them developed two pups, thus increasing our garden! We find them simple to care for as long as we put them in their favored surroundings, and while not inexpensive plants to buy, they turn out to be a good value in the garden.
The Other Plantings in the Bed
Begonias
At the top of the image, in white, are a caned-stemmed variety, tough and drought tolerant. They lend a shrub-like appearance, adding a little height behind the two lower plants. Begonias come in good choices of color in both flower and foliage and bloom for us all year long.
Here is more information for you. 'The Tuberous Variety of Begonia.",
Impatiens
The coral flowers in the lower edge of the image are Sunpatiens, a man-made cultivar developed from the original wild impatiens found on David Livingstone's trip to find the source of the Nile River and hopefully end the slave trade. Here is my write-up of impatiens where I try to tell that remarkable story. They perform well in our cool seasons. We add them in many colors at the very start of cool seasons and enjoy them as long as possible. When the hot, wet summer comes, we replace them with other annuals such as Vinca.
Pruning Tropical Shell Ginger (Alpinia Zerumbet)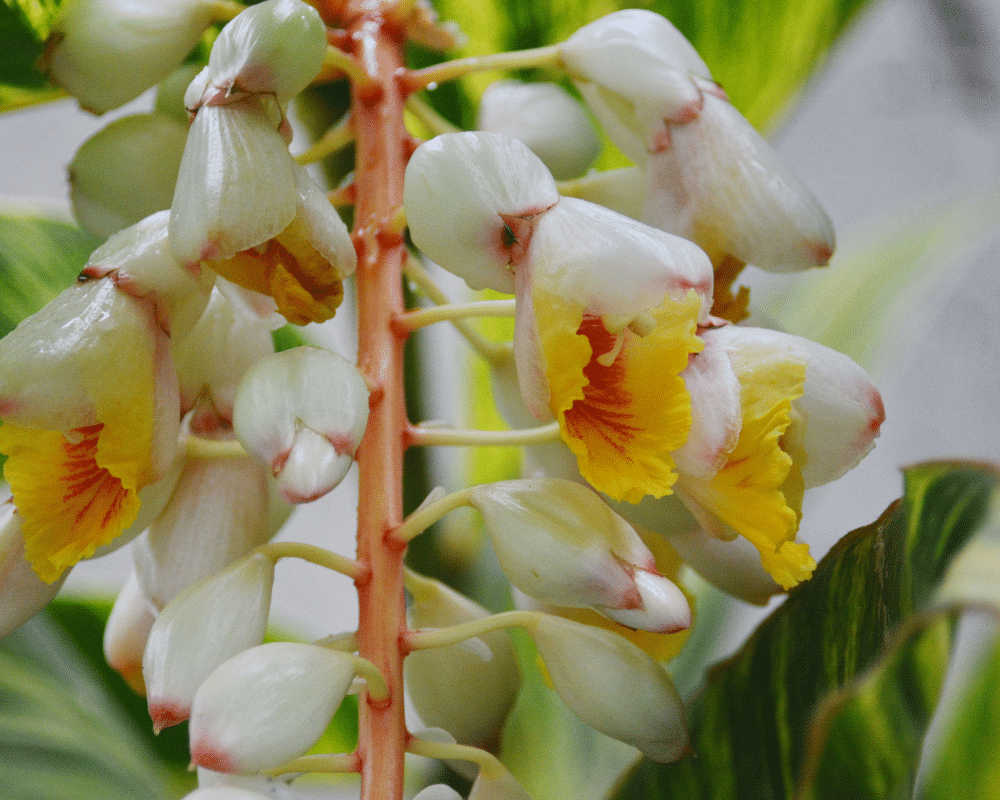 Once a tiny plant, given as a gift from a tropical plant grower, our huge shell ginger got a haircut in August. It was 8′ tall and about 4′ wide with 2′ long, narrow shiny green leaves. The blooms which appear in succession throughout the year are exceptional.
Muhlenbergia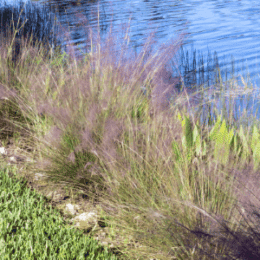 This ornamental grass is planted at the edge of our garden pond. It is called Muhlenbergia capillaries and is green all year. In fall, soon, it will begin to add plumes of magenta over the top.
The plant is not only native to Florida but also to much of the East Coast as far north as Massachusetts.
It is popular with the wading birds who find meals near it, but we planted this batch near the pond, which was damaged in the wet summer season. We'll need to raise the height of its position.
Other Pond Side Plantings
The pale green arrow-shaped foliage beyond the grass is Canna flaccida, a Florida native, canna that grows best in wet places. Its lily-like flowers are butter yellow. We have also planted a native blue iris which is a joy in the spring garden. We want more and will add them after the rainy season ends and the water level recedes.
Littoral Shelf Plantings
We love to plant along the pond edge. It adds a native planting area that beautifies the shoreline, attracts wildlife, especially wading birds, and reduces erosion.
We have long since pruned our flowering shrubs. That's because our flowering shrubs now bloom in early winter when in our northern climate gardens, they used to be dormant. Our seasons are mild and comfortable, and our environment, is lush. But we do think twice about how to define spring.
Adding More Blue Iris
The local blue iris beautifies the pondside in spring and we want to add more. They are not always easy to find, and we drive about 50 minutes to a native nursery when we need some. If you are in Florida and want to add some, try your closest native plant dealer and remember they are grown in water! Find a container where they won't damage the car.
They are Called Blue Flag Iris
There are actually two different plants that are sold under that name. Here is the difference.
Iris virginica-grows in dense clumps of light green foliage; the plant is 12′-18′ high. In spring deep blue-purple flowers with yellow appear. They are 4″ across and are highly visible.
Iris versicolor– is a taller plant with a pale lavender flower. As its hardiness zone range is 3-9, and our garden is in zone 10, we grow the former. (Hardiness zone 9, where we gardened for many years, is about 3 hours north of us.
Both plants grow in standing water or boggy areas and can be added throughout the year. We limit ourselves to planting in the cooler weather when the water level is lower. This allows the plants to be established when the heavy rains come.
Our Extra Springtime
A common criticism of life in a tropical Region is that there are "no seasons." It's true that it took us transplants a long time to recognize he changes of seasons. Color changes are subtle, not brilliant and the temperature variety is less than other regions.
"Spring is the time for plans and projects."

-Leo Tolstoy
Oddly, fall is an extra bonus as it serves us as an extra spring. Fall, as the air becomes cooler and drier, is when we plant vegetables. We grow the cool season lettuce we missed all summer. It brings the other benefits of spring, that sense of ambition, that everything is possible as long as we are diligent.
Maybe, Tolstoy was right. And we get digging..
So, as a transplanted northerner, I have learned to parse my ambitions. Not quite the old days; but I do feel the same little bit of excitement as the temperature moderates. I plant some summer annuals in September and October and duplicate a few elements of my New England mother's color garden, once planted in May!
Wildlife in the Garden
Our garden produces a lot of entertainment for us. We use a wildlife camera to learn how lively a place it really is all night long! We live on the edge of a state forest and expected to see deer stealing hibiscus blossoms but the huge paw print amid the pollinator plantings was a thrill! This little guy is a species we most often see in the late summer and this year they are back again!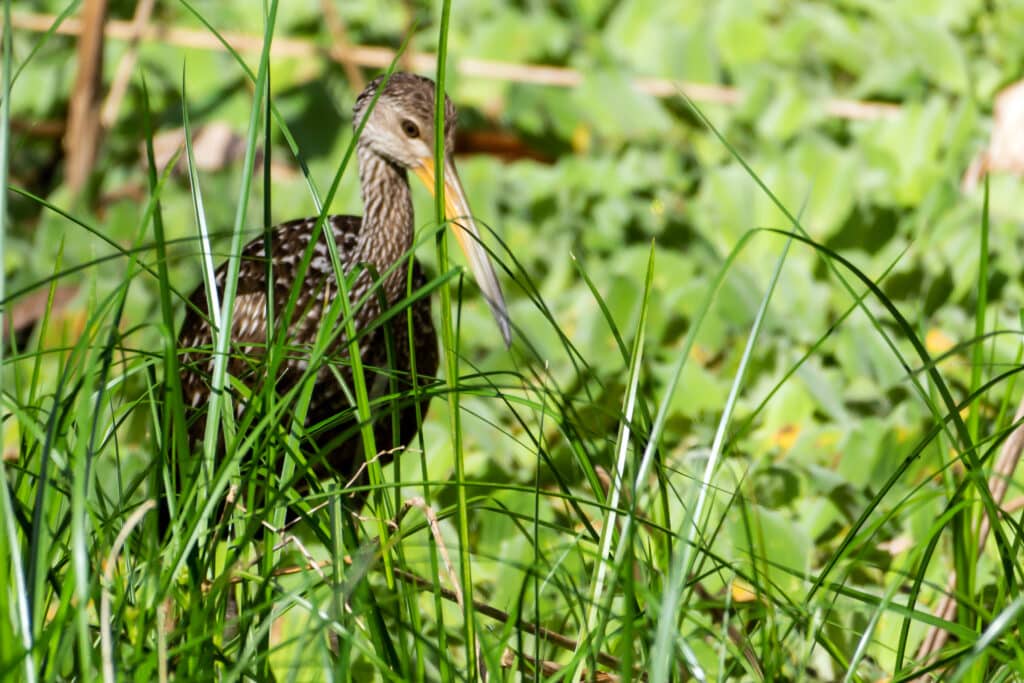 This picture is my impression of the Limpkin. A wading bird found in warm climates (as far north as South Georgia). It is thought to be related to Ibis and Spoonbill varieties. It feeds on mollusks and appears to limp when it walks. Its most endearing feature is the way it wants to have a look at you but while hoping to not be seen itself! Its characteristic cry has long been used in entertainment, having been a jungle sound in the old Tarzan movies and as a creature in Harry Potter.
This photo, my husband took in the Audubon Corkscrew Swamp Sanctuary near our garden. It is a place where you visit tropical wildlife by walking on raised wood walkways through the swamp. We do not see them on our pond, but I saw two in a nearby roadside canal today and having a good look at me through the reeds.
Mona Lavender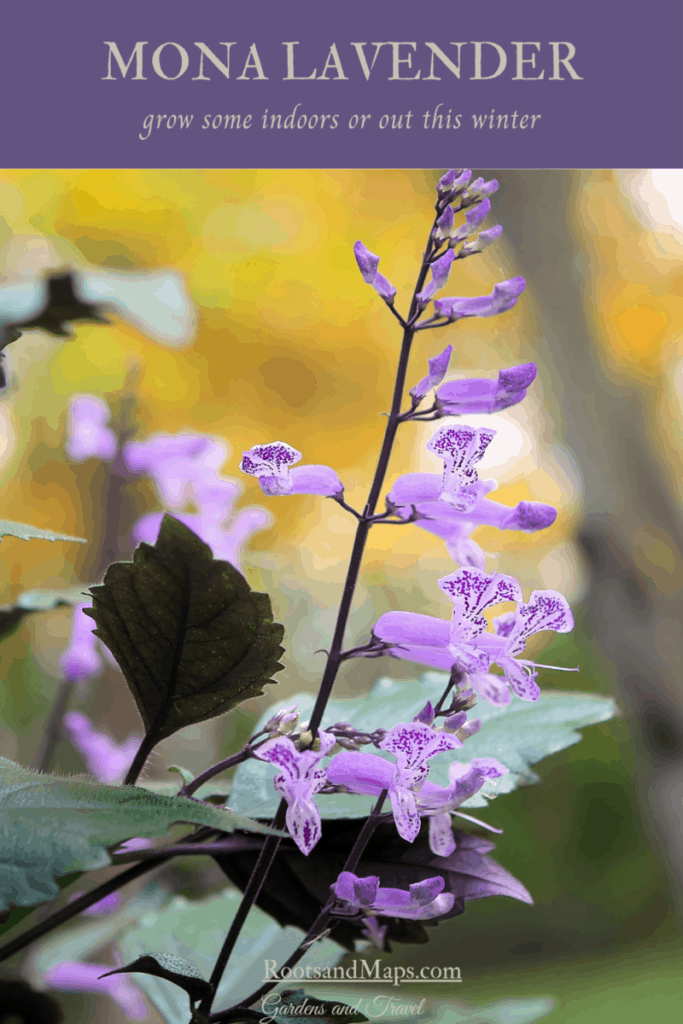 Mona Lavender is a fairly new cultivar created at the Kirstenbosch Botanical Garden in South Africa. It, like the Philippine Violet, is a cool-season bloomer, green all summer. Cold-hardy in zones 9b-10 you can also grow Mona Lavender indoors as a colorful house plant. You will enjoy the bright green leaves, with purple undersides, and long spikes of lavender flowers, that are remarkably like tubular orchids. Here is more information on Mona Lavender.
This plant provides a small purple garden outside our front porch and near some trees from gardenias. This will add more blooms for us in the next few weeks.
In The Herb Garden
We are adding to the garden for fall and winter meals. A Florida advantage is the fact that we grow herbs outdoors all year round. See the chart, below for seasonal notes on Florida herbs. For more information on growing and cooking with herbs, no matter where you are. try this article Culinary Herbs. It will describe herb gardens and link you to detailed information on specific herbs.
Your Temperate Climate Herb Garden
For information on the end-of-season herb garden and ideas for bringing fresh herb plants indoors to grow for winter use, you might like this article. What to do with the herb garden in fall.
The Raised Bed Edible Garden
I started this project next to the pool last spring. It is a small elevated bed, and pretty enough to decorate the patio. You really can lie on the lounge chairs and pick a strawberry without getting up!
We ate wonderful lettuce and spinach from this bed and the strawberries are overtaking their allotted space. I'll need to find some of them, new homes.
I think this year I will emphasize the delicious fresh greens, herbs, strawberries. It will become a salad and cocktail garden. I'll tell you how it goes!
What To Plant In September in Your South Florida Garden
| | | |
| --- | --- | --- |
| Annuals | It is time to begin to add the "winter annuals." These are often the same plants we northern transplants called the "summer annuals" in our northern gardens. Look for impatiens, alyssum, and, dianthus. (The links will take you to more details on these plants). | Annuals: http://edis.ifas.ufl.edu/topic_annual_landscape_plants |
| Bulbs | Agapanthus and Rain Lily, planted now will bloom next year. | Bulbs for Florida UF |
| Herbs | This month we will replace both annual herbs and any perennials which did not survive our sloppy summers. In our garden, dill, fennel, and cilantro seem to have the most trouble in our climate. | http://edis.ifas.ufl.edu/topic_herbs |
| Vegetables | Broccoli, beans, carrots, lettuce, peppers, radishes, also, spinach and tomato. | https://edis.ifas.ufl.edu/topic_vegetable_gardening |
South Florida Vegetable Gardening
September is an anxious month for us. We want to get started but we know it's too early. So we busy ourselves with projects. Not planting but getting ready. South Florida has a reasonable number of vegetable cooperatives and some of them have some good ideas to offer. Here are some that look interesting.
Some garden advice from a professional co-op.
This is seasonal advice from a gardening group in Miami.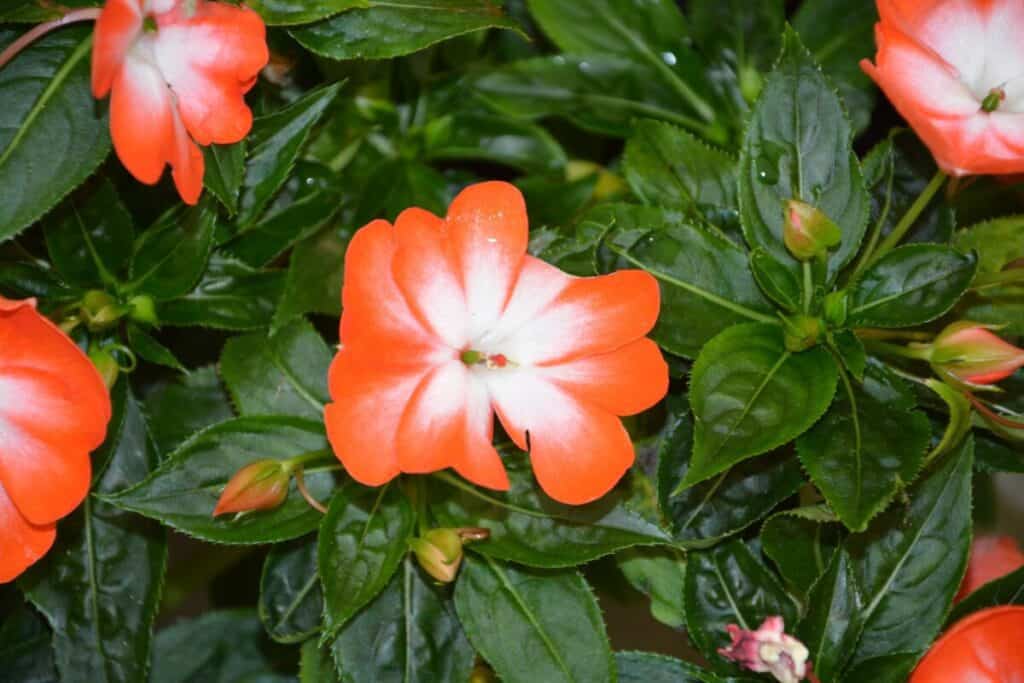 NB: I make these charts using mostly recommendations from our University of Florida research. It is our land grant agricultural university, and we Master Gardeners are trained to use it. I also add recommendations from Florida-based gardeners and garden writers I admire.
Summary,
What's fall, like around here? In the north, we anticipated autumn for the coolness, the increased moisture, and the beautiful golden light, But we mentally steeled ourselves for the cold to come.
In South Florida we certainly revel in the cool mornings (while finishing up our garden sessions in the pool) we are getting less moisture, which makes us happy right now. In a few months, we will be happy to see a little rain again. The cycle goes on. And as we say down here…"and the bugs never quit."
The light is a little softer, not the rich golden aura of a northern latitude but a subtle note. Our homes here are in a coastal community, but near to an important agricultural belt. The good, local tomatoes will be here soon! Fall is not so much a season for us; maybe a whisper.