How Extreme Weather Affects the Garden
Gardening in August-Heat, humidity, and rain! Hot, wet, and sultry, the summer months provide two-thirds of south Florida's annual rainfall. Our average daytime temperature in August is 89 degrees, it can reach 95, and our humidity makes it feel hotter. Hard rains and constant wetness make us ever alert to pests and diseases. And we expect rain for 22 days in August.
What We Plant and What Chores We Do in August
August is the peak of our summer, and it is reflected in what we plant and what chores we do. Every month I will include these two subjects in this monthly diary.
What's the Charm of this Place?
In Palm Beach, early in the 20th century, people danced in Henry Flagler's ballroom near the Atlantic ocean. At the same time, in southwest Florida, our side of the state, you took a train and then a boat along the Gulf of Mexico to a rustic hotel for the most exciting fishing on the continent. But no ballrooms… they danced on the pier, and people only came in the winter!
But now, we adjust ourselves to the elements all year round. We created raised land to live on and canals for the water. It's a design that is not so different than what the Calusa people built on the same land thousands of years ago! History does repeat itself. Oh yes, and we invented air condidtioning!
"Summer afternoon, summer afternoon; to me, those have

always been the two most beautiful words in the English language"

-Henry James
The Only Snow Shovel in Town!
In our garden tool cabinet resides the only flat snow shovel we have ever seen in Florida! It's great for leaves and garden debris, and it amuses the neighbors. We have given up shoveling snow and putting snow shoes on the horses long ago, but we are still adjusting to the elements, and summer life can be comfortable and active as long as we live with the climate.
Heat, Humidity and Rain-Gardening in August
The Heat Starts it All
If you can't stand the heat

Get out of the kitchen

-Harry S Truman
The garden is not the sort of kitchen you can walk away from, and the tropical garden never takes a season off. Growth, always rapid, is accelerated by the heat. Garden life always progresses, and the gardeners evolve ways to keep up in summer's heat. Here is how it works for us near the Tropic of Cancer.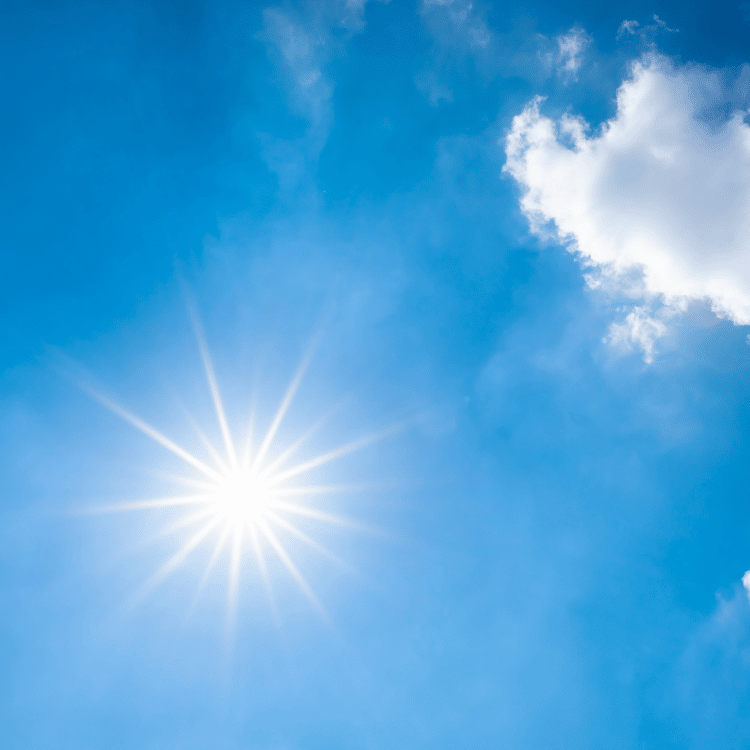 We are among the many Florida transplants from colder climates and have reached that point in life where we have been Florida gardeners longer than we have been cool climate gardeners. Adjusting to the heat is second nature, and now it's the cold days in the garden are the ones that have us scrambling for the right clothes to wear.
How to Garden in a Hot Climate
Start early. Do any heavy jobs as soon as it's light. The same heat that affects the plants applies to us too. Water before 8 am, and water deeply
.Practice sun damage prevention
Move containers to sheltered locations when hot sun or wind is anticipated
Use shade covers for sensitive plants
Then shower, swim, and make a superior breakfast; you earned it
"Sun Protection in the Garden"-what we do to prevent skin damage.
What's Humidity?
It ain't the heat,

It's the humility!

-Yogi Berra
"The relative humidity is the amount of water vapor in the air relative to the maximum amount of water vapor the air can hold at a certain temperature. Suppose the relative humidity level is 75 percent at 80° F. In that case, this means that every kilogram of the air in the respective space contains 75 percent of the maximum amount of water it can hold for the given temperature."
Humidity is the feature we love in our indoor and orchid gardens, and we try hard to create it in those environments. But long term humidity can negatively affect plants by reducing the essential function of Transpiration.
Plant Transpiration-How it Works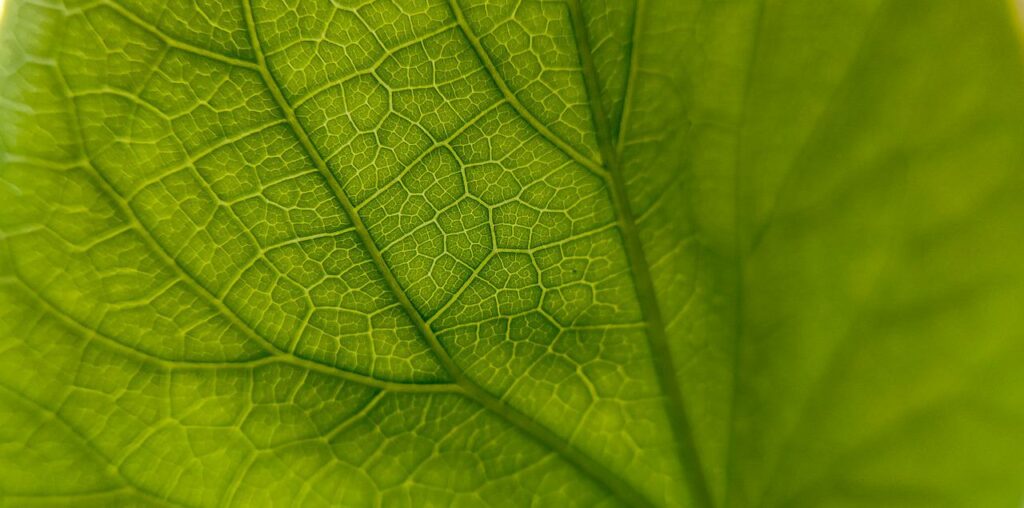 Plants absorb water by taking it up from the root system via the xylem. Plants also expel water into the atmosphere through the leaves and stems. They do this to access carbon dioxide as part of the process of photosynthesis. The plants expel water through minute pores on the leaves called stomata.
If the relative humidity is too high for too long, or the air circulation is poor, a plant cannot create evaporation and will die. This varies significantly by plant variety. It's the reason why south Florida gardeners buy lavender plants as decorative accessories. They look and smell great, but we have cut flowers that last longer!
Rain
Water is essential to life; plants cannot grow without it, but there can always be too much of a good thing. And for us, too much tends to happen in the summer.
A single gentle rain

Makes the grass grow greener

-Henry David Thoreau

Rain, It's How We Get It That Counts
Our summer lawns are magnificent, and they appreciate (and get) plenty of gentle rain. The hard part is the torrential downpours that appear almost daily. Plants are broken, roots exposed, and we move the mulch to drain the soil!
We have lots of water and extraordinary downpours in August. A sudden, heavy downpour damages delicate plants, erodes soil, and breaks roots.
The repetetive heavy rains of August (22 days about 3″ per rain deposit) produce high humidity and a steady array of damage:
Soil erosion, accompanied by washing away of nutrients
Plants can be uprooted and roots damaged
Fungal and Bacterial related diseases. One thing that tropical gardening forces us to know is the value of sterilizing tools.
Pollinators can be disturbed resulting in fewer blooms and fruits.
How to Protect Plants from Intense Rain
Plant in well-drained soil, placing most susceptible plants in raised beds or higher locations. Protect the soil with mulch and after heavy rains, remove mulch to allow the soil to dry.
Early to Rise
An early morning visit to the garden is the time to water. The soil temperature is still cool; the water can penetrate the soil, work its way to the root system, and not be lost to evaporation. Do I need to water? Sacrifice a manicure, and put a finger 2″ into the ground. If the top 2″ of the soil is dry, it's time to water. Whenever we water (or use water borne fertilizer) by 8am we are in good shape.
Good Morning Tasks
Include these chores in the cool of the morning, and you will appreciate the results.
Weed
Water and Fertilize
Cut flowers, herbs and vegetables for the kitchen
Fill birdbaths and feeders
Take cuttings for propagation
Morning Observations
Morning garden visits are the perfect opportunity to learn how healthy the garden is.
It's the best time to observe and plan. Check plants for moisture; use a trowel, a dowel, or your finger-is the soil damp down for 2″? (I am repeating myself, but it's essential.)
Check leaves for discoloration, pests, or other damage
Tropical Stars in the Garden
The tropical plants are at their peak now. All the summer features we complain about; heat, sun, humidity, or driving rain and wind suit them perfectly. They are large, shining, and blooming.
Tropical Plants for Everybody
People are learning to incorporate them into summer gardens in temperate climates. In a cold environment, you can grow many of these as summer annuals or take them indoors for the winter. Here are discussions of two plants you can use in cool climates. The first is Tropical Hibiscus, and the second is large-leafed Elephant Ears. In the case of the Hibiscus, you can plant it in a container that can come indoors. The Elephant Ears can go indoors, or you can cut it back and bring the bulb inside to replant next spring. Find out more in two series on this site.
Mussaenda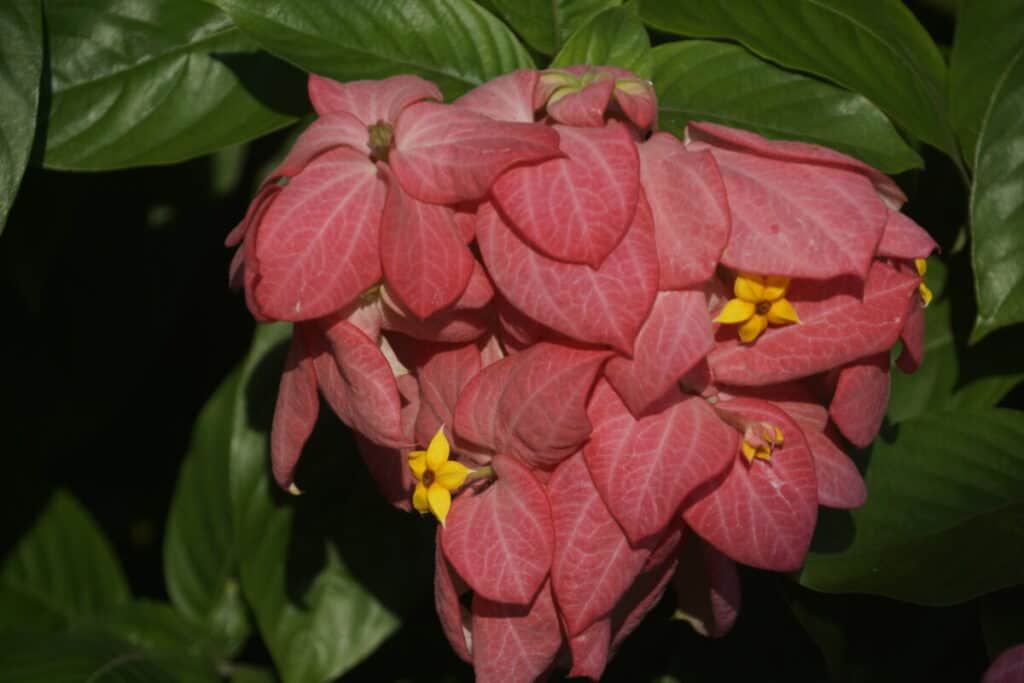 This bushy tropical shrub is in bloom right now. There are two in the garden to the rear of the pool. The photo is Mussaenda erythropylla, The Philippine hybrid " Dona Luz." They are prized for the large, showy bracts. (The flowers are tiny and in the middle of the bracts.) I discovered that all of the cultivars of this colorful plant are named for First Ladies of the Philippines. This one gets to about 10′ and has a lovely salmon-pink color. You can grow it in a pot and that will keep the size to about 3′.
The second, newer and much smaller, is a pale yellow. We think that it is Mussaenda phillipheene. They are all hardy in zones 9-11.
Plumeria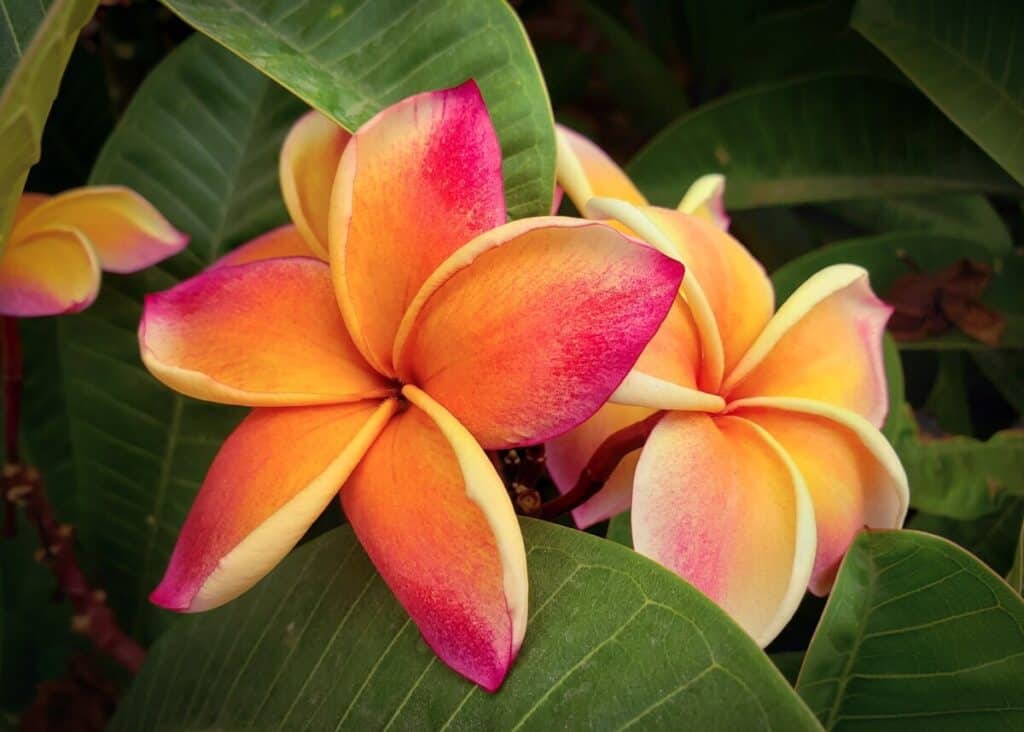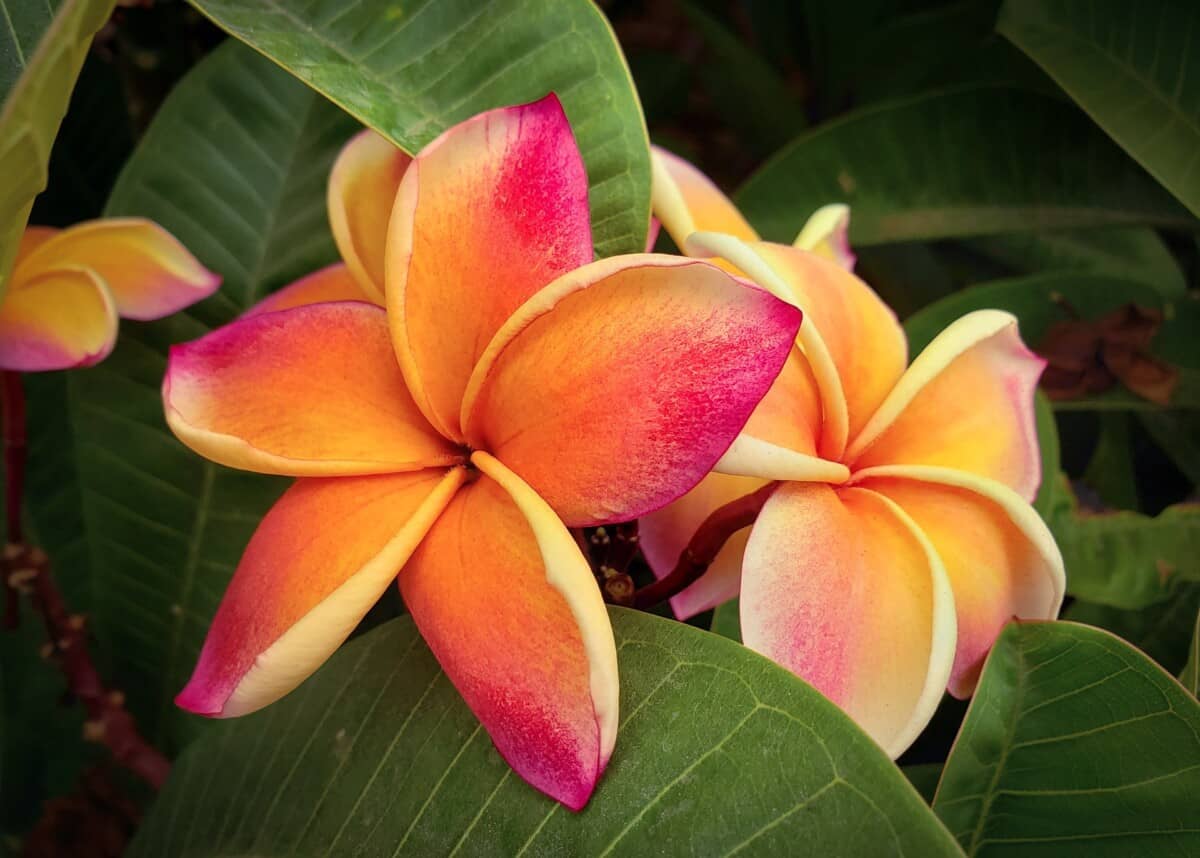 Plumeria (Frangipani) is native to the Caribbean and Central America. We associate them with someone putting a lei around your neck when you get to your Hawaiian resort, but they did not reach the islands until the 19th century. They grow perfectly in the warmer regions of Florida, where we start them from bits of stem about a foot long. We now have three trees in the backyard all started that way.
Plumeria in Hawaii
The Hawaiians call plumeria Melia, and they grow it in a wide variety and have done so since 1860 when the German biologist Dr. William Hillebrand brought it to the islands. I remember reading James Michener's "Hawaii," in which he said that the islands were not always as full of flowers as they are now, but incoming people brought floral plants, thinking they would be successful. And they were!
Plumeria is cold-sensitive, and hardy in zones 9-11. They flower in many beautiful colors. In a colder climate, you can bring your plumeria indoors for the winter. This website Plumeria Care has a useful report on caring for plumeria by the season, read it for more winter care information.
Our town is home to a large botanical garden (about 175 acres), which, in turn, is home to the national collection of plumeria. If you visit our resorts in winter, it is well worth a walkthrough—Plumeria at Naples Botanical Garden.
Plumeria Propagation
Here is how we use cuttings from the trimmings we take in winter to start new plants. We cut the stems into pieces about 1′ long. Then cut off all the leaves, leaving a stick looking like a giant cigar. It rests outdoors, in the humidity, lying flat to dry. In about ten days totwo weeksk,s the cut end has produced a callus and can be planted. (Make sure it develops acallotherwisee,e the stem will rot.) We use potting soil with suitable drainage (some gardeners love sand) and old nursery pots. The plants start to root in about two months and we plant them in the garden or give them to friends.
We like the way they look partially hidden by some sizeable flowering ginger plants. This reveals the beautiful leaves and flowers, hides the stick-like parts, and protects them in storm season.
The Herb Garden
This is the slow season for the herb garden in our small yard and hot climate herb garden. The various mint plants are healthy, also parsley and sage. Basil is thriving, and rosemary never falters. I like to cook with both types of chive, garlic, and onion, and they seem always to be unaffected by the humid summer. The beautiful dill plants have gone to seed. In our subtropical climate, herbs do well in pots and spend time in the filtered shade of a three-trunked palm.
In August, Gardening for Pollinators
It started with butterflies, then honey bees from a local beekeeper showed up. This led to hummingbirds, always great fun to watch, but you need to be quick!
We learned, wherever we lived and gardened, that if we plant a small area of flowers that are serious pollinator attractors, the butterflies come to them and then stay for the entire garden. My point is that you do not need to revamp your garden for pollinators. Just make them a little "dessert buffet" of pollen-rich flowers, and you will have them all around you. It's fun; try it.
This article is about making a pollinator garden, "A Garden With A Bonus," the second is for people without much space "Plant a Garden To Attract Butterflies In A Pot." They will help you with both nectar and host plants. Remember that the butterflies come for nectar but the will only stay in places with specific host plants for their offspring.
What We Plant in August in South Florida
What Chores We Do in August
August Garden Projects-Tropical Style
This month we have a project to enhance the tropical elements in the garden. Tropical gardens are characterized by their dense layers. High to low, the gardens are layered with shade trees and understory plantings. Horizontally, the gardens are also layered to create dense levels of beauty. We appreciate plants that add to the lush tropical feel and privacy in our small garden.
Tropical gardens are uniquely positioned to create the feeling that we are isolated in a vacation resort, and we like to play up that idea in our garden. Our south Florida subdivisions are comfortable but the houses are close together. The dense levels we are building provide a comfortable sense of quiet and privacy. This month we'll add three examples of a lush tropical plant, "Elephant Ears," a colocasia famous for its vast drooping foliage.
Plants of the Tropics: Alocasia, Colocasia, and Xanthosoma?
Elephant Ears are plants we value for their strong foliage. From their origins in tropical environments, they provide a beautiful shady appearance, and one variety, taro, is an essential food source. If you ever had poi with your roast in Hawaii, you have eaten taro!
Members of the Aracaceae family, elephant ears, are in a group that contains caladiums and has about 140 genera and about 3750 species. Three main categories are:
Alocasia-this broad leaved plant prefers light shade and the "ear" like leaf points upward.
Colocasia-this one prefers more sun and wet conditions and the leaf is the most "elephant like" as it points downward.
Xanthosoma-are native to tropical America but are utilized in other tropical locations. The leaves are arrowhead shaped. It is popular as a house plant and many varieties sport white veins with dark green surrounds.
The elephant ears we are discussing today are colocasia. I(n our climate, both colocasia, and Xanthosoma can be invasive, and they will be container plants only for us!) We are interested in a group of cultivars developed by the University of Hawaii and called the "Royal Hawaiian" group. My research suggests they should be disease resistant and beautiful with original features.
Something in Black?
We have a tiny bit of equipment we would like to disguise, and a good solution would be a pot with something both good-looking and dense. This is the reason I thought of the elephant earsI
Royal Hawaiian Colocasia Cultivars
This series of cultivars offer unusual choices of color with accented petioles and leaf veins. (If you remember binomial nomenclature, a cultivar is an intentionally created variety.) It does not exist in nature. We made it because we needed certain features.
This group of plants is designed for disease resistance, fabulous leaves, and stem color. They are grown for use in the ground and containers. Mine will arrive shortly, and the 'proof will be in the pudding' as grandma said!
Colocasia esculenta 'Black Coral"
This plant has true black, dramatic glossy foliage. (Pair it with any color you would like to wear with black.) In our area, we only use them in containers, like mint, where they cannot spread. Black Coral, has a neat growing habit, is medium in size and offers black foliage with blue veins.
Colocasia esculenta 'White Lava'
A showpiece, shiny purple stems, green leaves with a radiating white splash down the center and topped with a purple dot where the leaf joins the stem. Use white lava; in zones 7b-11, it grows densely and does not demand excess real estate, a good point if space is tight!
It is a medium sized plant maturing at 48″h and 36″w.
Colocasia esculenta 'Aloha"
This one offers two shades of green, a glossy deep green leaf with pastel green veins running through it. Grow it in zone 7b-11 and in full sun.
Hurricane Preparation
Hurricane preparation, in a climate with real hurricanes, is an all year process. We plant trees in groups, we select hurricane resistant varieties. This link will take you to a variety of research items from the University of FLorids regarding hurricane resistant trees. The University of Florida is a major center for hurricane research in the U.S.
" Hurricane Proof Your Florida Yard and Garden," reflects what we have learned to keep our own garden safe.
Summary
Late summer is a beautiful time in the garden, but all of us gardeners know we can be challenged by heat, humidity, and rain. As our garden is located in North America's warmest climate I felt our experience might be useful. (And unlike the stories we Floridians write in the winter when you are all shoveling snow, it does not sound like bragging!) Also, we all know that our gardens need regular attention, so we will be following the early to rise rules and keep going.
September will start the slow change to our high growth winter season. September will remain warm and take us into more stormy weather.
What are you doing in the garden to survive the "dog days"?
Here is how to reach me, I would love to know what you do in the summer garden.