What do I Mean by Beautiful?
We drove into the Maui mountains to visit a Vinyard and have elk burgers for lunch at Ulupalakua Ranch. Stopping the car, we looked left, up the mountain; horses and cattle were grazing in sloping green fields surrounded by New England stone walls. They were shaded by brilliant purple Jacaranda trees, some 70 feet tall.
We looked right, down the mountain, and the green space sloped down to a turquoise cove filled with Surfers! You don't see that every day!
Its various regions are very different as to climate, opportunities, activities, cuisine -everything!
Yes, It is Expensive
CNBC ranks the most expensive states to live in in the USA, and Hawaii ranks first. They grow their own coffee and it's still $8.20 a pound! Source.
How to Fully Enjoy Your Trip to Maui
The point I would most like to make is that Maui can be a truly unforgettable experience, and you do want to plan it well.
Understanding the Island
If we break the place into its component parts, it will be much easier to focus on the features important to you. In Maui, there are six reasonably distinct regions. These are:
North
South
East
West
Central
"Upcountry"
Here They Are: We will start with the Central region because that is where most of the flights will land.
Central Maui
Landing at Kahului Airport is your first indication that this is your tropical vacation. It is a small, indoor-outdoor facility that makes you look for the surf. The major rental car companies are conveniently located at the airport.
This is where most business gets done and where the big box stores are located. You will notice a shrewdly positioned Costco near the airport. If your group is renting a condo, stopping here can be a very good idea. You can grab the keys and have a swim, knowing that dinner is in the fridge.
Renting a Car
On this island, having a car is a very good idea. There are cabs, Uber and Lyft, and tour companies. Public transportation is spotty, and the available options can be expensive.
What is Driving Like?
There are high mountains and deep valleys. In a few places, the roads are not in the best repair, and GPS in the countryside is just a suggestion. The locals are laid-back and courteous drivers, however. We had no trouble and appreciated the freedom to explore as we wished.
If including a long trip such as the "road to Hana" or sunrise on Mt Haleakala and you don't want to drive that trip, there are tour vans. I will include some links at the end.
Hawaii is a no-fault state. You might check your insurance coverage.
The Hawaiian Language
Knowing a little of the language is a nice key to the Hawaiian soul. There is a link to a meaning and pronunciation chart at the end of this article. "Nanea ia ia." (Enjoy it!)
The South Region
If your focus is a beachfront vacation, this area has advantages. South and West Maui have the warmest and driest climate, and of the two, the south is the driest. There are two popular sections here. This is about 30 minutes from the airport.
Kihei
Here are beautiful beaches, watersports, and golf. It is an area of resorts and rentable condos. It is family-oriented and slightly lower in cost than the next area, Wailea. There will be plenty of shopping, restaurants, and entertainment.
Wailea
Here also is the prime weather, beaches, and luxury resorts. The most famous of these are The Four Seasons and The Grand Wailea. You should find plenty of sports, and tours and expect to sample Hawaiian Regional Cuisine.
The West Region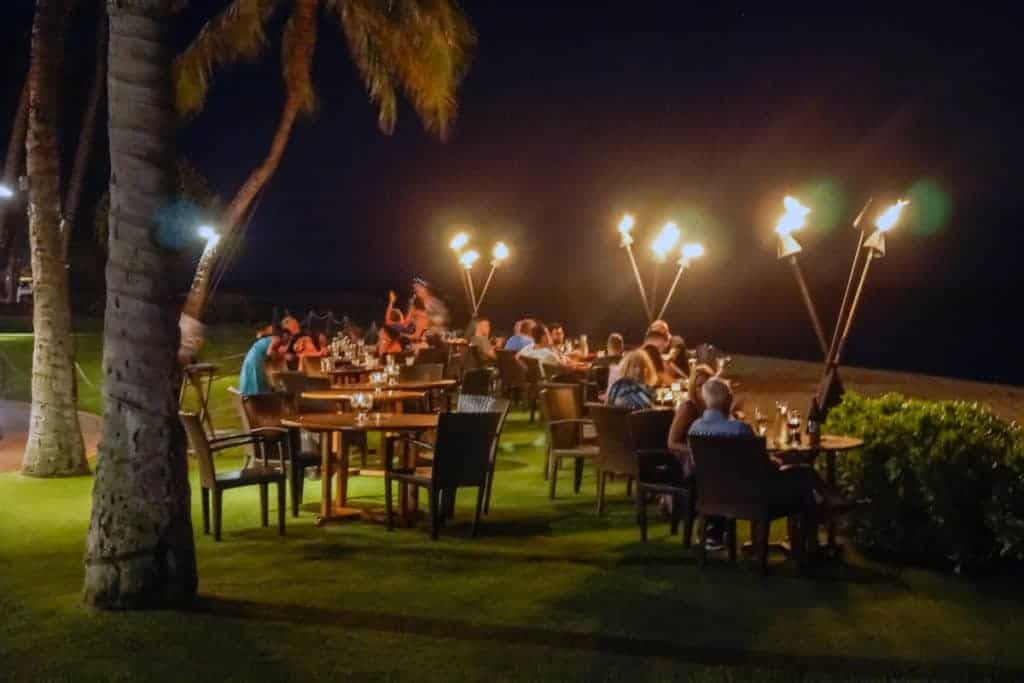 Kaanapali Beach is the first of the master-planned resort communities and is used as a model for similar developments worldwide. We stayed here and enjoyed it. Our hotel was comfortable, attractive, and centrally located.
Our favorite element was the fact that all of the 11 hotel and condominium complexes were placed along a single beachside walkway. You just pick out what you want to do that evening and stroll to it. Our long beachfront included Black Rock, a leading snorkeling spot and home to the evening cliff divers. Expect driving time to your resort from the hotel to be 30-45 minutes.
Honolua Bay
We traveled north, through beautiful mountains, one day in search of a beach with coral reefs and superior snorkeling. It turned out cold and rainy.
In one of those odd episodes of serendipity that happen on trips, our planned adventure became a big surprise. Bayfront, is the Kapalua Resort. With huge rocks, crashing waves, and tall evergreens, it seemed to take us to Bar Harbor on the coast of Maine.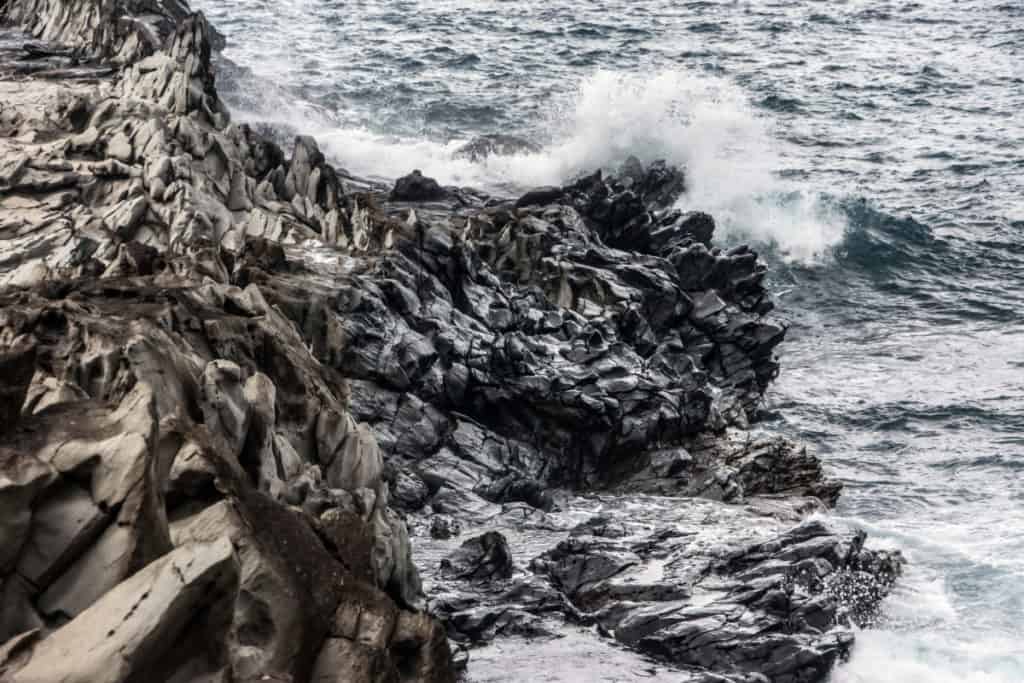 This is an active resort with PGA events, cultural activities, and a food and wine festival and wellness weekend. Merriman's Restaurant overlooks the bay. Peter Merriman was one of the original founders of the "Hawaiian Regional Cuisine" in the 90's. This movement changed the taste of what you eat in Hawaii for the better. It is a cohesive, very local way to think of food in the islands and incorporates all of the food cultures of its immigrants.
Lahaina
This town, 3 miles from Kaanapali beach, was once the most important whaling and shipping town in the Pacific. You might as well go-everybody else did!
Mark Twain loved this place, and so did Jack London, Herman Melville, and Robert Louis Stevenson. Later, General Patton came here on his way 'upcountry' to play polo and party.
1500 sailors from 400 whaling and trading ships came too. The townspeople built a fort to drive them away, but it failed, so they turned it into a jail to lock them up. I don't think any of this worked, and it remains a party town today, and includes some quite nice local food.
Its old wooden buildings along waterside Front Street reflect the New England style of the missionaries who built them. They are now a backdrop to entertainment. A lot of the boat trips you may want to go on start here.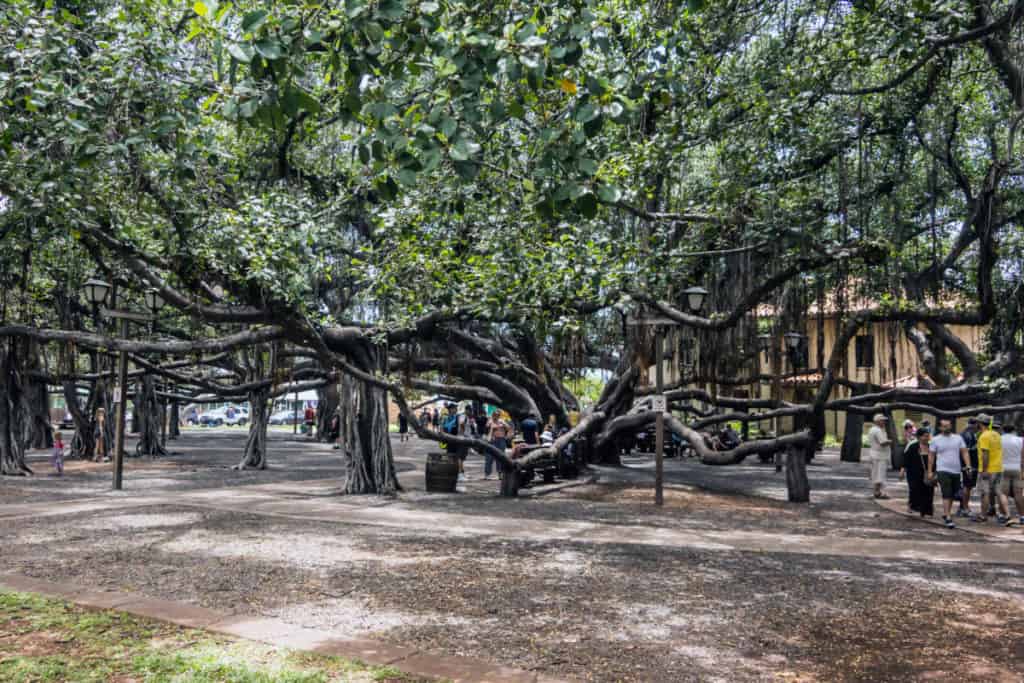 Lahaina Town Atmosphere
It is touristy, with snacks, souvenirs, and more message t-shirts than you can ever wear! In many ways, Lahaina is a typical beach town on a busy day. But don't let this fool you. History and the fascinating people who made this town are all around you. Hawaii was a Kingdom once, and between 1820 and 1845, Lahaina was its Buckingham Palace. You need to be observant to get the most out of this town.
Wear A Hat!
It's good to learn a few Hawaiian words. The sun is bright in Lahaina, and the name means 'the cruel sun' in Hawaiian.
The Banyan Tree
Don't miss the Banyan tree, planted in 1873; it now covers over half an acre. Imported from India, it is a good example of the fact that you did not come to Hawaii empty-handed. The range of things imported to the island is amazing. People buy meals and snacks to eat under its shade. It is in front of the Courthouse and right on the harbor. It's a great place to cool down and even attend an art show. If you don't meet interesting people to talk to while you rest, you are not trying.
Save This little Walking Tour
Here is a little walking tour of the historic parts of Lahaina. You can incorporate it into your day in town while you have lunch and go shopping. Do not miss the historic Pioneer Inn at 658 Wharf Street, a classic late 19th-century country-style hotel. Any place that entertained Spencer Tracy, Jackie Kennedy, and Frank Sinatra must have stories to tell!
The North Shore
Did you ever wonder what happened to the old hippies? Well, they are all fine, thank you. They live on a gorgeous, wild coast with surfers, cowboys, native Hawaiians, music celebrities, and farmers.
Expect beautiful surfing beaches, farm-fresh products, and attractive small towns. This part of the island is less developed, less crowded, and has cooler days than other areas. One beach is called "Jaws Beach," a reminder to be safe in the water. The Hawaiians say, "Never turn your back to the sea," and they mean it!
Paia Town
Visiting this town is a good way to get a feel for the North Shore. Is it a beach town, or is it a cow town? That is the fun of it. It's got wooden buildings that look like a set from an old western, shopping, good food, and a Buddist Temple blessed by the Dali Lama.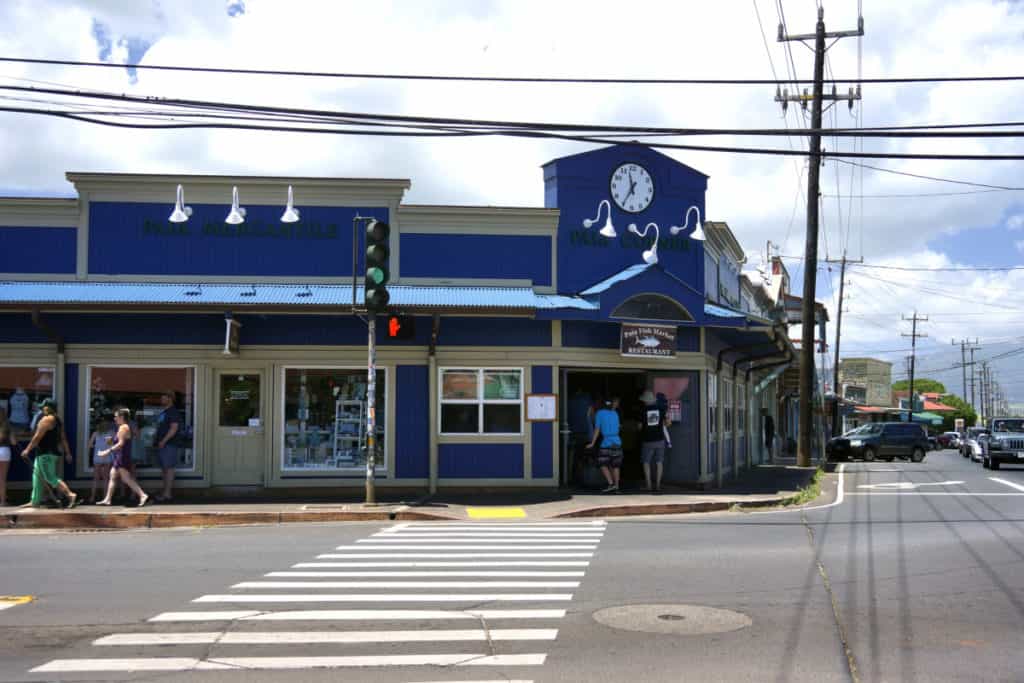 Paia Fish Market
We had two lunches here. This is fresh fish in a casual setting at big communal tables. Try to come early; big lines do form. They take no reservations, check the hours for the day you go. They should be open from 11-to 9 or 9:30. Here is their website. We would go back.
The East Region
The Road to Hana
The road starts on the north shore and culminates at Hana on the east coast, the last of the old Hawaiian rural towns. Many people consider it a highlight of the vacation. If we return, we would like to visit and stay over. Most drivers return the same way- there is an unpaved southern route, but most rental car companies will not allow it.
We did not choose the trip primarily because our " bucket list" was very long. The Hana Highway is 52 miles long, has 620 switchbacks and curves, and crosses 59 one-way bridges. There are lots of sights along the way. It takes 2-4 hours each way, depending on sightseeing and traffic. The locals call it "Divorce Highway."
Last But Not Least-'Upcountry'
Lavender, goat cheese, coffee, pastry, cowboys, rum, wine, vodka! Do you get the message?
'Upcountry' is a loosely defined, large space in the center of the island. It's a cornucopia. Think of it more as a state of mind than defined geography. How do you know you are there? When the other cars on the road start to disappear and are replaced by pickup trucks with gun racks and bumper stickers saying "Upcountry,"-you're there.
The territory consists of preserved lands, Mt. Haleakala, an extinct volcano where you look down on clouds, and vast areas of ranchland.
Mount Haleakala
The name is said to mean 'House of the Sun'. In Hawaiian mythology as the story goes, the god Maui, climbed the mountain to lasso the sun and lengthen the days. (Growing up in northeastern winters, I think I know what he was thinking!)
You can drive to the summit of the mountain; it is the only place in the world where you can travel from sea level to 10,023 feet high at the summit and only travel 37 miles! It's chilly up here; and you reach it via a twisty two-lane highway; lots of switchbacks. Sunrise views are by appointment only and take place between 3 and 7 am. This is the website for Mount Haleakala National Park. Chilly in the daytime is quite cold in the dark you will leave your accommodations about 2 hours before sunrise! You will find tours with drivers to take you to both places. You don't need to drive if you don't want to.
We took these photos from the summit in the day time. Esperiencing sunrise (or sunset) on the summit, like the road to Hana are events to plan ahead for. You will give up something else on Maui and we chose not to do those two events. I think that the Mt Hakeakala park and the road to Hana are each two day trips Read some other experiences and decide for yourself. If you decide to do Sunrise or Hana plan ahead before you travel.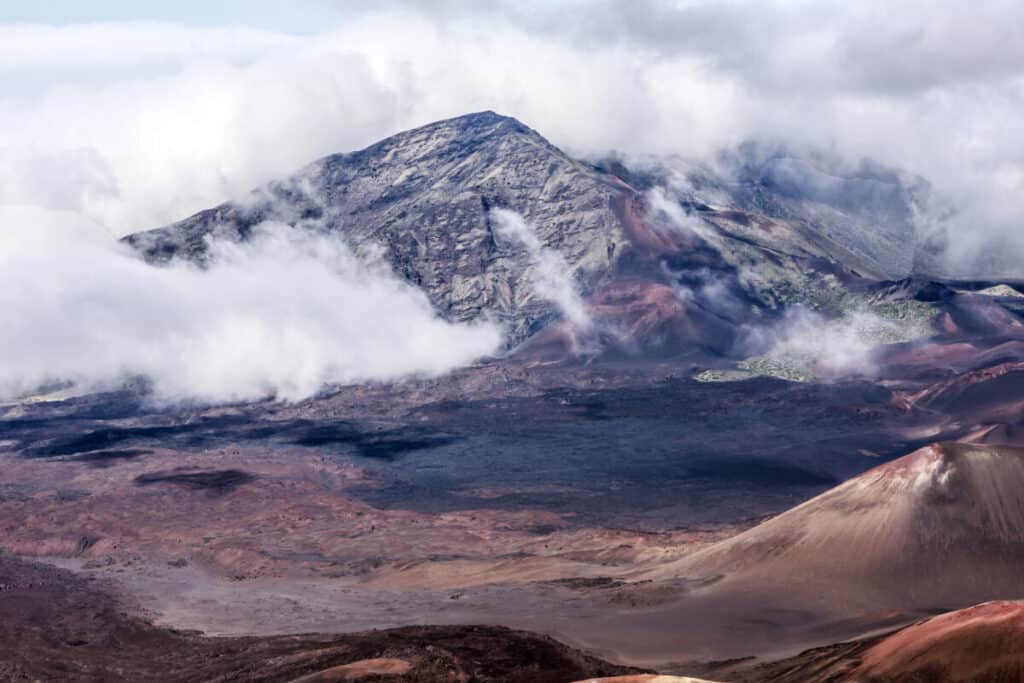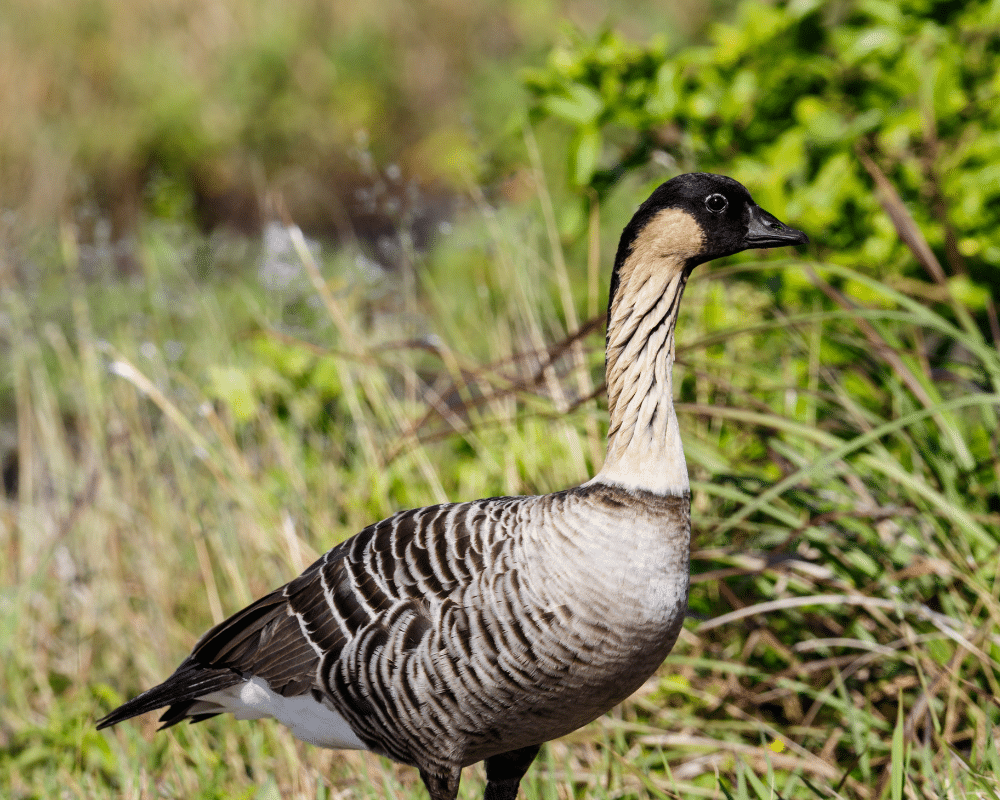 If you visit the park, look out for the Nene, the endangered Hawaiian goose. Probably sharing a common ancestor with the Canadian goose; they mate for life and raise their goslings together. Medium in size, it is the world's rarest goose. They are much loved on the islands. The name in Hawaiian means 'Cherish.'
Ulupalakua Ranch
This is a welcoming place with an operating winery and tasting room. They offer a general store that serves a casual but unique lunch of burgers from the ranch. Here is the ranch website. Note the moving cattle on the front page and information about the store and grill. Tour the winery where great stories are told and remember that some of the people who came here before you made world history. It does not take a lot of imagination to know this is a special place.
Upcountry Towns
Pukalani
This means gateway to heaven and is the largest of the laid-back country towns. The vibe is a lot more Waylon and a lot less Taylor. It has shopping, restaurants, and a golf course. It has the air of the countryside, but with 8,000 residents and many restaurants worth visiting, it is the biggest town "upcountry." Don't forget that at an elevation of 1526 ft.; it will be cooler than the beach towns you are likely staying at.
Makawao
This is a Paniolo town (Hawaiian cowboy). It is the home of the big Rodeo on the 4th of July. It is also the home of the T.Komodo bakery, a place so popular that the pastry sells out by mid-morning. It has a renowned 4th of July parade. The rodeo has been going on for 50 years, and the bakery has been a central location since its founding in 1916 by an immigrant plantation worker.
Kula
A garden area, Kula, is quiet and rustic; it has handmade cheeses, sweet Maui onions, lavender, coffee, and orchids. Taste anything grown here, and you will understand the gift that rich volcanic soil is to Maui.
What Activities Would You Like?
There are opportunities for hiking, visiting waterfalls, bamboo forests, ziplining, and a lot of water sports.
Some activities are seasonal.
Whale Watching
Maui is a prime location to see whales. The Pacific Humpbacked Whale migrates north to south in the winter. Prime months are from mid-December to January or February.
Maui has areas of relatively warm water, which the whales love. For the tour boats, look for features such as a Certified Naturalist or researcher on board. The boats usually go out in the mornings for about 3 hours and usually include lunch. They carry hydrophones on board so you can hear the whale song.
Polo
Polo is a popular sport on Maui. There are two seasons a year, spring and fall. It is a fast, exciting game and a great excuse to spend a day "Upcountry" for $10.00!
Eating on Maui
With reasonable preparation, you should eat interesting, healthy, and tasty food. Hawaii has historically imported most of its food. It is cheaper to bring in food than to import the gas for the tractors and other things the farmers need.
Starting in the '90s a small group of local chefs decided that Hawaii could have its own class of cuisine. Think about the possibilities. People migrated, in large numbers, to Maui to work on farms and ranches. The cuisines they brought with them are incorporated in Hawaiian Regional Cuisine. You will eat flavors from China, Japan, the Philippines, as well as Portugal and other European cuisines.
Planning Your Visit: Here are some Resources to Use.
Pride of Maui: This is a tour company with useful information on its website.
Maui Guide Book: Hawaiian Pronunciation Guide and Local information.
USA Today: How Long Does it Take to drive the Hana Highway
A book about the Chefs who Developed Hawaiian Regional Cuisine. "Hawaiian Regional Cuisine-the Food Movement that Changed the Way Hawaii Eats".
"Mama's Fish House, A Memorable Meal"
"See the Olowalu Petroglyphs".