Update: New Sunscreen Regulations Take Effect
Update: Using Sunscreen in Hawaii, Starting January 1. 2021
Effective January 1. 2021, Hawaii will no longer permit the sale of sunscreens containing these ingredients.
This is a decision made by the state to avoid the continued damage to coral reefs.
The next scheduled change to take place will be on January 1, 2023, when those formulations will not be allowed to be used at all in Hawaii.
Hawaii is not the only jurisdiction to enact such regulations to protect the reefs and marine life.
Aruba, The Marshall Islands, the US Virgin Islands, Palau, and the city of Key West Fl have taken similar actions.
Currently, the favored sunscreen ingredients are the following:
Zinc Oxide
Titanium Dioxide
This appears to be based on the FDA ruling that only these two ingredients (which create physical barriers between skin and sun) belong in its Category 1, "generally regarded as safe."
Why is this an issue? Here is a story I read online. A guy said that he loved to eat fish at a certain restaurant in the Bahamas because of the coconut flavoring in the fish. Someone asked the chef, "What do you flavor the fish with?"
He said, " Oh, I only use salt!"
This will take you to more information regarding the legal changes and the places already involved.
Why You Want to Snorkel on Maui
It depends on taste and schedule, but we love the freedom of taking off and hitting the water when conditions are right. If it's cool or rough, there are plenty of other things to do. We have done this on many islands, and it works for us. Maui has more good snorkeling spots than you need, and with a little preparation, they are easy to find.
Maui is a place to see! Conde Nast Traveler Magazine named it "Best Island in the World" for ten years. Travel and Leisure ranked it"The World's Best Island" for five years!
It offers 120 miles of coast to enjoy, with 30 miles of beach. It is Hawaii's second-largest island but retains its rustic, laid-back charm. The island is isolated, 2400 miles from California, the nearest landmass. Its lifestyle, interests, sports, and activities reflect this unique position in the world.
If Maui has a favorite activity ( and we exclude making unusual food products out of Spam)- it is most likely snorkeling. It is a sport almost anyone can do, it allows us to see things we will never find on dry land, and Maui offers endless opportunities to do it.
What to Know
First, Understand the Weather
Life on Maui depends on the Tradewinds. A little understanding of how they work is a useful and safe idea.
Maui is located between the equator and 30 north. The rotation of the earth causes Trade Winds to form. These are winds blowing almost constantly toward the equator from the northeast.
The Trade Winds blow in a relatively constant fashion throughout the summer, from April to October. This means steady winds in this period for snorkeling trips on sailboats.
Kona Winds are the less steady winds that blow in winter months. They are lighter and can bring periods of haze. The wind situation will affect where the boats can take you to snorkel.
Windward and Leeward?
The winds create two major environments on the island; the Windward side (from which the wind blows) is north and east. The Leeward side (the side sheltered from the winds) is west and south. Think of the island as divided diagonally from upper left to lower right.
A Land of Microclimates
The winds result in an extreme degree of microclimates. For example, Kapalua has 30″ of annual rain. It is cool and green. Lahaina has 10″ per year. It can be hot. These towns are only 9 miles apart! You can be in heavy rain and move one mile, and it's hot and dry.
Maui can have Huge Waves and No Wind!
How does that work? Waves off Maui are formed by winds thousands of miles away. You will see no signs of wind, drive around a bend, and there will be huge waves.
Snorkeling is not surfing. We want to glide along and see the coral and the fish clearly. As a rule of thumb, the south shore will have bigger waves in the summer, and the north will have them in the winter.
How to know when conditions are safe?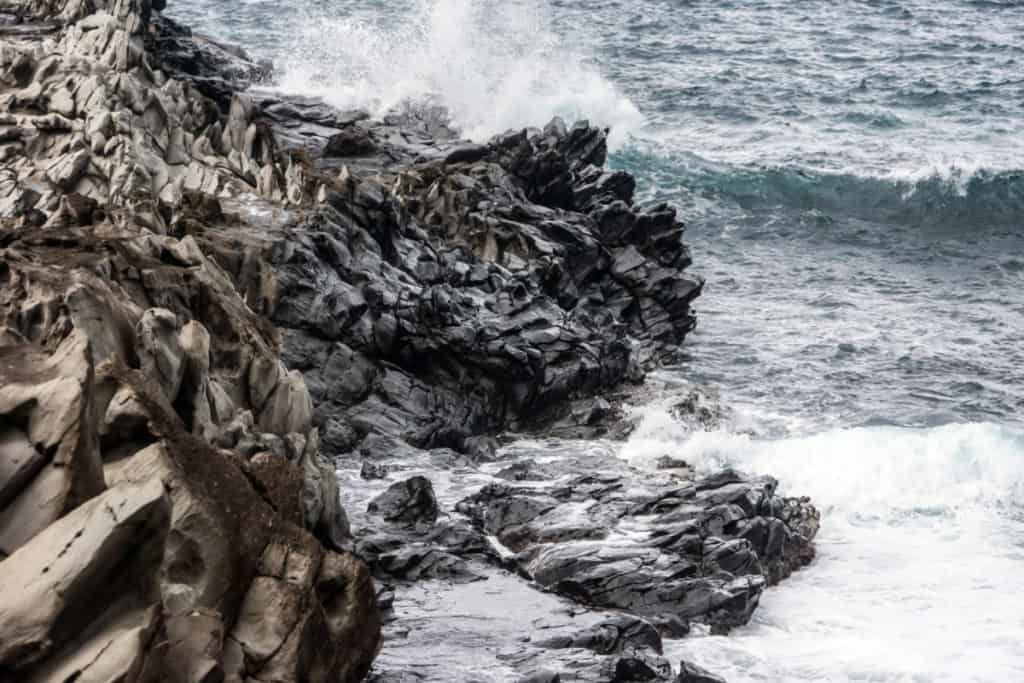 Check Hawaii Weather Today and NOAA. These should be trustworthy sources. The companies providing snorkeling trips and the equipment rental companies seem to do a good job of keeping up with weather trends also. Hotels, particularly those that provide snorkeling equipment, tend to keep aware.
The Best General Advice We Were Given
The Maui beaches are great places for snorkeling. It is an opportunity to be spontaneous.
Prime Daily Snorkeling Time
Primetime for fish and clear water is about 10 am-2 pm. The morning has the least wind. We like to be in the water by 10. It is warm and quiet, and the crowds have not arrived. Staying at a waterfront location, we just walked to good snorkeling. This should give you the most opportunity to see fish with the least effort. In April, we snorkeled every fair day and still had time for a great variety of activities.
Only Snorkle in Clear Water
After heavy rain, the water can be murky. This is not the time to enter the water. Visibility will be poor. This is an agricultural island, and fertilizer drains down, particularly near rivers. Bacteria forms in these cases. The debris which flows after rain can attract sharks. This is a day for shopping, eating, and sightseeing.
What about Sharks
Not so much. 150 people worldwide are killed by falling coconuts each year! Napping under the coconut tree sounds romantic, but it is not a great idea. The average number of people killed in the world annually by shark bites is about 6.
Good shark advice: Avoid murky water. Leave the shiny jewelry at home. Be aware of where you are. Most good beachfront snorkeling takes place 30- 45 feet from shore. Remember to look up, and notice where you are.
After a shark sighting, all Hawaiian beaches are closed for 24 hours, and prominent signs are posted.
Other Safety Issues
A Maui newspaper published a piece on cardiac issues, particularly with older swimmers. Snorkeling is easy and very relaxing for average swimmers. Basic fitness is required, and the medical article pointed out that when using the snorkel, air comes into the lungs a little more slowly. Sometimes panic complicates the problem. Stay Calm and Paddle On.
Never Turn Your Back on The Sea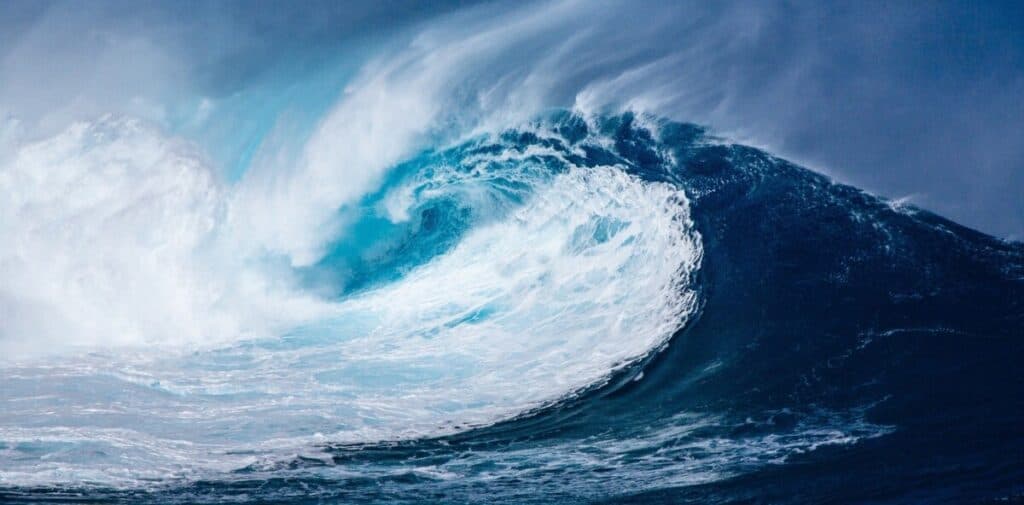 It is important to stay near the shoreline and to look up on a regular basis. Don't go in the water alone. The Hawaiians say, "Never turn your back on the Sea." They are serious about this. Look out to sea when doing something as simple as taking off your flippers. This is simply a discipline we all need to develop.
What to do With Your Small Valuables
There are many warnings around Maui not to leave valuables in the car. We felt very safe on the island, but car robberies are a problem. They advise us not to leave anything in sight, even in a locked car.
Consider one of the hard or soft waterproof containers you wear on a belt. The best ones hold two passports, car keys, and a small cell phone. Most reviewers favor the hard box and a plastic bag inside.
Good places for Snorkeling on Maui
Here are some places which we enjoyed or which are generally recommended. The first one is a boat trip; all of the others are beach snorkeling locations.
Molokini Crater-located 3 miles off the south shore it is an underwater volcanic crater cone offering 150′ of visibility. You will find 250 species of fish, 100 species of algae, and 35 varieties of hard coral. This is a boat trip.
Honolua Bay-on, the North West shore, is 10 minutes from Lahaina. The bay has great coral reef formations frequented by the Pacific Green Turtles. Fishing is not allowed, and this spot is rated for beginners to advanced snorkelers.
Kapalua Bay in the North West has some of the "best in world" listings. There are two reefs and calm waters. You can find Butterfly Fish, Parrot Fish, Cornet Fish, and Goat Fish here.
Makulei'a Bay-coral reefs are on both sides of the bay. You will find fish and turtles as well as a view of Molokai offshore. This is located south of Honolua.
Napili Bay-in West Maui, there are large underwater coral formations with turtles and needlefish in schools. Most locals suggest the right side of the beach.
Olowalu Beach-this has a major reef protected from tradewinds. The water is shallow, and you will need to swim farther out.
Black Rock on Kaanapali Beach-staying on the beach, this was our "go-to" place for a quick snorkel. This is a huge rock from which evening cliff dives take place. Snorkel around the lava rock edge. There are calm waters, turtles, and the state fish, with a name longer than itself. Humuhumunukuapuaa. We found it a little crowded unless you went out promptly in the morning and there is a well-known riptide. Be aware of your location.
Ulua and Mokapu-These are popular places located between the Renaissance and the Wailea Marriott hotels. Two reefs run between the two beaches. The first reef is more popular for snorkeling, and the second for diving. There are showers and restrooms.
Polo Beach- a beautiful spot, it is next to the Kea Lani Resort. The best coral and fish should be to the right. Showers and Restrooms.
Makena Landing-this is a place with sea caves. There are many small reef sharks here. We are told they are harmless.
Ahihi Keanau Reserve in Makena-this has a shallow reef with brilliantly colored coral. Fish are plentiful and protected. Parking is limited.
La Perouse- this offers a good chance to see pods of dolphins. The best snorkeling should be very near to where you park. Be careful of the sharp volcanic rock.
Do you have other suggestions? Contact me.
Snorkeling Equipment-Rent or Bring Your Own
Are you going to snorkel one or two times-Maui has many rental options. It should be easiest to just take advantage of them. Check with the hotel or resort you are staying in. You may be pleased to find good snorkeling equipment for rent or free to use.
How to Check your Rental Equipment
Is It Clean?
Let's cover the Uck factor first! I have rented snorkel kits, and I am still alive. I convinced myself that they used plenty of bleach on all those islands, and I was probably kidding myself.
What can you do?
Rent the whole kit-I'm still here.
You can buy your own mouthpiece; it's easy to carry and should fit the rental mask.
Buy and bring everything but the flippers. Rent the flippers; they come sized like shoes and occupy the most space in your luggage.
Bring everything; we find a space in the luggage because we like to snorkel any chance we get on an island.
What Equipment Problems Will Spoil Your Trip
You can't see out of the glasses, they don't fit, and they fog up. The face mask (the skirt) does not stay in place. The flippers cause blisters because they don't fit. Try them on!
The Three Elements of The Snorkel Kit
The Mask- Should fit comfortably; silicone is softer and more comfortable than PVC.
The Snorkel-Medium length is easy to use, commonly about 15." The simple j shape is the most common and affordable. There are other types; check with a local dealer for more details.
The Fins-come in two types. The full foot, in tropical waters where socks are not needed for warmth, these are common and easy to use. They are also sized like shoes which makes getting a fit easiest.
The adjustable strap variety. These can be used with neoprene socks and are helpful if you can not get a good fit in the regular sizes.
Here is How to Test Snorkel Equipment
The Face Mask
Wet your hair-slick it back. Nothing fits with hair in it.
Test the Skirt (the part of the mask that touches your face). Take the Inhale Test.
Hold your breath.
Gently put the mask on without the strap. Do not inhale. The mask should stick to your face. A more sticky mask means fewer leaks in the water.
Roll your eyes; peripheral vision is never perfect; get the best you can.
Once you put it on-keep it on. Removing it while your swim increases the fog effect.
Summary: Having Fun and Leaving the Reef as You Found It
Here are some ideas to maximize the sheer joy of this great activity.
Get your gear early enough to ensure it fits. Take your first trip, if at all possible, on a beach, with someone else. Choose a place with plenty of fish and select a calm day.
Use biodegradable sunscreen and consider wearing one of the UPF shirts, which block 98% of the harmful sun rays.
Touch only sand, water, and rock. Never touch fish, coral, or animal life.
Stay relaxed; it is the most fun and prevents tiredness. To rest, roll on your back or tread water with your legs up.
Do this for the pure joy of it. You will never forget a good day snorkeling.
Something To Do On Maui When You Have Dried Off
This is about the unique Olowalu Petroglyphs, which are historic rock carvings. They are conveniently located near a good place for lunch.
"Mama's Fish House-A Memorable Meal"
"Pacific 'O' Restaurant-Romantic Waterfront Dining"
'Discover Maui's Six Distinct Regions-What to See and Do'
"Sun Protection In The Garden" I wrote this about gardeners, but it includes my best, thorough research on safe sun hats, glasses, and UVF clothing. Sun attire is going to be more important, given the new sun lotion bans.
Tropical Snorkeling-this is a website totally devoted to snorkeling; I enjoy reading it. Here is their review of Hawaiian snorkeling with Maui covered. You may like to see their favorite spots and opinions.