Is this the set for "South Pacific"?
You might think you're on the set for "South "Pacific" when you get to Mama's Fish House, but some facts first.
Zagat says-"the freshest fish", "gracious" service, "unforgettable experience".
Trip Advisor Says "Top 10 fine dining restaurants in US".
A James Beard Foundation Award winner.
No, they did not remake "South Pacific", but you won't forget this restaurant!
On the north side of Maui, a large island, Mama's Fish House has looked out over Kuau Cove for 40 years. It is noted for the fact that it lists on every day's menu the name of the fish variety, the name of the fisherman, and where he caught it.
Kuau Cove is one of Maui's many "baby beaches," small, romantic and sandy. It is protected from waves by jutting rocks and surrounded by waving coconut palms. You won't forget the beach, either,
They continuously say that the time between boat and plate is 24 hours or less! Here you will enjoy a lengthy list of deep-sea, pelagic fish you will not have ready access to otherwise.
Why You Would Like to Go
Make a reservation (early, perhaps months before your trip) for very authentic local fish dishes. Also go for the ocean view, romanticism, attentive service, and sunsets.
It is very likely that you will talk about this night out for a long time. Trip Advisor currently rates it "No. 2 Fine Dining Restaurant in the US."
This is fresh food. I would call it thoughtful and with local flavors. Expect Maui Onion, island cheeses, Hana ginger, meats come from some of the world's most impressive ranches. You will, likely, have visited those ranches today.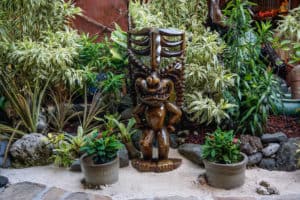 This tike can guarantee you a good harvest!
It fits the bill of "Hawaiian Regional Cuisine" but with a considerable infusion of South Pacific tastes. (Fish cooked in coconut oil and lime in a coconut shell, perhaps.) If finding the best Mai Tai, ever is on your list of things to experience, this is a contender. At the end is a link to the menu.
Popular Menu Items
Cerviche, with Asian Flavors
Sushi appetizers
Ahi and Mahi Mahi in Panang Curry
Crab Stuffed Mahi with Macadamia Nut Coating
Black Pearl Desert-a chocolate pearl in a pastry seashell
Why Not?
It is expensive; per person; about the price of a Luau. The drive from your hotel may be lengthy. It is always well filled, and today there is more competition for your taste buds on Maui.
It has South Seas charm, but you could not call it trendy. Expect it to be busy and resort town restaurants do have children. (Our experience was that while full, it was not noisy and service was superior; informed, attentive, not fawning.)
History-This Restaurant and Food on Maui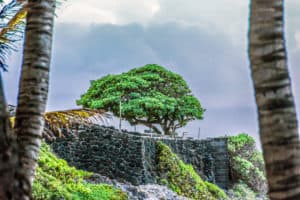 The View From The Christianson's garden
The founders, Floyd and Doris Christianson sailed the South Pacific in the late 1950s. This accounts for the feeling that Emile should show up and sing "Some Enchanted Evening".
If you can find an old copy of Rodgers and Hammerstein's South Pacific, or read James Michener's "Tales of The South Pacific" you will understand the Mid Century style. It will also give you a good sense of the complex Pacific cultures you are going to meet on this trip.
The Christianson's enjoyed the food of the region and learned to appreciate the fish and to cook it. An ambition developed, to recreate the French-influenced dining they found on Tahiti.
The family arrived on Maui about the time that the island was beginning to be developed for tourism. They reasonably anticipated opportunities for a serious restaurant, and they were clearly right!
Tourists in the Hawaiian Islands at that time were meat and potato eaters and did not trust local fish. Hawaii's long history of importing its food also ensured that food would be uninteresting. Today, it's hard to imagine, but in the mid-twentieth century, when your parents or grandparents visited Hawaii, restaurants could not give them local food!
(This is likely the explanation for the local fascination with Spam!) Excellent sources of beef, lamb, and venison were, however, already in place.
Useful note: On the menu, I see plenty of fish choices and two meat items. They call it Mamas Fish House for a good reason.
Where To Get Land Based Food?
Mama's is the perfect location to experience the nautical part of Maui. To see the cowboy side and eat its products drive the mountain roads for lunch at Ulupalaka Ranch. You can have a meal with ocean and mountain views right where Mark Twain and sea captains partied in paradise.
Mama's Part In Hawaiian Regional Cuisine
The Christianson's were early adopters of fresh and local food, founding the restaurant in 1973 and the results are reflected in a long period of growth.
Their cooking was already in place in the early 1990s when Hawaiian chefs developed a local cuisine. Already in the business of buying local, they apparently benefited.
Our experience, eating in Hawaii has been spread over a long period of time and the changes are remarkable.
The Executive Chef's Story & How The Fish Gets To You
Their culinary head is named Perry Bateman. He has been with the business since the age of 19, started by cooking at home, and today supervises a team of 100.
Maui's Economic Development Council, details the history of a Pacific area commitment to a system of deepwater fishing buoys designed to aid the fishing industry and develop sport fishing. It also helps to create an ongoing set of fish data.
In 2013, Mama's Fish House joined this effort and built its own buoy system. Fishermen use the buoys which attract the deepwater fish and sell to Mama's and other customers. They are apparently allowed to use the restaurant platforms and sell as they choose.
There has been a criticism of this fishing method as unedible species and juvenile fish can be caught. I found US University research that finds this point of view inconclusive. In addition, fishermen are more efficient and save on fuel.
Making Reservations
Here are some options:
Come for lunch; the menu is very similar to that of dinner and a little less expensive. You can combine your lunch with sightseeing and drive in daylight. Lunch reservations can be made on shorter notice. You can make them on the website before the trip.
Make them months in advance for dinner, particularly for the highly popular sunset. Schedule them about 30 minutes before sunset for the time of year you will travel. Arrive early, using Valet parking and visit the beach and grounds. There are fine photo ops. The restaurant service workers expect this and will not rush you.
The fun part is that your online reservation is acknowledged via email with a link to Hawaiian music. This is a clever way to enhance anticipation and we were amused.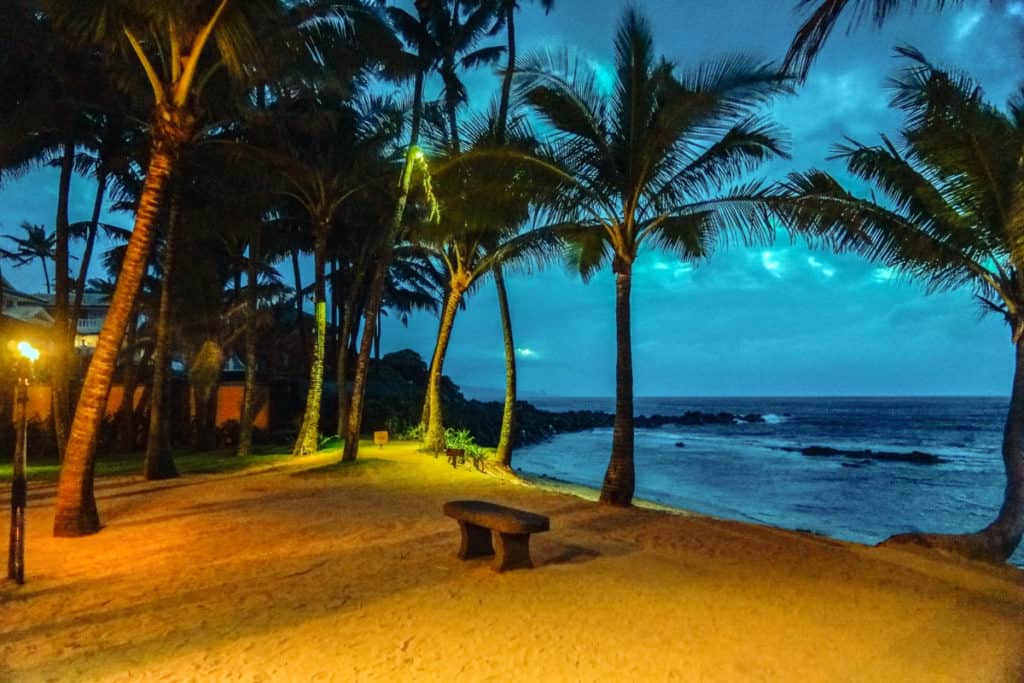 The location is on the North Coast near the popular town of Paia. Here are some estimated travel times.
West Maui – the Kaanapali Beach Resorts: The consensus seems to be to allow 1.5 hours and assumes heavy evening traffic.
Central Maui- The Airport- 10 minutes. (We added a day to our trip, booked an airport hotel and drove the short trip to the restaurant, this also made getting to the airport a breeze.)
South Maui- advice I read suggests 45 minutes to one hour.
Make a reservation at the Inn at Mama's Fish House and just walk over.
Visitor Information
This information is current as I write. Check the website before you go.
Location: 799 Poho Place, Paia HI 96779
808-579-8488
Hours: 11-9, Daily
Accessibility: Wheelchairs are available at the door. Walking around the waterside entails lawn and beach sand.
Resources You Can Use
"Pacific 'O' Restaurant-Romantic Waterfront Dining"
'Discovering Maui's Six Distinct Regions-What to See and Do'