In Zone 10a-What's in Bloom, What to Plant, What to Do
It's the start of February in our tropical garden, and for us who garden in the hot zone- January has ended with a cold bang! This meant we survived a ten year cold weather record, and damage has been done. We have protected plants, saving many, and a week into the month we see some faded leaves. Time will tell as the month progresses.
The photo above shows a bed holding three ornamental plants of tropical origin after we opened the frost coverings with some trepidation.
And it's not just the home gardens and Florida's many public gardens involved in mitigating cold damage. Agriculture is Florida's second largest industry, its 9.5 million acres, feed millions of people and do so in the winter months when the rest of North America welcomes our fresh food.
Our Reliance on Mild Weather
In the coastal South Florida town in which we live, garden and plan our trips, people are so attuned to balmy weather that the locals have a term for an adult male wearing long pants. He's called a "man on his way to a funeral"! So three cold days is a big deal for everybody; gardeners, farmers and tourists. We bring out the plant wrappings, the smudge pots and the annual wearing of the one sweater everyone in Florida owns! Only the tourists are dressed for the sun.
January's Cold Bang and Raining Iguanas
Our average temperature in January ranges between 74 and 56 degrees. At the end of last month the temperature in West Palm Beach reached 36 and Immokalee, our nearest true farming town hit a disturbing 27 degrees. (This 19th century community holds an annual cattle drive and a picnic with its own 'Cowboy Poet', try it if you are around.) Such temperatures put crops like citrus, strawberries and tomatoes at risk. To save the crops, farmers run sprinklers and smudge pots all night and we looked absurd wrapping the plants while our coverings flew in the wind. The wind was the challenge!
We wrapped our plants in cloth covers and carried the more delicate potted tropicals indoors. Potted orchids come in, but those growing in trees are remarkably adaptable and so far show no signs of damage.
Raining Iguanas-How this Happens
How does this happen? The green Iguana is an invasive, hot climate species in Florida and is unhappy with our rare cold spells. Living in trees it goes into a dormant state and falls right out on cold days. As a result, people learn not to be under the trees on a nippy morning.
Wildlife in the Gardens
Life is complicated because the Iguana, imported for the pet trade, gets to 5 or 6′ long and heavy! Not suitable as a pet and is less pleasant to be landed on! It also inhabits the burrows of our rare Gopher Tortoise and Burrowing Owls and puts those native species at risk.
Unfortunately, Florida is the epicenter of introduced non-native reptiles with about 150 species, and we find that many become invasive over time.
What's an invasive species? An incoming, non native species is invasive if it takes over the territory of a native species damaging the ecology, economy or human life in an area.
Invited Wildlife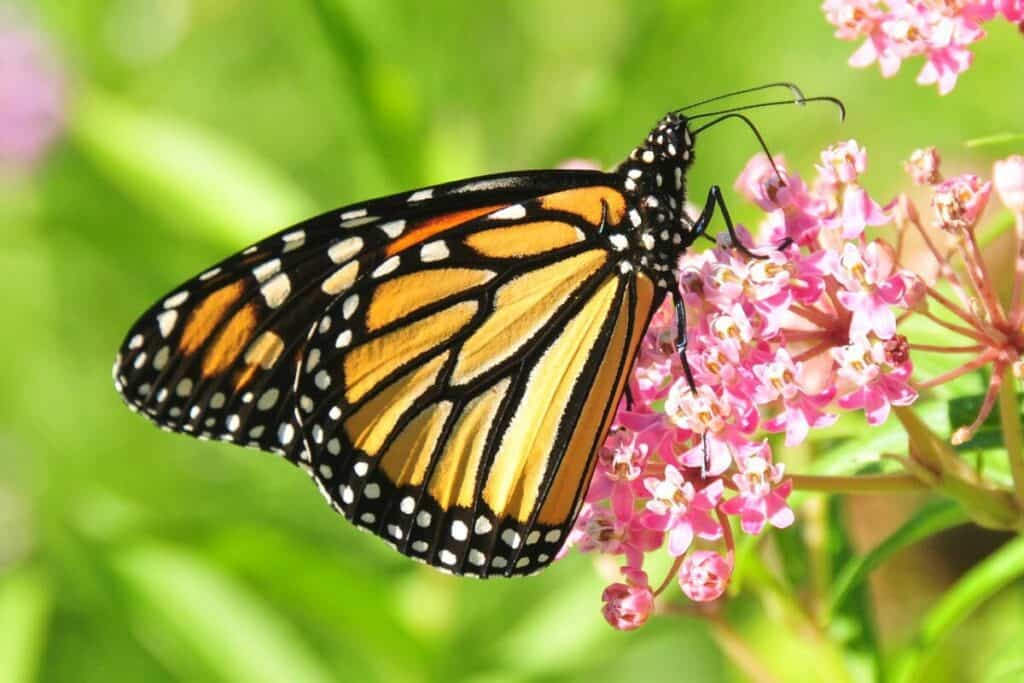 Last month we pulled up pentas blooms, a flowering annual or tropical perennial that pollinators of all types seem to love. Our plants are about 2.5 years old and leggy, its easiest to start new ones.
We'll replace them this month as butterflies, bees, and hummingbirds are in flight 12 months of the year in our zone. The tropical garden is never on vacation!
Birds in the Garden
Our pond edge garden was developed with birds and pollinators in mind. There is entertainment all day. February is considered the start of the spring migration, and our gardens are a waystation for birds that winter in the southern hemisphere.
Hummingbirds were visitors we set out to attract to this garden. There are some all year long, but the spring and fall migrations are the best times to see a full range of varieties.
We share this garden with all manner of wildlife, large and small. Based on our lives as northern gardeners, we think that the pest to pleasure ratio we experience is similar to yours.
Feeling the Effects of a Cold January in a Hot Climate
Cold damage rarely occurs in our zone 10a climate, but it does happen, and there are three ways to avoid it.
They are:
Decisions made long before the cold arrives
Preparation for imminent cold
Repair and after care
Planting for Weather Eventualities
Right Plant-Right Place-every garden has microclimates; cooler, warmer, wetter, or drier than the rest of the garden. Some places are more suited to delicate tropical plants; for example, the south and west of any building are more sheltered. Good drainage promotes deep and strong roots that are less susceptible to cold damage.
Nutrition-well nourished plants will tolerate cold better than those that are not and will recover faster also. Avoid late fall fertilization, resulting in late growth that is more likely to suffer cold damage.
Shade and Cover-under canopy plantings enjoy trapped heat that radiates from the ground. The right light conditions for each plant will make a difference.
A wind barrier-a hedge, tree grove, or fence can protect places where wind moves. We garden on the edge of a pond, and our climate does not stop wind across the water. For us, in windy weather, a line of shrubs and trees makes a big difference.
Irrigation-wet soil (not prolonged saturation) will absorb daytime heat and radiate it at night.
Regular maintenance-constantly looking at the garden will help you find pests and diseases. Also, avoid late-season pruning and feeding.
Preparation for Winter Cold
Group container plants into protected areas.
Mulch plants to reduce radiant heat loss.
Cover plants to protect from frost.
Potted roots are more exposed than roots in the ground. Wrap large planters if you cannot move them.
Repair and After Care
Water to replace lost moisture and to thaw the soil.
Pruning-remove dead leaves after they turn brown. Wait for signs of new growth to do significant pruning. This will avoid damaging the plant.
Life in Our Tropical Garden In February
The probability of cold damage goes down considerably this month. A point that must be made about tropical gardening is that the gardens never close. The garden gate always swings, something is always in bloom, and "the bugs never quit"!
Some of the best features of our garden on the edge of the tropics are these:
This is peak vegetable season; our town holds many farmers' markets, on some streets, you can acquire the latest fashions and freshest tomatoes only a few feet apart.
Our spring and summer bulbs are beginning to appear, and this is an excellent time to divide them.
Fresh herbs are easiest to grow in our cool seasons. It will get a little more complicated in summer.
The color annuals you will add in summer are now blooming for us. We can grow annual bedding plants in our humid summers, but our choices will be more limited.
This is real working weather, we garden any time of day and try to save the heavy work for winter. By summer we will husband our energy, and garden early in the morning. Also, the pool and the beaches will beckon.
We must be attentive to the status of the irrigation system, in a two season climate, there are long days between rainfall in our dry winters.
Visiting Florida in February
February in Florida offers plenty of choices. Theatre and music are primarily seasonal, and you will eat al fresco all winter long. Our 12 day State Fair runs in Tampa on the west coast, and on the east, you can watch the quick horses play polo or go fishing or snorkel in the Keys.
Don't miss kayaking our mangrove trails. Slow but unforgettable with fish and wading birds at eye level.
Pick a Florida garden to visit. You won't see places like these anywhere else on the continent.
Florida Gardens To Visit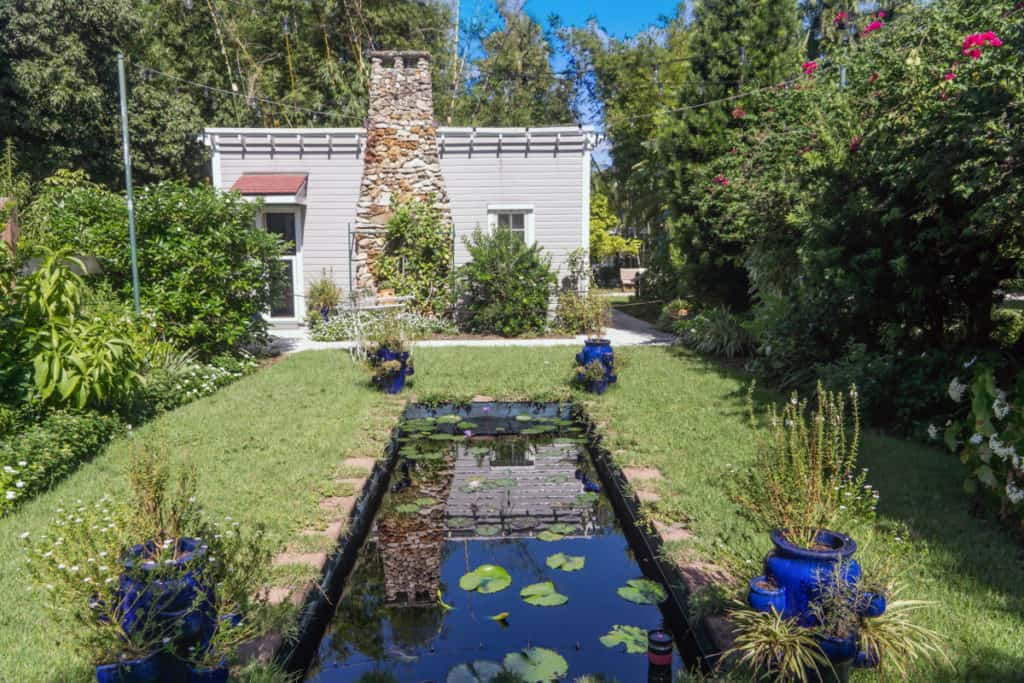 In Fort Myers, Florida, on the northern edge of the "Paradise Coast," Thomas Edison, a man who never stopped working or creating, built himself a winter home. It exists today, a monument to original thought in a restful environment on the banks of the wide Chattahoochee River.
When he was 82, his large workshop on the river edge was dismantled and displayed at the Henry Ford Museum in Dearborn, MI. His much younger wife, Mina, built him a present, consisting of a small workshop so he could continue to experiment and a "Moonlight Garden" to sit in on warm evenings all winter.
Why A Moonlight Garden?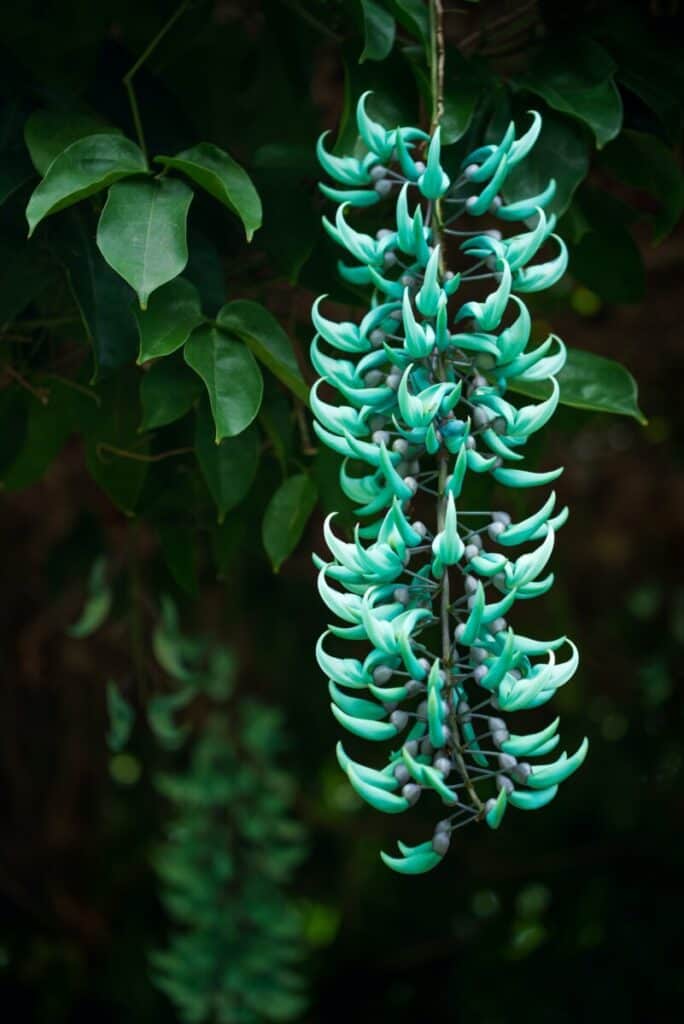 There are plenty of opportunities to use the garden in warm weather at night. Plant in white or pale blooms or foliage, and your garden will glow in the moonlight. This jade vine is not white but glows in the dark.
If you plant something like this on your favorite patio, wherever you live, you will not want to go indoors at all!
See the whole Edison Ford Estate; it explores a new and different environment. One that would grow as people discovered its treasures. The scientific accomplishments, the simple New England wood buildings, exotic plants, and the moonlight garden are worth visiting. They will help anchor your views of Florida, a place usually viewed with modern eyes.
February in the Tropical Garden: Weather and Environment
In February, the tropical garden drifts slowly warmer. Our most significant risk of freezing the delicate plants is over. Our average temperature ranges from 77-58, and this month will only average two days of rain. The community irrigation system runs for three mornings per week; we need to be ready with the hoses.
Our little town is at "peak" busy, with tourists everywhere and the most traffic of the year. Our restaurants, which can serve diners in their gardens for 12 months per year, have survived the long Covid pandemic with a little less pain than in other places. We hear the most languages spoken, now and people come from many places, but somehow when they get here, they all lose the ability to find the turn signal on the car! There is always a quiet place on the sand with about 16 miles of beach beside the town and access from almost every street.
In Tropical Regions, It's Time For Action, & Your Garden, Wherever, is Not Far Behind!
"gardens are not made by saying

'Oh how beautiful',

and sitting in the shade.

-Rudyard Kipling
What's in Bloom, What to Plant, What to Do
I like to know about gifted gardeners and those who can write about the subject. Rudyard Kipling loved to garden, and his point that you can't grow a garden by wistful thinking is a good one to remember! So he is an appropriate thinker for us gardeners.
In our coldest days, our tropical gardens are never genuinely dormant. We cut the grass every other week, not weekly, but it continually grows. February is the month when we see new growth starting throughout the garden. The tender blooming tropicals we trimmed back earlier are showing fresh blooms. Mussaenda, flowering ginger, jasmine, and plumeria are showing new life.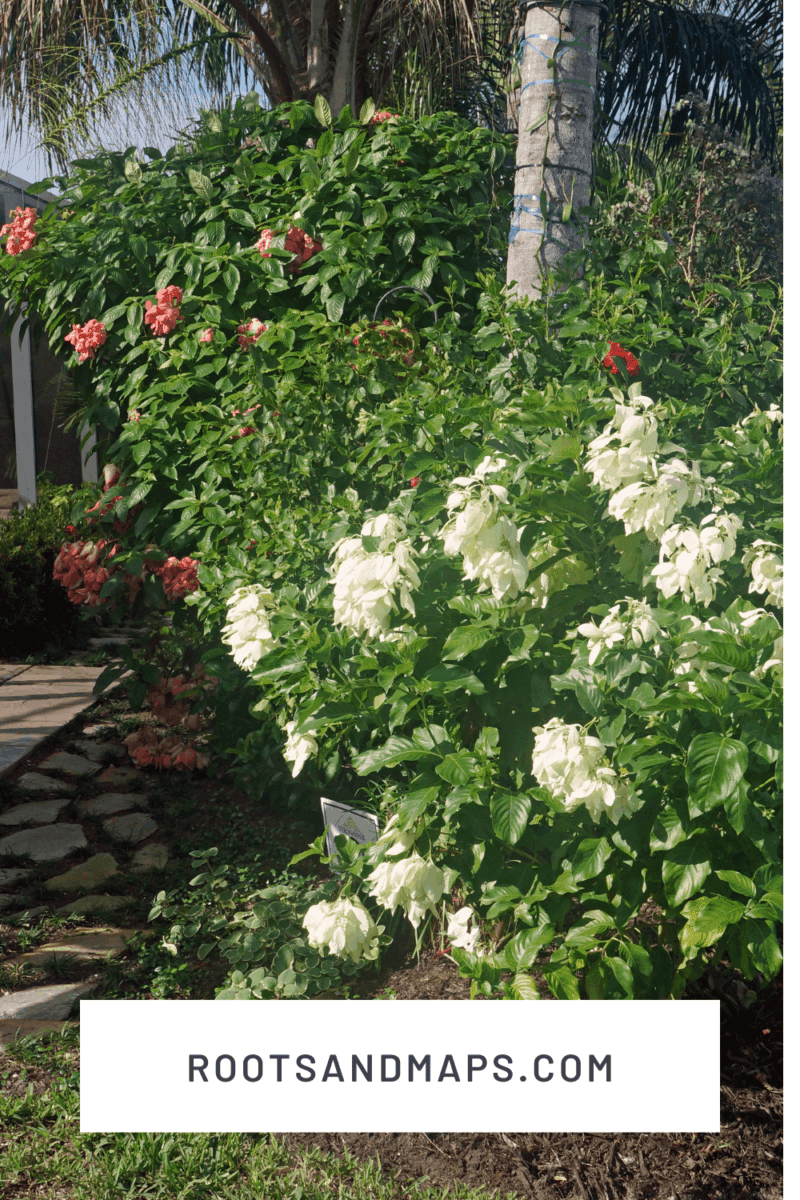 I will give you, below, the essential monthly data. Click to go straight to the information pertinent to you.
Our plants are tropical, but if you garden in a temperate zone, many of them will add to your summer garden or grow for you indoors. Click on plants of interest for more information, including winter storage. Pentas, for example, are an easy summer annual in many climates.
Life on the Edge of the Tropics
How tropical are we?
This is the Mussaenda plant. Native to Africa and South-East Asia. It loves life in hot and humid places. A large shrub, we need to prune boldly to keep a reasonable size, but the blooms are amazingly lush in shades of pink, salmon, yellow and creamy white.
You are looking at bracts; the small yellow star-like centers are the actual flowers. In February, they are just forming blooms; they will give us pleasure throughout the steamy summers.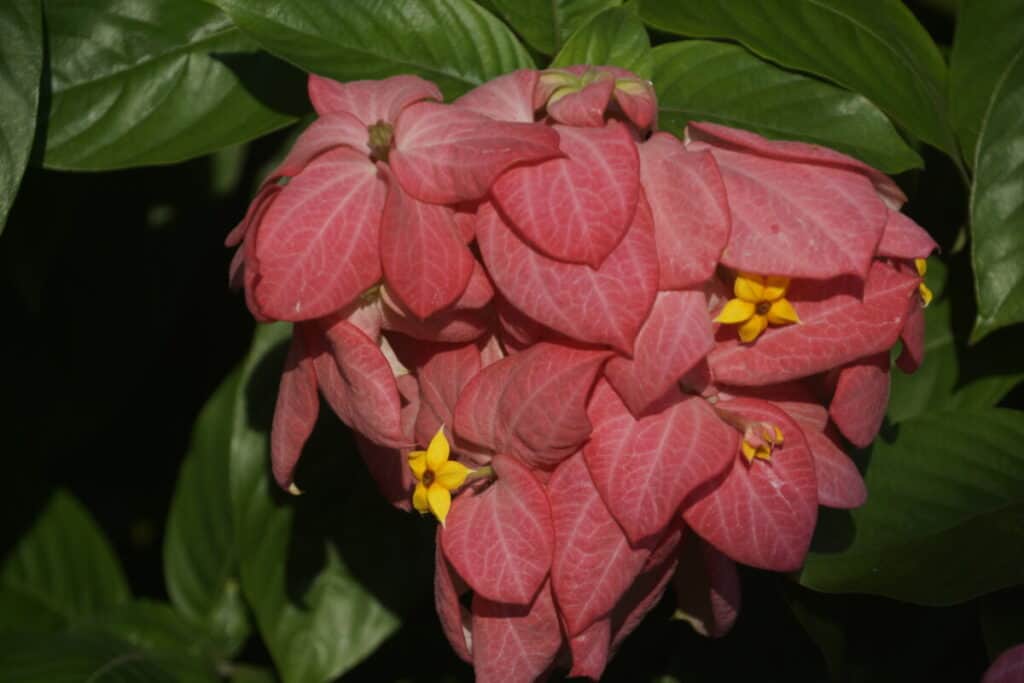 This is life "on the edge of the tropics." The true tropics start with the Tropic of Cancer at latitude 23.26 N. Our garden is located at latitude 26.17, making us 187 miles north of the northern tropics.
Our garden is directly north of the western Everglades, a short drive from the Fakahatchee Strand, the large Everglades park famous for the "Orchid Thief." This is a true story, a book, and a film about stealing rare orchids from their tropical forest.
Come to our little town in the steamy summertime if you want a look at a Ghost Orchid. Our remarkable and young Botanical Garden is raising some so you can see them in comfort from raised walkways about 10 minutes from our garden.
February-What's in Bloom, What to Plant, What to Do
What's in Bloom
The Hong Kong Orchid Tree
Native to Hong Kong, where a European missionary discovered it, it is a sterile tree and famous worldwide wherever it can be grown. Tall and wide, it fills its environment with enormous, orchid-shaped blooms for several months in the tropical winter.
In Florida, we plant only this sterile variety as the other types are always fast seeding, messy, and invasive in our area. The flowers are impressive, and the unusually long bloom period is an excellent value in any neighborhood.
Hong Kong Orchid Tree Facts
shortcode
Hong Kong Orchid
Tree

Bauhinia
blakeana
ATTRIBUTES
Long Blooming
flowering tree.
SIZE
20-40' T
25-40' W.

SOIL
Average
LIGHT
F/S-
P/S
WATER
To establish
&
in drought
NUTRITION
To establish

ZONE
9-11
DISEASE &
PESTS
Relatively
few
Yesterday Today and Tomorrow
This shrub, of tropical origin has the unique feature of offering a mix of flowers in three colors always in a roughly even mixture of shades at the same time. How do they do this? The flowers first bloom in vivid purple or violet. On day two the purple blossom turns to pale lavender and on day three becomes white. As each day passes new flowers appear and others transition so the process continues. Pair these with shades of tangerine and orange to produce some real sparkle in the garden.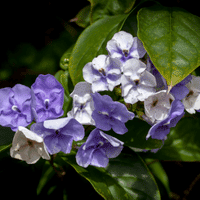 Plant this shrub in partial to full sun, in sandy, loamy soil. It grows between 3-8′ in height and is relatively simple to keep trimmed to an acceptable size.
Yesterday,
Today & Tomorrow

Brunfelsia
grandiflora
ATTRIBUTES
Flowering Shrub with 3 simultaneous flower
colors.
SIZE
7-10'T
5-8'W

SOIL
Average
LIGHT
F/S-
P/S
WATER
To establish
&
in drought
NUTRITION
To establish

ZONE
9-11
DISEASE &
PESTS
Relatively
few
Color Annuals
If you are familiar with gardening in northern zones, think of your favorite summer annuals and just reverse the year. Every one of those you love to plant in spring or summer, in beds, borders, or any kind of container thrives in our fall through spring period. This month pansies are in bloom, impatiens are in the full flush of color in both sun and shade. By May we will be pulling them out and replacing them with something like vinca for a similar look. But now they are easy to grow. Spires of salvia, both perennial and annual are more versatile. We keep annual salvia in bloom every day for several years before they need a change.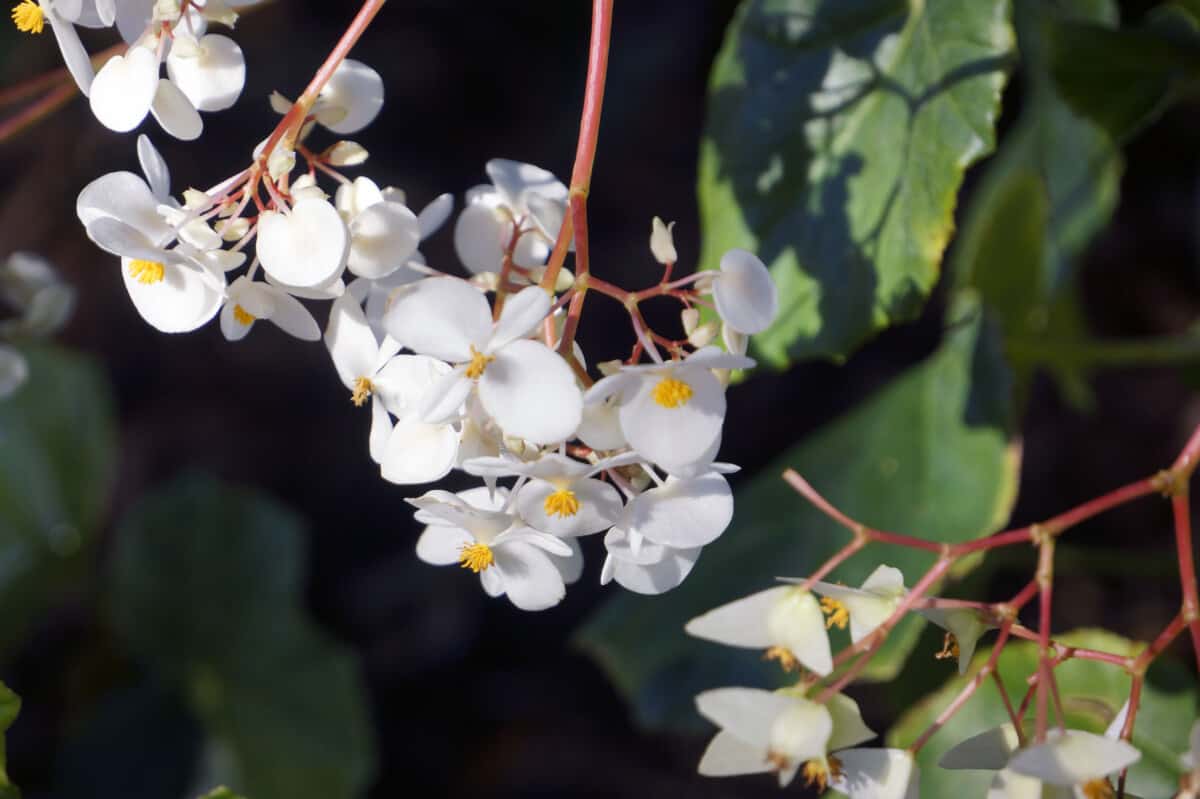 Here are two examples. The angel wing begonia reaches good size in this territory and should last several years. The sunpatiens on the right is a newer variety, Coral Aurora. It is lovely and picks up the coral color from the bromeliads in the first image. It is also bred to be resistant to downy mildew, one of the worst problems of impatiens.
We liked these so much that we are using them in our community plantings. As you drive into our community there are long beds of annuals we change 4 times per year. As Master Gardeners we volunteer for this project.
Foliage Plants
Our climate offers many choices of plants with unique foliage. Planning gardens with color and interest for all seasons is hard work and sometimes an attractive foliage option is helpful. For more choices see Our Tropical Garden in January.
What to Plant
What to Do In The Garden This Month
Category
Examples
References
Irrigation
If dryer & warmer
than usual add
water
https://edis.ifas.ufl.edu/entity/topic/landscape_irrigation

Landscape Tasks
Start woody shrubs
before summer
rains
Landscape guide
Shrubs & Trees
Prune only non
spring blooming
plants
Pruning Landscape Trees & Shrubs
Turf Grass
Fertilize with
little or no
Phosphorus
Turf Grass Maintenance
Palms
If shrubs have cold
damage wait for
new growth to
prune
Palm Care
The Garden, from Months to Days
What We Do Every Day
The Gardener's Creative Vision
Our gardens are our creative output. And we all know that each gardener has a little piece of the world to work with but it is what they all do with it that makes it interesting to visit other gardens. Each gardener makes the vision a reality using what they have available. In our small space we have planted right to the pond edge and then with trial and error found plants to live on the littoral shelf of the pond. We like the view and so do the wading birds.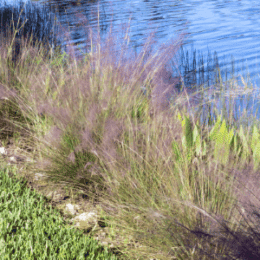 Across the pond lives our neighbor, Nancy. She is a master of propagation and has planted so robustly that everyone says "Nancy will keep planting until her knees get wet"!
The Gardener's Daily Reality
The creative vision of every gardener is the big picture but that is supported by the gardener's reality, the daily chores. I call these tasks T.O.D.A.Y. so that they are easy to remember. Check the link below to see what we do every day. How does that match up with your daily plan?
Tools We Use Every Day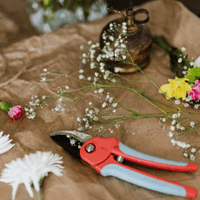 In January, I discussed tool #1, the smallest tool in the kit. Our tiny plant snips annd we carry them everywhere.
These are February's entry, lightweight pruning tools, and only a little bigger than the snips. A good pair of pruners should cut a living stem up to about 12″ in diameter with ease. In selecting a pair we have 3 basic choices.
Bypass pruners: these work like a pair of scissors, with two sharp blades, more substantial than the snips; they work in the same way.
Anvil pruners: with a sharp blade on one side and a cutting board on the other, they work more like a knife. This format works well on dead wood or thicker branches. However, it can crush rather than cut new wood, which creates a greater risk of damage.
Ratchet pruners: work with a gear motion & leverage your hand strength. This allows you to cut through thicker material while reducing pressure on your hands. We have both; the ratchet motion takes a little getting used to, but if the plant material is more challenging or you have pain while working, they may solve your problem.
How to decide?
Pick for comfort and suitability
Keep the tools clean, sharp and available
Summary
"Bad weather makes for good photography"

-Ansel Adams
Well, I hadn't thought about lousy weather this way, but it's an interesting attitude and a good one for a working gardener to have. The great photographer's viewpoint is not that different than that of a good gardener. Gardeners are outdoor people and just get on with things.
Next month is March, and our temperature will slowly rise. Different plants will bloom, and garden pests will increase. However, we can offset this with more butterflies, bees, and the continuation of the spring bird migration.
As February turns to March, we will extend some plantings in the area pictured below, transplant the rampant vanilla orchid that climbs the palm, and cut back the littoral shelf plantings, adding more blue water iris that makes a beautiful sign of spring.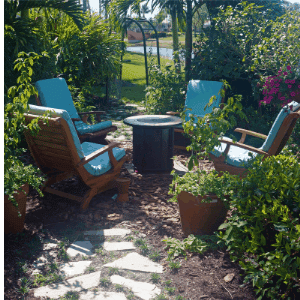 There will be cool nights to lounge in the garden, and the jasmine on the archway is now bigger, and they'll scent the evenings.