How to garden when it's hot. Vegetables are thriving, blooms are everywhere but watering can be a chore, and the workload is heavier when it's hot! Try these ideas for effective watering, hot weather pests, and diseases to look out for and keeping yourself safe from sun damage.
Gardening On The Edge Of The Tropics When It's Hot
As June moves in we relish the lushest and most exotic of the tropical blooms. The bromeliads shoot up tall multicolor inflorescence, this extra bonus to the plant is only seen in the summer weather. The tall, backyard ginger produces flowers in long pink tendrils with white and yellow hearts, and these in turn, with tiny pink dots at their center. It looks like a flower, within a flower, within a flower.
I'm a northern gardener with a sense of restraint. These tropical plants never cease to amaze me!
The Powder Puff Plant-Calliandra haematocephala
The sparkly red flower at the beginning of this article, is our powder puff. It's bud looks like a rasberry, you want to reach for it. It blooms in to the puff that blows in the breeze. We have coffee on the front porch and watch butterflies, hummingbirds and bees all around. Red is the most common but you can find some in pink and red too!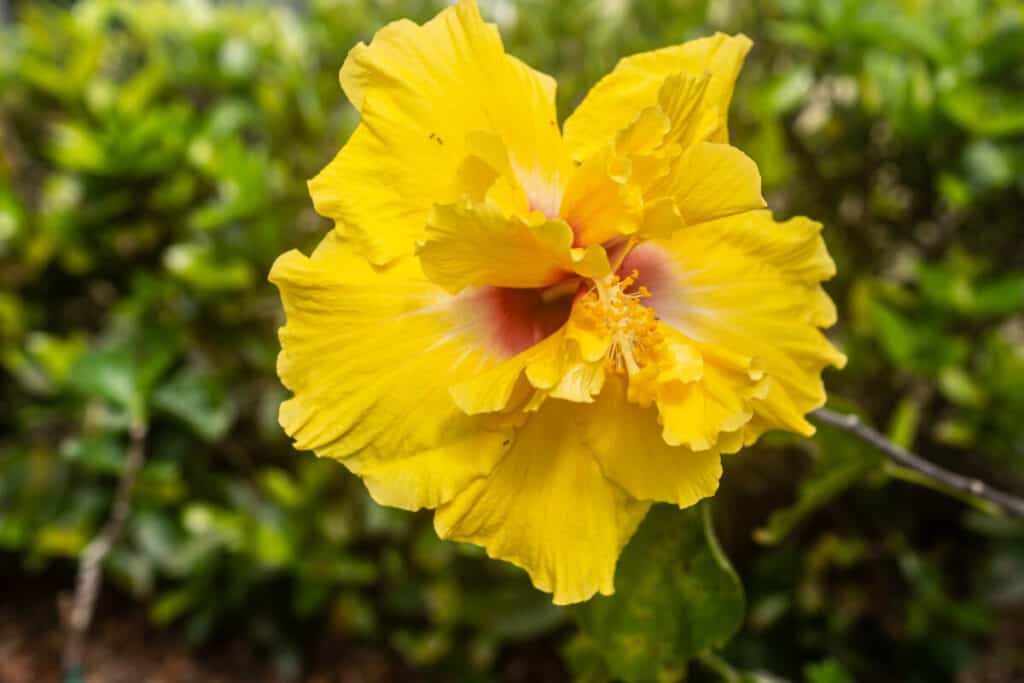 Hibiscus is beautiful, readily available, easy to deal with, and very affordable. For not much more, you can buy a special exotic like this. It has an extra-large bloom, a double formation, and two more colors inside. Pretty nice to wake up to before the garden gets hot!
Gardening In The Hot Tropics
The tropics are defined as always 65 degrees and above. For us, on the slippery edge of the tropics, our coldest month is January with cold night expectations as low as 56 degrees. It can drop below but rarely. We grow our best varieties of vegetables between early fall and spring. But our biggest issue is how to garden when it's hot!
*Note for gardeners this is the first month in which I can offer two successive years in the garden. We are today, in June 2021, our year of freedom to go beyond the garden. To see how this compares to the pandemic year 2020 when the garden saved everyone's sanity, check this post "Roots In June": Summer Begins In The Garden". Every garden is different and each garden changes by the year. I hope you find something useful from each year.
Effective Watering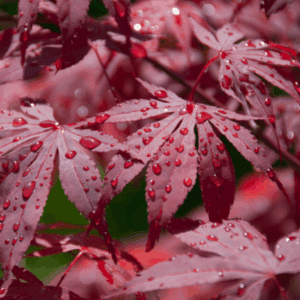 "Water is the driving force of all nature"
–Leonardo da Vinci
Here are the basic rules for watering without waste. Water is at the core of everything we grow and all year long. But summer is the most crucial time for water issues.
Water early in the morning, before 9 in many climates, for us in the tropics it's before 8.
Water deeply, it's the roots that need the water-its where it all starts.
Watch the plants with big leaves, they'll show wilting first.
Plants in containers require more frequent watering, often daily.
Mulch to keep the water where you want it, in the ground.
For more detailed help with watering the garden read this: "Water The Garden, Not The Plants"
Sun Protection In The Garden
Plants grow in the sun; sunlight is what lets photosynthesis work! It's sunlight that lets the plants create food from carbon dioxide and water. To be in the garden we enjoy the sun. But we might as well face it, skin cancer is the most common cancer in the world! Here are some ways to protect yourself from damage in the sun. "Sun Protection In The Garden"
Weather And Wildlife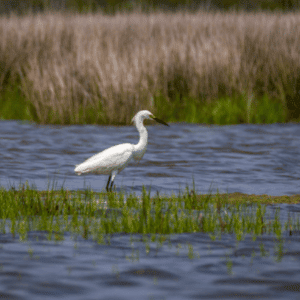 Our spring this year has been dry and the ponds are low. We are a coastal town with a good variety of wading birds, even in the summer.
We see herons, ospry, ibis and this summer a small tern with double neck rings has shown up on our fresh water ponds. The birds are feeling as we do; that it's time for the rains to start!
The water finally arrives, a Florida summer staple; rain every afternoon for the past two weeks. The birds are much happier and so are we.
Gardeners here are active in summer, early in the morning before the day is too hot, and again in the evening after the rains help with the humidity.
A farmer's life is one of rhythm and ours is governed by the sun.
We are in a tropical environment but still in North America! The climate is nothing like anywhere else in North America. It is actually more similar to The Philippines, Malaysia, or Brazil than even Atlanta!
What's Blooming For Us In June
Our winters are soft, and during them, we plant and harvest the same things that northern gardeners are watching for right now. Not us, those days of tomatoes and impatiens are gone. We won't see them until fall, but new experiences await in this garden.
The Tiny Vegetable Garden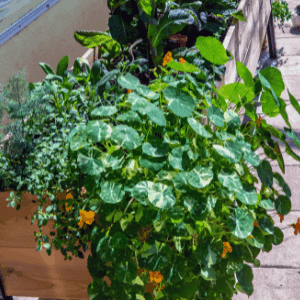 We have a small property into which we have put a lot of activities. Vegetables are tough to find a home for. Limited space and voracious wildlife have led to this little solution. Inside the screened lanai/swimming, lounging, dining area we squeezed this 12'x2′ elevated garden bed.
It has served the kitchen well this winter with a variety of foods and now should be passing it's "sell-by" date!
This month it becomes a lesson in gardening when it's hot.
The lettuce is gone but we are eating herbs, salads with nasturtums and some really remarkable sorrel!
If I had known how much we would have enjoyed having the sorrel greens for warm weather I would have planted more.
This acidic plant with bright leaves is a teriffic brightener of salad.
Herbs In The Summer Garden
In temperate climates, summer is the best time for herbs and they make a big impression on our meals. Tropical heat and humidity can make herb growing harder in our environment.
Here is my outline of culinary herbs for us all to grow. You can link inside it to more in-depth articles about individual herbs. These will provide my best detail on how to grow each plant and how to harvest it and use it in your cooking. Don't overlook opportunities to use herbs. Use them fresh in meals and cook with them. Don't overlook herb salt, simple syrup, butter as well as oil and vinegar.
This is a tropical version of the popular herb oregano. Try it if your humidity is a problem, if the rabbits are eating everything or if you love Caribbean or Southeast Asian Food.
Plumeria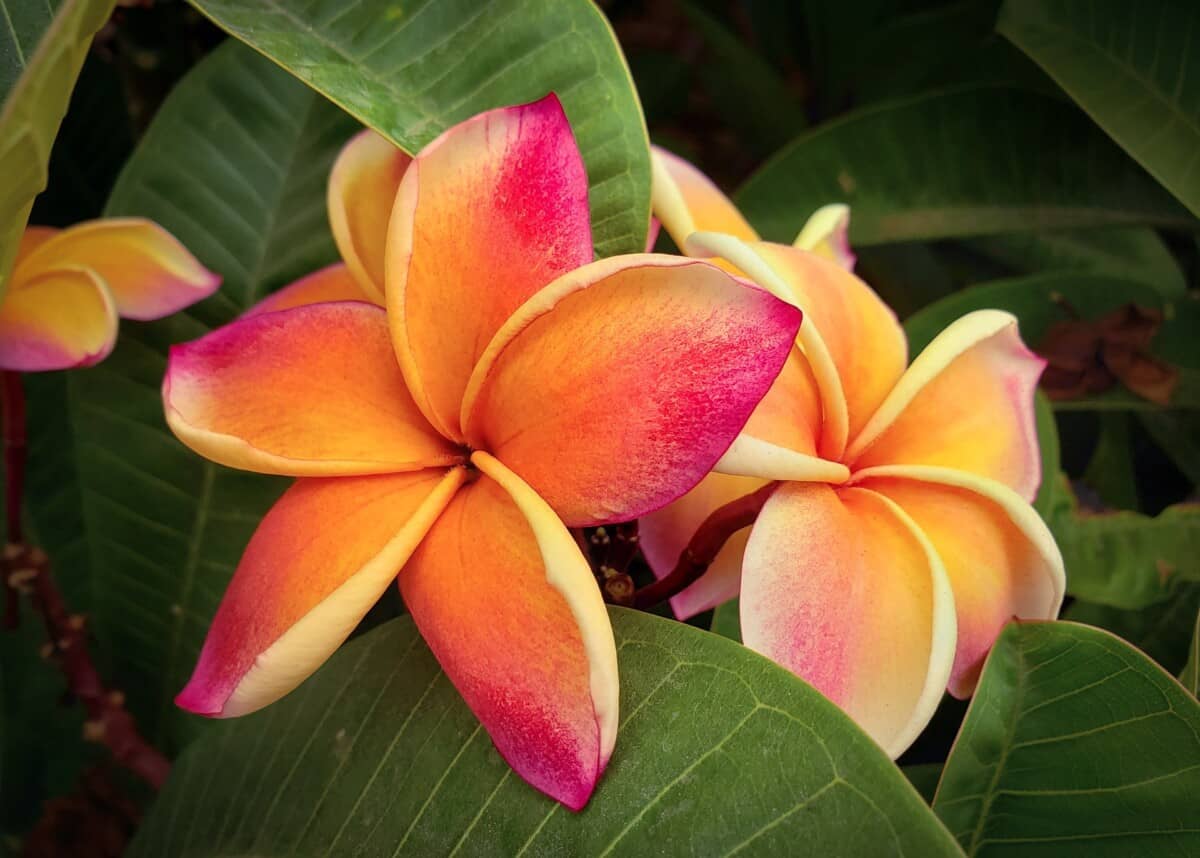 If you have ever been given a scented lei on your arrival at your Hawaiian resort, you know this sweet tree,
Plumeria is native to the tropical Americas. Plant them in at least 6 hours of sun in well-drained, slightly acidic soil. Potted plants can be brought indoors during cold weather.
The flowers come in a considerable variety and are fragrant. If you visit Florida, you can see the National Collection of Plumeria at the Naples Botanical Garden.
In May I wrote a little about the tropical Mussaenda and Philippine Violets in bloom in our garden. They remain in bloom and are charming perennial l opportunities for many gardens.
Mussaenda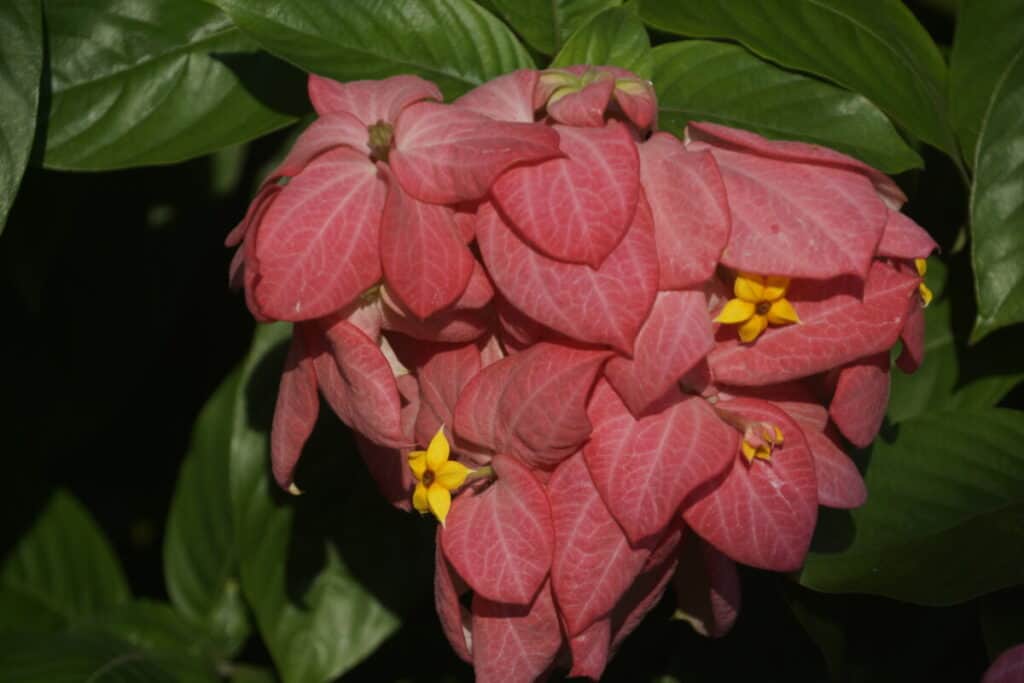 Mussaenda-Mussaenda philippica is a species in the Rubiaceae family. It can be grown as a shrub or a small tree. Keep it pruned, while the color is beautiful the form, unmanaged, can appear messy. They are native to the Philippines
The plants have romantic names like Donna Aurora, which is white. The varieties are named for the First Ladies of the Philippines.
Mussaenda, come in many colors, red, white, pink, peach, pale yellow. The flowers are small and tubular and appear in clusters. The blooms we admire, however, are the Sepals, not flowers. Sepals are actually the first layer of leaves and surround the flower. The Bougainvillea is another example of what we see are the Sepals which enclose tiny flowers.
Philippine Violet
Philippine Violet-Barleria cristala is a shrub that is below 5′ in height and can be controlled by pruning. Its profuse tubular flower is violet in color. It has a broad oval leaf in a rich dark green.
Herbs In The June Garden
In robust health are Parsely, Dill, Basil, Rosemary, and a few others such as Mint for summer iced tea. Small Tomatoes and red peppers are profuse.
What Gets Done In June
Time To Plant Palms
Palms, in our environment, are planted throughout the year as needed. However, the best time to plant them is in the warm weather from spring to early fall. When the soil is warm, the roots begin their most active growth and establish themselves most quickly into the soil. The summer rains reduce the need for irrigation and the palms grow most quickly.
Planting
Plant the Palm tree by digging a hole allowing the palm to have its top at the soil level and about 1/3 larger than the root ball. Place the tree and fill the soil with soil that has not been amended and water well to remove any air pockets.
Cover with 2-3″ of organic mulch. Water daily for several weeks. Summer rains are common, but can be erratic. Remember to water on dry days.
Staking
Palms are trees that are often planted in mature sizes which permits us to create mature appearing landscapes in a few day's time. Remarkable changes can be created this way. The risk is that our fast growing warm weather is also a stormy period with significant winds.
Staking the new trees provides some insurance against storm damage. 4 Wooden 2 x 4 stakes work well. Drive them into the ground. Protect the tree bark with a burlap section and tie the stakes around the tree. Do not drive any objects into the tree. Damage to the bark increases the risk of insect damage or disease.
What To Plant In June
What To Do In The Garden in June
Summary, life in The South Florida Garden
For gardeners from temperate climates like us, South Florida has been a revelation. Upside down is a good analogy. Spring in November. Our impatiens are bright at Christmas, lilies for New Years!
Rain is not regular, its all or none. Soil is not soil, it's sand and the water drains immediately. Bugs abound, we abut major tropical transportation hubs and new creatures, that we never contemplated show up each year.
Change keeps you on your toes, we are always learning something new. Gardeners, by nature are curious creatures and I hope this is entertaining to other gardeners.