Why You Would Like to See These Gardens
The Shakespeare Birthplace Trust operates 5 Shakespeare-related properties in and around Stratford upon Avon. They are either houses and gardens or in one case only the garden. They're Shakespeare's gardens and they provide a comprehensive insight into Shakespeare's world. We all want to figure out how a genius operated. And you see them primarily for that reason.
The gardens of the 5 residences, encompassing 50 acres in and near the town are enjoyable on their own. An extensive garden team works to enhance our Shakespeare experience. These gardens produce food and an atmosphere that you would have known had you inhabited the Tudor world.
Shakespeare was already successful when he bought 'New Place', his final home, but he wrote about two-thirds of his works there.
You can experience the environment in which he enjoyed success. As a boy walking to school, he passed, 'New Place', the biggest family house in town 4 times a day, 6 days a week. Finally, it was his. He was ambitious, the topography of the town helps you understand his elusive character.
The Garden Team
The trust employs a head of gardens, 9 gardeners, an apprentice, and 18 volunteers. When not at war with bindweed, they blog, monthly, on the Trust website discussing landscape plans, historic plants, recipes, bugs, garden pests, and weeds. If you are a gardener yourself, read them. They express the grand dreams and daily annoyances of every gardener.
Mary Arden's Farm
"Rosemary, That's For Remembrance" (Hamlet)
Vacationing on a Narrowboat, we arrived here first. The farm is a short walk from the Stratford on Avon Canal. It is also a short walk from the village of Wilmcote. If staying in Stratford on Avon there is a hop-on-hop-off bus you can take among the sites. Also, the British canals have towpaths built for the boat tow horses but now popular for walking, running, and bicycling. From the farm, it is a pleasant 3-mile walk along the canal to Stratford.
The logic of seeing it first is that it is the childhood home of Mary Arden, Shakespeare's mother. The daughter of a successful farmer, she brought status and skills to the Shakespeare Family.
The Influence of Shakespeare's Mother
She brought the newest in fashion and technology to her marriage. The birthplace has a stylish bed with a tightener to keep it comfortable and bright wall coverings too. Mary cooked for her family with imported spices.
That turns out to be important. I asked a cook at the farm if her own family would have been able to eat the same food as the Ardens. She said, "Oh yes, the same meals but we wouldn't be able to use pepper. It would be too expensive." A nice stew, but no pepper, I would miss it!
Will, who grew up in a town, seems to have a strong sense of country life. He understood the flora and fauna of the Warwickshire countryside. There is a lot in his writing that comes from the Arden family.
The farm, open only in the warmer months, is staffed by reenactors. They run the farm, grow the gardens, care for the animals, cook the food and eat it! You can get a good sense of Tudor life, here. We can follow their recipes on the Trust web page.
The Gardens
The farm encompasses 23 acres of pasture, a wildflower meadow, and gardens with flowers, vegetables, and herbs. They use everything. In the winter when the farm is closed the reenactors maintain the place and repair the tools and sew the costumes. One lady told me they call it "stitch and bitch!"
What they Grew
They used flowers and herbs the way we do and in ways, we don't think of.
Rosemary-tastes great and was used for baldness, tooth decay and bad relationships.
Thyme-flavor and treatment for congestion.
Roses-rosewater was a popular flavor additive and was good for making cosmetics.
Ivy-good for hangovers, who knew!
Holly-made a tea for fevers.
Shakespeare's Birthplace
"Here's Flowers For You" (The Winters Tale, act 4, scene 4)
The house is smallish, dark, authentic, and crowded. The tour starts with a film that sets the scene. It emphasizing the universal appeal of Shakespeare. "Battle scenes with Polynesian warriors" for example. It is interesting and I would not miss it, but it is a real pleasure to get out into the garden.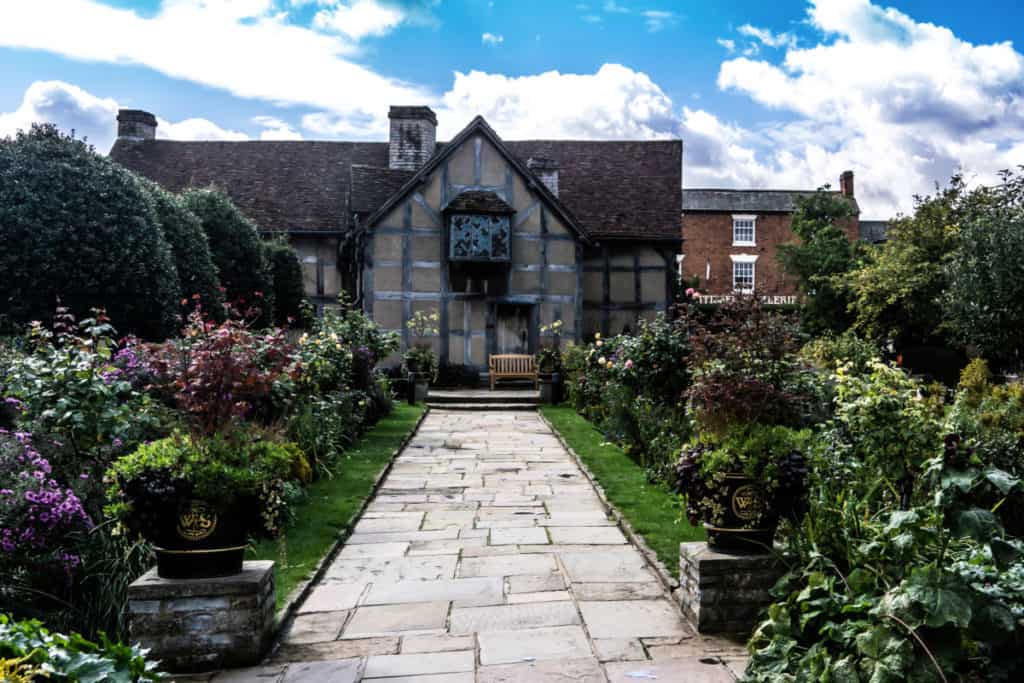 The Gardens
There are handsome seasonal borders, lawns, and wide areas of hardscape with plenty of seating. This is important because out here a troop of Shakesperian actors put on impromptu performances throughout the day. They are so confident at their work that they take requests. This part is pretty impressive.
What they Grew
There are a lot of aromatics in these gardens. Some have historical significance.
Fennel-the Romans thought it prevented obesity, in Shakespeare's time it was used in Sack the sweet drink that Falstaff loved.
Oregano-was thought to bring good dreams, and cure overdoses of opium and hemlock.
Chives and Leeks-Shakespeare refers to the custom of wearing leeks in Henry V. It goes back to the celebration of St David's day.
New Plans for the Gardens
This seems to be a garden team that regularly updates and makes improvements. Currently, they have torn out borders filled with bindweed, not a fun thing to deal with. They are replanting with plant material Shakespeare would have recognized, Roses, Dahlias, Phlox, Larkspur, and Daylillies. They are using varieties named for Shakespearian characters and family members.
They are also planting new Holly hedges and thousands of spring bulbs. If you can come in the springtime it should be something to see. They are prepared to plant in quantity, 9,000 here, 4,500 there!
Anne Hathaway's Cottage
"The Course of True Love Never Did Run Smooth." (Midsummer Night's Dream, Act 1, Scene 1)
This 9-acre property is one mile from Stratford. You can get to it on a footpath-the way Shakespeare did. It contains, perhaps the world's most famous English Cottage. (It's not little-it has 12 rooms). Anne Hathaway's family, successful sheep farmers, lived in this house for 13 generations and was finally sold to the Trust.
The Gardens
The 9 acres consist of a true English Cottage Garden, a pretty orchard, and a wooded walk area.
The Cottage Garden
This was the design of the successful garden designer Ellen Willmott in about 1920. Her designs were necessitated by the fact that the village of Shottery got a new sewer system that crossed the Hathaway gardens!
Willmott was noted for her choices of pastel flowers, in this case, those named in the Shakespeare plays. She was also skilled at developing plans that flowered all season.
The Orchard
The Trust asked her to advise on the appearance of the orchard, and she included spring bulb underplantings and wildflowers.
The Arboretum
This is an area of historic trees, labeled to identify the plays in which they appear.
Hall's Croft-house and garden
"By Medicine Life May be Prolonged, Yet Death Still Sieze The Doctor Too." (As You Like It)
Hall's Croft was the home of Shakespeare's eldest daughter Susanna and her husband, the very prominent physician John Hall. Regarded as a compassionate and diligent physician, he cared for everyone, rich and poor. His extensive case notes were published in 1657 and served as medical textbooks for many years.
The Gardens
The walled gardens, here are medicinal gardens and very fragrant. This is because his practice was based on growing plants and making medicines from them.
Among Tudor physicians, Hall's practices seem more attractive to us than that of some contemporaries. If I had rheumatism, I would like to drink a posset a lot more than wearing a donkey skin around!
Such gardens are a restful place to walk during a full day of sightseeing. Save these pretty gardens for times when you are a little tired from touring. They're refreshing.
New Place, Shakespeare's Final Family Home
"I know a bank where the wild Thyme Blows, where oxlips and the nodding violet grows." (Midsummer Night's Dream.)
Because the house is no longer in existence this place begins with the outline of its excavated ruins, in hardscape. The remainder is all garden.
The house that Shakespeare coveted and acquired was the largest, most up-to-date family home in Stratford. He enjoyed and improved it. By the 18th century, it became a tourist hot spot.
Its owner, who apparently bought it as a quiet retreat became so incensed by the crowds, that he first cut down the Mulberry tree that Shakespeare is said to have lovingly planted and then tore down the house itself. I wonder if people who live and garden in Stratford today ever feel the same way.
The House Area
You begin in the area which once encompassed the house itself, it includes the valuable private family well, raised beds containing useful markers, and a table for the guide to use. There is indoor exhibit space. See the clothing. We garden in Florida-lovely costumes but we can't imagine digging in them!
Following this is a replica of Shakespeare's Mulberry Tree, the one that so obsessed the early tourists. Apparently, they climbed over the fences to get samples of the tree. I get the annoyance.
This is surrounded by pleasant seating within a circle of pleached hornbeams and symbolic artwork. Then to the garden. So this place, while an inventive representation of a long-gone house is primarily a garden.
The Garden Elements
The garden space, includes a sunken Elizabethian Knot Garden, long borders, a shaded wild bank, and a Great Garden space which is intended to be developed over the next few years. There is considerable artwork. It is designed to be a lovely and interesting outdoor space even if you never owned a spade and never will.
Historic Gardens
Botanical Gardens of all sorts, throughout the world, are increasing in popularity. A surprising number are developed each year.
The visitors are primarily interested in a beautiful day out and are not serious gardeners. The gardens, always need to balance the demands of the various visitors. These are literary gardens and have an extra advantage and extra demands.
A large number of historic plants still work today but they all don't. We love our Florida native plants, but our environments have changed. We have 20 native milkweeds to feed butterflies with but we struggle to grow even 2 or 3. Our state agricultural college is trying to figure out why.
It takes a real effort to maintain historic plant materials. We live in a global environment. New plants and new pests arrive every day. We appreciate garden teams like this one.
The Elizabethan Knot Garden
This would be an important ambition of a successful homeowner in Shakespeare's society. The garden symbolized comfort and successful control of your environment. You would have entertained in this space, day and night. You would offer refreshments, music and dramatic performances. You would invite your friends to sit on the herbal plantings. They would take away the aromatic scents on their clothing. A success!
The Development of the Knot Garden
This Knot garden was designed for this spot by Ernest Law, a leading exponent of the Tudor Garden Revival movement of the early 20th century. It was implemented here in 1919 and 1920.
This was a time of returning to your roots. The US was invested in the Colonial Revival Movement at the same time. These movements in art and culture are responsible for many preserved places we enjoy today. These ideas extend to interesting areas of preservation including biodiversity. Old plants, foods, and animals are saved from extinction.
How did 20th-century people know what to do? There are a lot of historical records and intact instructional books available. (Thomas Hill's "Garden Labyrinth" of 1577 is available today.) The archeological dig to find the remains of New Place was completed in 2016, the garden was replanted as part of this development.
Law's initial planting plan called for herbal plantings. Over the years, as happens in gardens the style changed and carpet bedding plants were used. The Trust gardeners now use as much as possible, of the materials recommended in the 16th-century literature.
You will see (and smell) thyme, lavender, and oregano with flowers in blues and pinks.
The Long Borders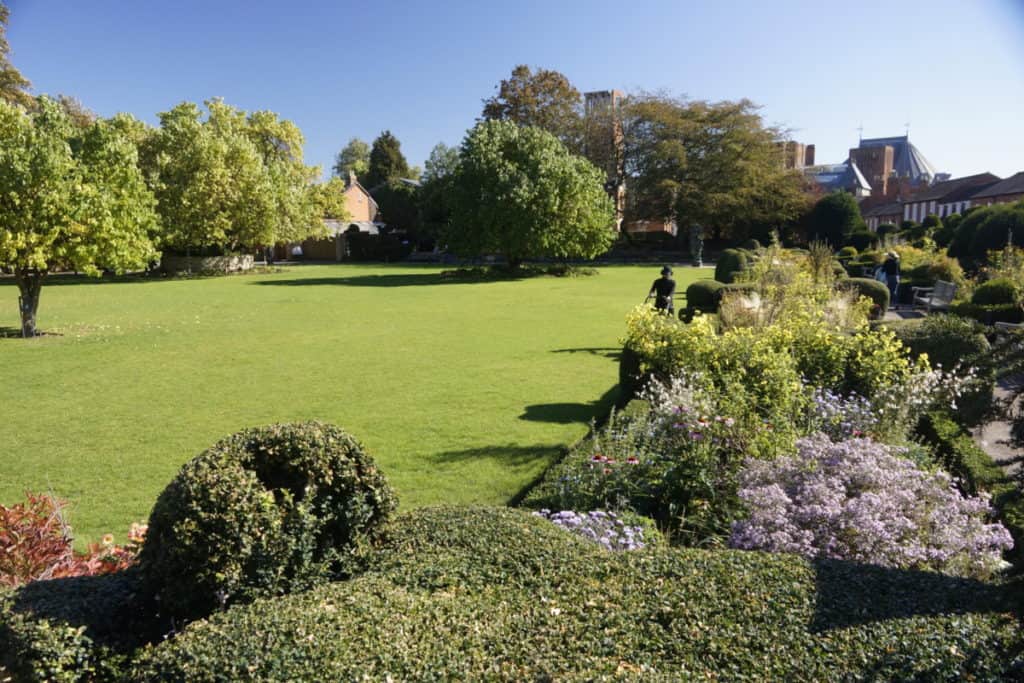 There are 12 borders planted in pairs. They are designed to suggest Shakespeare's life and writings. Light comedies first and the later, dark, tragedies near the end. Light colors slowly blend into dark. The hedges have buttresses of yew, part of Ernest Law's initial design. This splits the garden into sections. The plan is that each of the sections will be left fallow for one year to allow for the elimination of pernicious perennial weeds. We all know about that.
On The Lawn Area
Here is a pleasant area for walking. We were entertained to see a collection of ancient mulberry trees. One is thought to be a cutting taken from the one Shakespeare planted. A nice thought. I read that you can buy a mulberry liqueur from the gift shop to toast the Bard.
The Wild Bank
This is a shaded rise at the bottom of the Great Garden. Originally, it was planted by the early plantswoman Ellen Wilmott who created gardens at Anne Hathaway's Cottage. This is a perfect place for a spring surprise, which in September we missed. Perhaps another time.
Artwork in the Garden
In addition to pieces commissioned for the "house area" of the property, there are works of art throughout the garden. The Trust commissioned work from artists, designers, and craftspeople. This place is about events and people long in the past but it is new. Because there is no house to visit everything needed to be new, and that is interesting.
On the lawn opposite the borders are eight statues by Greg Wyatt. They are representations of Shakespeare's plays.
Plan Your Visit
The Shakespeare Trust operates the 5 homes in and around Stratford on Avon which are associated with Shakespeare and his family. If your time is limited the individual properties sell tickets. The cost-effective option to visit all properties is the combined ticket which provides access to all 5. I think that these, particularly combined with a theatre night out could provide two days of entertainment.
Prices:
£ 22.50 adults £ 14.50 children.
Stratford on Avon is a compact town located in the heart of England and accessible by road and rail.
The hop on hop off bus serves Shakespeare sites and the town of Stratford. Here is the website
All information is per our visit. For updates please see this website
Food: The various houses offer service and in the heart of Stratford there are good casual restaurant offerings.
Here are links to our visits to the area"
Mary Arden's Farm from the canals