Your Chance To View A True Tropical Landscape In North America
To learn how to plan your visit click here.
Fairchild And It's Unique Features
You cannot do this anywhere else in our hemisphere.
Only in South Florida will you experience an exotic, natural, tropical environment and still be in North America! And, Fairchild is the oldest and most established, such garden in South Florida.
Global Loss Of Tropical Environment
Tropical landscapes are being decimated throughout the world-their biodiversity is being protected here. We can both enjoy the beauty and learn from it.
Why is this a problem? Tropical forests support at least 2/3 of the world's biodiversity, despite covering less than 10% of the earth's land surface. We are rapidly losing tropical forests due to various uses which create deforestation. (Source)
A Few Unique Features
Fairchild Gardens houses the largest collection of tropical bamboo in the world.
You will walk under palms from throughout the world.
You will see and perhaps taste the rarest of tropical fruit.
You will traverse the only tropical rainforest in North America and experience its richness and moisture.
This is a place of diverse interests, located here are both a partnership with NASA to identify edible plants for space and the home of the American Orchid Society,
Why You Will Want To Visit Fairchild Tropical Botanical Gardens
Fairchild has compelling vistas and strange trees from a Grimms fairy tale. You can visit a house where butterflies hitchhike on your shoulder as you walk around. You can see science at work in its community and understand, with your family, the essence of conservation.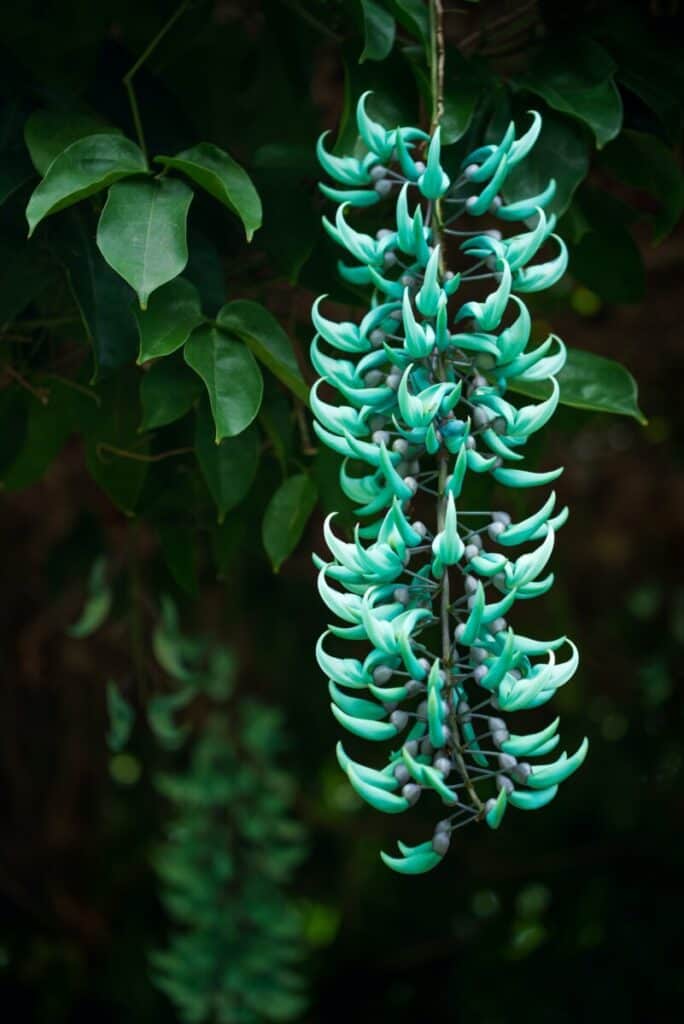 Look for exotica. You can walk under a pergola filled with this rare jade vine and encounter a giant African Baobab tree.
Places You Will Experience
You will enter environments from, tropical Africa, Madagasgar, Oceanic Islands. the Caribbean and South Florida, and still have time for a MIami Cuban lunch!
Fairchild History
How is this place possible right on Biscayne Bay?
This 83-acre tropical garden is located today on valuable real estate in Florida's Coral Gables community. It was created by forward-looking naturalists starting in 1936 when economic conditions were harsh, jobs were scarce in the United States, and war threatened everyone.
It is difficult to imagine such a place being built in a high population area today. We are privileged to have it.
Who Created Fairchild?
Robert H. Montgomery
A successful businessman, philanthropist, and also an impassioned tree and plant collector he bought and donated the land. He intended to create a public garden dedicated to honor one of the world's great plant hunters and preserve collected tropical materials.
David Fairchild
Remember David Fairchild as the man who profoundly changed the way Americans eat! Today we love our greatest chefs, and rightly so, but they manipulate the food. Fairchild brought us the raw materials!
At a time when Americans ate meat and potatoes, and greens were the province of ruminants, Fairchild explored the world and brought the food to us. And we have never looked back.
If you like Mangos, Dates, Nectarines, and a little horseradish on your roast beef thank David Fairchild. If your animals eat Alfafa, do the same. Add 19,995 other plants and foods we like in North America today.
At age 22, he founded The Foreign Seed and Plant Introduction Section at the Dept. of Agriculture. For the next 37 years, he sought out plants of use for the American people. David Fairchild never met a seedpod he didn't like.
These are Fairchild's own recipes from the Smithsonian Magazine. Fresh and simple.
William Lyman Phillips
A Harvard-trained landscape architect from Massachusetts, he worked for The Olmstead group in Florida and had extensive skills in Florida horticulture. (As one who has made that particular geographical transition it can feel like planting tomatoes on Mars.)
He worked on Boston Common, The Panama Canal, he designed military bases and American WWI Cemeteries in Europe. In Florida, his work included Bok Tower Gardens and Mountain Lakes Community in Lake Wales, and many projects in South Florida.
Why was he so successful, especially during the depression when building opportunities were scarce? He combined an affinity for tropical plant materials with a classical flair. In his work, he proved to be skilled at merging aesthetics, divergent viewpoints, and a sense of practicality.
Marjorie Stoneman Douglas
From her position as a Miami Herald journalist, author, and early environmentalist she was able to argue convincingly for the project. She also recognized that the garden would be a benefit for the growing University of Miami.
The author of "The Everglades-River of Grass," she changed America's perception of the Everglades from that of a useless swamp to a globally valuable environmental resource. We are still scraping back damaged miles today.
Forming The Gardens
Overcoming Problems Presented by the Topography
Upland Area
Phillips recognized that the 83 acres of the now desirable property had some significant limitations. Only 23 acres were of upland territory (that means not wet with salty water) and 1/2 of this was to be dedicated to Palms.
The Escarpment
This is a wide sloping area directly above the low wetlands.
The Lowlands
This is the wet, salty area from which lakes and islands would be developed. The key problem here is creating dramatic vistas when the lowlands are only 18″ below the sloping area! This and a small percentage of the land which was high and dry appeared to be Phillips' biggest obstacles.
The Florida Problem
In Florida, there is no height, wide spaces, and water we've got, height not so much! A change in the topography of one foot, we call a mountain! Here, twelve inches is so important that everything changes, the plant life, the wildlife, the opportunity for life to be lived.
It is tough to create drama and you will see that Phillips did. (Before this he did the opposite too, Bok Tower Gardens is that southern unicorn, a Florida mountain and he made that exciting too.)
These facts ensured that some desirable tropical plants needed to be extremely limited in quantity. The genus Ficus is beautiful but can encompass enormous areas. We viewed the famous Ficus on the waterfront in Lahaina on the Hawaiian Island, Maui. Today it covers 6 acres!
How Phillips Made the Most of This Space
He decided that 3 principles would define the garden: Variety, Consistency, and Contrast.
Variety
By this he meant openness between plantings, the groups would always vary. When you walk through this garden, you will see what he meant.
Consistency
The plantings would be free and naturalistic throughout the entire garden.
Contrast
Phillips created both large and small masses of plantings. Spend time at the panoramic overlook, you will understand what he intended to create.
See the Gardens
Arrive near opening time in the morning. This will allow you to take the first, free tram tour. (In a hot climate, even in the popular winter "Season" this is a wise idea.) The tram is an easy, comfortable way to view the entire garden with useful commentary. This will also allow your family to save the energy of its oldest and youngest members.
Following this, you can evaluate your own time and select the garden sections you would like to pursue. Carry a map with you; it will help you take it all in.
Important Garden Elements
The Visitor Center
Notice the Architectural choices made. At Fairchild, the buildings and hardscape incorporate the simple, open shapes, wide porches, and the stone staircase used by early settlers in South Florida and the Caribbean to adjust to the heat. The use of local oolithic limestone, filled with visible fossils, connects this historic garden to its origins.
The Exotic Vine Pergola
Walk under the shaded pergola including dozens of tropical vines of unique colors and shapes. It is more than 500 feet long and is located along the wall which separates the garden from the road.
Tropical Flowering Tree Arboretum
Notice Allspice with its scent and quilted leaves. There are many, exotic flowering trees. If you are planning a trip check the Fairchild website for this list of plants in bloom by month.
The Simons Rainforest
Tropical rainforests are globally imperiled today and are thought to house at least half of all plant specimens on earth! This two-acre representation shows streams, orchids, vines, and waterfalls. The water used here, flows in a complete circle, starting and ending in Glade Lake.
Spiney Forest of Madagascar
Madagascar is the 4th largest island in the world. It separated from Africa millions of years ago and houses unique plant species. It is currently undergoing considerable plant degradation.
You will see plants that look like sticks on sunny days and become trees in the rain!
"Wings of the Tropics"-Butterfly Gardens
Here, tropical varieties of butterflies live in a 25,000 sq foot glasshouse. You will enter and exit through triple doors to protect the butterflies. Released twice daily, the butterflies will attach themselves to you and ride on your head or shoulder. The Glass House Restaurant, with its Dale Chihuly chandelier, is adjacent.
The Rare Plant House, and Tropical Plant Pavillion
This building employs local, oolithic limestone filled with fossils. You will see rare philodendrons, anthuriums, and orchids. Notice a pitcher plant and massive tree ferns.
Why does Miami require a pavilion for some tropical plants? This place houses plants that cannot accept temperatures below 40 or require a higher ph than our alkaline soil provides.
The Baily Palm Glade
Walking through the palms you will come to views over mangrove preserves and Biscayne Bay. This is labeled Glade Lake on the map.
The Allee and Overlook
Travel down the tree-lined Allee toward the Overlook, here is a keyhole vista to lake views. Reaching the Overlook, the views spread out to a panoramic expanse of lakes and islands. On the map, this is labeled Pandarus Lake.
These places are prime examples of Phillips' genius. He took our flat Florida landscape and gave it drama!
Do You Love Orchids And Want To Learn More?
Fairchild Gardens is the home of the American Orchid Society. Together they run an important Orchid Show And Sale. This link will take you to their website. You can download a copy of their magazine; it will help you decide if you would like a membership.
We are members of our local chapter and the resources are valuable to us.
Calendar Of Events
Botanical Gardens have become graceful settings for events of all kinds. When vacationing or visiting your own local garden look for opportunities for yourself.
Fairchild Events
Fairchild is an active garden with a large membership and a wide and varied list of activities. Check the website for events when you are here.
You will find classes of all kinds, art, horticulture, crafts, and decor, as well as exercise.
Early bird walks, dog walks, holiday activities.
Major Annual Events
festivals devoted to
Chocolate in January
Orchides in March
Mangos in July
Birds in October
Fall Gardens in November
Sculpture installation tied to Art Basel Miami in December as well as lighted evening walks
Places to Eat
The Glass House Cafe: located at the butterfly house, there is indoor and outdoor seating with pleasant views. The fare is fresh salads and sandwiches and a reasonable variety of cold drinks. You order both indoors and outdoors at windows. I read several criticisms of this service and I would agree. Overall an enjoyable and welcomed lunch.
The Lakeside Cafe: This offers similar, casual fare overlooking Pandanus Lake and wildlife.
Starbucks: Is located inside the visitor center gift shop. The gift shop offers attractive presents for someone with botanical interests.
Plan Your Visit:
This information is per our visit, for current information check the website
Location: 10901 Old Cutler Road, Miami FL 33156
Hours: 9:30-4:30, Daily
Admission Charges: Adults, $25.00, Adults, 65+ $18.00, Students, $12.00, Children, 6-17 $12.00, Children, 5 and under, free.
Accessibility: the facility is fully accessible including wheelchair spaces on the tram. The garden is large and we noticed that employees often offered golf cart rides to visitors.
Some Other Florida Gardens To See
Mina Edison's Moonlight Garden-Edison-Ford Estate, Fort Myers Fl
Here is information on 7 other Florida Gardens easily worth a day.
Some Resource Material
Reference Page– this is my compendium of Gardens and Gardening resources.
David Fairchild-Smithsonian Magazine
Books
"The Everglades-River of Grass" Marjorie Stoneman Douglas
Voice of the River- a biography of Marjorie Stoneman Douglas
Histories of Coral Gables Florida