"They Unpaved The Parking Lot And Put In A Paradise"

-Christopher Woods in "Garden Lust- A Botanical Tour of the World's Best New Gardens" – entry on Naples Fl Botanical Garden
If you are in Florida or planning a visit, here are seven public gardens displaying the region's natural beauty enhanced by human imagination. Prominent American landscape architects, that we normally associate with temperate climate gardens worked here.
They produced innovative venues that we enjoy today and which provide valuable conservation and preservation. If you need a quiet walk in beautiful surroundings try any of these. Two of these gardens are not primarily viewed for their natural features but for museums. I am including them because they are in locations relatively convenient to the others and primarily because visitors should not overlook the garden features of the sites.
Fairchild Tropical Botanical Garden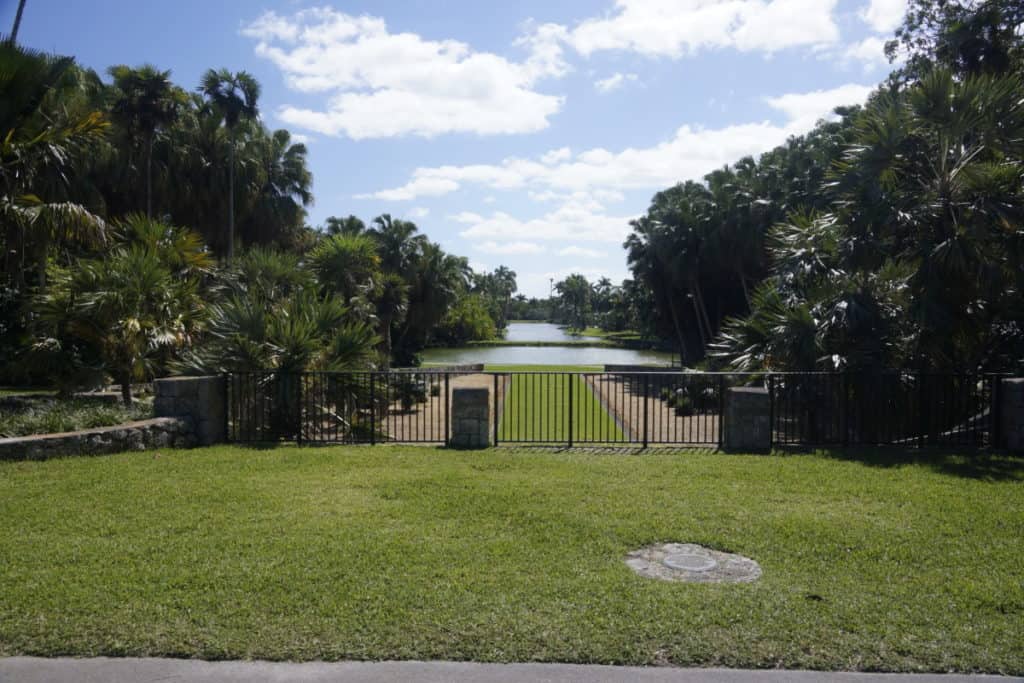 Why You Would Like To See This Garden
Fairchild is the only truly tropical garden in North America. We have many locations in which you can visit beautiful tropical plantings in conservatories. I am thinking now of spending winter days in the splendid glasshouses of Longwood Garden in SE Pennsylvania. They are a rare treat in blustery weather and a proof that spring will come!
However, there is nowhere else to see a garden quite like this one- genuine tropical landscapes in their natural settings. Additionally, in an environment in which we read, almost daily, of the loss of tropical habitat we are happy to have this unique spot. There are varied environments, lush and green and then dry and arid, but filled with sleek or strange life forms.
We expected flowering trees, vines, water features, and loads of orchids. Additionally, we were charmed by the lagoons and deep vistas designed by William Lyman Phillips, who trained in the famous Olmstead system. He built this garden at a time of America's greatest economic insecurity by using workers in federal programs. It is amazing that it got done. The output is magic.
Here is a more expanded description. Location; 10901 Old Cutler Road, Coral Gables FL 53156 -Tel; 305-667-1651
Plan Your Visit
This information is per our visit please check the garden webpage.
Open days and hours; 9-5:30 daily x Christmas
Admission prices: Adult; $25.00, ages 0-5 $0.00, 6-17 $12.00, 65+ $18, Student $12.00.
Food and Accessibility: There are two restaurants and a gift shop with some snacks and coffee. You may picnic. The garden offers disabled parking, loaner wheelchairs, a tram service, some seating, and drinking water are located throughout the garden.
The Kampong
The Kampong, also located on Biscayne Bay, was the home of David Fairchild an American explorer who discovered plants around the world. He had as much influence on what Americans eat today as anyone. The Kampong is the Malay word for a village and is a small garden that makes a great added visit when you see Fairchild. It is considered a hidden gem that even many Miamians do not know.
It is one of our oldest botanical research centers and is known for its selection of Cycads (plants that the dinosaurs saw) palms and flowering trees. Do not miss the 50-ton giant baobab tree.
Plan Your Visit
Location; 4013 South Douglas Road, Coconut Grove Fl, Tel 305-442-7169
Open; Monday-Saturday 9:30-4:30
Admissions: Adult; $20.00, Senior; $15.00, Age 4-12; $5.00, under 4; $0.00
Naples Botanical Garden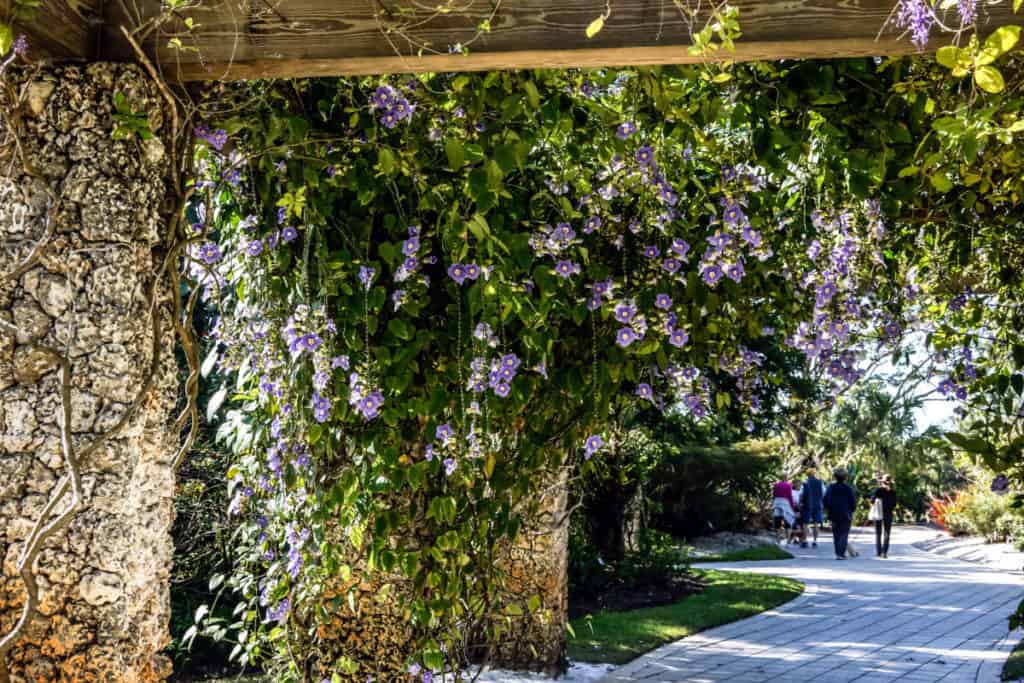 Opened in 2009- and encompassing 170 acres this garden is big, new, and ambitious. If you go-go early, there is a lot to see. This is an impressive undertaking and should not be missed if you can make it. It is the youngest garden in history to receive the award for excellence from the American Public Garden Association. It was made on land, once a junkyard, shopping center, and home to invasive species. Joni Mitchell should be pleased!
Why You Would Like To See This Garden
The point of this garden is Latitude. Specifically, 26 N and 26 S. These are the tropics and a little bit of the subtropics which is its SW Florida location. Plants are collected from throughout the world as long as they are within that latitude. You will visit the gardens of Asia, Brazil, the Caribbean and of course Florida. There are also 90 acres of wilderness preserve and native habitat.
We live about 15 minutes from this garden and for all its neighbors, it is a place for garden walks, recreation, and inspiration.
Plan Your Visit
Location: 4820 Bayshore Drive. Naples FL 34112
Open Times: 8-5 Daily, 8-8 Wednesdays through March 25.
Admission Prices: Adults $19.95, Children 4-14 $9.95
Food and Accessibility: There is a restaurant, water stations in the garden. There are motorized chairs.
Marie Selby Gardens
Sarasota Fl, Art, and Nature on the Bayfront in John and Mabel Ringling's Home Town
Why You Would Like To See This Garden
Selby Garden is a lush tropical place located exactly waterfront on Sarasota bay. It is convenient to the charming historic downtown and the arts area that John Ringling started for Floridians. This 15- acre botanical garden, 40 years old is relatively small in the world of botanical gardens. Despite this fact, it is considered the world's most diverse collection of Epiphytes. Source
What's an Ephiphyte and why do we care? Epiphytes are plants that grow on other plants and are not parasites. These would include ferns, most bromeliads, and 70% of all orchids. This makes them mostly small plants. Surprisingly, the gigantic banyan tree is a fig that starts out its life as an epiphyte! They are fascinating large trees that grow their own groves and you will see them here. (If you like them there is a famous one in Lahaina, Hawaii's historic Whaling town.)
What You Will See
This means that this specialized garden will actually show you a wide variety of garden areas. This includes bromeliads, a carp pond, a banyan grove, a bamboo grove, a butterfly house, and a children's rain garden.
How to See the Garden
Because Selby Garden is near to Sarasota's downtown and the famous St Armand's Key, with excellent shopping and dining, you can combine your day here with other pleasures. St Armands Circle is a small park surrounded by restaurants, boutiques, and salons. This area of matured trees includes the Venetian statuary collected in Italy by John Ringling.
Who Was Marie Selby?
Marie and Bill Selby were committed to philanthropy in general, Sarasota specifically, and loved to garden. She left the property for the "enjoyment of the public." The trustees of the garden took advice from the University of Florida and The New York Botanical Garden and the decision to specialize in epiphytes evolved.
Plan Your Visit
Location: 900 Palm Ave. South, 940-366-5731 This information is per our visit, please see the website
Hours: The garden is open daily 10-5, except Christmas day.
Admission: Costs: Adult: $25.00, children 4-17; $15.00
Accessibility: there is disabled parking and wheelchairs are available.
The Ringling Museum Complex
This complex encompasses the 66-acre estate of John and Mable Ringling of circus fame. He had a great interest in the art, culture, and history of Italy, especially Venice.
Why You Would Like To See This Estate
John Ringling, an American entrepreneur truly understood the value of entertainment in American life. Born into a poor family of German immigrants he eventually owned 30 businesses. He and Mable enjoyed the "good life". Their definition of the good life was not just parties on the bay with an orchestra in a boat. They also appreciated art and culture with a big A and a big C! It is all here, as they say.
You can come just for the art collection. This place is the State Museum of Florida and we are so lucky to have it. You can get close, with small crowds, to the Old Masters. See Rubens, van Dyck, Titian, Gainsborough and El Greco.
Here Is A List Of The Sights
Ca'd'Zan Mansion'
Art Museum
Circus Museum
Historic Asolo Theatre
Art Library'
Bayfront Gardens
The Gardens
This is a large garden which you can walk or travel through by tram. The Ringlings were avid collectors and not just works on canvas. They wanted exotic shade trees along the bay and they included them.
Garden Elements
Mable's Rose Garden; at 27,225 sq. ft. this is a considerable collection of roses. Built-in 1913, it was later damaged and restored. It is now a collection recognized by Rosarians.
The Secret Garden: This is the burial place of the Ringlings.
Exotic Tree Collection: They wanted shade trees and they got them. There are hundreds of trees on site. The Ringling uses Treekeeper Software to identify them. I was able to access it using this link. If you go try it.
The Courtyard: A Renaissance Garden; Art and nature together, can it get better? Overlooked by David, symbolic of both Florence and Sarasota are bronze statues throughout the lawn area. John and Mable intended them for this spot. They ordered them from the renowned Chiurazzi foundry.
The plantings were planned as well. The palms, thought to be Cuban Royal palms are about 100 years old. The pine trees are the same types as chosen by the founders and the bougainvillea have been in their enormous pots for about 20 years.
Plan Your Visit
Location: 5401 Bayshore Road, Sarasota FL 34345 Tel
Hours: 10-5 and Thursdays to 8 pm. The Grounds are open from 9:30-5:30 Open daily except for Thanksgiving, Christmas, and New Years
Admission: Adults $25.00, Senior: $23.00, Age 6-17 $5.00, Under 5 $0.00 There are some free docent tours which are excellent, check the times. There are also additional guided tours at an additional charge. We have never, not found them valuable.
Dining and Accessibility: There are three dining opportunities as well as picnic spaces. The space is large and the buildings are old. Having said that the Ringling has a number of options. Wheelchairs are welcome, a few are available. There is regular tram service and healthcare aid is offered free admission.
Bok Tower Garden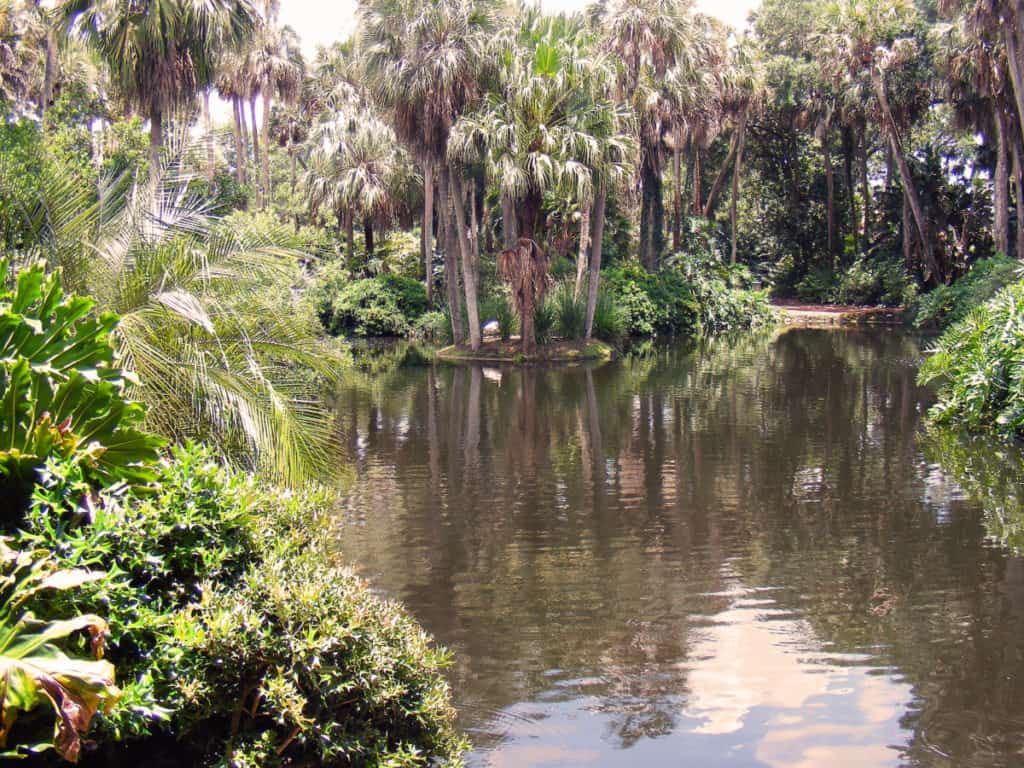 One Of The Most Remarkable Experiences In Florida
"Make the world a bit better or more beautiful because you lived in it"

-Edward Bok
Why You Would Like To See This Garden
Edward Bok, (1863-1930) won a Pulitzer Prize and edited Ladies Home Journal. He grew up in Brooklyn NY in an immigrant family so poor that he washed windows as a child and collected scraps of coal from the street to keep warm.
When he saw Iron Mountain, a sandhill, 295 feet above sea level, in central Florida he recognized a treasure. He hired Frederick Law Olmstead Jr. to create the garden of his dreams. Prior to this job, Olmstead worked on Biltmore, the White House, The Jefferson Memorial, and the National Cathedral among others.
They created this garden vision from several hundred acres using native and exotic species. The goal was a contemplative spot and they got it. Because they designed it to feed migratory birds you can today see 126 species of birds on your visit;
What You Will Find Here
A day spent here will be a full one: This is a sanctuary
The Garden: Follow hilly walkways surrounded by palms, oaks, ferns, and pines. They set off flowering shrubs. Springtime offers Camellias, Azaleas, and Magnolias. There is a children's garden, a pollinator garden, and a rare plant collection. The whole family can come but note that there is a lot of walking.
The Singing Tower: you can attend carillon concerts near the tower. It is an art deco, neo-gothic tower with remarkable natural decorations and the front door of your dreams! As you walk up the path you see the tower reflected in the large, adjacent pool. It is another treat, You buy little bags of treats from a machine and feed the carp. They see your hand move and almost leave the water.
Pinewood Estate: This is a historic 1930's house in a garden setting of 7.5 acres. It is an attractive place to tour and they offer a charming Christmas tour with music.
Hiking Trail: 3.5 Miles
The Viewshed: in 2007 the trustees implemented a plan to preserve the extraordinary views. The plan was so complete that it has its own name, "the Viewshed. Orange groves have an easement but the view can never change.
When they said they were building a sanctuary-they meant it!
Plan Your Visit
Location: 1151 Tower Boulevard, Lake Wales, FL 33853
Opening Hours: The attraction is open 365 days per year. The hours change seasonally. Check the website.
Admission: Adults; $15.00, Child; 5-12 $5, Dogs $5.
Food and Accessibility: The garden offers, mobility vehicles, wheelchairs, and strollers. There is a pleasant cafe with garden views.
Edison Ford Winter Estate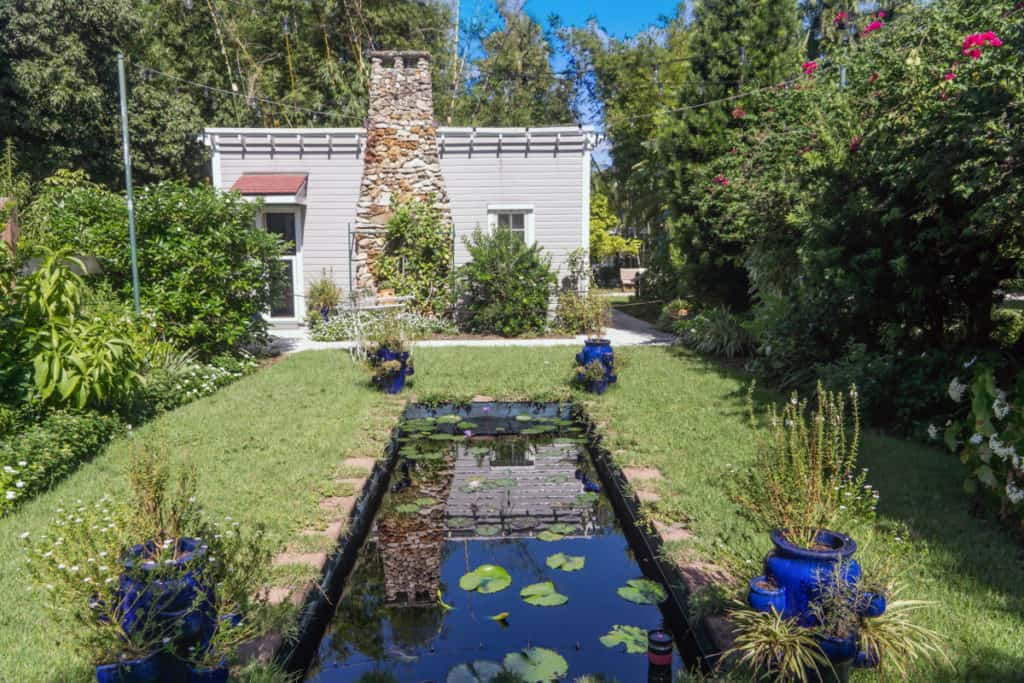 Where The Garden Is The Secret
The plot of land that Thomas Edison, impulsively bought in 1885 is best known for scientific history. He made his first visit to Florida, spotted this land along the broad Collusalatchee River, and pictured spending his winters here. At this time he didn't even know Mina Miller who became an important figure in the life and development of Fort Myers.
He built a home and a working laboratory here. He was joined by his successful former employee, Henry Ford, and Harvey Firestone. Together they created a hotbed of invention working in the laboratory on cool winter days.
Here is what you are likely to see here and why you might like this garden.
Historic homes. This is not Miami, expect simple buildings, cleverly laid out in a time before airconditioning to remain cool on the river. In the early days, Fort Myers had a little bit of a wild west ambiance. Cattle on their way to Cuba were driven down McGregor Boulevard beside the houses. The Edisons planted tall palms to dress the place up and keep the cattle out of the flowers!
There is a swimming pool with a tea garden. Who would think of that today?
Science Exhibits: There are interesting objects and inventions on display. Thomas' final small office/lab is on display. This was built by Mina for him after Henry Ford took the original lab to Dearborn to display. If you appreciate science or want the children exposed to some interesting ideas this is a great place to visit.
The long fishing pier where the moored their boat is gone. You can, however, walk along the waterside and stroll to a nearby fish house and return to the estate.
The Gardens
Thomas and Mina loved to garden. She was the daughter of Lewis Miller, the founder of the Chautauqua movement, and like him a great improver. She founded garden clubs in every neighborhood in the town. They became interested in tropical plants. These gardens contain 1700 plants, from 400 species and originating in 6 countries.
Some Garden Features to Look For
The Banyan grove. The huge trees are intertwined and Edison's lifesized statue stands before them.
The Garden Shop. A good variety of plants is offered daily, and the estate runs lectures and activities including two garden festivals each year. Check the website before you go. There is a handy list of "what's in bloom" so you won't miss something interesting.
Mina Edison's moonlight garden. She hired prominent designer Ellen Biddle Shipman to design one of her characteristic, reflecting pool gardens for this site in 1929. Shipman designed over 600 gardens in the US. Only two are known to be in Florida. The other is at the Cummer Museum and Gardens in Jacksonville. I have a more expanded piece on this historic Garden on this site. Mina Edison's Moonlight Garden. I hope it gives you ideas. The garden had that effect on me!
Plan Your Visit
This is the website
Location: 2350 McGregor Boulevard Fort Myers Florida 33901 Tel 239-334-7419
Opening Hours: 9-5:30, exhibit and garden center.
Food and Accessibility: There is ice cream in a small shop. No meals are offered but there is a riverside fish house a very short walk on a paved path and you may return after lunch. There are paved walkways and motorized wheelchairs may be used. Non-motorized wheelchairs are offered as available.
Summary
I hope this information is helpful. If you are interested in repeat visits to any of these gardens, memberships are available.