How To Grow This Exotic Tree-Jacaranda mimosifolia
Jacaranda mimosifolia is tall, stately, and lavender. Where can I grow one?This tree dominates cities in the warm climate world and influences their culture. There is a university in Australia where students say that if you haven't started your final exam prep by the time the Jacaranda blooms, you might as well go home! The students call spring the Jacaranda term. Another university in Pretoria says that if a Jacaranda flower falls on your head, you will pass your exams.
So you can either study or hang around under the trees during exam week!
Important Jacaranda Features
The blossoms and foliage of the tree are unique. The flower is trumpet-shaped, large blue-purple in color, and sweetly scented. They grow in groups called panicles, which are loose, branching clusters of flowers. (Think of the top of the oat plant.)
The leaf is bipinnate, meaning each leaf has 12 or more oblong leaflets. The whole leaf can be 20″ long, and this creates an overall fernlike appearance to the tree canopy. The branches are arched and arranged like an upside-down umbrella, making the tree a handsome shade species.
The symbolism of the Jacaranda
The jacaranda tree, native to South America, is associated with a moon goddess known for wisdom. This is the connection I found to higher education and the superstitions found on college campuses where the tree grows. The Jacaranda is another example of how we humans have always associated our understanding and aspirations with trees.
How to Pronounce Jacaranda mimosifolia
If you want to pronounce Jacaranda mimosifolia, it goes like this. (jack-uh-RAN-duh-mih-moe-sih-FOLE-ee-uh)
Where Can We Grow The Jacaranda
Jacaranda likes to be warm. It lives in USDA hardiness zones 9b-11. (Your hardiness zone.)
You will see the Jacaranda in Southern California, the Gulf Areas. South Florida and Hawaii.
Plant it in a sunny area protected by strong winds. Then give the tree a big space. It can be 50′ high or more and as much as 30′ wide. Use an area with rich and well-drained soil. It can accept a variety of soils but prefers sandy soils.
You can grow the Jacaranda as a standard or multi-trunk tree, and it is semi-evergreen. It is appreciated for the soft filtered shade it provides, as well as the brilliant color in spring and summer.
The Jacaranda Root System
Give this tree some room to grow. Its root system is roughly the size of the tree canopy. It should live for 50 years, and in ideal conditions, it can live for 200 years.
Is My Garden Too Far North or Too Small to Grow The Jacaranda?
The Jacaranda tree does lend itself to bonsai. The bonsai can come indoors for the winter and outdoors for the summer. If you would like to try it, here is some information. Bonsai Empire.
I do read that jacaranda is grown in large pots and brought indoors for the winter. By doing this and pruning during the dormant winter period, the tree is kept to about 10′ high.
Listed below is a source of a true dwarf jacaranda reaching 10-12 feet in height.
Places To See The Jacaranda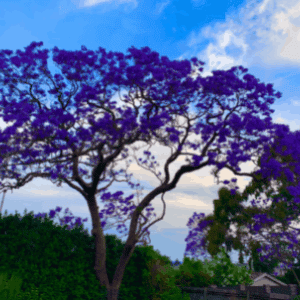 We love this tree in South Florida, also warm parts of Texas and Southern California. We enjoy them in our springtime, but this was my most memorable view.
On a visit to the Hawaiian island of Maui, we drove one day, in our rental car, to the unforgettable Ulupalakka Ranch, on the slopes of Mt Halaiakkala, the island's famous volcano. Quite a treat; see below.
Maui, Hawaii If You Are Thinking of Going
We enjoyed Maui immensely. To know why, here is my view of Maui; I see it as divided into six distinct segments. Each has its own personality, and I hope it helps you find the places you will enjoy most. "How to Visit Maui."
One day we drove miles and miles upward in exotic scenery to arrive on what looked like a quaint New England hillside. Cattle and horses grazed as we looked leftward toward green pastures and the kind of stone walls I grew up near. The difference was that the animals grazed under the shade of a giant purple tree!
How We Got The Jacaranda
That is how the Jacaranda tree affects people. We love it. It started in Central and South America, and we humans took it to any climate in which it could possibly survive. It is appreciated in warmer parts of Europe, Florida, southern California, and throughout Asia. These are all places in which it is not native.
The Man Who Made The Jacaranda an International Experience
Baron Von Ludwig brought it to Capetown in 1829. He was Carl Ferdinand Heinrich Von Ludwig, born in Germany. He was a pharmacist, businessman, and confirmed plant hunter. He founded South Africa's first botanical garden and assisted many visiting botanists, and sent herbarium specimens to Oxford, Kew, and Berlin gardens. Several plants are named for him.
From Capetown, the Jacaranda spread widely. It dominates cities, and some have festivals celebrating the arrival of the purple skylines.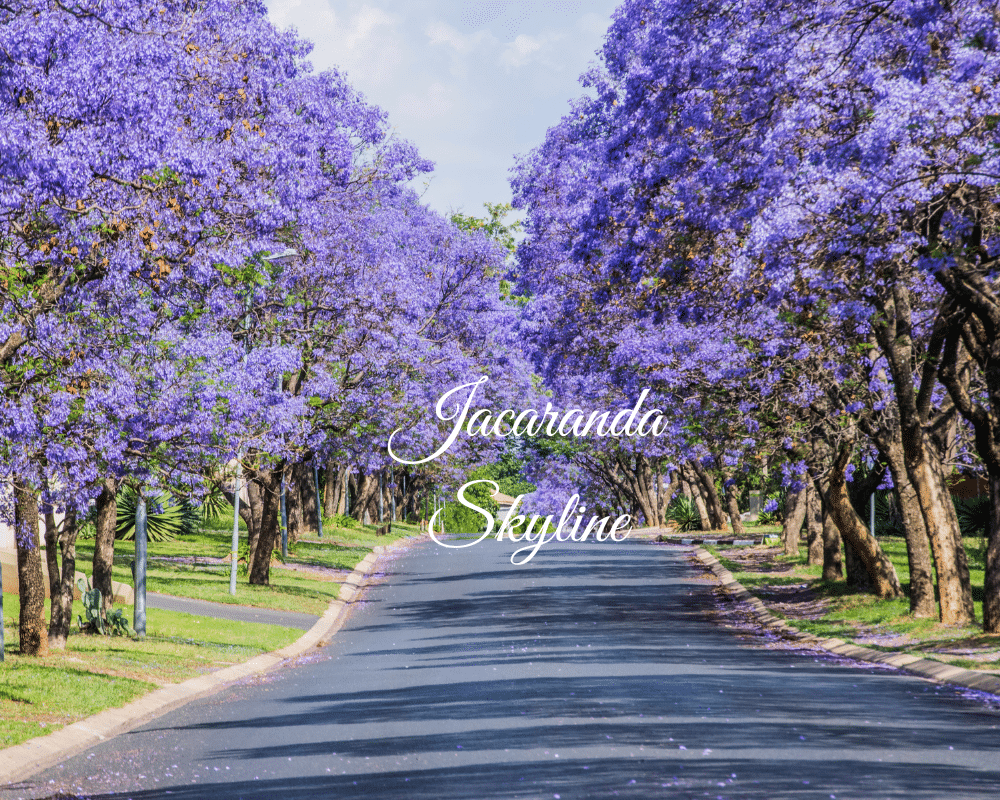 Are there Problems?
In one city, it is both loved and hated! Pretoria has a water problem; It is not the tree's fault, of course. But the Jacaranda, coming from a warm and wet climate, uses lots of water, so they have banned planting new ones. People complained so much that the city compromised; you can now replace lost ones-but no new Jacarandas are allowed. In some parts of Australia and South Africa, it is considered invasive.
How To Grow the Blue Jacaranda If You Can-How To Appreciate It On Your Vacation
I am enjoying writing about flowering trees. We have lived in various climates, and they have always been an important part of life. I started with the Magnolia and the Crabapple. I love them both, and they live in many climates. That hopefully makes the information useful in lots of places.
Growing a Jacaranda tree is primarily for those of us in warm climates. The problem is that if you are a real gardener, this is something wonderful that you won't see. It is too big for a greenhouse, although botanical gardens grow it under glass. So, here is all the information if you can use it. Otherwise, you can use it on a vacation. I hope you get to see one. They are unforgettable.
Why We Grow the Jacaranda-Tall, Stately, and Lavender
We love it for the glowing purple clouds that surround us. There is no product to eat. It's all about looking at it. There is a mild sweet honey smell. The name actually indicates fragrance. We talk mostly about the striking flower, but the feathery foliage is memorable also. In fact, owners of properties with Jacaranda often light the tree to appreciate the foliage at night.
The Jacaranda attracts bees and hummingbirds, making it rare and valuable in our efforts to attract pollinators. The tree has the virtue of attracting pollinators to urban areas.
The Name Jacaranda mimosifolia
The genus of this plant is the Jacaranda, with about 49 individual species. It is in the family Bignoniaceae which includes the Tabebuia tree. The one with all the glamor, though, is Jacaranda mimosifolia, so in everyday horticulture, if someone says, "I want a Jacaranda," this is what they want!
Origins of the Name Jacaranda
How did we get the word? Jacaranda is thought to mean fragrant in a long-lost language from the parts of South America where it originated from.
The mimosifolia part means it looks like a mimosa, a fluffy-leafed plant in the pea family.
Where Can We Use It
Types and Varieties of Jacaranda Trees
Jacaranda mimosifolia 'Alba' is also called White Christmas. This is a large tree with white blossoms and is available from specialty growers. Care for it as you would any Jacaranda.
Jacaranda mimosifolia 'Bonsai Blue' is a dwarf variety and matures at 10-12′ in height and 6-8′ wide. It is relatively new.
Pink! Stereosmermum kunthianum- is a tropical tree from Africa with pink trumpet-shaped flowers and is called the"African Jacaranda'. While in the same family, it is not a Jacaranda. It is a pretty ornamental tree and much smaller than the jacaranda.
The Jacaranda Tree is Large-Tall and Wide
This is a true specimen tree, and it will be the capstone of its landscape. It has open-spreading branches and finely textured leaves. It takes 2-3 years for a seedling to bloom. It is a fast growing tree and can 10′ per year in its early years.
The blue jacaranda can reach 65′ in height and be nearly as wide! The canopy is light, and you can plant under it. The Jacaranda mimosifolia is known for its vigorous root system. It is a magnificent blue/purple flowering tree-but give it plenty of space!
The tree is reasonably drought-tolerant but should be watered in dry periods and in its early years. Like many flowering trees, the work is in getting them established; they are low maintenance after that.
Temperature
Mature trees can survive cold periods to 25 degrees. They will not flower in periods of extended strong wind.
Planting A Jacaranda
Plant the tree in an open spot with full sun. The ideal soil for a jacaranda is well-drained, slightly sandy, and acidic in pH. Water deeply and repeat when dry. Mulch the tree to conserve water. The tree, however, will not live in a wet environment.
Maintenance
Water the tree until established; it provides a light shade which makes it easier than many other trees to grow turf under. Only limited pruning will be required, and it is best done in the winter dormant season. The jacaranda blooms on new wood, and late winter pruning will stimulate that growth.
When Is The Jacaranda In Bloom And A Purple Alternative-The Purple Trumpet Tree
Expect to see this beautiful tree in bloom in the late spring into the summer. If you love the purple blooms and want more, read this piece on the Purple Trumpet Tree. It blooms in the same climate in early spring and is a much smaller tree and is available to you if your garden is not large enough for the approximately 50 feet size of the Jacaranda.
Comparing The Blue Jacaranda Tree and the Purple Trumpet Tree
For the trumpet-shaped blooms and beautiful blue/purple color, how do these two trees compare? Here are the similarities, they both offer trumpet-shaped blooms in large-sized groups, the blue/purple color, and prefer warm climates. The purple trumpet tree is much smaller and blooms earlier in spring. The Jacaranda is very large and has a longer bloom period, two months, and much later in the season.
Can you fit both of them in?
A Dwarf Jacaranda Tree
The Monrovia Company advertises a true dwarf tree, maturing at 10-12′ in height. Here is more information on it.
How To Prune The Jacaranda
This is a fast-growing tree, which implies softwood. Prune the tree in late winter before the new growth begins. Remove any branches growing at less than a 40-degree angle; these will be weak. Leave enough room between branches for air circulation. Maintain one main trunk. Remove enough branches to prevent enough weight to split the trunk.
Pests and Diseases of Jacaranda
This tree, like many, can be infested with aphids and scale, which can be treated with insecticidal soap. The Jacaranda can be negatively affected by too little water or too much fertilizer. Annual feeding is sufficient.
What To Do If Your Jacaranda Does Not Bloom
Here are the issues most likely to affect blooming
Age of the tree: Jacaranda first blooms between the ages of 2-14 years from planting. A wide range-the earliest blooms come from grafted trees.
Soil fertility. High fertility is not required, but excess nitrogen can be a deterrent.
Sunlight and temperature, full sun (6 hours or more), and warmth are important.
Moisture and overwatering is the most negative; the trees often bloom well in drought conditions.
Excessive wind, particularly with salt, is negative. Plant the tree in a position allowing some protection from heavy winds.
Jacaranda for Pollinators
The iconic feature of the Jacaranda is the bright, bell-shaped tubular, purple inflorescence with thousands of flowers. The tube actually has a flat landing pad for the convenience of the bees. They land on it, drink the nectar and carry the pollen forward.
The tubular flowers attract hummingbirds, also. I work on pollinator gardens, but often I think we underestimate the value of trees for pollinators.
Summary-How We Use Them
Los Angeles counted almost 150,000 Jacarandas in 2010. No one is sure where they came from, but everyone appreciates them. One viewpoint is that during the gold rush, ships bringing supplies to California would stop in Buenos Aires, and someone thought they would be a good idea. Interestingly the jacaranda of South Africa also arrived during their gold rush and came from South America also in the 1880s!
The colorful trees are popular signs of spring in Florida, Texas, and California.
For more information: Jacaranda, University of Florida.
More Flowering Trees
If Flowering Trees are something you would like to add to your garden, this is a discussion and a list of Flowering trees for both temperate and tropical climates. There are descriptions and information on planting zones in which they would live.