2020 Has been hard for all locations, and especially those places where tourism is important. Hawaii's restaurants have suffered disproportionately. I read that by later this year, perhaps 50% may be gone. The beautiful Mill House is now closed and there are different reports on plans to reopen. This is an experience everyone should have and I will continue to report on their plans, now that a vaccine is in existence.
There are some property development plans and I will follow them.
Dinner and a Tour
Come for the day, come for dinner, and shopping; come for the mountain views. There are plenty of ways to enjoy the historic Maui Tropical Plantation.
Hawaiian History Standing at a New Crossroad
This is the site of a historic Hawaiian Sugar Cane Plantation. Sugar and Pineapple crops created Hawaiian wealth, providing economic opportunity after the end of the Whaling era. The plantations required broad immigration and their output influenced the American Civil War, the California Gold Rush and the establishment of Hawaii as an American State.
Hawaii Facing Change
This is what the residents of the Hawaiian islands are seeing today.
In 1980 Hawaii had 14 sugar and 4 pineapple plantations encompassing 300,000 acres of land.
In 2017 the area tilled dropped to below 5000 acres.
Maui's last sugar plantation and mill closed in 2016. There is one specialty pineapple grower left supporting a distillery and a winery. These are the famous "Maui Gold Pineapples," small but sweet. They sell them at the airport with an agricultural permit for export.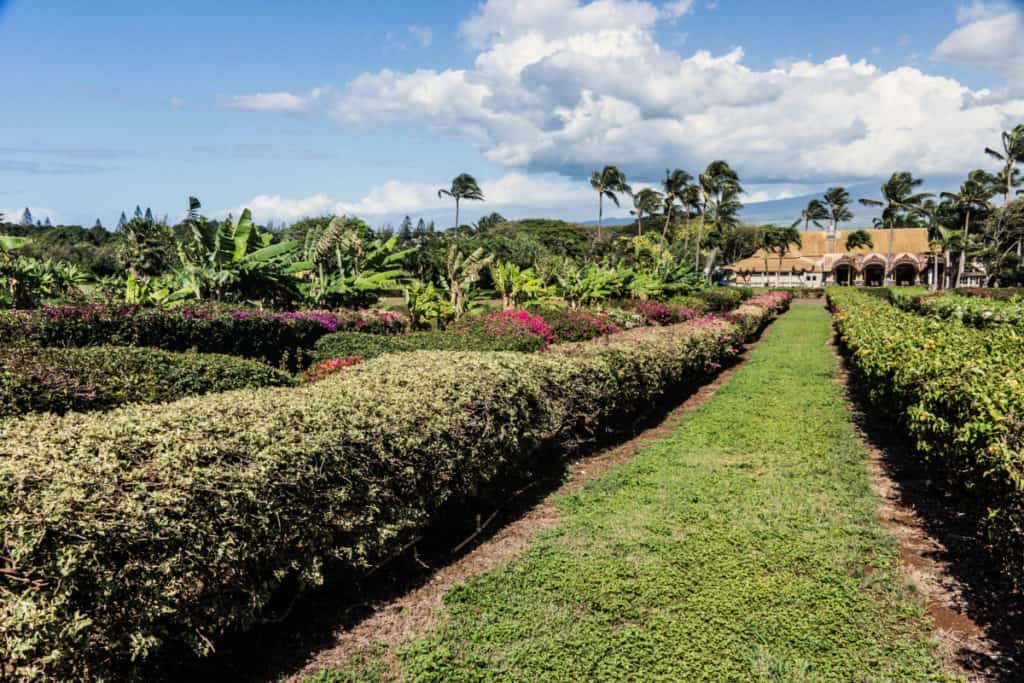 Hawaii's Agricultural Future
It has some of the highest land costs in the USA.
Farmworkers are in short supply and there is tough competition from cheaper foreign labor.
Food Costs: Hawaii spends over $3 billion to import over 90% of its food. Egg and food costs are as high as anywhere in the USA.
It has the highest electric costs in the USA.
Any natural disaster could impede the importation of goods.
This Plantation is a Sign of Change
Alternative agriculture must be developed. There is now, more water available for other forms of agriculture because sugar was a big water user. Throughout the islands small scale experiments are ongoing.
For example, feed grain for cattle must be imported resulting in cattle being sent to off-island feedlots. Superior pasturage is available. If a market for grain-fed meat can continue to develop, this can be important to the economy and jobs.
Energy costs need to come down and agricultural innovations will be critical.
Maui Tropical Plantation and Food Innovation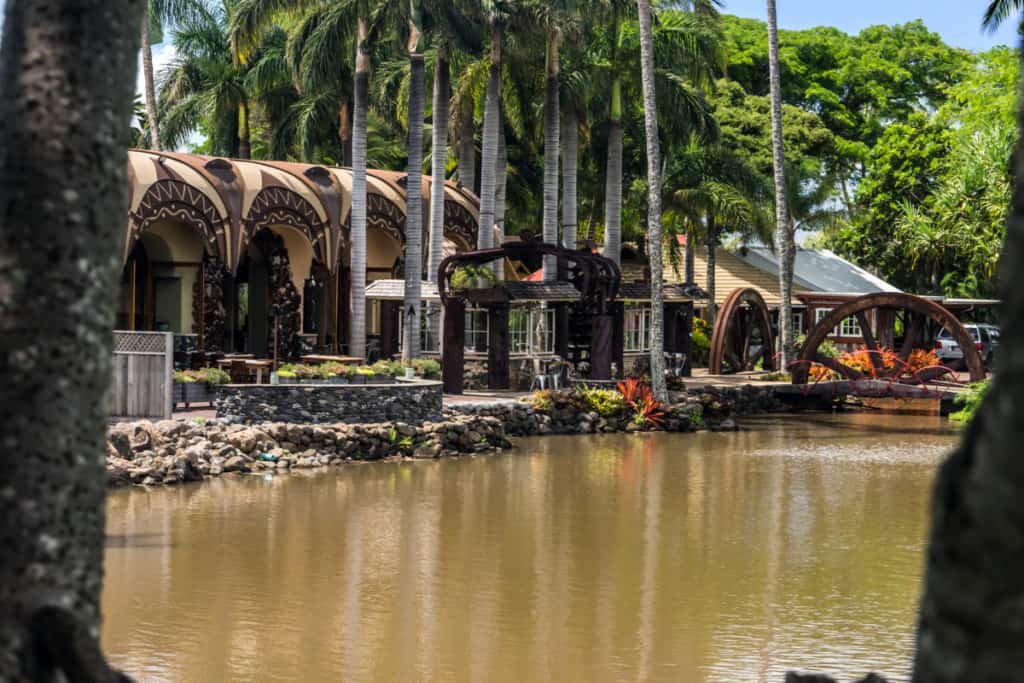 This place looks like the early days of an important transition and as visitors, we found it fascinating to be at the epicenter. Here is what is going on:
The plantation encompasses 1800 acres, deployed in several ways.
Cattle grazing; looking up beyond the duck pond we see Longhorns, the first of which were gifts to King Kamehameha in the 1790s. There are also Black Angus and others belonging to Beef and Blooms an early organic cattle company.
Kumu Farm -organic vegetables and fruits within the plantation. If you are staying in a condo with a kitchen you can eat well from their onsite store. You will eat their produce in the Mill House Restaurant.
Plantation gift shop, prepared foods, picnic materials, gifts, and artwork.
Mill House Coffee Roasters -coffee beans are grown on-site or elsewhere in Maui and roasted where you buy them.
Zipline Tours- this is not agriculture but it provides jobs and entertainment using airspace above the plants.
Farmers, fisheries and food producers throughout the island sell to the retail activities and the Restaurant.
The Mill House Restaurant- not only are they serving true "Hawaiian Regional Cuisine" but in a setting that is one of the nation's rare "table at the farm" locations.
Chef's Table Dining -an interactive meal in an open pavilion on Saturday nights.
Several special event venues.
Tour the Plantation -Fly on a Zip Line-Shop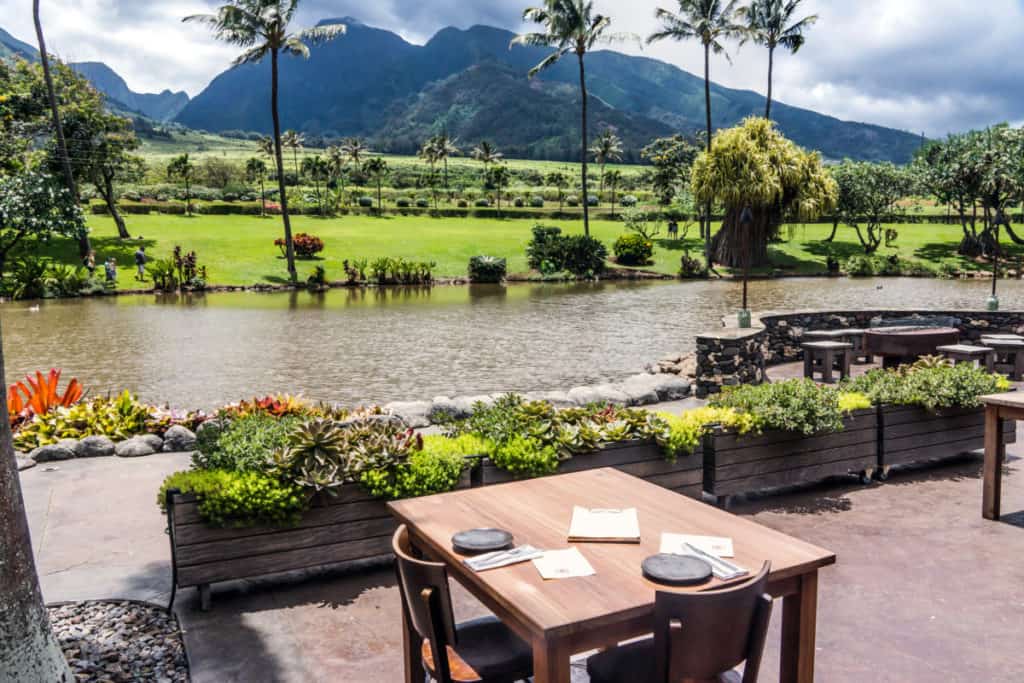 Wailuku, the local town was once a lively tropical village accommodating the sugar cane workers. They are long gone now but descendants are involved in new ventures and they have redevelopment plans.
Shopping
In the midst of this green plantation overlooked by the West Maui mountains, they have recreated the village atmosphere with shopping in colorful wooden buildings. You can buy souvenirs, local coffees and plan a private event for 2-6,000 of your friends.
At the larger plantation store, you can buy gifts, jewelry, a pineapple cocktail shaker or food for your journey. They sell online also.
Admission to the public areas is free whether or not you are dining. We met local neighbors out for their daily walk. One, a retired California school teacher said " I love it here, I come for my walk every morning, I see the animals and get some exercise." Together we watched this little bird, perched on the mirror of a motorcycle, infuriated by the sassy bird in the mirror.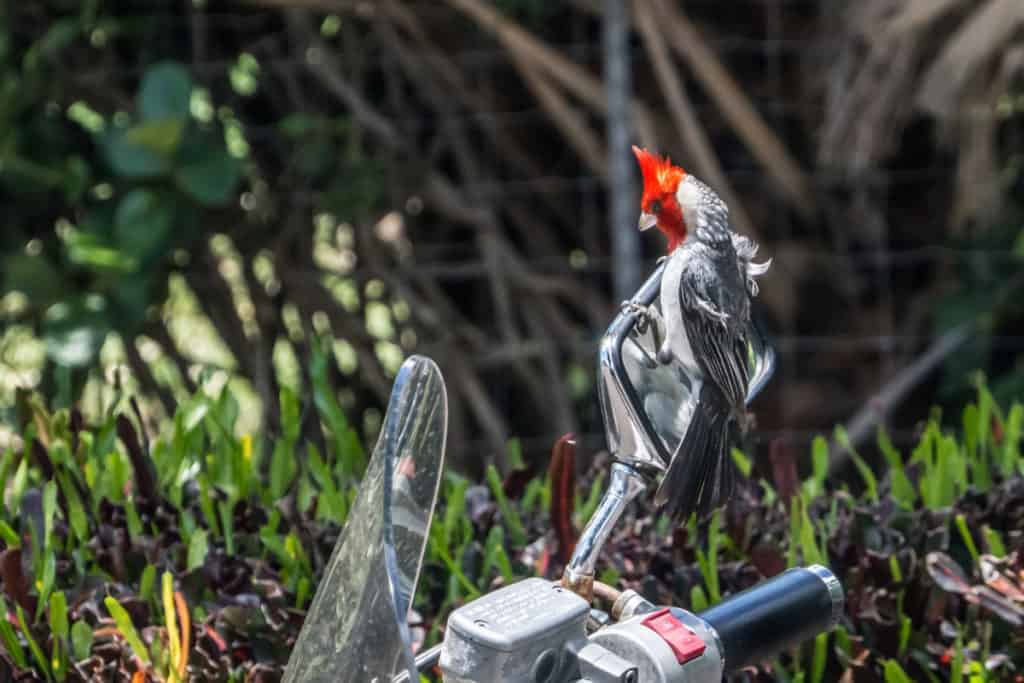 The Zip Line
There are 5 ziplines ranging from 300 to 900 feet. You can sail over the plantation and see bi-coastal ocean views. You also provide free entertainment for the diners at lunch overlooking the ponds. We toasted each one as they blew by.
The Plantation Tour
This is a tour of the plantation and its gardens with good views of the sugar mill and mountains. You ride in a Disney Style tram with a guide who tells about the crops and demonstrates opening a coconut. Now I know how- but I'm not likely to do it.
There are signs explaining weather forecasting using the coconut trees. " If the coconut on the tree is waiving-it's windy. If the coconut is wet…" Country humor! A link to the website for further information is at the end of this piece.
The Mill House Restaurant
This is a rare opportunity. Everybody loves the idea and taste of "Farm to Table" Dining. The whole concept is attractive; eat fresh, clean food at its peak of ripeness. Seasonal food, no middlemen, no waste.
It is harder than it looks! It is more complicated for the restaurants, they deal with lots of suppliers. A Florida wholesaler who specializes in aggregating fresh farm produce to very local restaurants can reduce 300 overall suppliers by about 60! Regulation is also tough.
A Table at the Farm
There are not many places like this. The table is on the farm! The cooks claim that if they run short of produce, they just go outside. At the end of this article is a link to another such place in Florida and a good newspaper series on the subject, including its pitfalls.
Hawaiian Regional Cuisine incorporates local products and the food traditions of many immigrant groups. Workers on these plantations came from China, Japan, Korea, Portugal, it goes on.
There are no anticipated menu items. At Mama's Fish House on Maui you can expect certain fish dishes and they are fresh because their suppliers are well established.
Here you are going to eat exactly what the farmer produces today. The Mixologist uses the same process. The drinks change on the fly. If kumquats are in season that's the citrus you will see.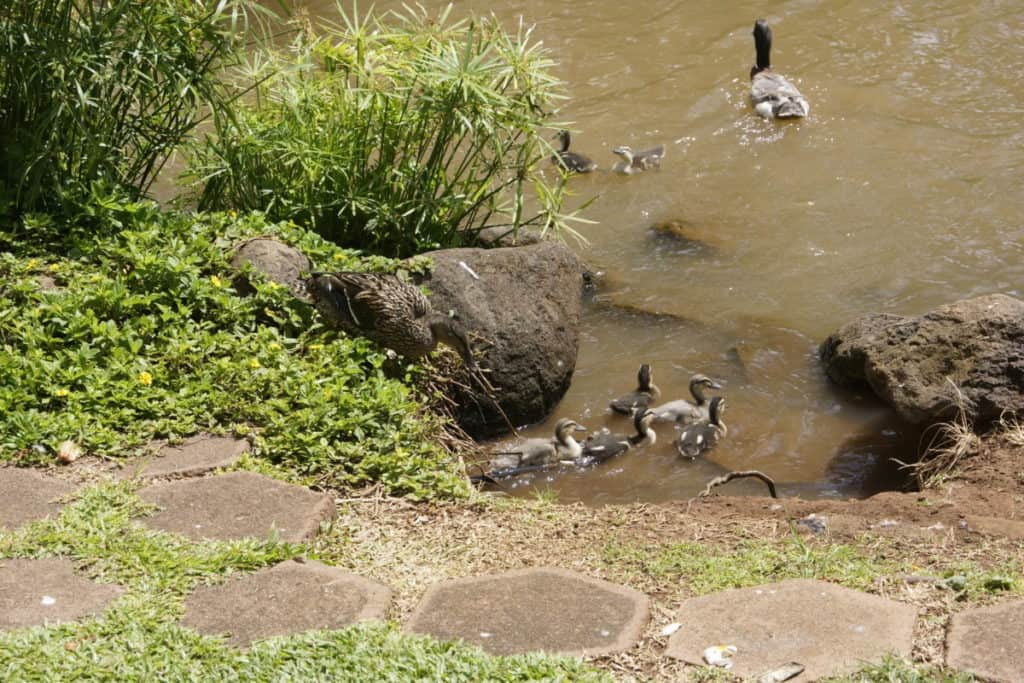 It is an open-air, tile-floored, rustic space with tables inside and on a patio all with views of mountains and a duck pond. Lunchtime entertainment included a mother duck who could not quite get her entire flock of 8 out of the pond. She climbed down from the rock and pushed them up!
The Chefs Table
This is an interactive event held on Saturday night by reservation. It is an opportunity for the chefs to provide a single, multi-course meal designed for each event at its seasonal peak. The guests sit at long communal tables and interact with the cooks.
Servers are able to react to specific needs. One diner stated that she was seated with a group who did not drink red wine. The waiter found other diners to share a bottle she wanted to try, with her.
The intention appears to be to recreate a casual dinner party in an open-air pavilion. Our timing did not permit this weekly event but it is something to plan ahead for.
Some useful Information

Location: 1670 Honoapl'ilani Highway, Waikapu HI 96793
Hours: Plantation, 8 am-9 pm. Plantation Store, 9 am-6 pm. Mill House Restaurant, 11 am- 9 pm.
Costs: Tram Tour, $24.00 adults, $12.00 Children 3-12.
Maui Tropical Plantationhttps://mauitropicalplantation.com/
Mill House Restaurant:https://www.millhousemaui.com/
This is a "Table at the Farm" Dining opportunity in SW Florida
This is a series of articles discussing improvements needed in Farm to Table Restaurant Dining: Farm to Fable, Tampa Bay Times
Update: New Sunscreen Regulations
Update: Using Sunscreen in Hawaii, Starting January 1. 2021
Effective January 1. 2021 Hawaii will no longer permit the sale of sunscreens containing these ingredients.
This is a decision made by the state to avoid the continued damage to coral reefs.
The next scheduled change to take place will be in January 1, 2023 when those formulations will not be allowed to be used at all on Hawaii.
Hawaii is not the only jurisdiction to enact such regulations to protect the reefs and marine life.
Aruba, The Marshall Islands, US Virgin Islands, Palau and the city of Key West Fl have taken similar actions.
Currently the favored sunscreen ingredients are the following:
Zinc Oxide
Titanium Dioxide
This appears to be based on the FDA ruling that only these two ingredients (which create physical barriers between skin and sun) belong in its Category 1 "generally regarded as safe."
Why is this an issue? Here is a story I read online. A guy said that he loved to eat fish at a certain restaurant in the Bahamas because of the coconut flavoring in the fish. Someone asked the chef, "What do you flavor the fish with?"
He said, " Oh, I only use salt!"'
Here is more information on the legal changes and the other locations already involved,
More Information for a Maui Visit
Snorkeling on Maui
Pacific "O", Romahttps://rootsandmaps.com/pacific-o-romantic-waterfront-dining-on-maui/ntic Waterfront Dining