What is a Small Garden?
What size garden are we designing? There are many definitions, starting with the size of a patio or a tennis court. And the realtors say a 'farmette' is anything under 50 acres. It's a wide range! But here is an example and two useful. Definitions we can use.
A Small Garden-But it Makes its Point (and it is Beautiful)!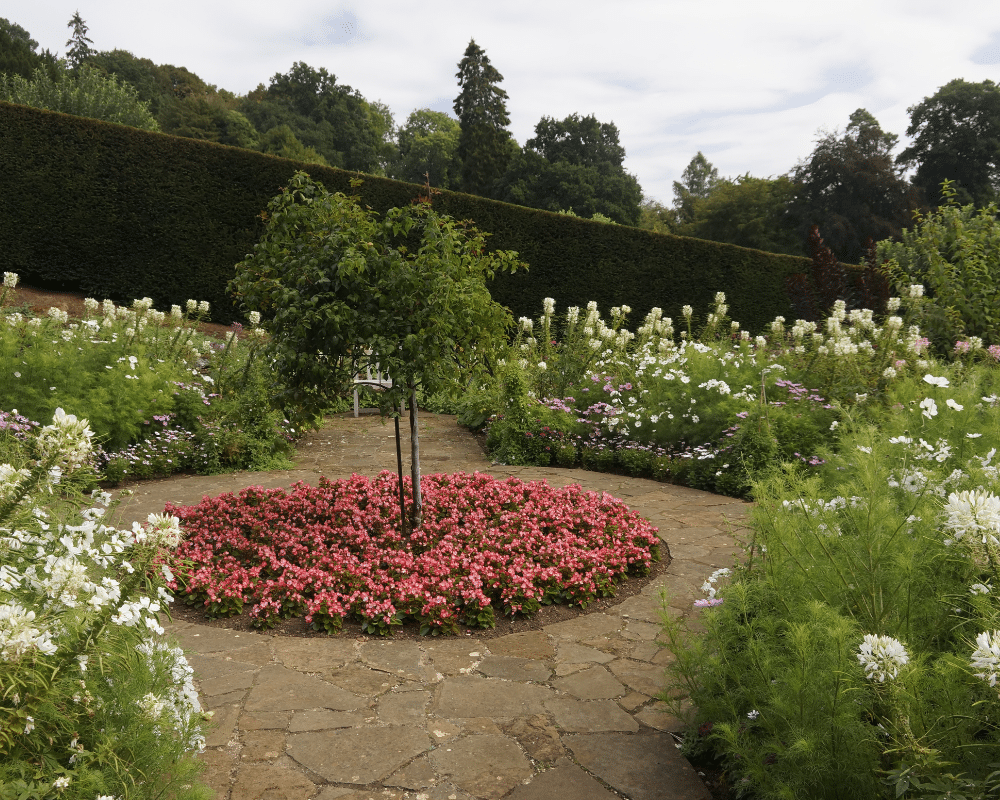 This is a small bed on a larger terraced garden, but if this, with its bench beyond, were all I had, it would be a pleasure to own. Upton House and Garden. This garden space overlooked a medieval monastic fish pond watched battles of the English Civil War, and then was planted in this style at the height of the Jazz Age. This little garden saw it all!
A small garden is a space with no margin for error: every foot counts.
A small garden is a space you, the gardener, would like to see a little bigger.
In this piece, I intend to share three important points we have learned about laying out a garden. They are:
Functionality: Does this garden fulfill your intention in making it?
Design Tips: Ensure the design emphasizes the best elements of the space.
Inspiration: The garden is never finished and always evolving; the garden should constantly inspire you.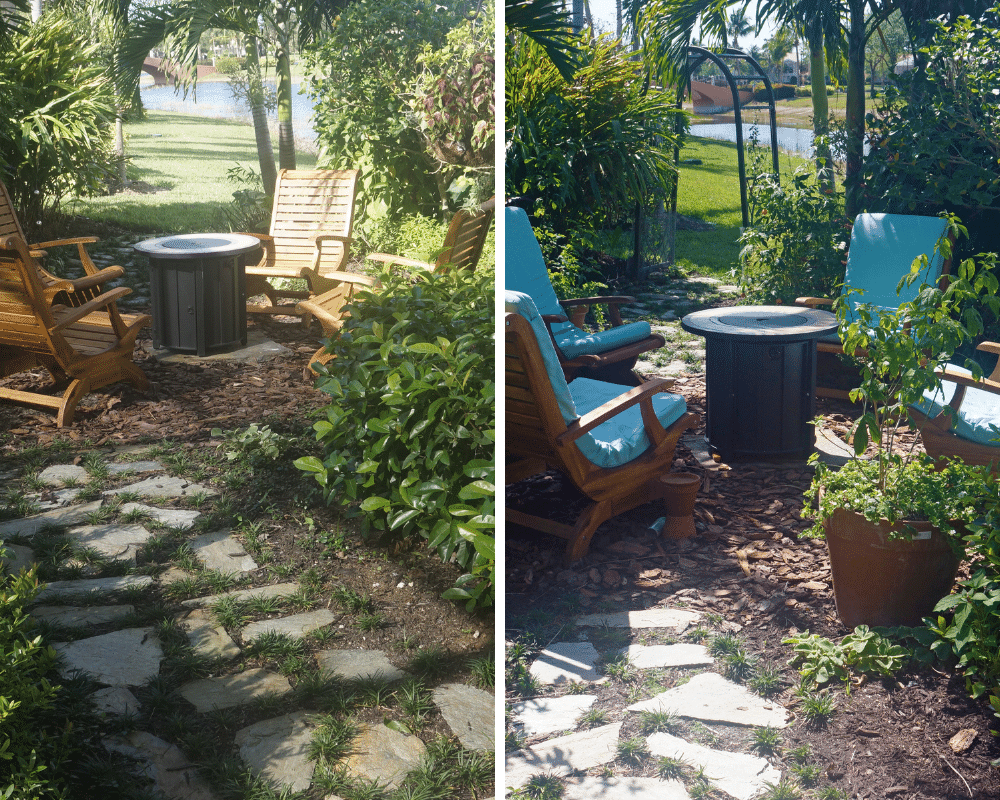 The Little Seating Area
This little seating area was a 'covid project.' We created the ground cover, planted some palms, and noticed how they framed a pretty little bridge beyond. That led to an archway to emphasize the view. Today it is blooming with scented jasmine.
I grew up with plenty of garden space on a farm of several hundred acres, and, as adults, my husband and I have gardened on plots both large and small. Today, we have a pleasant house and garden, but except for our first home, this is our smallest garden, and it has taught us a lot about maximizing space.
And I have learned the following about garden size.
Do you ask yourself, " What am I going to do with that space over there" or " Where am I going to squeeze this in"? If you ask the latter, you should consider yourself a small-space gardener.
Small Gardens are Important Places
How did we all get interested in small gardens? The British Arts and Crafts movement, readily adopted in the US and other places, was responsible for bringing "smaller" gardens to the forefront of horticultural thinking. Until then, pleasure gardens were primarily the province of grand estates, and large-scale and voluminous spaces were the norm. Being master of all you surveyed meant something!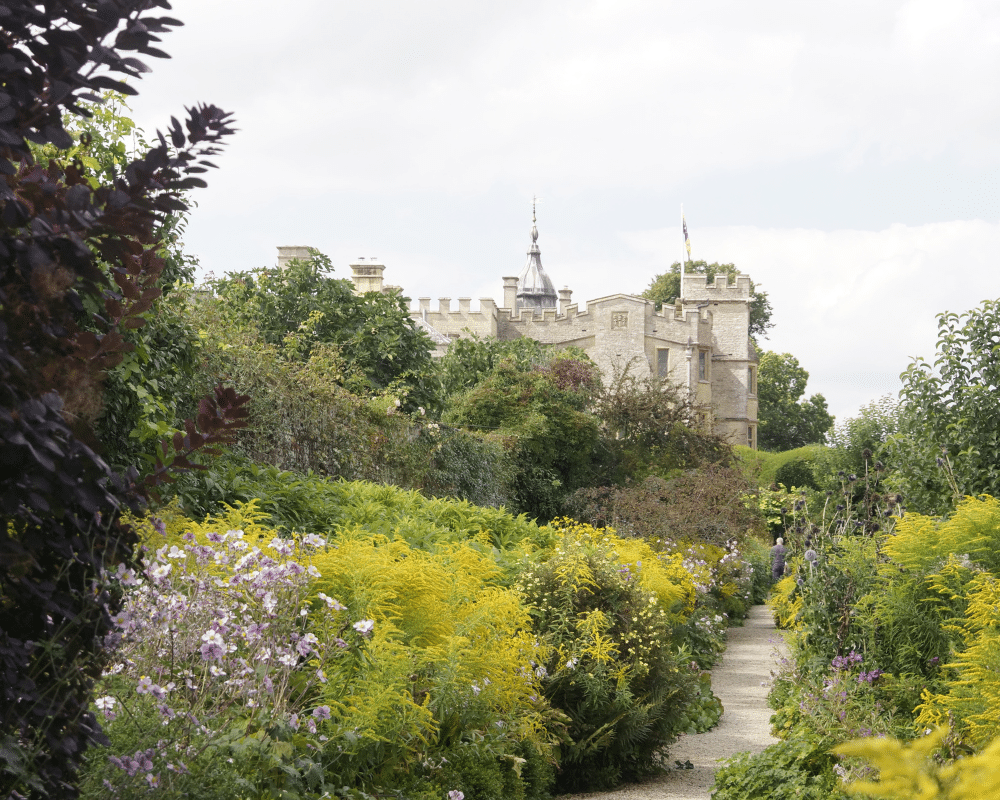 This might be one of the most beautiful gardens anywhere. It is Rousham House, in Oxfordshire. In the hands of the same family who built it in 1635, the garden is the work of William Kent in the early 18th century. If you get a chance to see it, take it. Wear good shoes and bring your lunch, it's a long walk! Here is something about our visit.
The Joint Rise of The Middle Class and the Small Garden
But times changed; the Industrial Revolution and the rise of the middle class in the 19th century created a demand for gardens of modest scale, and the rest is history. The Arts and Crafts movement emphasized bringing desirable goods and design to the middle and working class. A simple but desirable design for smaller gardens was a big outcome.
Designing Small Gardens
A variety of artists, architects, and landscape architects had an impact on the development of beautiful and useful small gardens. One prominent garden designer associated with the Arts and Crafts movement was Gertrude Jekyll (1843-1932).
Jekyll was a core member of the artistic movement, a painter, metalworker, photographer, embroiderer, and garden designer. Eventually, failing eyesight forced her to retire from the studio's art to the garden's broader spaces. (Does this story remind you of Monet, who painted his garden as his sight failed.)
Here is what she had to say about small gardens.
A Small Garden Book
"There is no problem before the architect and garden designer more difficult, and at the same time more attractive, than is presented by small sites, and particularly by the long narrow spaces that go with houses of small frontage."

Gertrude Jekyll, Arts and Crafts Gardens
You can buy this book under the title above. Miss Jekyll originally called it 'Gardens for Small Country Houses."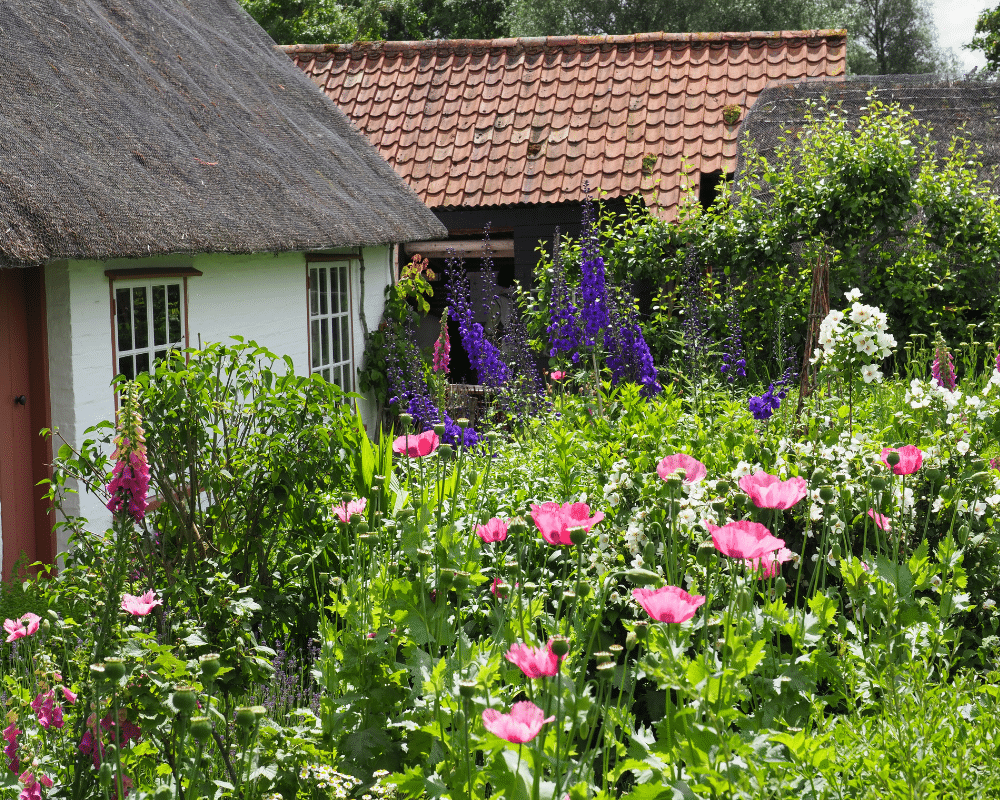 Leaders of the Arts and Crafts movement, dismayed by the negative effects of the Industrial Revolution, wanted to harken back to the attitudes of a society that created what it needed by hand. The gardens of small cottages like this inspired them. Interestingly, despite our industrialization, the 'cottage garden look' still encourages gardeners today.
In Designing Your Small Garden-First Define Your Goals

In any garden, planning counts, it is always less expensive and tiring to make our errors on paper! In addition, in a small garden, your initial mistakes on the ground may preclude better solutions later. (A patio in the wrong place may not be repairable.) So, for us small-space gardeners, planning is essential.

Easier to fix on paper

How We Learn

We are volunteer Master Gardeners and we get get good advice on landscape design from our state university and, in addition, we are an incurable pair of garden visitors and readers. Coupling that information with our hands on experience I come up with this list of initial tasks. (You will find 'gardens to visit' on this site.) Here is an example. We found this garden to be an amazing education. It is the Oxford Botanical Garden and as public gardens go, at only 5 acres it's tiny. But representing as it does, 900 years of horticultural progress it is enlightening to visit.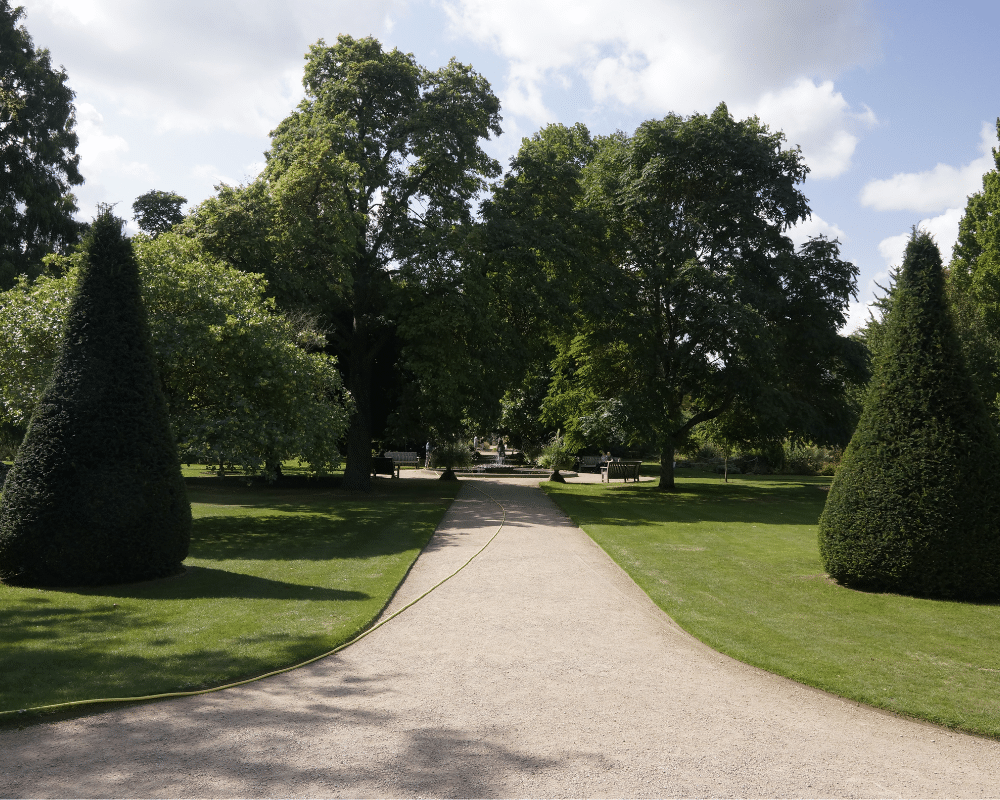 Initial Tasks For Small Garden Design-Think These Through First
Measure the space and list the features you will require. Ask yourself, What do I need from this space."
Decide on essentials; privacy, seating, activities, important plants, and areas. We anticipated a swimming pool with lounging and dining spaces, garden beds with walking, and seating beyond the pool. We also wanted to raise a few edibles and attract pollinators and other wildlife. We expected to face the 'long narrow spaces' that Jekyll talked about. (And we got them.)
Survey the space, and decide what elements will stay or be removed.
Choose a layout; straight, curved, or diagonal. A straight layout is simple and orderly, but if the space is narrow, the use of curves and diagonal lines will make it feel more generous.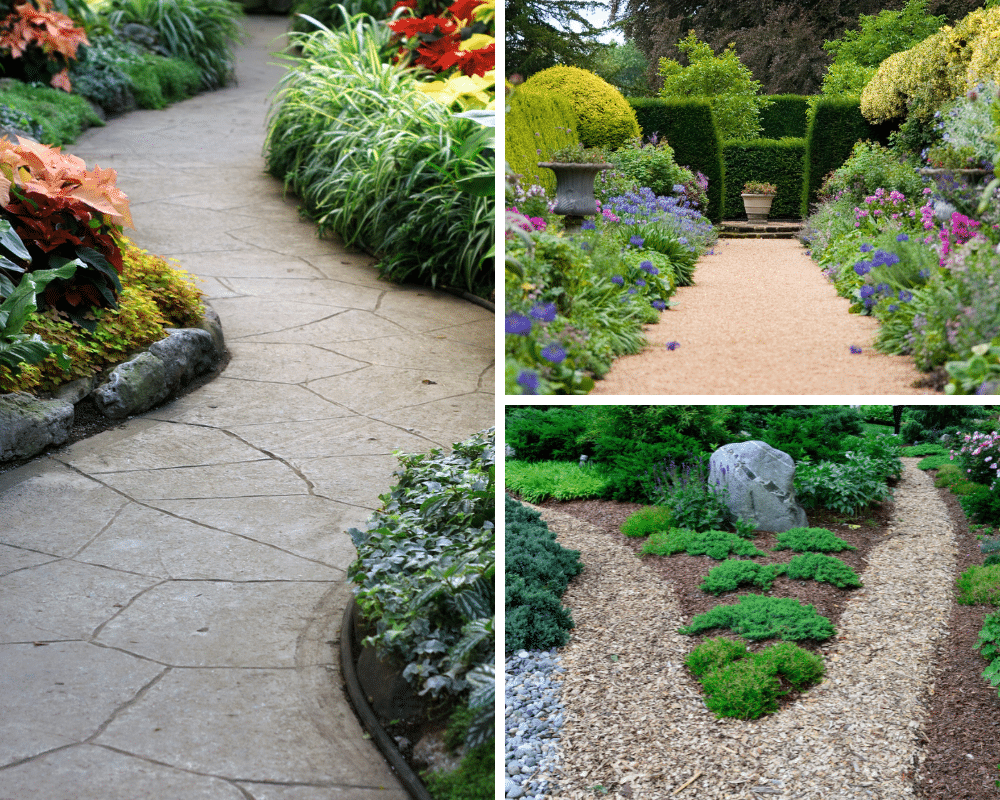 Garden Paths
A garden path can have an unknown ending, a clear destination, or even a choice. Choices are available, even in a small garden.
Ensure the views and elements of the garden are enjoyable from everywhere you will use them.
Create a little mystery! It makes things far more fun.
Include places for essential services; utilities, trash, and potting bench. (we don't need space for a snow blower, but the pool equipment takes up space.)
You are designing the space that will welcome you home and enhance the pleasure of your guests.
11 Ideas for Success in Designing the Small Garden
Keep it simple– in layout, plant types, and colors. Small gardens can easily become chaotic. I am sure you have seen some.
Plant for height; vertical planting saves space and ensures privacy. Use structures to add height, attract your eye, and enhance privacy.
Have a view and a focal point. Is there a space beyond the garden that you want to look at? A focal point demands attention; it is more dramatic than the rest of the design. Also, it creates a hierarchy and captures your intention.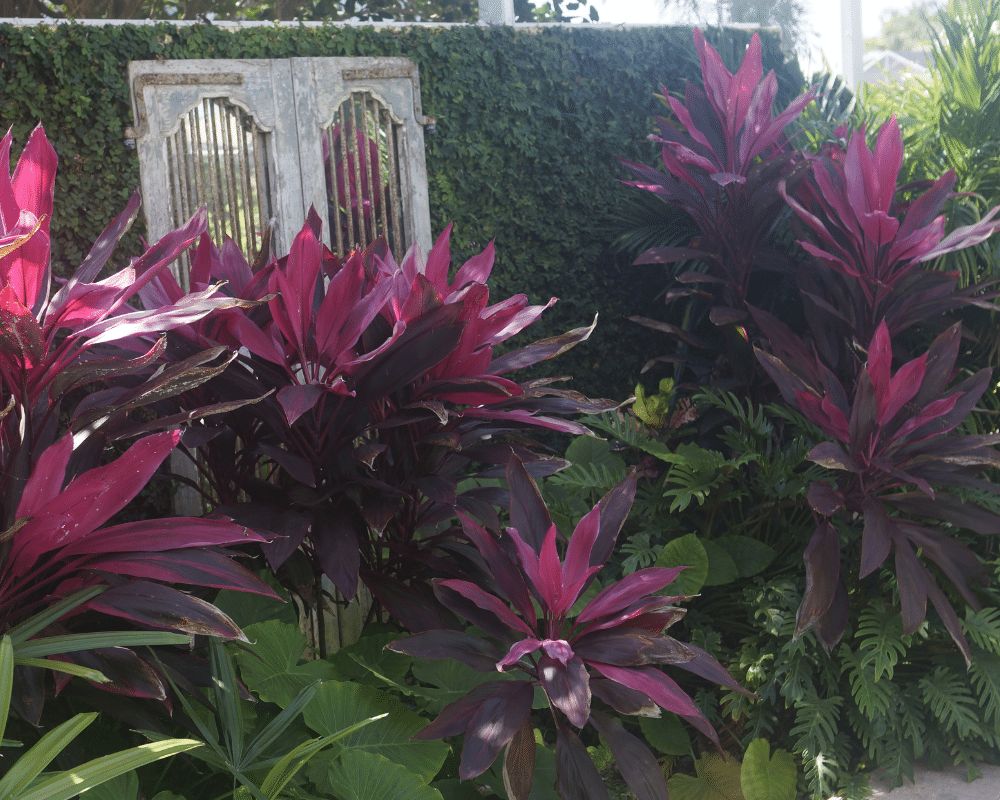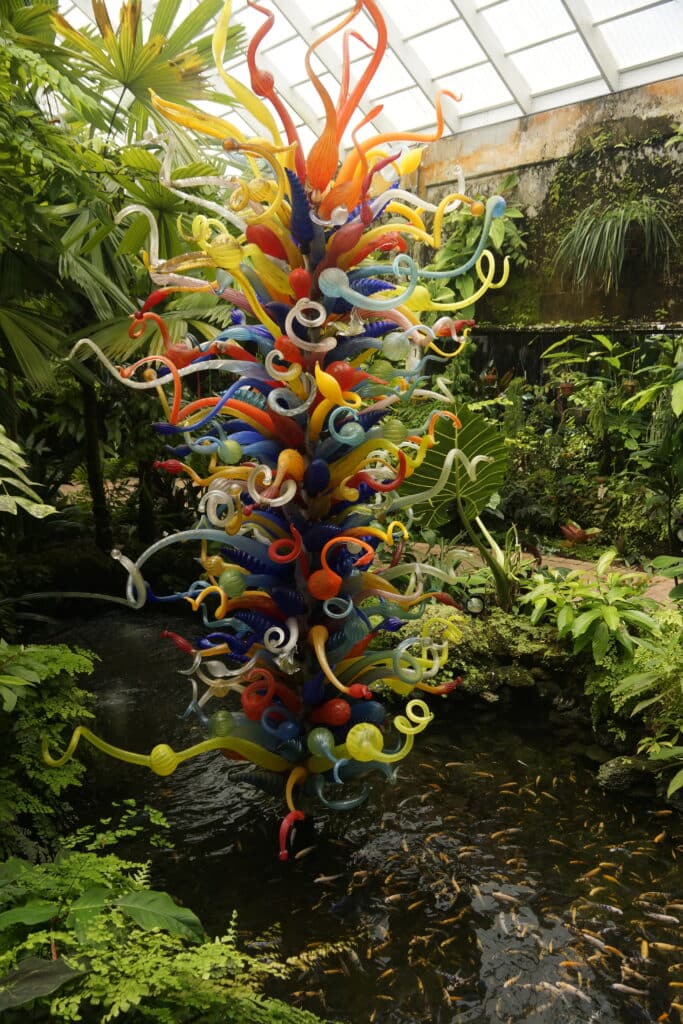 We won't need anything this big to make a statement in our small gardens, but it does make a point! You can see this in Fairchild Tropical Botanical Garden in Coral Gables, Florida.
More Ideas
4. Utilize Perspective. This can include anything from your choice of the footing below to how you clip the hedges beyond you.
5. Merge the garden with the house as much as possible. Treat home and garden as one entity. Use features of the house as a garden backdrop. This creates a more cohesive and spacious feeling.
6. Establish rhythm by keeping the design simple and repeating elements like color and shape. Fewer plants in larger groups ensure calm.
7. Consider ornamentals and edibles in the same beds. You will save space, and the companion plantings will reduce pest damage.
8. Include water; even a small and simple feature will add texture and interest. It can soften the hard elements of the garden and is relaxing at the day's end.
9. Design for all 12 months. A four-season garden takes more effort but pays you back 365 days a year.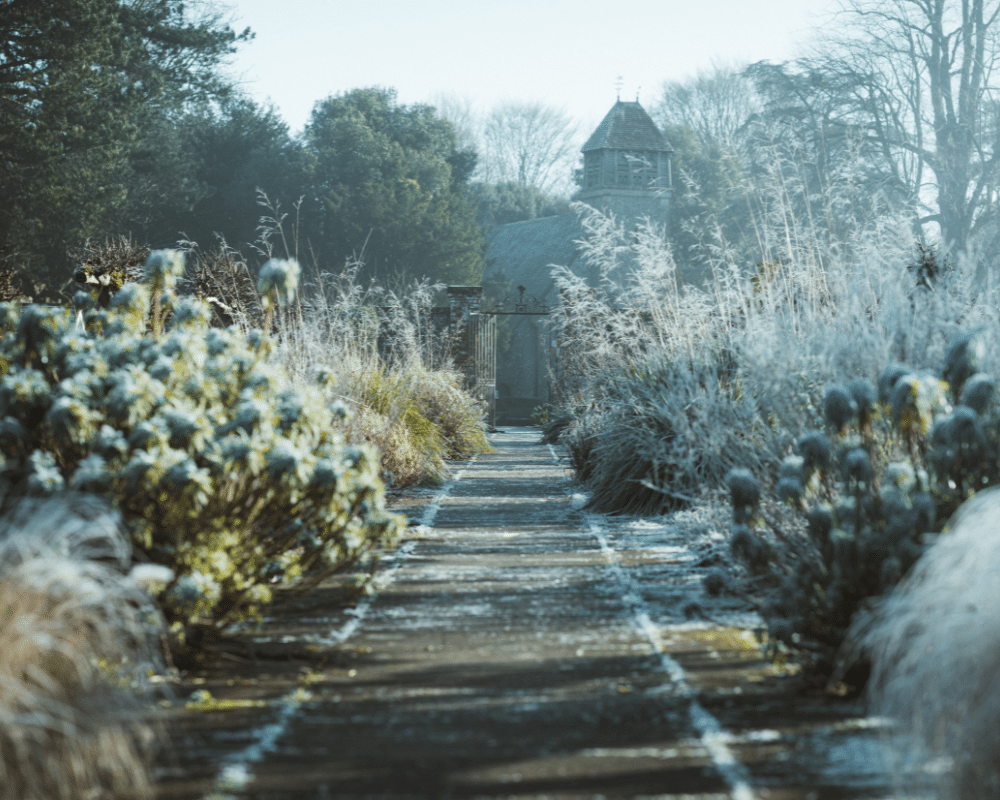 Who would mind looking out at this in January?
10. Maintenance and resources. Garden maintenance is hard work; it's wise to control the workload, and our need for water will not lessen over time. Thrift is a virtue.
11. Less really is more. Gardeners are as willing as any other creatives to 'gild the lily! Even in a small garden, leave some space. There is a reason why the open lawns of botanical gardens are called 'the lungs of the garden.'
Small Garden Principles in Detail
Keeping it simple: omit any design elements that do not significantly improve the garden. The resulting garden should be neat and uncluttered. This will enhance the spacious feel and includes simplicity of design, plant size, and color. This can be difficult, as all gardeners are subject to the powerful draw of garden center marketing. "I want one of those, and those and those." Then you get home and wonder why you bought them!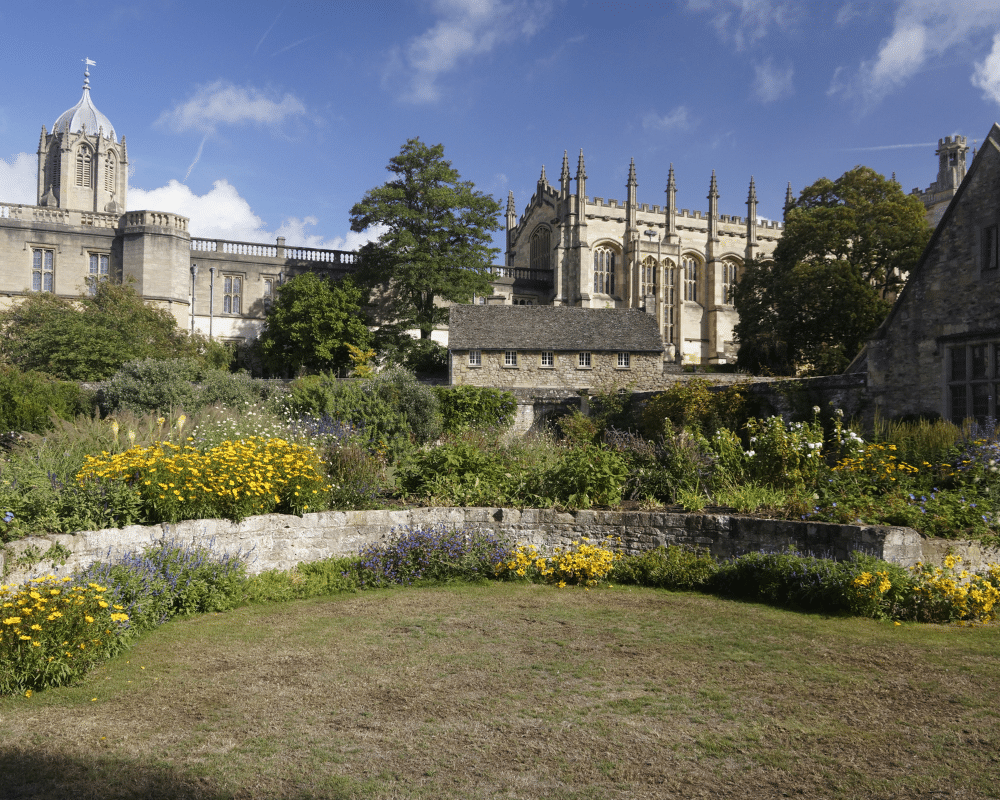 Here is a small garden with a big meaning. If you see it, you won't forget it. The simple garden is a memorial to students and faculty lost in the 'Great War,' WWI; it includes wonderful quotations from Paul Bunyan's 'Pilgrims Progress.' Note its big impact; the small garden impresses us with a simple curved wall and repetition of color and form. When you have something important to say, make it clear!
Height and Distance in the Small Garden
2. Plant for height. Nothing saves space and enhances calmness and privacy like vertical planting. This is a creative opportunity! And it can include trees, tall shrubs, wall gardens, and structures like arbors, archways, and pergolas. These features can incorporate seating, shade, and even ways to frame and enhance a long view. You can improve your borrowed view by opening space to see the most appealing features beyond your garden and hiding others you don't want to look at. We live on the edge of a Florida pond with other houses across the water. It's fun to plant to highlight a pretty bridge but limit the views of the neighbors' televisions glowing in the evening. At the planning stage, think about what you want to enhance or ignore. This is the time to set your standards.
3. Including the view beyond and a focal point within. Shakkei is what Japanese gardeners call borrowed scenery. For centuries, gardeners with tight spaces have just appropriated a pretty view whenever they needed to expand the estate. Your garden should be your private retreat, but there is no need to feel locked in. A hill, a wood, a field, or a pretty structure beyond the garden will pull your eye toward the horizon and expand your view.
Use your vertical plantings to frame your vista while eliminating things you don't want to see. Make a focal point; just like making a painting or a photograph, the garden should have a center of interest. Feature your most interesting element by contrasting size, shape, color, or isolating it. Also, you can put it at the end of a line, such as a walkway. If the object you're looking at makes you want to walk toward it without thinking, you have done it right!
4. Using Perspective: it was Renaissance painters who first figured out how to use linear perspective to make realistic images. The illusion of perspective is based on the idea that objects appear to get smaller as we look into the distance. Using perspective is one of the ideas from art that we can use in the garden. So, for example, if I make a walkway forward using long thin pavers (rather than round or square), I can emphasize the illusion that the path is longer and taking a more interesting journey than otherwise.
One of my favorite examples of using perspective to trick your eye is at a famous garden in Gloucestershire in the UK. Hidcote Manor, developed by the American Lawrence Johnson, its creative and sophisticated owner, contains perfect examples of using perspective to enhance your experience.
It includes a 'Long Walk' of grass enclosed by high hedges and ending at a gate overlooking an extraordinary distant view. By making the walkway wider at the beginning and narrower at the end, he increased the already long and dramatic walk.
Perspective in the garden has a long history. Here is a link to the amazing Garden of Valsanzibro near Padua, Italy. Famous for a 400-year-old labyrinth, it includes long walkways surrounded by hedges. Its designer Luigi Bernini (1665-1696) moved the high hedges closer together as you walked along. They are long walkways but seem even longer due to this technique. All done by just planting some closer together.
It is an important technique but a simple one. Just make the first part bigger than the last. You can do something similar with garden art and objects. Put the big planter at the start and a smaller one at the end!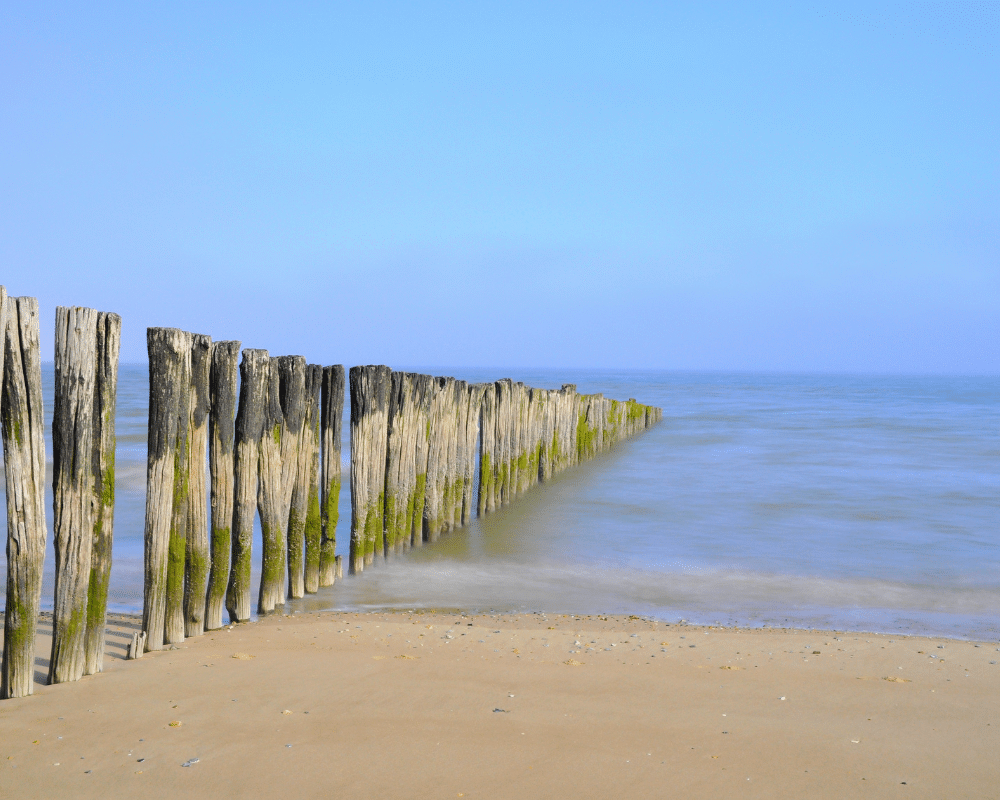 5. Merge the garden and the house. We all love an indoor/outdoor life. The Conservatory for citrus trees goes back to the 16th century. On a cold day with a dormant garden, we all relish a hint of growth and that little promise of new life. Those gardeners who proceeded us were no different. The subtropical climate I live in really blurs the lines. In a few steps from the kitchen, I can serve dinner inside or out and take a swim or pick some lettuce while stirring the pot! Go into the garden and take a good look at the house. Together they create a home, a single entity. Think about the style, colors, and use of space.
Look for flexible furniture, outdoors, especially if it will not be used all year. Try stackable or moveable furniture for convenience.
6. Rhythm in the landscape. It's not all about the elements; it's about how they fit together too! A visual ebb and flow can even affect the pace at which you move around the garden. It contributes to restful enjoyment. Think about color, size, repetition, and how you use positive and negative space. One exciting view after another can be tiring-build in some rest spots. A simple bench or seat can recharge your energy.
7. Ornamental and edible plants together. Merging both of these plant types in one bed can give you enough space for both, and they can be beneficial companions. (This piece is about how flowers can improve vegetable yields by encouraging beneficial insects.)
8. Include a water feature. A water element as simple as a bird bath will provide entertainment and attract birds that can eat bugs, clean up weeds, aerate the soil, and pollinate the plants. You could also consider adding a feature with moving water, a calming element that can block noise and improve air quality while adding beauty.
9. Design the Garden for all 12 Months. You will look at the garden all year and use it too. In temperate climates, use evergreen trees for color and structure, and plant deciduous trees with shape, stature, and interesting bark for winter shape and interest. Choose cold, hardy, and long-blooming plants, as well as those that add interest and feed wildlife in the cold. (Here is a little example. It's about crabapple trees that provide blooms in spring, shade in summer, color in fall, and feed the birds in winter while decorating the skyline.) In our climate, we make lists of plants to bloom all year by placing hot and wet season bloomers next to cool and dry season bloomers. Make sure you know your planting zones. Here are USDA plant hardiness zones. Just add your address and ensure that your plant will grow in your garden.
10. Plan for Maintenance and Use of Resources. Here are a few ideas.
Use low-maintenance plants such as grasses, ferns, and low-maintenance shrubs. Native plants require less attention and attract local pollinators.
Cluster plants that have the same care requirements, such as sun, shade, and moisture.
Use dense, low-growing living groundcovers.
Be liberal with mulch. Mulch properly applied will reduce weeds, retain moisture and maintain ground temperature.
Add color, interest, and texture with plants in portable containers.
Include garden art for interest; it does not need to be weeded or fed.
Include long-lasting hardscape.
Include water-thrifty drip irrigation systems in planting beds.
Test your soil before you start; identify areas by sun/shade requirements. Use soil test results to establish fertilization plans.
11. Less is more More-Really! The virtues of small gardens are that they are unusually intimate, easily managed, and uniquely individual. Use the constraints of small space to drive creative outcomes.
Add separation to specific garden areas with porous or sheer boundaries.
Use trellises and open plants such as grasses. Tall and airy boundaries will not chop up the garden and use valuable space.
Try hardscape areas in fluid shapes to create a sense of spaciousness.
Create the impression that there is more to the garden. When I enter your garden, don't let me see the ends of all the paths. Let me think there is more to come.
Summary, A View Beyond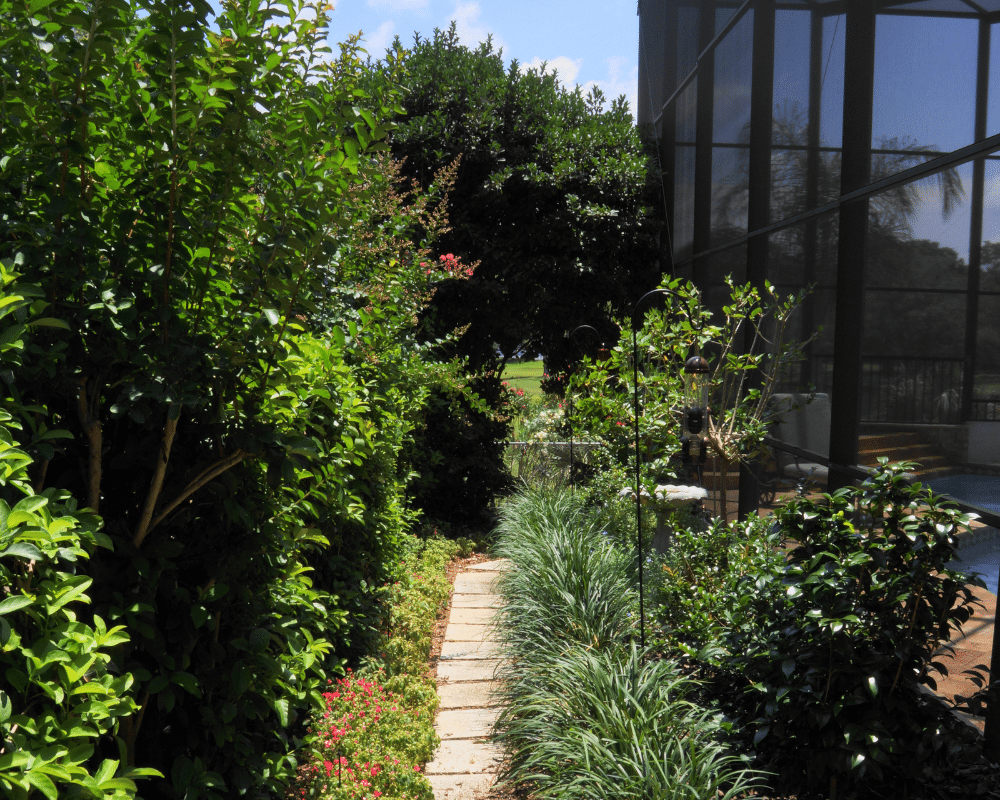 The walkway leads you past the pool, bird attractors, and a camellia garden. And on to the green lawn beyond. Or does it? Alas, the beautiful lawn belongs to the neighbors!
Some Related Ideas: